You might have remembered that I went to Bogota riiiiiight before the pandemic started (I remembered seeing the signs and thinking that'll blow over quickly. Whoops.) Anyway, I did post my Bogota Budget from that short trip, but I just got a taste of the country, and I wanted more! So I checked my favorite company's site to find a tour that went to the main places I wanted to see. This is my review of G Adventures Colombia Express tour.
Guide for Tour of Colombia!
One thing that I love about G Adventures is that they use local guides; our guide was Jairo, and he's from Santa Marta! Local guides are important to me because it keeps the money in the local community, they speak the language, and they can answer all my questions about history and culture!
In addition to his great guiding, he was also just a top-notch human. One night I felt really bad (so bad that I took a covid test!) and I didn't go out to dinner with everyone. Turns out I was just super dehydrated (whoops) and Jairo brought me some Gatorade, water, and empanadas which I felt like went above and beyond <3
He also took some pretty stellar pics of me, which I applaud the dedication.
Colombia Group Tour Itinerary
Day 1
It's just arriving in Bogota and getting to the hotel for the welcome meeting! I would have come earlier to see Bogota and the surrounding area, but I'd already done that on my previous trip. If this is your first time, definitely come a few days early. Bogota has an amazing street art scene as well as some cool stuff to see outside of the city.
Day 2
Day 2 was an early start to get on a plane to fly out to Armenia! Our first stop was a local market to try different foods. We had a lot of fruits, but the AVOCADO!!! So big and so smooth.
Also, a bit of a hike to see a cool viewpoint. I didn't realize that's what our stop was so forgot to change shoes, so I did it in flip-flops (which means it wasn't that difficult at all)
Afterward, we went to Filandia (which was an extra charge) for lunch and a bit of a wander! It was a super colorful town.
Our day ended at our super cute hacienda where there were games, pools, and hummingbirds!
Day 3
I don't drink coffee, but I was still excited to see the coffee farm tour! I like learning about the process of things. We spent the morning learning all about coffee, beans, and the growing process.
That got interactive when we got to go out and pick our own beans and then see what happens to them!
Then of course, learning about the taste and smells!
Day 4
Cocora Valley was one of the two main reasons I wanted to come back to Colombia, and it did not disappoint! The trees were sooooo tall! The valley is at altitude so that coupled with some steep hills did make this trek a bit arduous.
Most of the group handled it fine, but for me and any other less-than-fit people it might be more difficult. It was doable though, just slow and steady!
That evening we also learned how to play Tejo, Colombia's national sport. It is SO FUN! I made a Tiktok about it if you want to see how to play. Basically, it involved trying to make tiny explosions.
Day 5
The roads had been making bus travel last too long, so G got us flights from Armenia to Medellin. I don't think this is standard though. But we did end up getting to Medellin early. There's a city tour to see some Botero sculptures and more, and then mostly a free afternoon!
Day 6
For the first full day in Medellin, we went on a tour to see Comuna 13, which was once one of the most dangerous places in the world because of drug cartels. Now it's a thriving and colorful community proud of its history and how far they've come.
We also had lunch at a Planterra foundation restaurant. Planterra is G's non-profit that works to help at-risk communities develop sustainable businesses.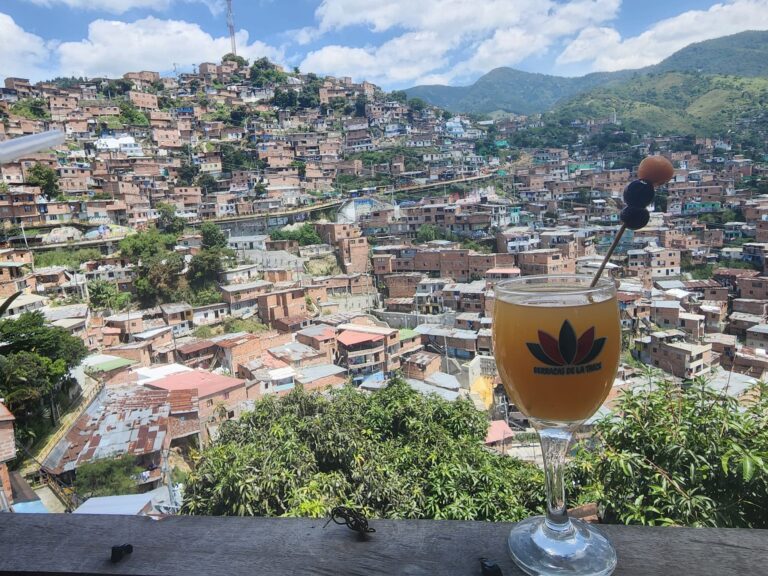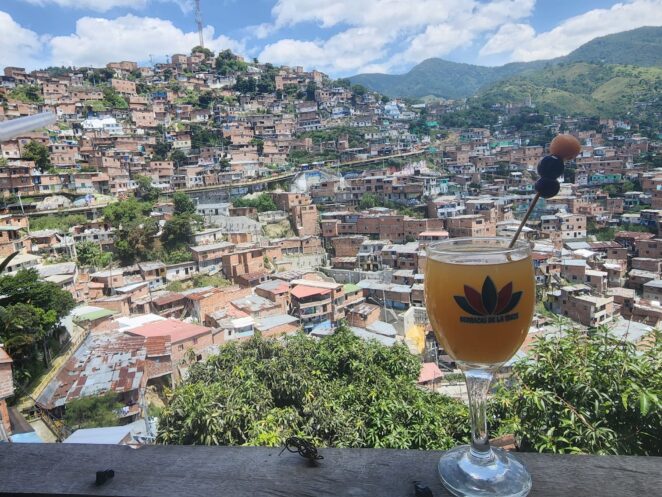 This was the night I actually felt very dehydrated. Most likely a combo of more exercise than I usually do, elevation, hot sun, and not drinking enough water. So make sure you drink water and also maybe some added electrolytes!
Day 7
Since I was dehydrated and not feeling well the night before, I was really worried about missing Day 7 which was the second main reason I wanted to do this tour… Guatape! I knew this was going to be tough for me with all the stairs (and my legs still sore from Cocora and being dehydrated the day before), but I slow and steadied it all the way to the top!
I mean, with views like these, you can see why I was going to do it no matter what!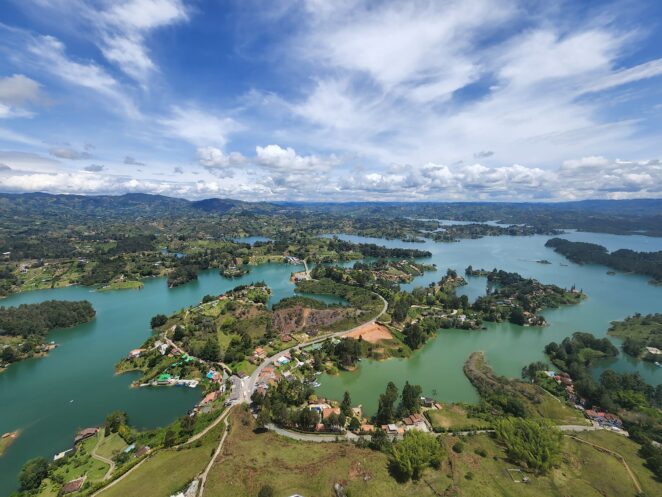 Day 8
An early morning flight brought us to Cartagena! It was ~hot~ but I absolutely loved it! The colorful buildings and colonial architecture are my fave!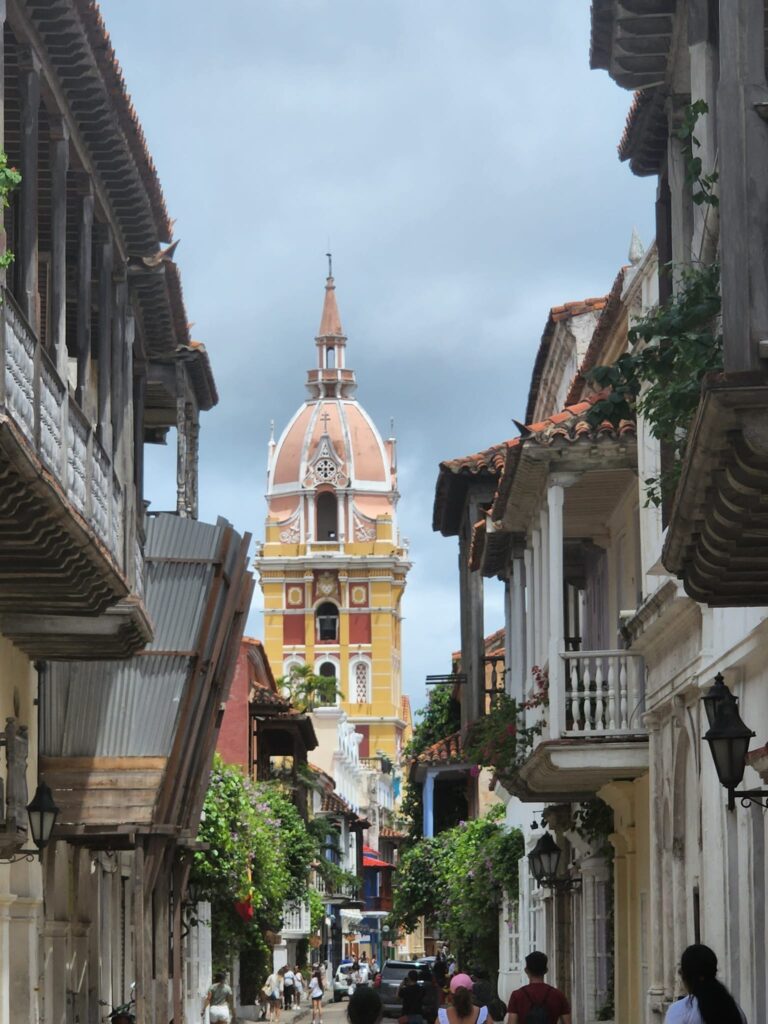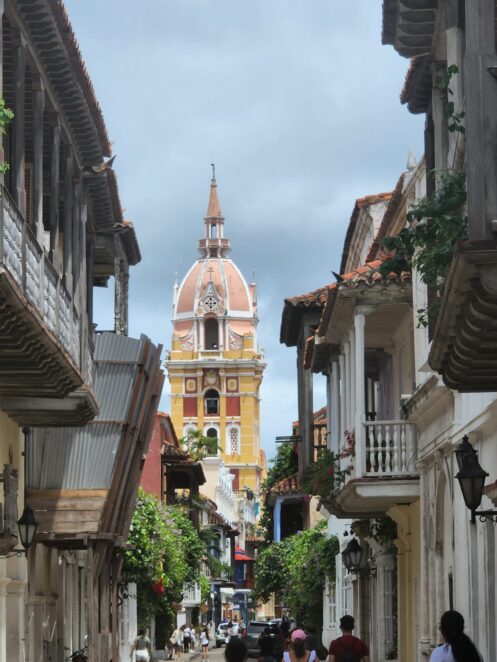 After lunch, I opted to do an optional extra excursion to a mud volcano. It was certainly a different experience. I found out later that you can tell them you don't want massages. The massage coupled with them demanding tips for something you didn't want was definitely the most uncomfortable part. I'd recommend bringing more small bills because you're going to interact with a few people who want tips. I only tipped a guy who took pictures of me and helped me up and down the mountain. My skin was soft afterward though!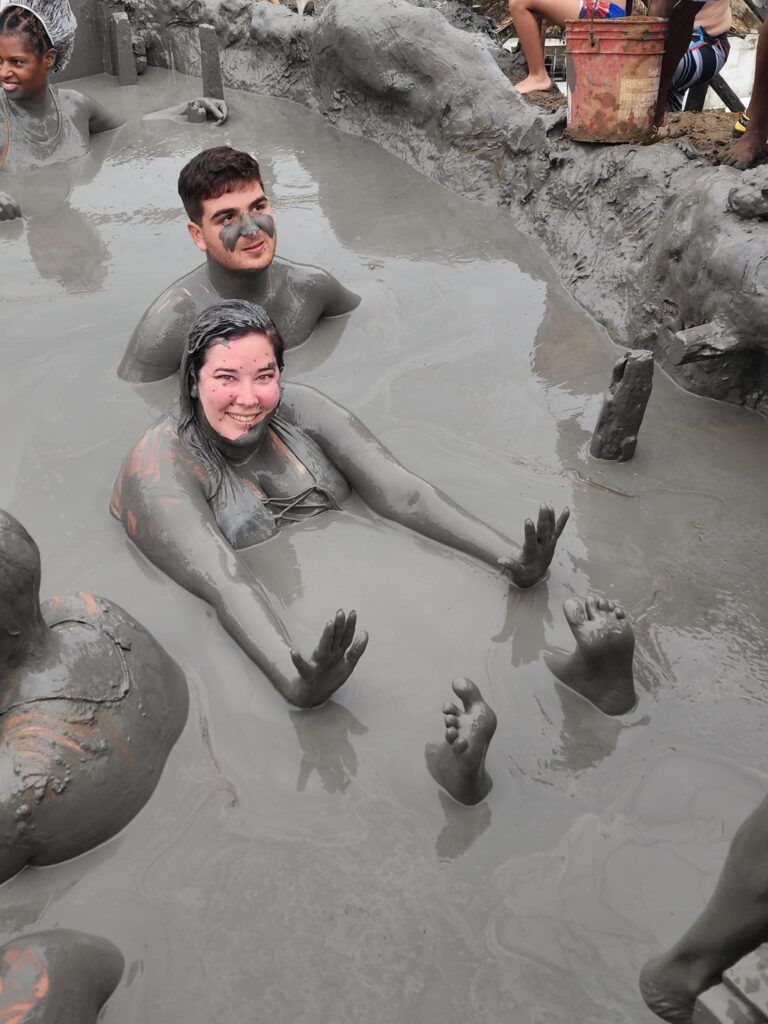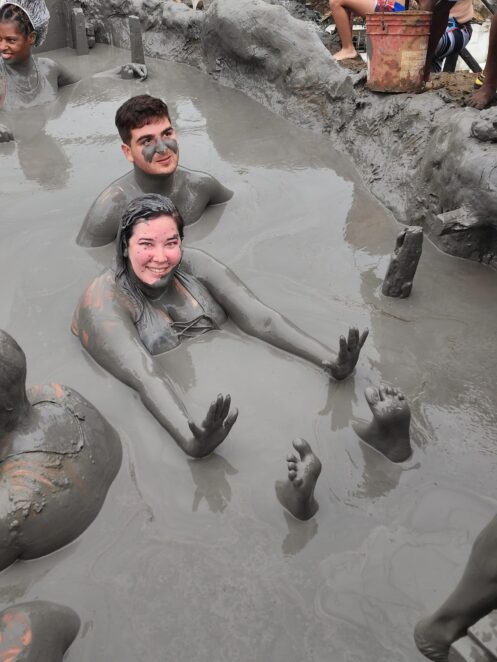 Day 9
Just a departure day! I extended my trip for a few more days, but this was the end of the tour. Jairo helped me get set up with a bus transfer to my next city!
Spoiler alert:  My next city was Minca.  I went solo, but there is an itinerary with G that also includes it.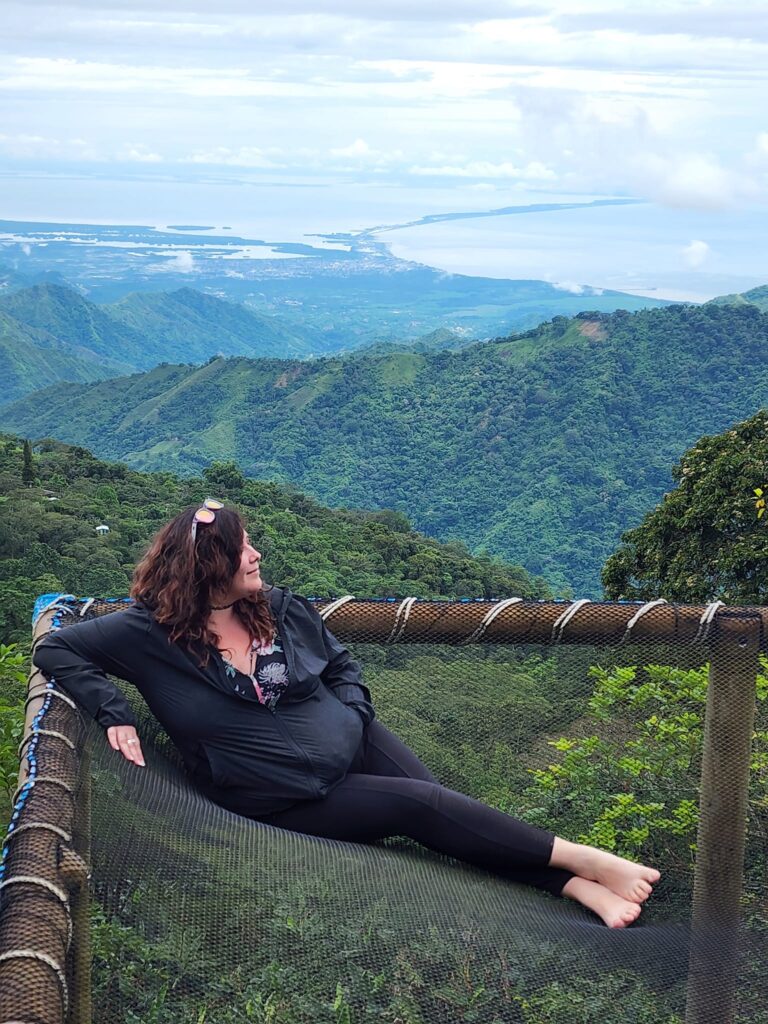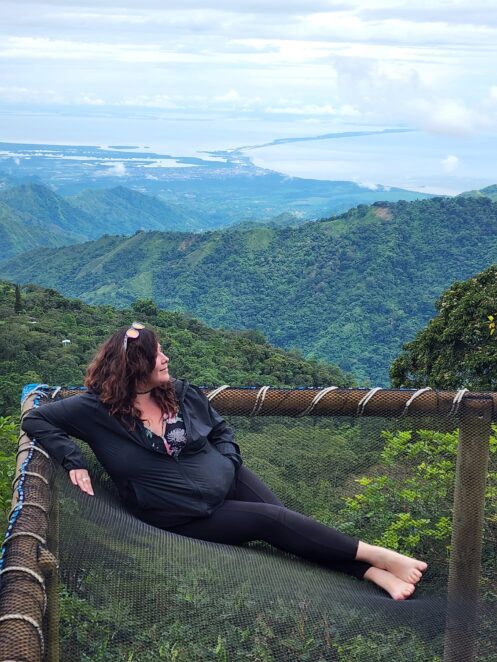 Accommodations for Colombia Group Tours
This was a Classic tour, so the rooms were in hotels instead of hostels. All of the hotels were very nice looking and were in a good location.
My favorite hotel included in the tour was in Armenia. It had a pool, hot tub, sauna, pretty view, but most excitingly… hummingbirds!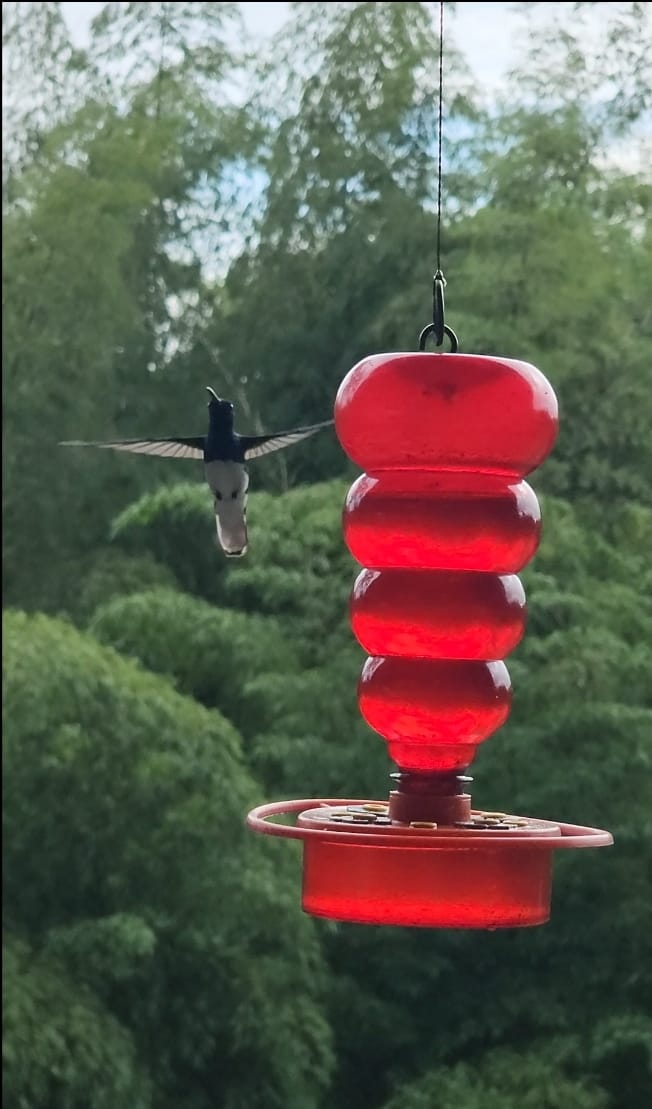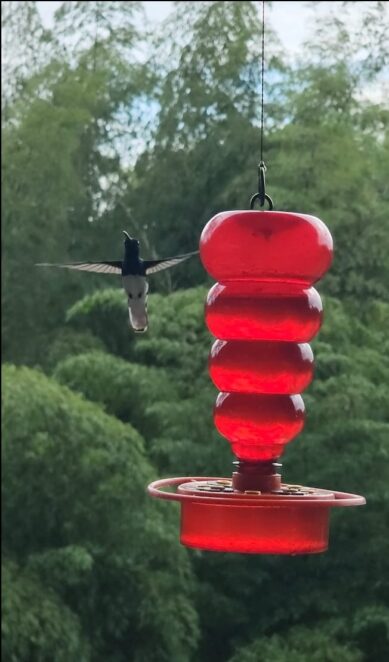 I also really loved the vibe at our Salento hotel.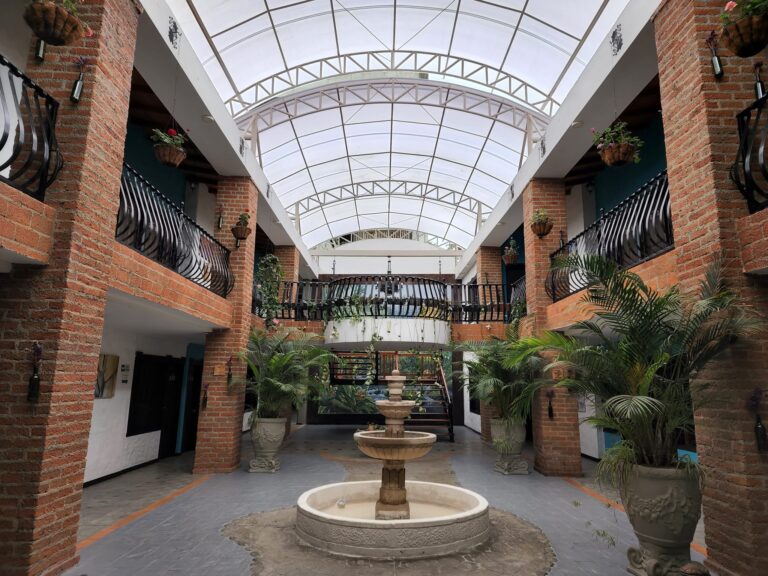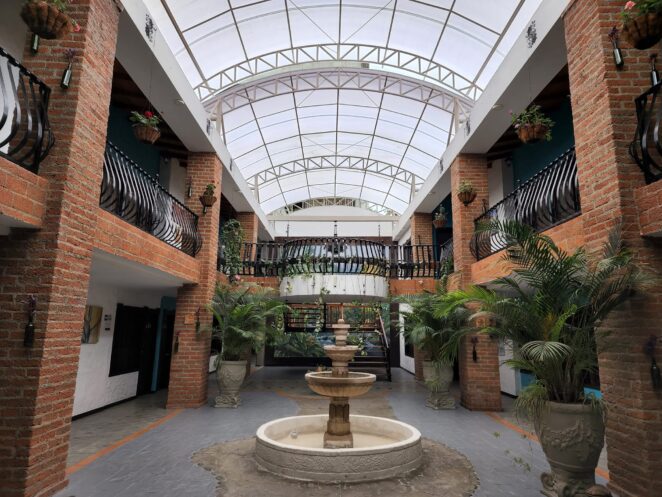 But mostly I just liked how all our hotels were really close and walkable to things we'd want to do. I know some companies make you stay farther away, and I hate that.
Transportation
We had a mixture of transports on this trip. There were several flights included, so that cut down on driving time. When we were in the cities we always had a big enough van or bus for everyone to sit comfortably.
However, the most fun vehicles were when we went to Cocora.  It was a short ride, and it took us to our hike and back to the hotel.  It was fun because you got to stand!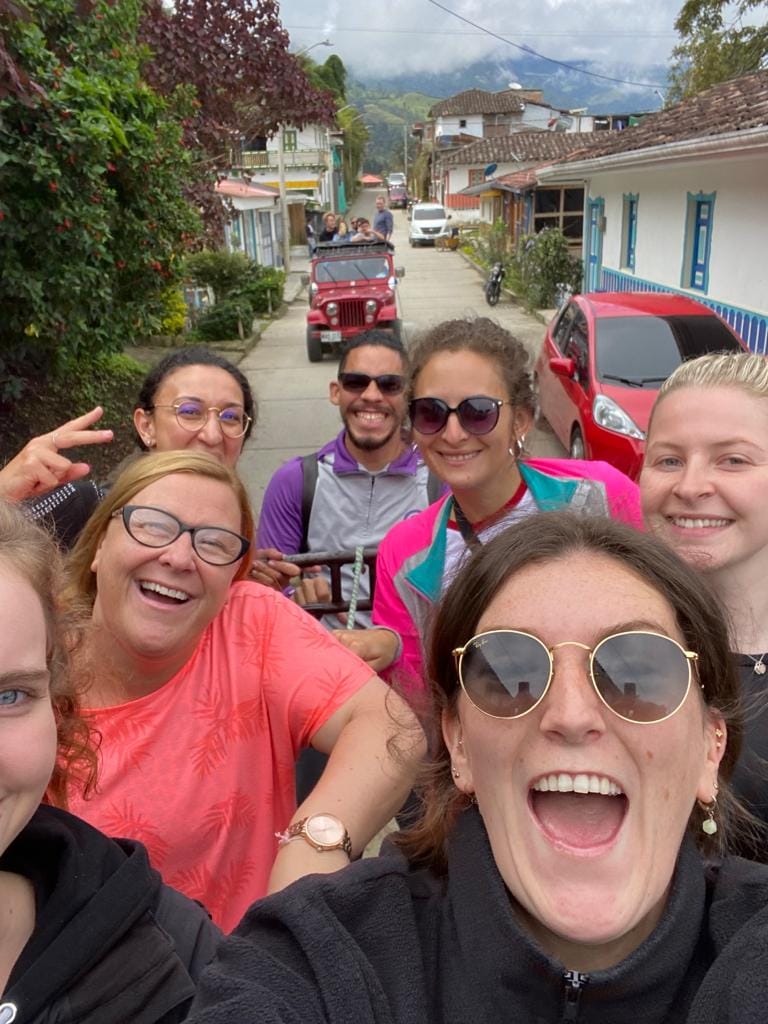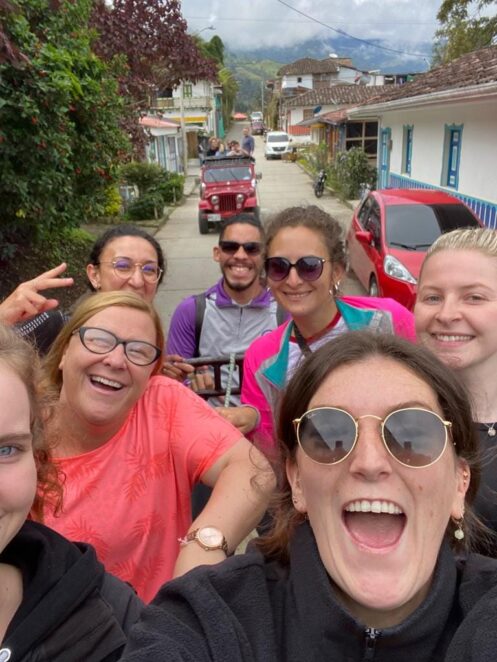 Food During Your Adventure Travel in Colombia
Breakfasts were included and were always a pretty light fare. Usually a mix of cheese or cold meats, but there was usually some cereal and fruits as well. Sometimes there were eggs too. It depends on the hotel we were at and how early we were leaving.
Lunches were usually on our own, so we were able to find whatever we wanted. Sometimes we ate as a group and sometimes we split up. It's always good to try local food, and for Colombia, the main thing I suggest you try at least once is the Bandeja Paisa.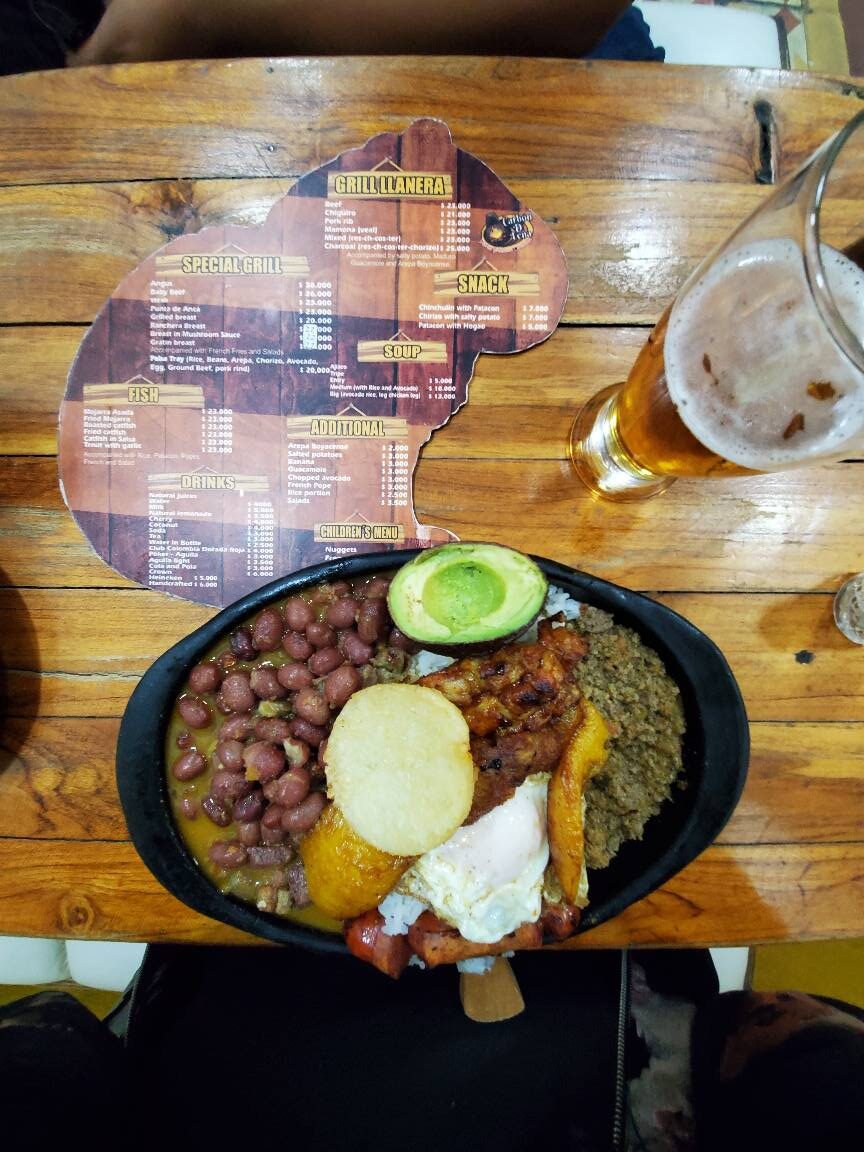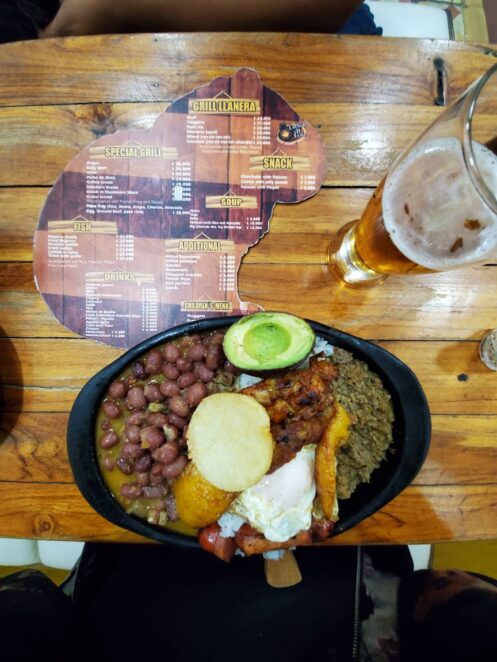 Dinners weren't included anywhere, but I actually don't mind paying for meals separately because then I have more control over what I get to eat! I was happy to be able to choose from a menu! I think our guide always picked really cool places for us to eat that had good prices and good food.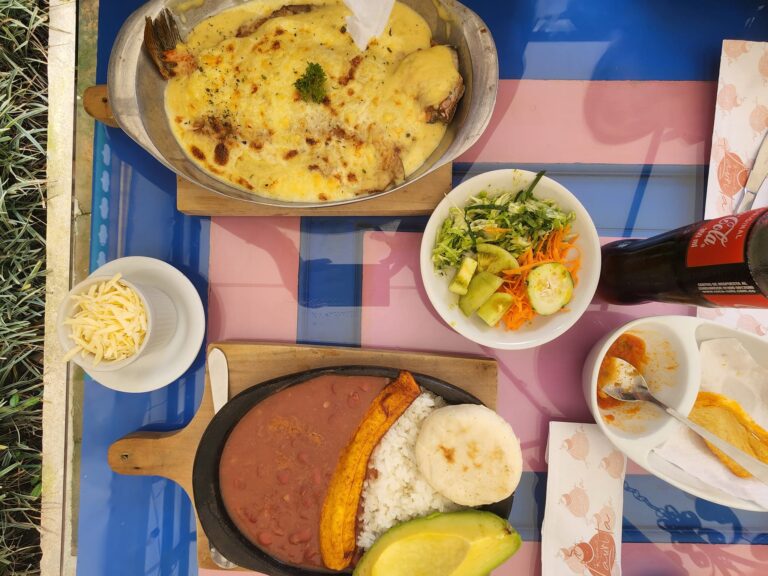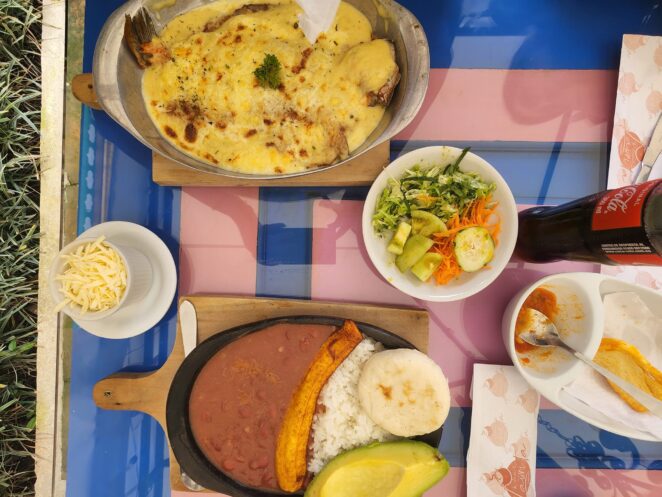 Free Time During G Adventures Colombia Group Tour
I would say that we were afforded some free time almost every day of varying lengths. Anytime we went to a new place, Jairo would tell us about where we were and take us around. Sometimes that meant the whole group toured around together, sometimes that meant he'd give us some background info, and then we were free to wander ourselves and be back at a set time, and sometimes we were given options of what to do.
I had a great time wandering around Cartagena! I just loved the old walls and got to see some places I remember from Gemini Man with Will Smith.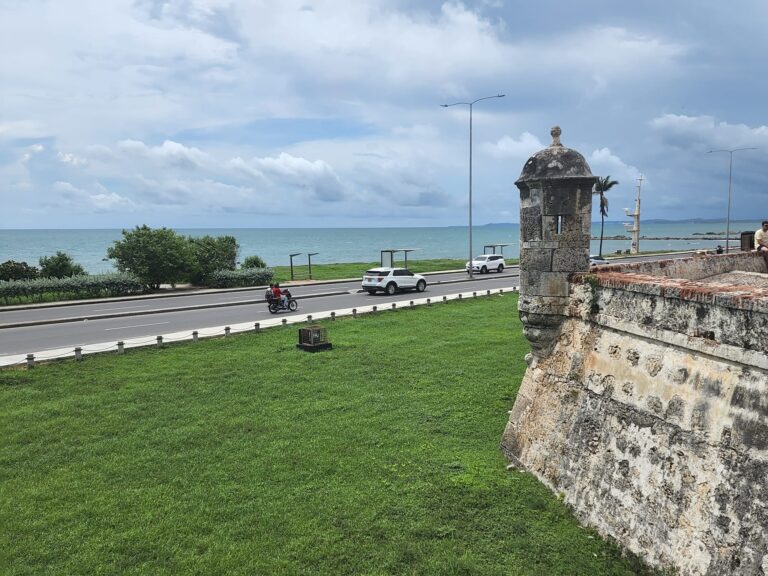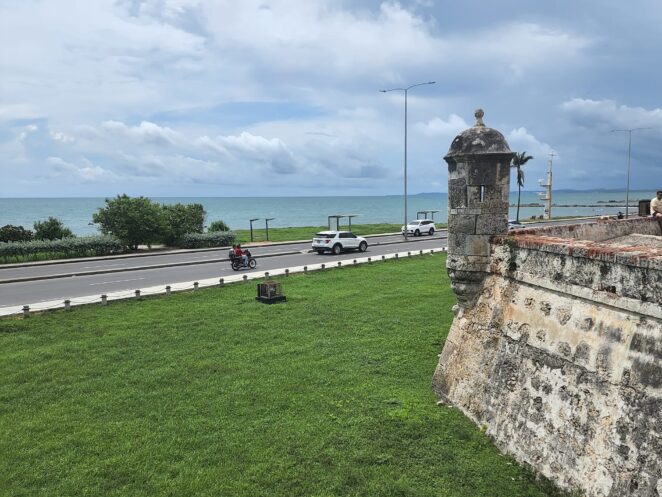 And some of the group would split off to do their own thing if they weren't interested in what the group was doing that particular day, so it could always be more flexible!
Best
We saw a lot of beautiful things, but I think the most fun that I had was learning how to play Tejo, Colombia's national sport! It involves throwing a rock at gunpowder to make it explode ahah. SO fun when it hit correctly! I made a Tik Tok of it.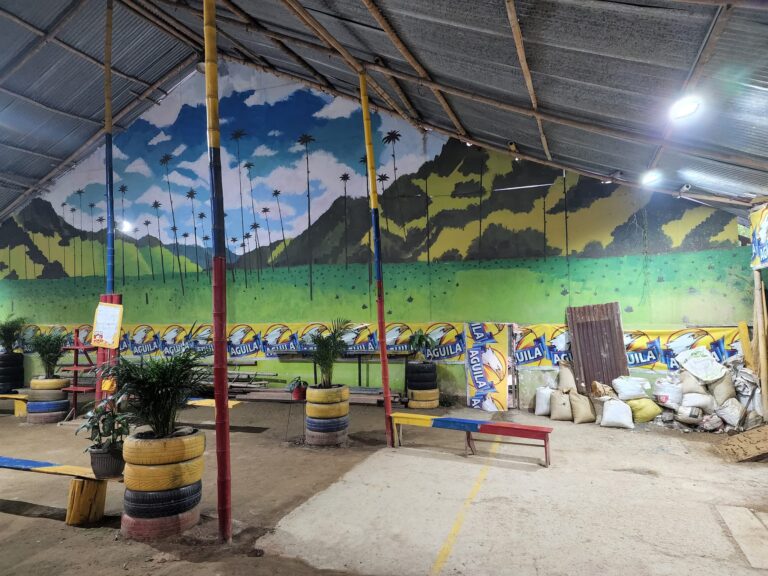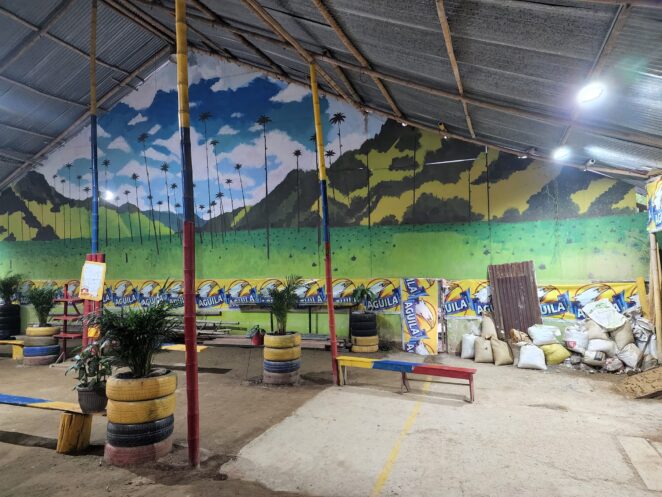 Worst
It's difficult to pick a worst thing, but if I HAD to pick one, I guess I'd say the length of dinners. Sometimes the dinners would take a really long time just because waiting for food, then splitting check, then waiting for payment. So near the end of the tour, Jairo would write all the orders down for each person to make it easier for the server, and we'd start the payment process earlier so we could get out in a reasonable time 🙂
Compare to Intrepid Travel Colombia Tours
The most comparable tour to the Colombia Express by G Adventures is the Intrepid Travel Cafe Colombia. It goes to pretty much the same places, however, the price tag starts at $200 more.
Price for Colombia Express G Adventures
A more thorough rundown of what I spent on the whole trip (included and not included) is on my Colombia Tour budget, but overall the price was $1656 (although prices vary based on departure date and if it was on sale) which is a comfortable per diem for the tour length.
I think the price for G Adventures Highlights of Colombia Express is definitely worth it because of the quality of the hotels, transportation, guide, and sites visited!
Please comment any other questions you have about Colombia, G Adventures, or small group tours!
[columns size="1/3″ last="false"]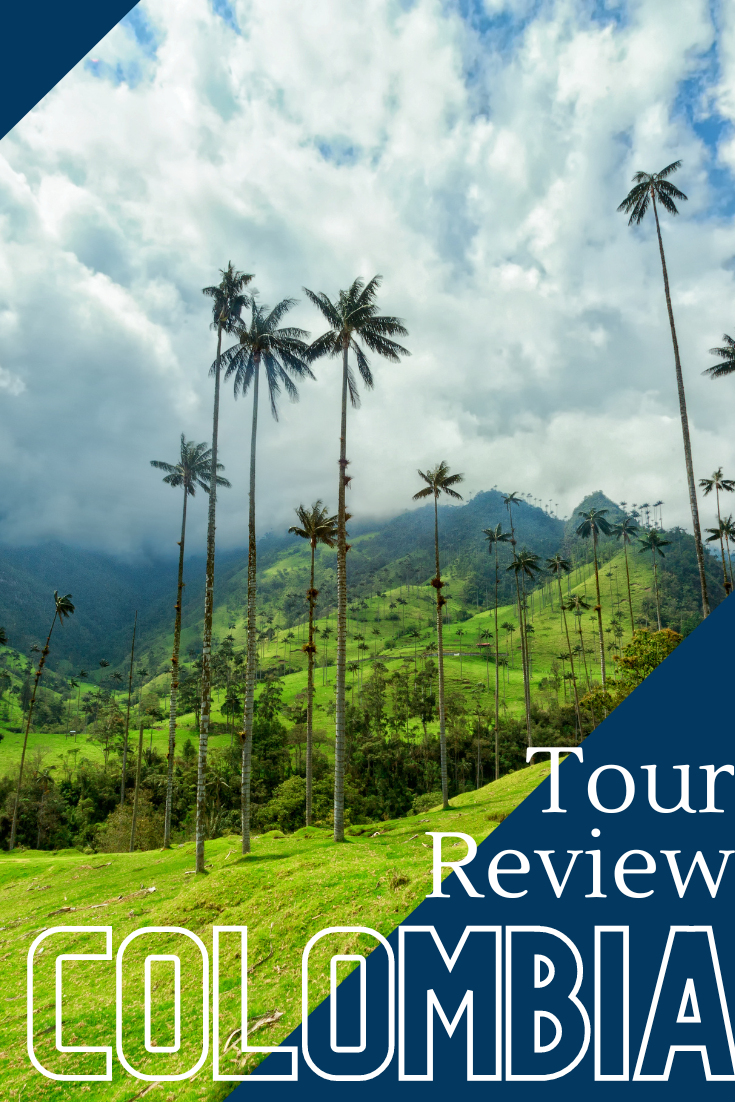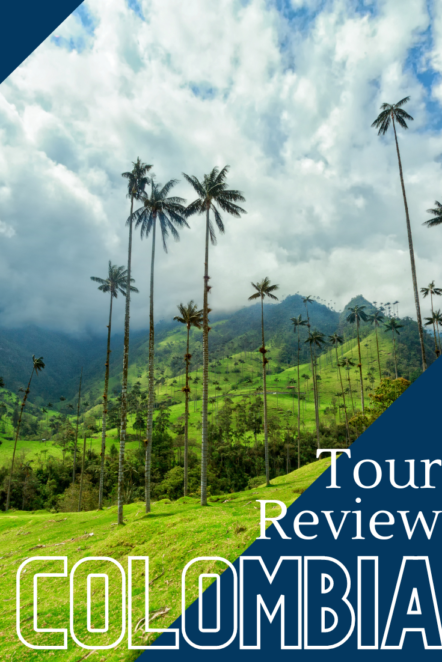 [/columns][columns size="1/3″ last="false"]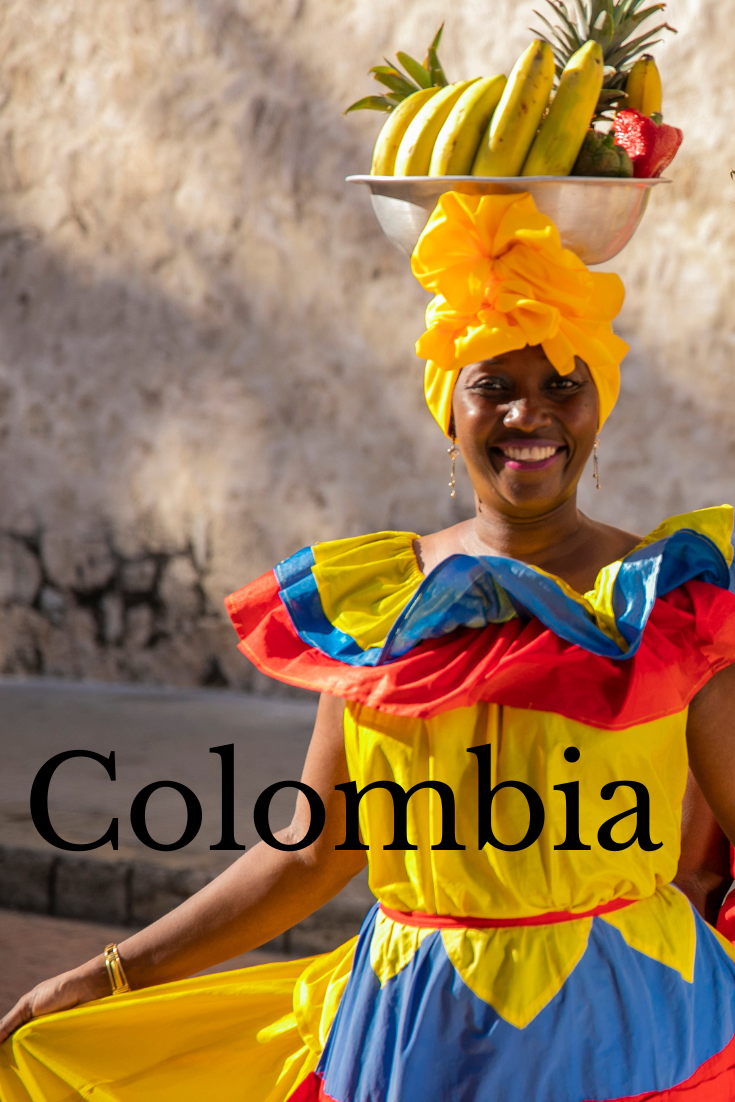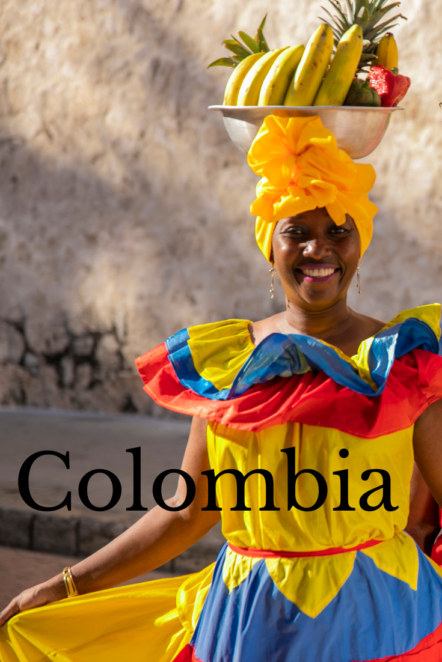 [/columns][columns size="1/3″ last="true"]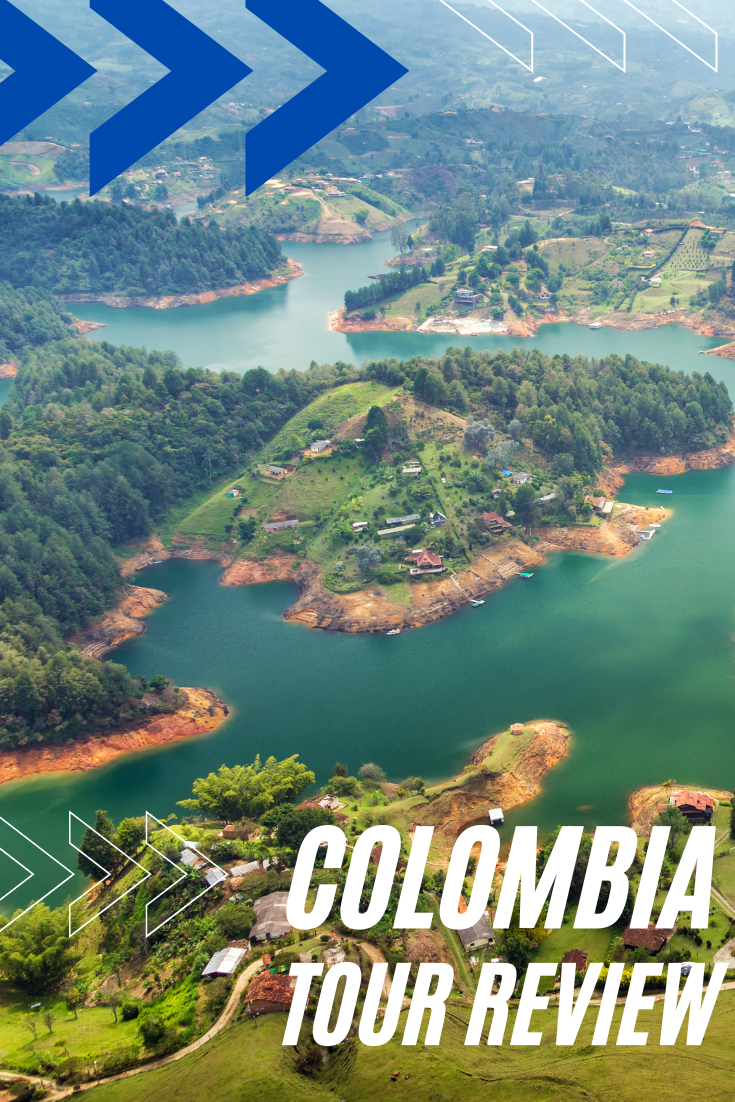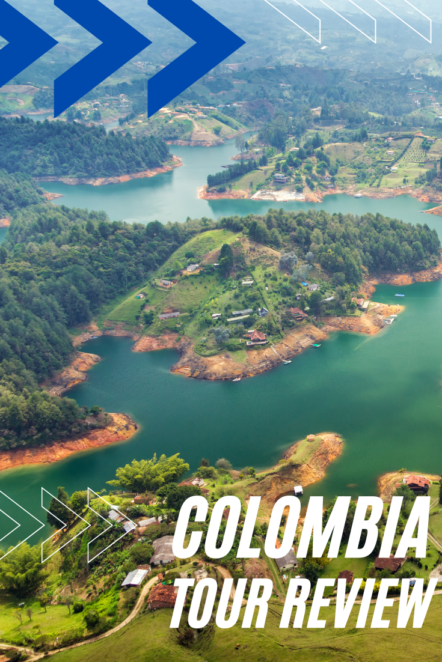 [/columns]