How to budget for Argentina
Where did my money go in Argentina for a 6 night trip?
Here's the quick rundown.  Click and read below to get a deeper insight!
Total: $1017.08 for 6 days.  Check each section below to see a breakdown!
Accommodations Hotel, Hostel, and a pseudo Airbnb
Transportation  Ubers, flights, and trains!
Food Yummy food and snacks!
Alcohol Had to try the local brews.
Activities Many things to do!
Souvenirs Slash Presents!
Fees The worst
By the way, this is my budget for just 1 country, if you're backpacking through multiple, here's a helpful South America budget  or a South American itinerary    I was also only able to make it to Buenos Aires (Itinerary or City Guide) and Iguazu, but next stop… Ushuaia!
 Accommodations
Could you do it cheaper?  Yes, hostels.  I picked some mid level places and splurged on others.  

Keep in mind:  Prices seem to go up on the weekend!
City Center ~ The first night in Buenos Aires, I stayed at the Hotel Reconquista Garden with a pool and a private balcony with a chaise lounger! And a bidet! But I didn't know how to bi-do it lolol.   It was very close to the Obelisk and where the hop on and off bus begins!  I thought it was a really great location, the room was beautiful, and it was an incredible price.  I just wish that I had been able to get a massage while I was there!  
Palermo ~ The second night, the Reconquista Garden was actually full, so I had to switch! I had heard a lot about the Palermo district, so I decided to check that area out.  It was filled with beautiful street art, sidewalk cafes, trees and parks! It's also really close to the Jorge Newberry Airport (the domestic airport), so that might be worth looking into if you will be flying somewhere in South America.  Ezeiza Airport is about an hour away from BA.  I ended up at the Rosedal Suite.  The bed was the most comfortable of the trip, spacious room, and a rooftop pool! I had it to myself both nights that I was there! When I came back from Iguazu, the price was higher because it was the weekend, but I happily paid it again.
Puerto Iguazu ~ I hopped a flight here in order to see the Iguazu Falls!  I stayed at the Nuevo Hotel Misiones, which was OK. The breakfast was pretty terrible, but the location was spectacular.  It was right by a great crossroads (great for people watching).  It was also within walking distance to the bus stop (up to the National Park!) and to Tres Fronteras.  Tres Fronteras is a point where you can see Argentina, Paraguay, and Brazil

If you have a little more in your budget, I recommend the Panoramic Hotel.  I saw it while I was on the way to my hotel, and it hands down has the best view.  Please check it out. Cursory check showed it to be about $170 a night.
Transportation
Could you do it cheaper? Uber was really cheap, and it was awesome!  But there is a surcharge if you are getting picked up and dropped off at the airport by Uber and Taxi. Unfortunately, there aren't really any places nearby to walk to to be picked up from there instead.

Keep in mind: Taxis and cabs seemed to be pretty similar prices, but at least with Uber, you know the price.  Also Uber can take a long time for a driver to come (10 to 20 minutes).  Uber is also technically illegal, but everyone uses it anyway.  You just have to sit in the front seat!
To get to Buenos Aires from Ezeiza Airport (the major international airport) is about an hour away from city proper.  There's a smaller airport (Jorge Newberry)  that's literally in the midst of the city.  It's obviously much cheaper to get an uber/taxi there than Ezeiza.  Here it is from the sky! You can see how close the airport is to the city, how big it is, and how green!
When you get to Puerto Iguazu, you basically have 2 options of how to get to the city. Taxi or a shuttle.  The Taxi was about $26.50 ($10 more expensive than when you go back!) or $6.36 to be dropped off at your hotel.  I picked the $6 route, obviously. It took a little longer, but I didn't mind getting a little preview of the city 🙂
The flight to Puerto Iguazu was a little more expensive than I'd normally do because it was very last minute.  I was literally just sitting in my seat on my flight to Buenos Aires when I booked it, and I picked my seat so the price went up more (BTW, try and sit on the right side going there or the left side coming back. I think I heard someone say that you could see Iguazu Falls from the plane!)  If you want to do it cheaper, there are nice bus services that run, but I didn't have the time.

Food
Could you do it cheaper?  Since it was a short trip, I ventured to some nicer restaurants, but if you walk away from tourist places, you should be set.

Keep in mind:  Not all of the hotels included breakfast.  Breakfasts were mostly  toast.
Argentina is famed for it meat and parrilladas.  For good reason.  Steak isn't something that I normally eat with any frequency, but When in Roam…ing…., I had to.  This lovely plate of delicious was at a restaurant called The Cottage right across from my hotel in Palermo!
Here's another one from later!
Alcohol
Could you do it cheaper?  I feel this one is obvious…

Keep in mind: I tried a variety and from a variety of places.  
The alcohol was pretty cheap in Argentina! I've seen it cheaper in other countries like Cambodia, but it counts as cheap if it's cheaper than back in Atlanta! \
The coolest place I went to was told to me by a local! It's a Speakeasy bar (it's hidden behind a pizza place), and it's located in Palermo!  You should check it out. It's called Victoria Brown. It's located on a street called Costa Rica, so don't think it's the wrong country lol.  It's near the main square, but it doesn't have a sign.  Just ask and someone will point you in the right direction 😀
Activities: 
Could you do it cheaper? I don't think so.

Keep in mind: Aren't these the reason you want to go?? 
Buenos Aires. 
Hop On/Off Tour  is always my favorite thing to do when I first get to a city.  I love learning about the city and orienting myself to the sites.  I think it's fabulous.  Baires's (as I learned from the narration that Buenos Aires is sometimes called) network is a great deal for the price.  You get 3 different loops that go all the way from City Center to Palermo.  As you saw in Transportaion, it took me $15 to get from one side of the city to another in the Uber.  I should have just used my Bus pass to get over there!  And it's not that hot because of all the beautiful tree-lined streets!
Then there was the Tango Show!  There are SO many Tango shows.  I actually had one scheduled that was cheaper and also included dinner, but it was through my hotel.  When I had to switch hotels, I had to cancel, and I couldn't find that deal again.  So I'd recommend doing it through your hotel.  I went through Senor Tango, and it was OK.  I felt like maybe they should have called it Senor Cancion, because he sure loved to hear himself sing.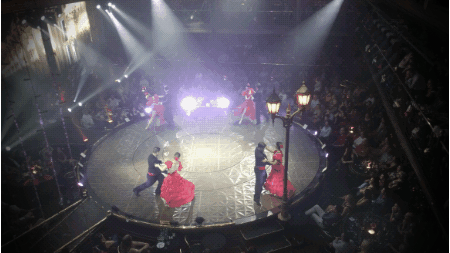 Puerto Iguazu
Obviously, I came here for the falls.  Boy was I not disappointed!  It's about 3 times bigger than Niagara Falls, and I heard someone call them Niagara on Viagra.  Even though I had a great time when I went to Niagara, these were stunning.  You get to be a lot closer to the water as well. It was a rush.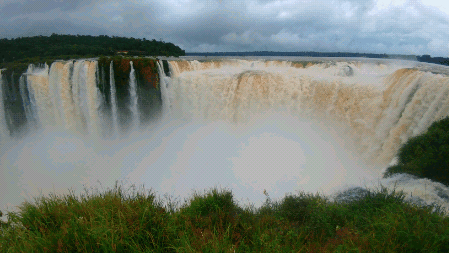 I had only expected to be there for an hour or three, but I was actually there for closer to about 7 hours.  They have multiple trails that you can meander around, but if you're not up to that, they also have trains that move you around the park!  You can also bring lunch to have there, but the food prices aren't that bad either. Plenty of shady spots to relax if you're tired, but the walks aren't that bad.  Most are even handicap accessible!  You might find that when you're walking around, you'll run into these cuties! Coatis!  Here's an in-depth guide to the Iguazu Falls Park.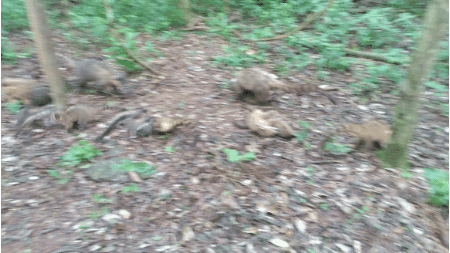 There's also something called the "Great Adventure."  There's two.  One is a peaceful float down the river, and I'm sure they point things out to you. That's the Ecological Trip.  Or if you're feeling a little more wild, there's the Great Adventure.  It is a bus tour through the jungle with an English/Spanish speaking guide.  Then you walk down a fair bit of stairs, put your stuff in a free waterproof bag, and get on a speed boat! That boat takes you RIGHT up under two sets of waterfalls. It was a hot day and it felt amazing.  You'll get completely soaked.
I didn't get to go to Guira Oga because I didn't realize that you HAD to have a guide, and they only had certain times. I tried to go there on the way to the airport, and there wasn't enough time, but I wanted to! It's an animal rescue sanctuary.  It's unlike a zoo because they want the animals to get back into the wild. It looked really nice, and I hope you get to go.
The other place was the Ice Bar.  I'd been to one when I was in Barcelona, so I didn't feel the urge to go to this one.  But if you haven't been, it could be fun!
Lastly, hopefully next time I can add on horse riding in Argentina if I can get near Cordoba!
Souvenirs
Could you do it cheaper?  Well sure if you don't do souvenirs!  

Keep in mind:  I didn't really see "markets" here like I normally do.
Sorry I'm not particularly helpful here.  Normally I see markets with tons of goodies to buy (Like in Peru or Morocco), but I didn't really see anything like that.  I think there was one by the Tres Fronteras in Iguazu, but other than that I think I only saw a gift shop one time in Baires.  Plus I went right after Christmas, so I guess I didn't really feel like buying any more presents for people lol.
I ended up getting the Go Pro footage of the Boat trip because I left my waterproof camera at home this time (trying to travel lighter).  I wish I hadn't though. While he did get some good shots, it's very bumpy, jerky, and he tried to focus on all the people. I'm perhaps too much of a control freak, so maybe I should have brought my own.

Fees
Could you do it cheaper?  I'm not sure why I only had that fee once, but ::shrug::

Keep in mind: Not every country is visa free.

Lucked out since US doesn't have a visa to go there!  I'm not sure why there was a table fee only once!  As a reverse fee, I can tell you that at one place I got a discount for eating before 9 pm!  And Bug Spray is pretty mandatory.
I hope you find this helpful for your trip! Let me know what prices you paid and where!
Pin for later!