There's Machu more than Picchu in Peru! 
When you're planning to travel to Peru, the most common thing to look up (besides Peru weather) has to be Machu Picchu tours or Machu Picchu hike! Please forgive the pun, but there is Machu more to Peru than Picchu!  There are so many things to do in Peru!  Please keep reading to find these 22 things to do in Peru to squeeze into your itinerary!
1. Lima
My top two places in Lima are the Miraflores and Barranco districts.  I found these two when I was looking up hotels in Lima Peru.  I wanted to stay in a safe part of Lima while still maintaining a reasonable price!  However, there are many other things to do in Lima!
Miraflores
Miraflores is very beautiful and lively! I loved the boardwalk.  It's a stunning walkway along the coast with a very dramatic view of the cliffs and the ocean.  I saw a wedding taking place on the beach, and there was ANOTHER wedding in a very Barcelona-esque park.  Couples, musicians, and dancers filled the park.  I highly recommend it!
Barranco
This is another fun section of Lima.  I felt like it was a little more low key than Miraflores.  There was a lot more street art, and there was more of a Boho vibe.  The hotels in Lima Peru were also a little bit cheaper in the Barranco district!  
There was an adorable park called the Plaza de Armas which was a lot of fun.  There's bridge called the Bridge of Sighs (Puente de los Suspiros) that had a lot of hype online.  Honestly, it was OK.  I didn't think the bridge was all that interesting, but there was a lot of street art around it as well as this fun ant sculpture that was huge!  It took me back to Honey, I Shrunk the Kids.  I went back again at night and the whole area had a much different feel.  I super recommend going at night!  There were performers, artisans, and excellent people watching!

2. Huayllay
I was so excited to see Huayllay, and I was very bummed that I wasn't able to.  It's also known as the Stone Forest, and it looked super other-worldy and epic.  I found this pic on Instagram, or check out Google to see some other truly stunning examples.  It's hard to find a lot of information about it, which is probably why people aren't going there on the regular! I really only found out that it's naturally made from erosion. It has these stunning columns, wildlife, thermal waters, and cave painting.
3. Caral
Caral is another stunning site that I wasn't able to fit in when I went to travel to Peru!  Heartbreak!  This is the picture I saw that made me want to go!
Caral is a Unesco World Heritage site and is the most ancient city in the Americas!  Archaeologists believe that it was first constructed way back in 2600 BC.  They think it was remodeled, enlarged, and reconstructed over the years before it was abandoned around 1800 BC.  I know when people are thinking about things to do in Peru that the Machu Picchu hike is usually the first thing that they think of, but Caral is way older! I think that's pretty cool!  
4. The Boiling River
The Boiling River of the Amazon was too far north for me to get to, but I definitely hope that I'll be able to get to it next time! If you can believe it, it gets to be as hot as 212 F in some spots!  
5. Tarapoto
Tarapoto is nestled right among the foothills of the Andes and the outskirts of the Amazonian jungle!  What a place to be!  There are waterfalls, petroglyphs, a spa, and even stuff for cigar lovers!  I think what makes it great is that it's not yet a tourist zone!  This will tell you some tips on how to get there and what to see!
There's also this amazing hotel for an EXTREMELY reasonable rate! I know I'm saving this for later! You?
6. Gocta Cataracts
The Gocta Cataracts are one of the tallest waterfalls in the world!  What's really surprising about it, is that the world didn't really learn about it until 2006! I think that's why it's not really on a lot of people's "Must See" lists when they travel to Peru, but it clearly should be!
7. Sarcofagos de Karajia
These 8 (now 7) figures are over 8 feet tall! They're made out of clay, stick, and grasses, and it's truly remarkable that they have survived (well, 7 of them anyway) this long!  Inside the sarcophagi are mummified remains.  They remind me a lot of Easter Island. Aren't they amazing?
8.  Rio Abiseo National Park ~ Gran Pajaten
The Rio Abiseo Park has tons of flora and fauna (as most parks do), but it also has tons of interesting archaeological sites.  The one that I thought was the most amazing is Gran Pajaten.  It's located in the Cloud Forest of the park and is another UNESCO World Heritage Site.  It has some simply stellar carvings and mosaics that date back to 200 BC!
9. Cusco
Cusco is one of those must-go-to cities when you travel to Peru.  Anyone who wants to go on a Machu Picchu hike must start out of Cusco!  However, it's more than just a hub to start on the famous Machu Picchu trek!  Cusco was the capital of the Incan empire, and you can still see the stonework that they implemented.  What's fascinating to me is that the Incan stonework survived a modern earthquake that the Spanish architecture did not!  The top two places to see in Cusco would be the Plaza de Armas (I suggest getting a hotel as close to that as possible. It's a much prettier part of the city) and Coricancha (a former Incan temple).
Head here to see over 100 things to do in Cusco!
10. Sacsayhuaman
Sacsayhuaman has multiple ways to spell it, but I've been enraptured with it since I saw it on Ancient Aliens.  I know that's a silly reason to put it in my list, but possible alien construction theories aside, there are some MASSIVE stones at Sacsayhuaman. What's really mind-blowing is how perfectly the stones fit together.  I couldn't even shove a dollar bill through!  
I always imagined Sacsayhuaman as a very mysterious and aloof fortress.  Turns out it sits atop a hill right above Cusco, and it has a magnificent view of the city!  It's definitely one of the best 20 things to do in Cusco.
11.  Machu Picchu ~Salkantay Trek and Huayna Picchu
Ok, I know I said there were other things to do in Peru besides the Machu Picchu hike, but Machu Picchu still needs to be mentioned! The Machu Picchu tickets are actually discounted if you go after 1 pm, so that'll save you some money.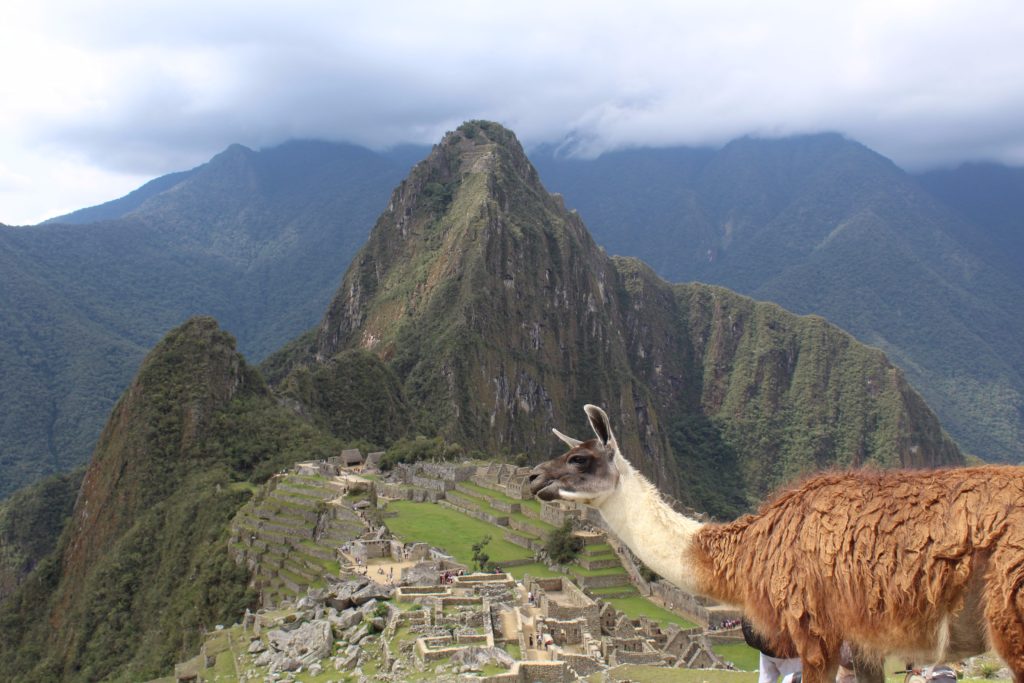 I took the train, and of course, there is the standard Machu Picchu hike, but did you know there's one called the Salkantay Trek?  It's one of the 25 best treks in the world, apparently.  It used to be considered a plan B if all the Machu Picchu tickets for the Machu Picchu trek were sold out.  But not because it's literally the road less traveled, people are enjoying it more because it has fewer tourists and reportedly better views!  So if the Peru trek you want is sold out, do consider the Salkantay trek!  For either one, there needs to be some training for the Inca trail because that altitude will mess with you.
Huayna Picchu is also known as Wayna Picchu. I definitely thought those were two different mountains.  Regardless of the Machu Picchu weather, you'll always see a gorgeous mountain lurking behind  the mystical ruins.  It's the view that everyone knows!  You can climb up it if you're crazy fit.  Here's a nice chart that compares the hike of Huayna Picchu and the Machu Picchu mountain trek (not to be confused with the ruins).  
12. Ollantaytambo
Ollantaytambo is one of the last stops on the train from Cusco to Aguas Calientes (Machu Picchu's stop).  It used to be a royal estate. How fancy!  The ruins are easily accessible from the train station.  I decided to stop here on the way back from Machu Picchu to see the Ollantaytambo ruins and then onwards to the next two places you should see when you travel to Peru! 
13. Moray
Moray is between Cusco and Machu Picchu.  After stopping in Ollantaytambo, I negotiated with a cabbie to drive me to Moray and Maras on the way back to Cusco!  I first saw the terraced concentric circles and thought they were so beautiful! At first, I thought it was an amphitheater, but it turns out that scientists believe that it is an ancient Incan lab where they experimented with growing crops! There can be as much as a 27 degree (F) differentiation between the top and bottom!
Want to read more about how I went to Moray and Maras? –
Read
Transportation
14. Maras Salt Ponds
Maras is very close to Moray, so if you see one, you should see the other!  It's naturally occurring, although now it's very tended and "farmed" which make it look the way it does. The salty water emerges from an underground stream. You're allowed to walk around down there, and you can see the channels where they divert water to different ponds.
I was even able to see some workers "harvesting" the salt!  Each pond is apparently own/operated by different families. The newer ones get the ones farther away from the entrance. I think that's kinda cool!  I tasted some of the salt near a walkway. Spoiler Alert: It was really salty! You can buy some salt at one of the gift shops.  I got some bath salts for later 🙂
15. Islas Ballestas
 The Ballestas Islands are located off the coast of Paracas Peru.  The islands are a series of cool rock formations and way more birds than you'd ever think.  At one point, I thought part of an island was just black, but upon further inspection it was just covered with birds! 
Pro tip: Bring something to cover your nose because the smell is definitely very noticeable at first.  The kinds of birds you'll see include Blue Footed Boobies and PENGUINS!  You can also see tons of very adorable sea lions.
Besides the fauna, Paracas Peru also boasts a petroglyph called the Candelabra!  They aren't really sure what it means, but they think it was a sign for sailors.  They think it was created about 200 BC.  It's big enough (at almost 600 feet tall) to be seen 12 miles away!
Paracas Peru has a nice preserve (including a red sand beach!) and is also a lovely beach town.  I had a great time walking along the water, eating food, and looking at all of the goodies the local artisans had made! I even saw some backpackers who decided to stay there selling their friendship bracelets.  Not my style, but I think that shows what a nice little town it is that people want to stay there 🙂
If you want more info about what to do in and around Paracas (especially with kids!), read more by the Wandering Wagars. 
17. Huacachina
Travel to Peru usually doesn't bring to mind a desert and oasis, but did you know that Peru has both?  I'm a member of a Facebook group called Girls LOVE Travel, and a member posted about it.  (As a side note, it's a great travel resource!  Girls are always posting amazing places that I have to immediately add to my bucket list! If it weren't for that group, I never would have gone to Huacachina!  If you're of the female persuasion, I highly suggest you join).  
Huacachina is a little town surrounding an oasis nestled among VERY tall sand dunes.  I saw some amazing dunes when I was in Morocco for a Sahara trek, and these dunes were just as impressive!  What's even more startling is that the town of Ica has a massive dune in the middle of the city!
Huacachina is an fun place to ride in a dune buggy and to try your hand at a sandboard! I didn't think I was coordinated enough to stand up on the sandboard, so I went down on my tummy.  I think it's even more exhilarating that way because the sand is so close to your face!  
Want to read more about my 3 day trek into the Sahara? –
Click here!
18. Nazca Lines ~ Lineas de Nazca
Speaking of petroglyphs (like in Paracas Peru), the more famous Nazca Lines are close to Paracas!  I took a flight over the Nazca lines which was amazing.  They're also a UNESCO World Heritage site, and there are more than 70 figures (geometric and animal shapes!). Similar to Sacsayhuaman, Ancient Aliens also has something to say about the origins of these fascinating lines!
19. Colca Canyon
Colca Canyon seems to be on a lot of people's list when they travel to Peru because it's the 3rd most visited site!  The Andean Condor is frequently seen flying around. They have a wingspan of 7-9 feet!  Colca Canyon is also deeper than the Grand Canyon; it's just more narrow.  It's also greener and has swimming!  If you have the time and energy, I really recommend hiking in Colca Canyon.
20. Arequipa
Arequipa is the second largest city, so a must see when you travel to Peru!  It was even the capital of Peru for a short time!  The city itself is flanked by not 1, not 2, but 3 volcanoes!  I wonder if that's why they moved the capital?  It has tons of beautiful views and museums!  You can even go for a nice hike at El Misti!
21. Lake Titicaca
Lake Titicaca is the largest lake in South America, and it is cradled between Peru and Bolivia.  It's probably so big because 5 rivers flow into Lake Titicaca. That's a whole lot of water going in there!  There is tons of stuff to do in and around Lake Titicaca including, but not limited to, a floating village! I've seen one when I was in Cambodia, and they are too cool!  Here are some other interesting things to do around Lake Titicaca like floating on the islands with locals!  Might as well mosey on over to Bolivia while you're down there!
22. Rainbow Mountain AKA Vinicunca
I opted not to see this one myself because of timing, and I heard the hike was kinda hard and not worth it.  But, other people seem to have really enjoyed it, so maybe I'm just lazy.  Rainbow Mountain is tucked deep into the Andes, so it's a more recent tourist destination.  So much so that the roads and trails aren't really yet equipped to handle the influx of visitors. I think the marketing to get people to travel to Peru has worked really hard on getting the word out.  I'll let you be the judge. Here's an article that says it isn't worth the hike.  Here's an article that says it is.  You decide!
Here's a super heavily edited pic that first drew me in:
And here's a more realistic one:
I feel like if I'm going to be trekking through the mountains, I'd rather it be the Machu Picchu hike, knowwhatImean?
Anyway, I hope some of these things to do in Peru make your list! Please tell me if I've missed anything or if you are going to visit when you travel to Peru!
If you're interested in seeing most of these places, check out this 9 day Peru Itinerary that goes to most of them!
Pin this to save for later for you or show your friends!!