This post is part of the series Budgets
Other posts in this series:
Iceland Budget (Current)
Iceland is gorgeous and I learned a lot of silly things when I was out backpacking Iceland, but it can definitely be expensive!  So, if you're looking for an affordable Iceland vacation, I present to you, my dear readers, the first of the budget series to help you figure out how to visit Iceland on a budget!  I've separated the budget for Iceland by category, so you can see what I spent, but then also figure out how to apply it back to yourself. I was there with my brother, but if you're going to Iceland with kids, that might be a better help!
Click here
to read about surprising things about Iceland!
How did I visit Iceland on a budget?
Here's the quick rundown.  Click and read below to get a deeper insight!  I mostly stayed in Reykjavik.  Here's an account of a Ring Road budget if that's what you're planning on!
Iceland in Summer? –
Check out the
Iceland prices
I paid when I went back during summer!
Flights
Could you do it cheaper? If I hadn't gone during the holidays, it would've been MUCH cheaper. It looks like living in Boston and Baltimore makes it really cheap! Just don't go when it's a holiday. I've seen RT tickets with WOW for about $200. Mine was so expensive because of timing.

Keep in mind: Your Origin!  Where you start your journey will definitely impact the price.  Please read my post about how to score the best deals possible on Skyscanner.net.
First I had to get there!  I only had a short period of time between Christmas and the beginning of Spring semester, so unfortunately my flights were more expensive than usual.  But it was about $1300 RT from Atlanta to Reykjavik, which just wasn't happening.  But I was dying to get out there because I heard that the Northern Lights were going on a dimming cycle.  The best I was able to do was $850.12 for my roundabout way to get there.  Definitely the largest costs and it wasn't conducive to visting Iceland on a budget.
I had to take Megabus because I totally messed up.   I had thought I had purchased a flight to Baltimore for like $60, but apparently I didn't. I found out later it was because my credit card on file with Southwest had changed, so my charge never went through.  Rookie mistake, what was I thinking? Always wait for the confirmation, people!  A few days before my trip when I was printing off my confirmations, I noticed that I didn't have one.  The price had gone way up to $350, which I wasn't about to pay. So, 14 hour bus ride it was!
After doing a lot of research and using my trusty Skyscanner Hacks that I taught you, I found that the cheapest way home was through Berlin!  So I made myself a nice 2 day layover there!  I had a great time and took a Graffiti and Street Art tour!
As luck would have it, I was going to be at the airport about an hour before my friend who lives in Miami was! I worked on a presentation while I waited, and then spent a lovely evening with my friend, his new wife, and an excitable husky puppy!
My last leg home was with my Southwest points, and I landed at 5:45 am… on Monday morning… just in time for my first day of the semester! I delivered my presentation I had finished the day before and life went on! Iceland trip=success!

Accommodations ~ Reykjavik Prices
I had a mix of WAY low budget and expensive for this trip.
Could you do it cheaper?  Staying at a hostel the whole time or having more people at an Airbnb!

Keep in mind:  I split the Airbnb cost with my brother, so if you're alone, it would be more.  But if you were alone, I'd also suggest staying in a hostel to keep price down!
Since I messed up my flights, I ended up on that Megabus, so I slept on the bus.  I paid an extra $5 to upgrade to a seat with a table. That is a STEAL, people.  I piled my blanket and neck pillow on that to sleep; I also used it to play Sudoku and work on my laptop.
 The only bummer is now you're facing a stranger. I was lucky in that I didn't have anyone next to me, so I was able to stretch out as well.  But either way. Get. that. Table.
Once I got to Reykjavik, I actually got a hostel! Yay actual bed!  I thought the Reykjavik prices were high because of the holiday, but I'm looking now, and it seems like they are pretty standard. I stayed at the Reykjavik Hostel Village, and it seems that even now their price is about $40.  These Iceland prices are crazy!
There look to be about 5 hostels that are cheaper than that (about $20), but make sure you're factoring in location!  Hostel Village was RIGHT on the main road, and it was an easy walk to many places (including the Penis Museum!  
Click here
to read more about those crazy museums!
My brother actually met up with me in Reykjavik, which prompted me to grab us a cabin.  I picked the cabin because I wanted to be farther away from the city to possibly get some sweet views of the Northern Lights.  Also my brother had thought his friend was going to come, so I got a cabin that slept 4.  Hindsight, I'm glad we got the cabin even though it was more expensive than usual.  It was quiet, we were able to save a ton on food because we had groceries, and we had a little movie night every night!  It was a bummer that the weather was REALLY BAD for most of the trip, and we didn't see any Northen Lights in the cabin. But it was nice to know we could've.  
I originally had a hostel booked for New Year's Eve, but the whole trip had slowly become more expensive, so I decided to cancel it.  I still remembered the code for Hostel Village, so I decided to hang out there.  I ended up taking a shower (sorry, Hostel Village) and hanging out at the computer upstairs until the front desk lady left.  My bad.  A girl I had met on the Northern Lights tour messaged me to remind me to send her my pics and also asked what I was up to that night.
Since I didn't have any plans, she came and scooped me up and I hung out with her and her friends all night! I stashed my stuff behind the computer desk and rang in the New Year with new friends!  I ended up snoozing at the bus station (which I had to WALK to because the freakin' bus didn't pick me up!), at the airport, and on the plane.  Who needs a bed?
Then it was off to Sunny Berlin! I'm j/k; I think Berlin was actually even colder than Iceland. That's right. Colder than ICE. LAND.  I stayed at Hostel 2A for 2 nights. I really liked it. It was very close to a Metro stop, and it wasn't too far from the city.  
And of course in Miami, I stayed with my friends 🙂

Transportation ~ Getting Around Iceland
Could you do it cheaper? If you didn't rent a car, maybe?  But to see the exciting things in the countryside, I would definitely rent a car.  If I had been more confident driving a manual at night in that weather, I could've also avoided paying for a Northern Lights tour.  If you had more than 2 people, it could also be cheaper for you.

Keep in mind: I had my brother to split the cost of gas and the car, so if you're alone, it'd be more.  Make sure you get a 4×4!  My brother also bought more gas than I did.
I rented my car from Northbound.  I did a lot of searching and found them to have the best price. I even checked the big brands because I thought I could get a discount with my credit card, but they were much more expensive.  My brother's friend rented a car the same week that we were there, and she paid about $1000.  To be fair, her rental was much nicer and newer, and it also came with a WIFI dongle that let us have WIFI everywhere.  Our rental didn't have WIFI, but it did have a GPS which did a great job getting us around.  
Let me know if you end up using them so I can tell you how to find their office in Reykjavik (they also have one at the airport).  I opted to pick up in the city two days after we landed to save a little money.  We didn't really need a car to wander the city, but you'll want a car if you're getting around Iceland instead of just Reykjavik!
If you convert the currency, gas was about  $7.50 a gallon.  It seems a lot cheaper, but remember the price shown is in liters and not gallons!
The Flybus is a pretty expensive way to get into a city relative to all the other ways I've used in other cities.  It's a large bus that has free wifi.  I paid a little extra to be dropped off at the hostel, and I did the same to be picked up by the bus on the way back.  But, since I was waiting inside, the bus didn't wait for me, and I had to walk to the bus station at 2:30 in the morning.  I was pretty upset.

Food ~ AKA Go to Supermarket in Reykjavik!
Could you do it cheaper?  I dunno, probably not! I super low balled this one!

Keep in mind:  My brother and I mostly ate groceries that we picked up at the store instead of eating out.  We decided to do this after a cursory walk up and down the street and saw a super depressing buffet was about $15 and a sandwich was $13.   So we opted to make our own and bring baggies for lunch!
Also included in this food budget would be the 5 doner kebabs that I had in Berlin.  Dang, they are tasty. I just can't find them like that at home!  I loaded up!  I literally had them for every meal!  #NoRegrets.  
In the chart I just included the basic prices that I saw and totals.  Groceries let us bring sandwiches with us for lunches instead of popping out $15 per meal. My brother's friend said she spent $50 on a salmon dinner!  Insane! I definitely suggest the Bonus Supermarket in Iceland.  It's very large, noticeable, and fairly priced.

Alcohol
Could you do it cheaper?  Sure, if you didn't drink!

Keep in mind: My brother actually brought a bottle of Vodka from Duty free from the airport, so we didn't have to buy much once we got there. I also didn't super feel like going out and partying with my brother, ya know?
I guess the real expense was New Year's Eve when I actually went out, followed by the Capri Suns I bought to mix with the Vodka.  Keeping it real, that was pretty delicious. I poured them into a water bottle and that's what I puttered around with, and it was mad tasty.  But if you want the Reykjavik prices for different drinks, check the image above.
Most of my friends went to warm places over winter break, so I got this awesome floaty 3 pack! One for me and one for my two best friends!
Activities and Some Iceland Tour Companies
Could you do it cheaper? Absolutely, if you didn't go, but then, what's the point? Aren't these silly sites the whole reason to go somewhere?

Keep in mind: I like museums, and I had no problem checking them all out! I also didn't get to go to the Blue Lagoon, so that would make it more expensive.
The museums were all awesome, and I recommend all of them!  You can read more about them in my other post.
Of course I had to hit up the thermal pools since I couldn't make it to Blue Lagoon.  I tried the Secret Lagoon, which was a bit of a hike out of the city, and I tried 2 in Reykjavik (1 indoor and 1 outdoor).  If you're wondering about the difference between the Blue Lagoon vs The Secret Lagoon, read there!
And in Berlin I tried out the Berlin Dungeon! I'd never done that before (or heard of it!).  I also did the Graffiti and Street Art tour, but I received that for free in return for writing a post.  
I know next time I'm checking out this Game of Thrones tour in Iceland and the Ice Caves (only viewable in winter!)
And if you aren't into renting a car, you can still check out some tours around Iceland!
Souvenirs
Could you do it cheaper?  Well sure if you don't do souvenirs!

Keep in mind:  My souvenir budget was higher this trip because I promised a few family members sweet Icelandic Christmas gifts.  And also because at one gas station, I thought I was buying awesome $2 gifts, but they were actually $20.  Curse you decimal places!  
And then I collect small, decorative spoons from countries that I've visited (a collection I've inherited from my grandmother).  
Fees
Could you have done it cheaper:  Probably?  The only real fees I had this trip was to store my luggage on my last day.  I'm glad I did because otherwise I would've had to carry all of my luggage through the snow at 3 am instead of just my day pack.

Keep in mind:  I have a USAA checking account so I don't have foreign transaction fees.  So if you don't have something like that, you'd need to factor in that 3%.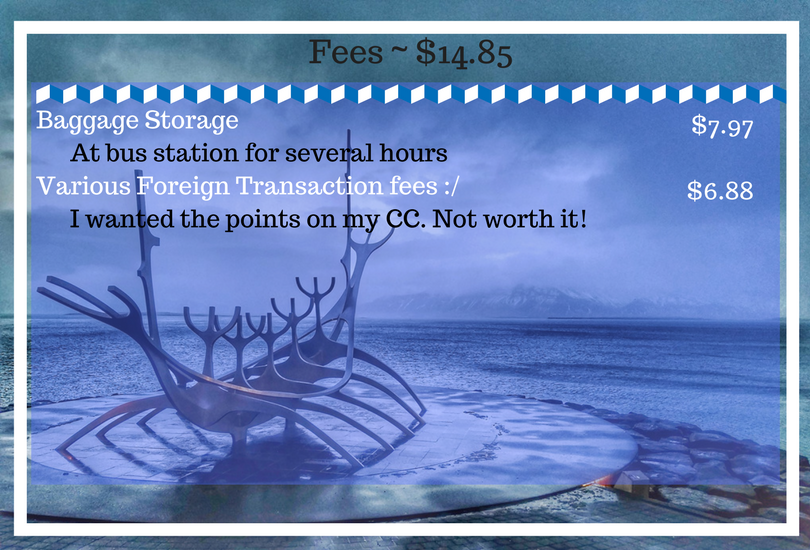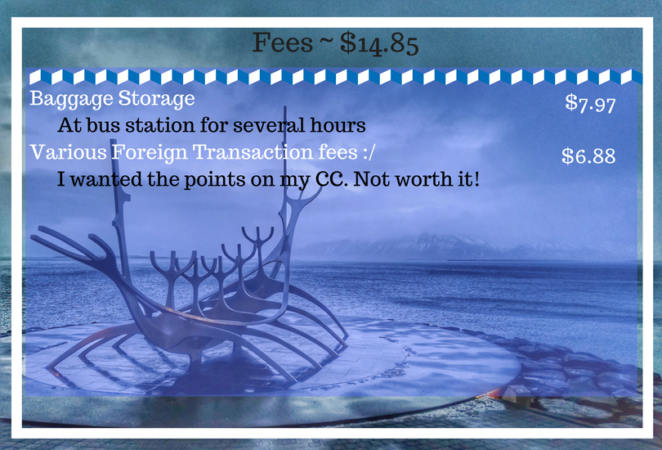 That's my Budget for Reykjavik that showed you all those Iceland Prices!  I hope it helps you plan your own affordable Iceland vacation… or as close as you can get to "affordable" when you're getting around Iceland 😀
Pin for later or help your friends plan their backpacking Iceland trip!
https://www.pinterest.com/pin/669699407059199958/