How much does it cost to go to Israel (8 nights)?
Here's the quick rundown.  It's broken down below to get a deeper insight! FAQs at the bottom!
If you're planning a trip to Israel, it might be helpful to know how much does a trip to Israel cost! Well, read on!
Accommodations from Trip to Israel Cost
Could you do it cheaper? Absolutely.  The average comes down to about $60 a night. I did a big mix of hostels and hotels!
Keep in mind:  I had just done 2 back to back tours, and I was ready for some alone time in hotels!
I stayed in a few cities, but I wanted to highlight the two that really blew me away!  I'll put the other ones I stayed in at the bottom of this section.
Eilat
Eilat was really interesting for me since it marked the 3rd city/country that I visited the Red Sea from, and it was so interesting that they all had such a different vibe! Eilat was really clean and had a vibrant personality.
I ended up staying in a hostel there, but it had a private room with a private jacuzzi!! The room was nice too, but I'm just going to put a picture of the tub up since that's what really drew me in. It was also a short walk to the beach and boardwalk. I really enjoyed my night here.
Dead Sea
There are several places along the border of the Dead Sea to stay at, and I stayed in Ein Bokek. I really enjoyed staying at this hotel because it was right on the water's edge, so it was really easy to get to the water.  There were also plenty of chairs and overhangs to protect from the sun.
Mitzpe Ramon              Yeroham            Jerusalem            Tiberias             Tel Aviv 
Transportation ~ How Much Does it Cost to Go to Israel?
Could you do it cheaper? If you didn't get the rental insurance, but 😐
Keep in mind: Parking costs are included in fees.
I rented a car from this site, and the price was pretty good for the car itself, but you can see the price went up a *lot* when you add the insurance!  I'm not sure I would have been as comfortable driving without the insurance! I know my credit card had some, but it didn't cover everything. Better safe than sorry!
Gas wasn't as expensive as it was in Iceland, but still pretty high!  It came out to be like $6.86 per gallon.
The most expensive taxi was from the Eilat/Aqaba border to my hostel in Eilat, and then I took a few cabs in Jerusalem when I parked my car.  Overall the prices were pretty standard. I downloaded the "Gett" app to use taxis in Israel.
Food ~ How Much is a Trip to Israel?
Could you do it cheaper?  Absolutely!  As always there are options to go to grocery stores!
Keep in mind:  Jerusalem was my most expensive meal.
My most common meal was a kebab/schwarma!  Those seemed to hold pretty steady at about $10 which included the wrap, fries, and a drink!
l did end up going to dinner at McDonald's in Ein Bokek (Dead Sea) because there weren't really that many other options that weren't wildly expensive.  Budgeting about $10 a meal would be a good bet.  The only one that was much over taht was a fish and chips meal at a Jerusalem restaurant.
Alcohol ~ How Expensive Is Israel?
Could you do it cheaper?  I feel this one is obvious…
Since Eilat marked my first day traveling alone after two consecutive tour groups, I decided to relax in Eilat beachside with a fun watermelon breezer. Also, it was the cheapest option!  I suppose that's what I get for dining at a beachside bar!
I ended up grabbing a few drinks in Jerusalem since I made some friends. I'm surprised that they weren't more expensive considering how expensive (relatively) my dinners were in Jerusalem!
Activities ~ Cost to Travel to Israel
Could you do it cheaper? I didn't see any coupons or anything
Keep in mind: Aren't these the reason you want to go??
Makhtesh Ramon Rappelling
The Jeep and Rappelling tour in Mitzpe Ramon with Adam Sela Tours was not something I'd heard of but WHOA what an adrenaline rush!  The two-hour jeep tour went in and around the Makhtesh Ramon, and it was incredibly informative!
Adam Sela has a knowledge base as deep as the Makhtesh itself.  I don't want to ruin all the fun facts he'd give you in the tour, but basically, a Makhtesh is a vast crater.  What makes it really interesting is that it isn't made from a volcano or meteor, but it's a natural occurrence! A natural occurrence that happens to be over 24 miles long and shaped like a heart 🙂
The morning started off with a short demonstration to show how it was possible for a "crater" of that magnitude to be formed.  I don't think I would have understood it without that demonstration! Then off we went in the jeep, bumping along with occasional stops for Adam to let me feel, smell, and even taste some local plantlife!  
Because of the way the Makhtesh was formed, it's possible to see many different geological formations, which Adam knew all about.  It was like being on a rock safari with a scientist from the Smithsonian! The jeep tour culminated in a beautiful panoramic view of the largest makhtesh in the world and this cliche jump pic!
After the panoramic view, we drove back to where I was going to rappel down.  This was very exciting for me since it's not something I've down in a while, and certainly not outside! I'd only done it at a summer camp!
I'm very afraid of heights, but they made me feel safe.  What really helped was letting go of the ropes and just hanging there and realizing that I was not holding myself up, but they were.  I'm certainly not what you'd call an athlete, and I managed to do it. I had a HUGE sense of pride when it was done!
The price for this package (he has others) is basically renting the cheap. The more people you have, the cheaper it is! Try and find some people to go with you!
Dig for a Day
This activity was about an hour away from Jerusalem or Tel Aviv in a National Park called Beit Guvrin.  Honestly, when I signed up, I thought it was just going to be a bunch of amateurs (it was) digging around in dirt (it was) to "discover" things that were hidden specifically for us (it WASN'T!).
What a surprise this was!  My guide was Eiran, and his lecture about the site was more like a story where he involved the audience members and our collective prior knowledge.  As a teacher, I was impressed with his style 🙂
Turns out, the people who lived in the city we were helping to excavate shoved rock, rubble, and possessions into their underground rooms to ruin it for anyone else trying to settle there.  That's why there are actual items to discover!
I myself wasn't lucky enough to find anything more than a few pottery shards, but the group next to me found the lip of a vase and a handle! Even luckier is my friend who found a *complete* bowl!!  
I thought the experience was great for kids and adults alike! However, at the end of the tour, there is a little spelunking with VERY small spaces that I, quite frankly, am impressed I even fit through. This part is optional though, so if you have bad anythings or a fear of tight spaces, I'd sit the last part out.
Bethlehem tour
There are several options to get into Palestine, and I opted for a Bethlehem half day to keep on schedule.  I really wish I'd been able to get down to Ramallah or Hebron since I heard really good stuff about them.  If you're interested in seeing more than just a day trip, here's a Palestine Guide.
I just wasn't comfortable heading into Palestine alone, so I thought a reasonably priced tour was the way to go.  I'm not very religious, but I still found the trip to be very beautiful and moving. I imagine it'd only get better if you were religious.
My guide was very enthusiastic and funny.  He took us to the church that was built over the spot believed to be where Jesus was born, and he helped us cut the line (it was packed!).  He even took this picture of me touching the exact spot where they think the birth happened!
We also went to the Milk Grotto where it's believed that Mary spilled some milk while feeding baby Jesus.  I really liked the stories the guide told us here. He really made Mary out to be more of a person and more importantly, a mother.  Women go to the Milk Grotto to help with conception.
Souvenirs  from a 10 day trip to Israel Cost
Could you do it cheaper?  If you're good at haggling!
Keep in mind:  Everything is negotiable! But I always feel bad haggling too much.
I always have to get my spoon, so I was very happy to find one 🙂  The next big souvenir was a gorgeous dress that I got for my girl, Jody!  I bought one in Jordan, and she really wanted one too. So I found this beautiful one in the Jerusalem market for her!
In Bethlehem, I found a small nativity scene carved from Olive Tree Wood which I got for my stepmother since she is religious.  In the same shop, I also found some rosary beads with a small locket with Jerusalem dirt which I bought for a family friend who is very religious, and I thought it'd mean a lot to her :).
When I went to Timna, there was a souvenir-making station which was included in the price.  I got to make this little sand art bottle! The colored sand is all naturally occurring from the color rock assortment in the park!
Fees
Could you do it cheaper?  Parking D:
Keep in mind: Some of these won't apply if you don't drive.
The worst fee was the parking ticket fee!  I emailed and asked for a reduction, but I haven't heard back 🙁  All the signs were in Hebrew, and I was told that I could park on blue and white striped places.  Apparently, that wasn't all the way true because you still have to pay. But there aren't any kiosks. You have to pay with an app? How would I know that?
Basically, all the parking fees were annoying. If I was doing this trip again, I'd turn my car in for Jerusalem and Tel Aviv because parking was such a nightmare.
There was a small toll to get into Haifa.  I might  update this post later if I am charged for another toll.  I read on the contract that there are some toll roads in Israel, and they just charge the car company (who then charges you). It's been about two weeks, and I haven't received anything yet.  I will update if that changes.
Four bucks is kind of expensive for laundry, but honestly, I needed it. I'd been sink washing my whole trip, and my clothes needed a bit of a refresh! Unfortunately, I feel like anything that was white when it went in did not come out white. :/
Total: $1445.57 for 9 days.
I hope you find this helpful for your trip to Israel cost breakdown! Let me know what prices you paid and where!
FAQS
How much does a trip to Israel cost?
Well, I think I just showed you in detail, but you're looking at about $16 a day for food, about $60 a night on average for good accommodation, and about $30 a day for activities.  Of course, these are just ranges! See above for more specific break downs!
Is Israel cheap for tourists?
Israel feels more mid-range on costs. I've certainly had more expensive trips like Iceland or Scotland, but also have had much cheaper like Mexico or Peru!  I think the main cities like Jerusalem and Tel Aviv will cost you more than the outlying cities, for sure.
How much cash should I take to Israel?
I wouldn't take too much money with you in cash because many places do take credit cards (especially in the big cities like Haifa, Jerusalem, and Tel Aviv).  However, if you're going to be out in the smaller deserts or the Negev, then you must want the equivalent of $30 a day.
How much is a meal in Israel? Is food expensive in Jerusalem?
Meals will cost you about $10 a meal (even a happy meal at McDonald's!), but as you can see Jerusalem was the most expensive meal of the trip, and it was just a mid-range place.
Is it dangerous to visit Israel?
Pin for later!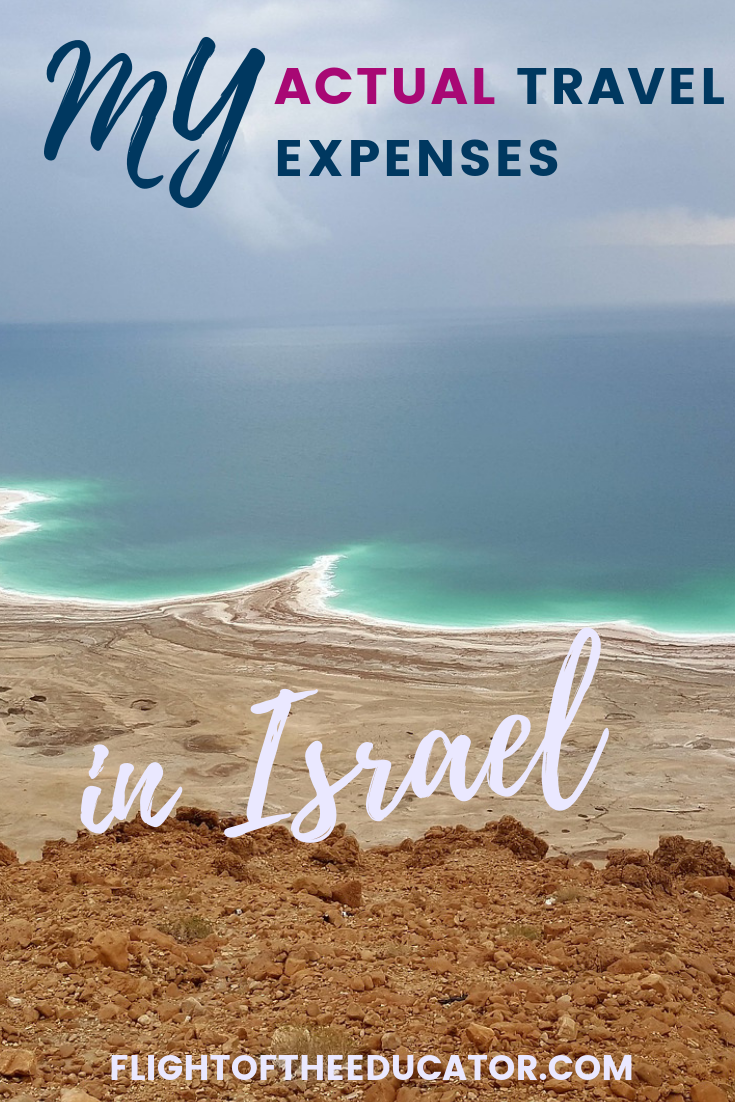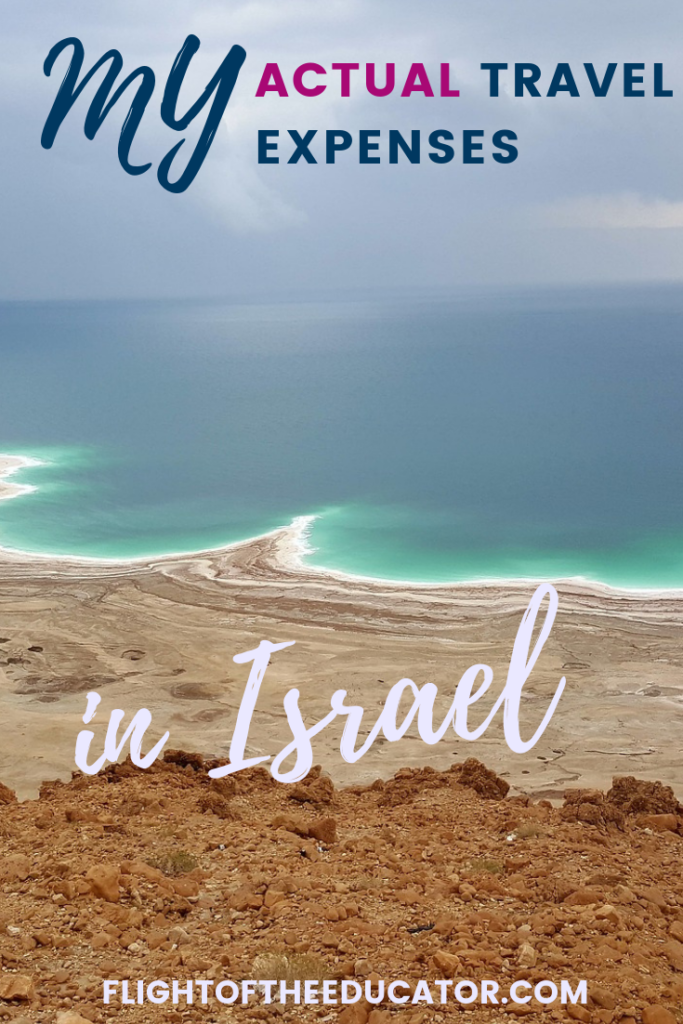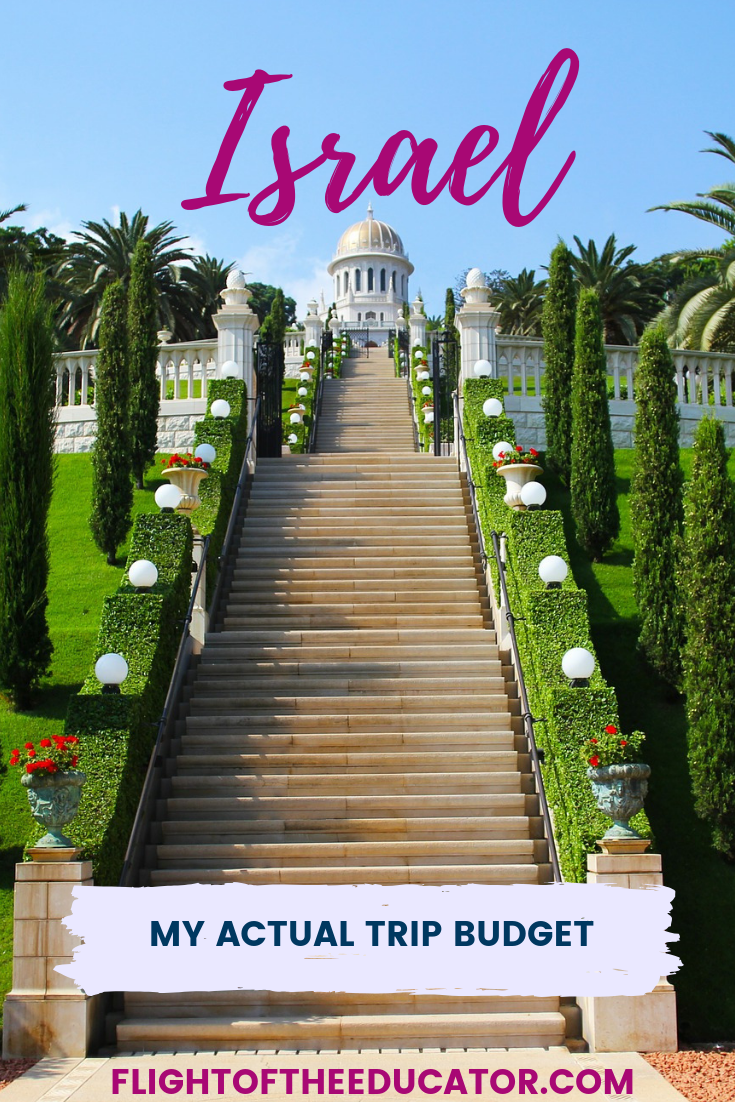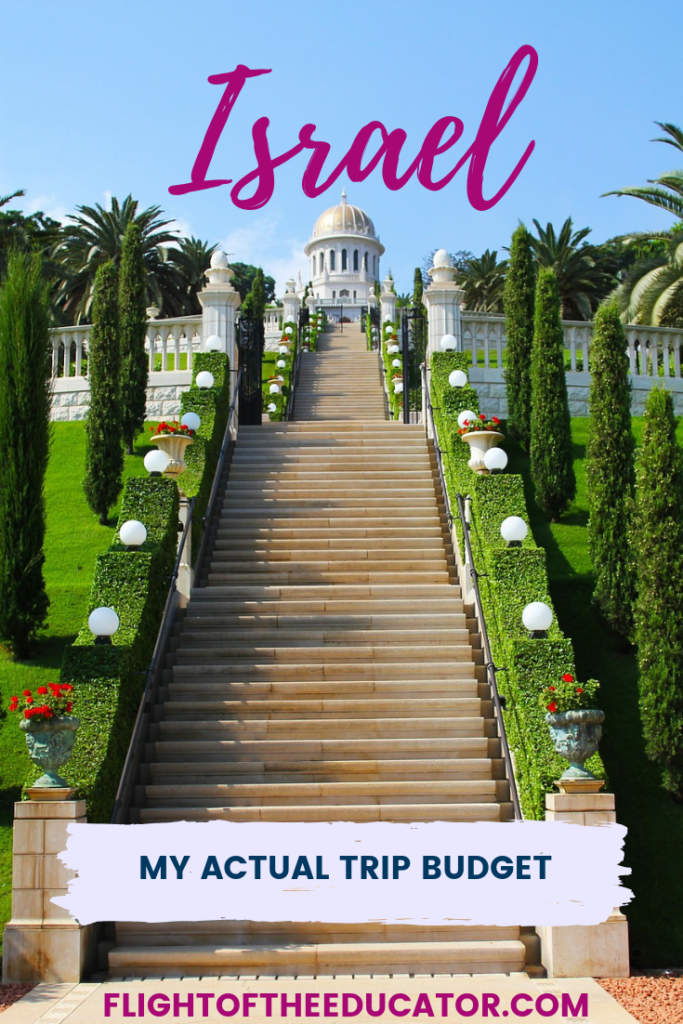 Full Disclosure: I did receive the Jeep/Rappelling tour and Dig for a Day tours in exchange for pictures and mentions.  I did reach out to them first, and I did pay associated fees.