I know it seems ridiculous to go to Antarctica – a trip of a lifetime – for a second time, but I just had to!  I've been styling myself as a polar expert since I sell a lot of polar tours, and I felt it was best for my due diligence to best serve my clients and readers to go try out a new company— Quark!  So this is my in-depth review of returning to Antarctica with Quark Expeditions on their newest ship the Ultramarine.
Itinerary
Quark has quite a few itineraries for both poles, but the main ones for the Antarctic regions are going to be 
Classic Antarctic Peninsula (about 10 days, which is what I did)

Antarctic Circle

Falkland and South Georgia Islands

Fly the Drake
This post will focus on the first which is the Classic standard itinerary, but feel free to email me or ask a question at the end if you'd like to learn more about the other itinerary options.

(Note: The main itinerary is slightly different from Ultramarine with the transfer package).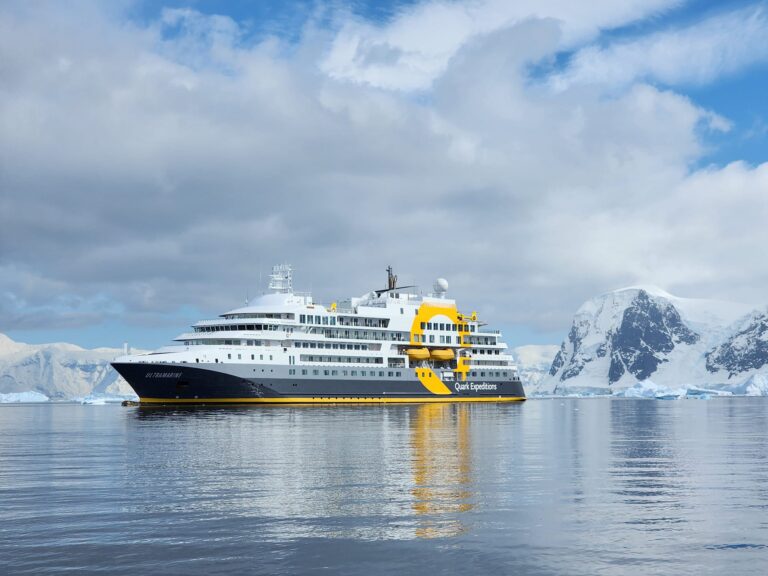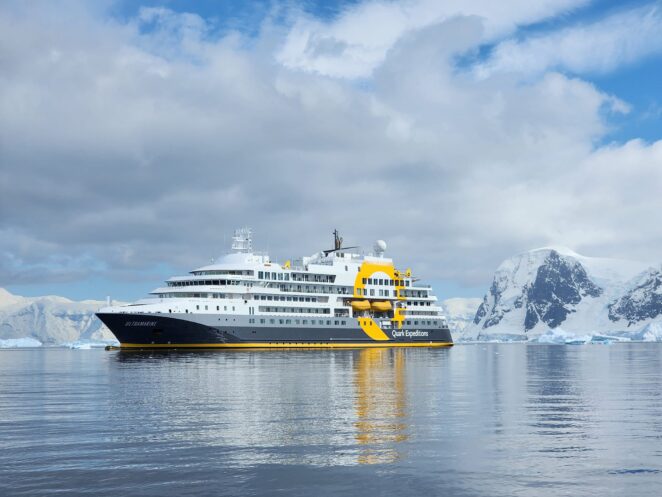 Day 1 ~ Arrival Day!
The first day is just an arrival day in Buenos Aires and has a hotel included for that evening.  I got bananas lucky because my first day actually happened to be when Argentina won the World Cup! The included hotel is the Alvear Icon hotel which is absolutely stunning.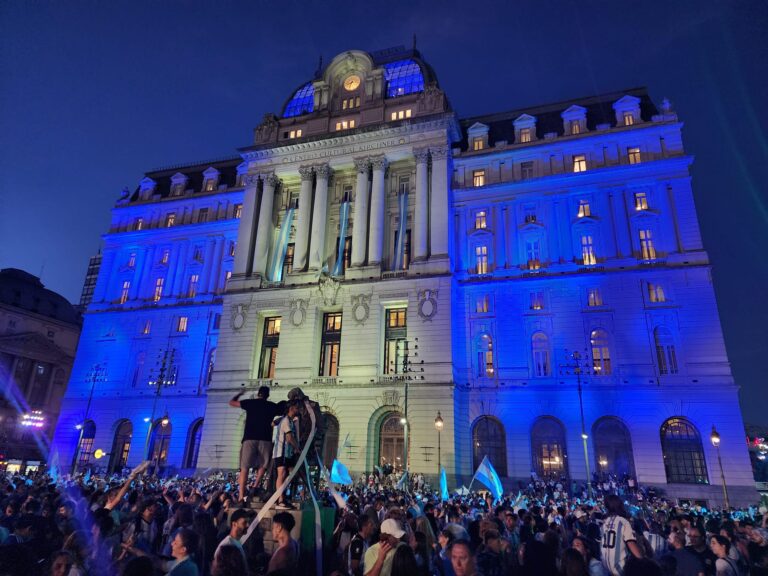 No real plans on the first day except for check-in at the hotel for both the hotel and the expedition.  There are obvious signs to direct you to the Quark portion of check-in.  They will provide you with an updated itinerary including times and baggage tags.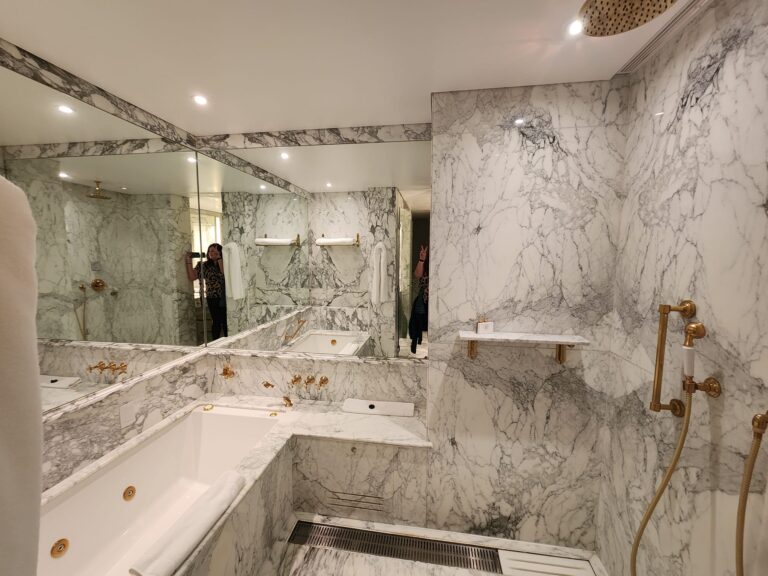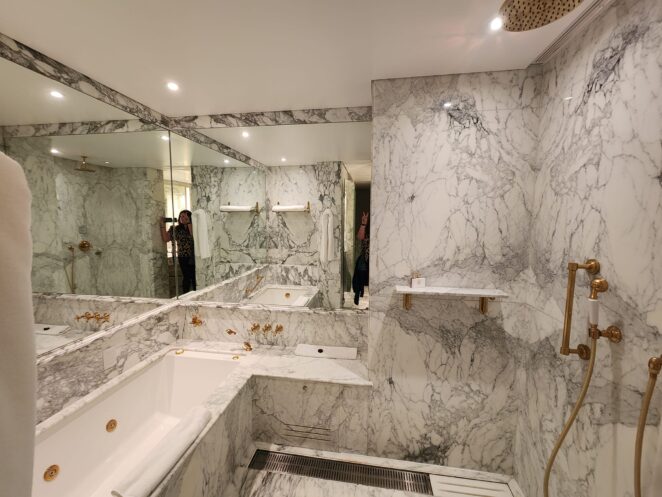 Day 2 ~ Heading to Ushuaia!
The second day is the first real day of the trip! Times may vary, but we woke up quite early for breakfast and then were shuttled to the airport as a group.  We were all on the same chartered flight down there which made it quite relaxing because we knew we definitely would all get there together!
Upon arrival in Ushuaia, we were given a little free time to wander about Ushuaia before embarking on the Ultramarine. I'd say it's about 2-3 hours.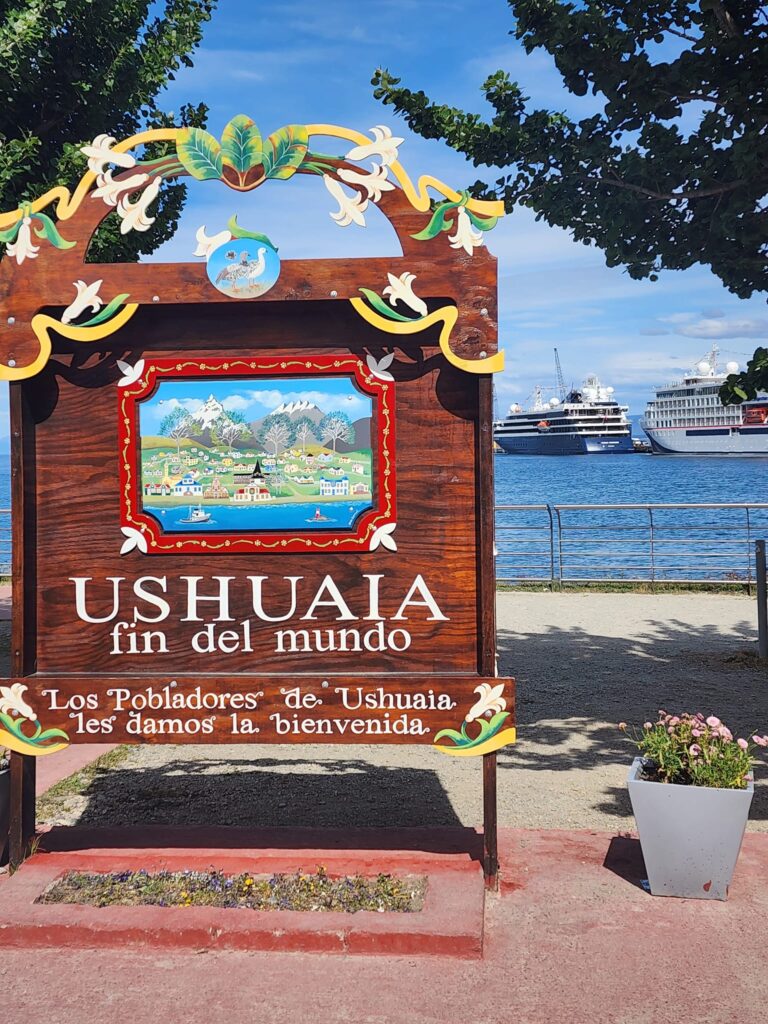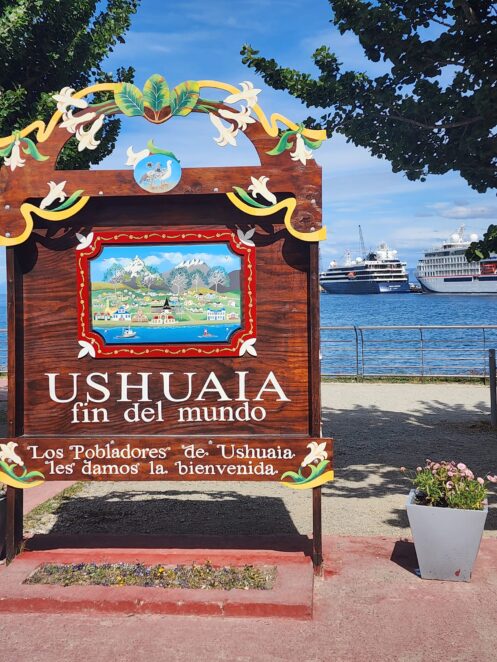 Then it was time to get on board! Normally there's room on the docks to get on there, but it was pretty full on our day.  No worries though, we just got on a catamaran to board which was very easy.  Checking in was quite smooth as we just gave them our passports (to get back later) and our room keys were in our room along with our luggage! 
Off to a few mandatory safety meetings and a muster drill and we were off!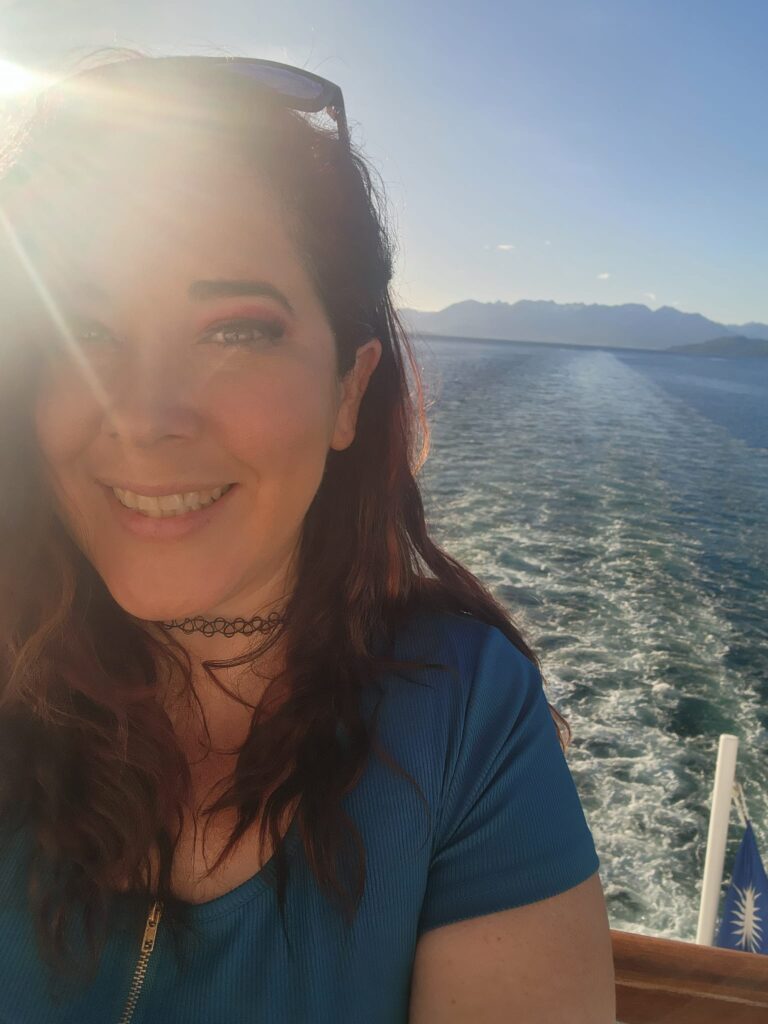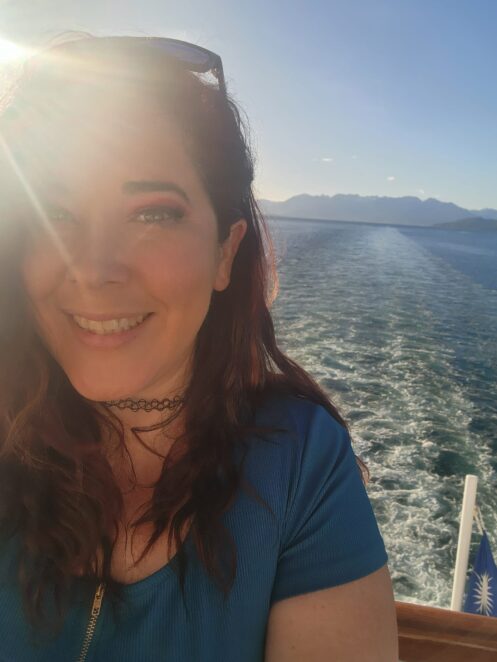 Day 3 – 4 ~ Drake Passage Crossing!
I wish you an easy Drake Passage crossing!  You can either get the Drake Lake or the Drake Shake, and really it just all depends on the weather (much like the whole trip!)
While crossing the Drake, there are a number of activities to do on board.  Some are mandatory safety briefings (which while that does sound dull, it's still a bit exciting as it's a glimpse into what awaits you! I particularly enjoyed the helicopter one that Ultramarine had because that's such an exciting way to see the continent!)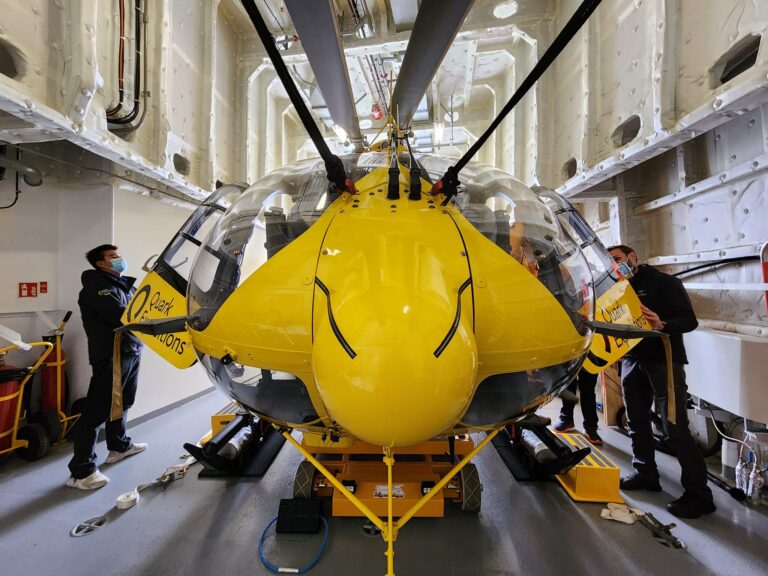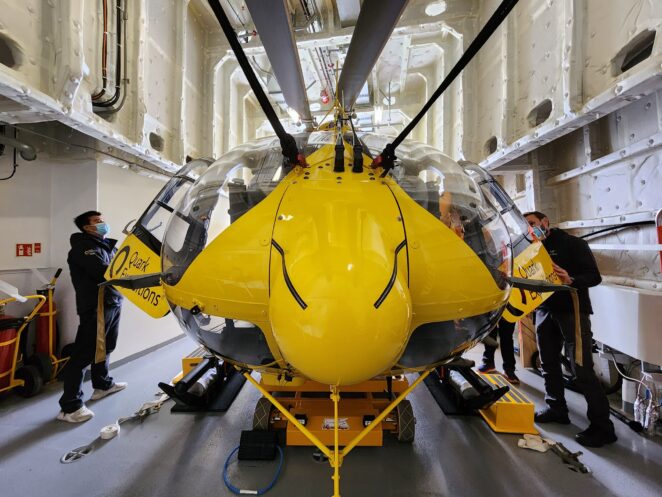 I happened to be on the Ultramarine over Christmas, so they had a door-decorating contest!  As a teacher, that is in my wheelhouse, but of course, we had limited supplies. I had been wanting to do this on my own classroom door for a while, so what a great opportunity to use it!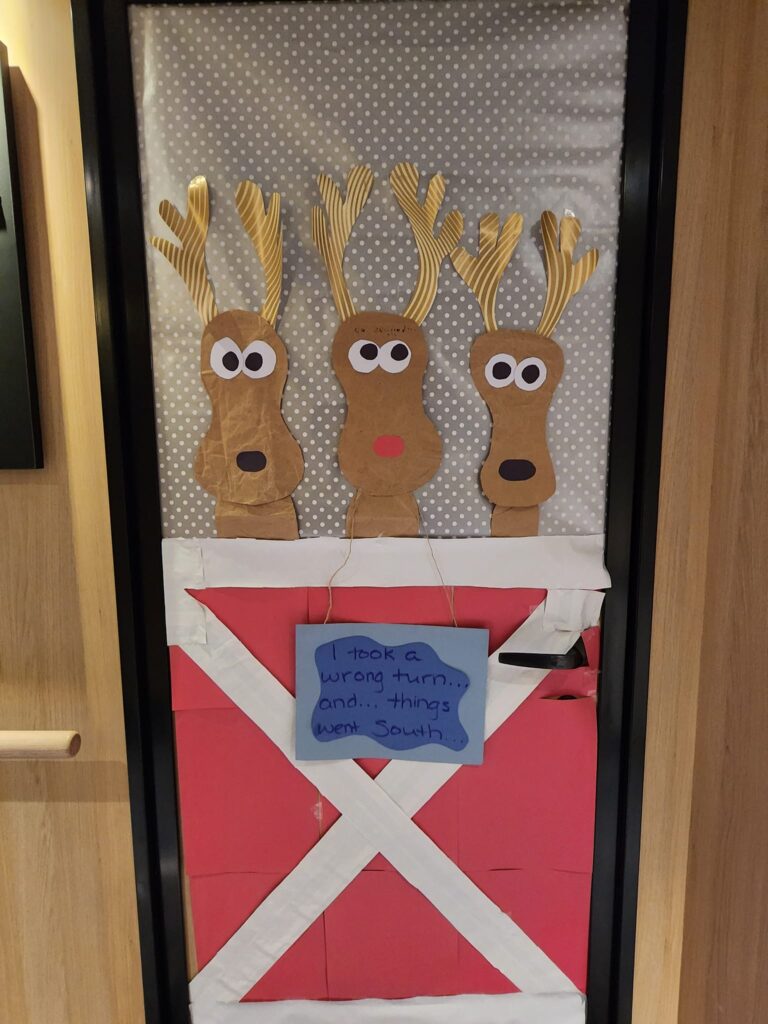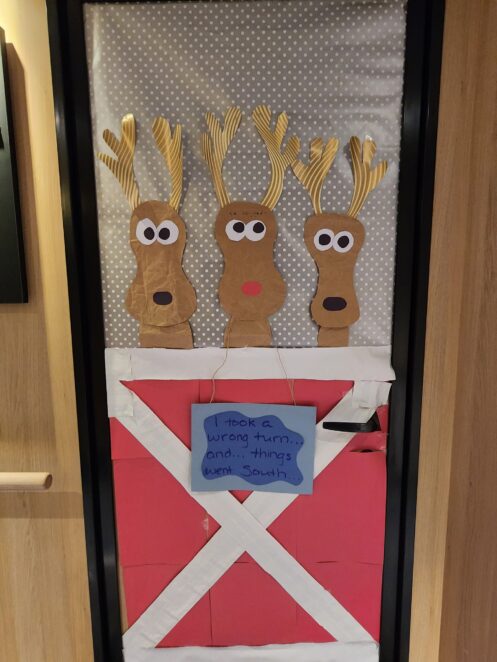 Day 5 – 8 ~ Around Antarctic Peninsula!
When you're actually around land there are landings and excursions!  They try and get you off the ship twice a day, but as you'll get used to hearing, "It depends on the weather."  Landings are on the land, obviously, but they'll also have zodiac cruises, paddling, kayaking, and flight-seeing with the helicopters when available!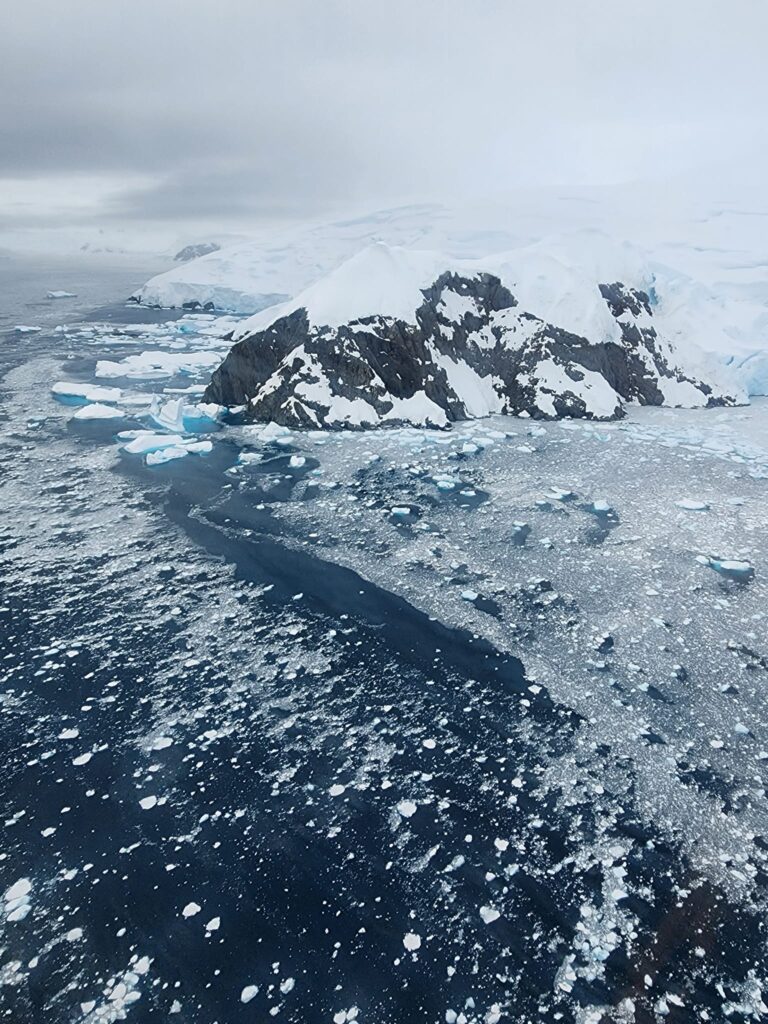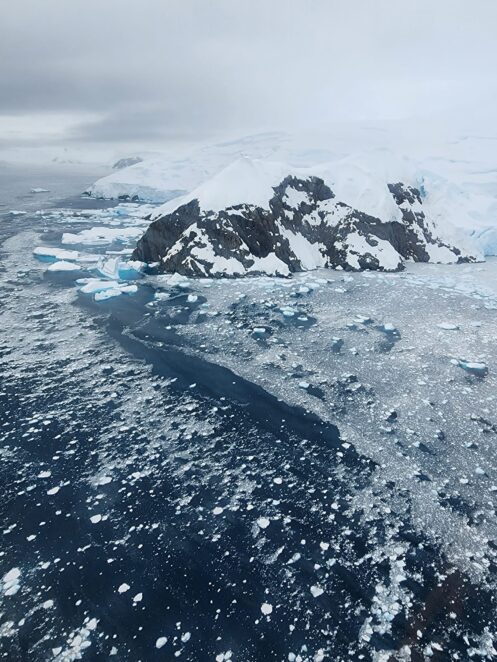 For excursions, you'll be sorted into groups (they don't want everyone getting ready in the mud room at the same time!), and the order rotates who gets to go first each time as well.  
Day 9 – 10 ~ Crossing the Drake again! 
On Drake days, it's pretty chill on board.  There are still lectures that you can go and see either in person or from your room, movies to watch in the room, and ship amenities to use around on board.  Mostly spent getting ready to leave too soon!
Day 11 ~ Disembarkation
The saddest day!  Disembarkation was run rather smoothly.  We put our luggage out the night before, and then we left in groups.  We had a quick city tour to stop at the Ushuaia sign and another viewpoint, and then we were taken back to the airport.
Accommodations
There are several different room categories (which will have their own blog post soon!)  But this is the room I stayed in, a balcony suite.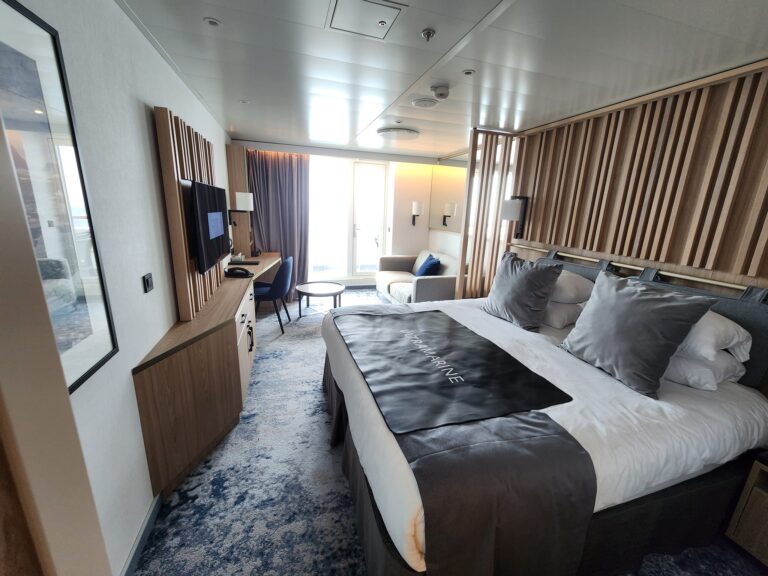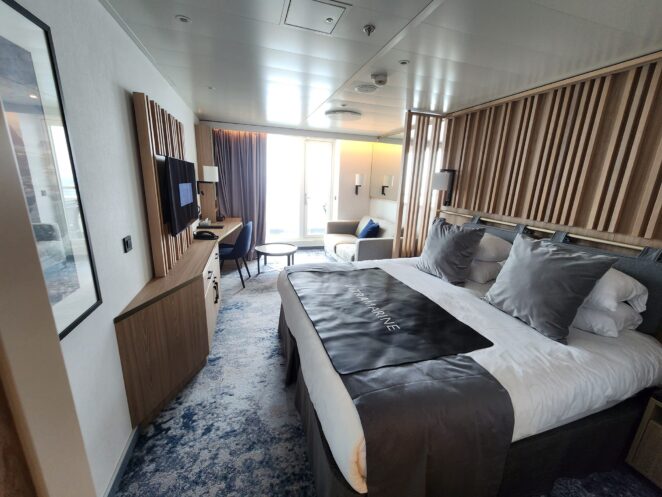 Food
Breakfast and lunch are served buffet style.  There are plenty of cold and warm options, but there is also an extra cooking station to whip up something personal for you too.  For breakfast, it's usually an omelet station, and for lunch, it's been things like stir fry, ramen, pasta, and stuff like that.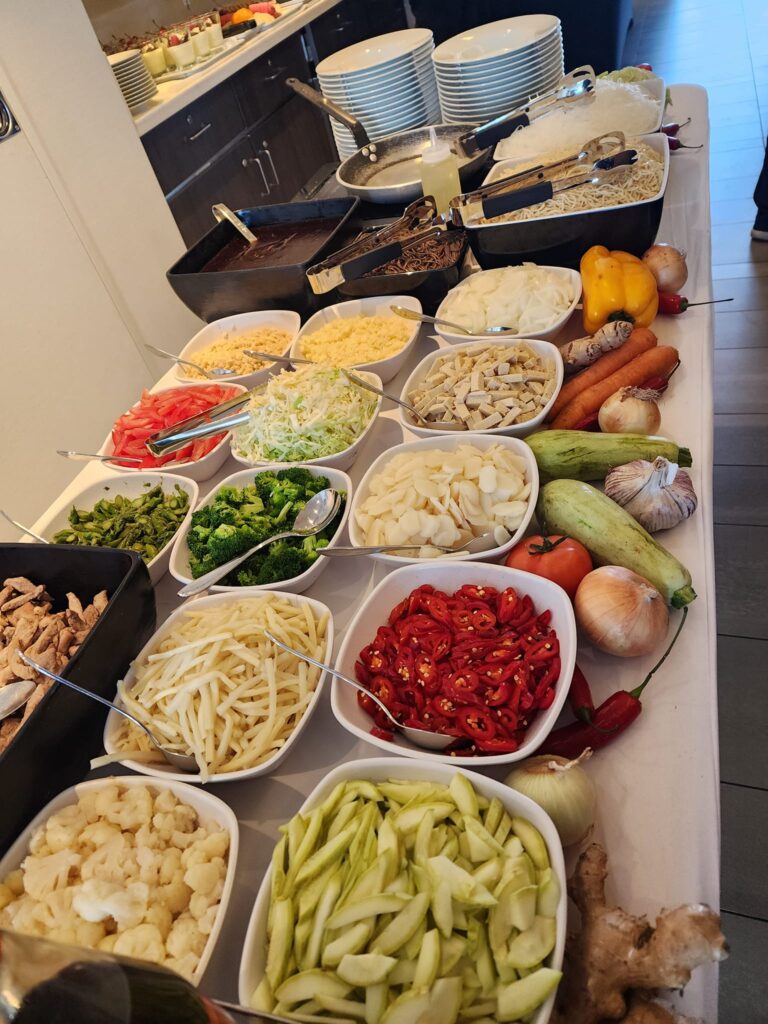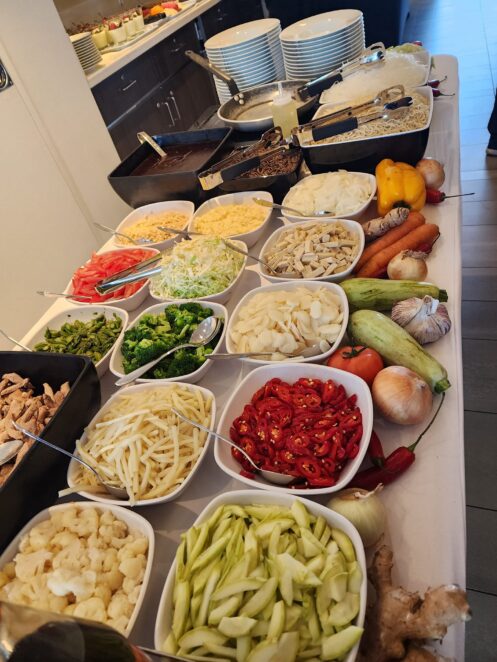 Dinner is a sit-down affair with a menu.  You're welcome to order any combination of food from the menu.  That was particularly fun for me because it allowed me to try some foods I wouldn't normally order.  For example, one night I ordered the lamb (mmmmmmmm), but I'd never had sea bass before, so I also ordered a small portion of that to try too.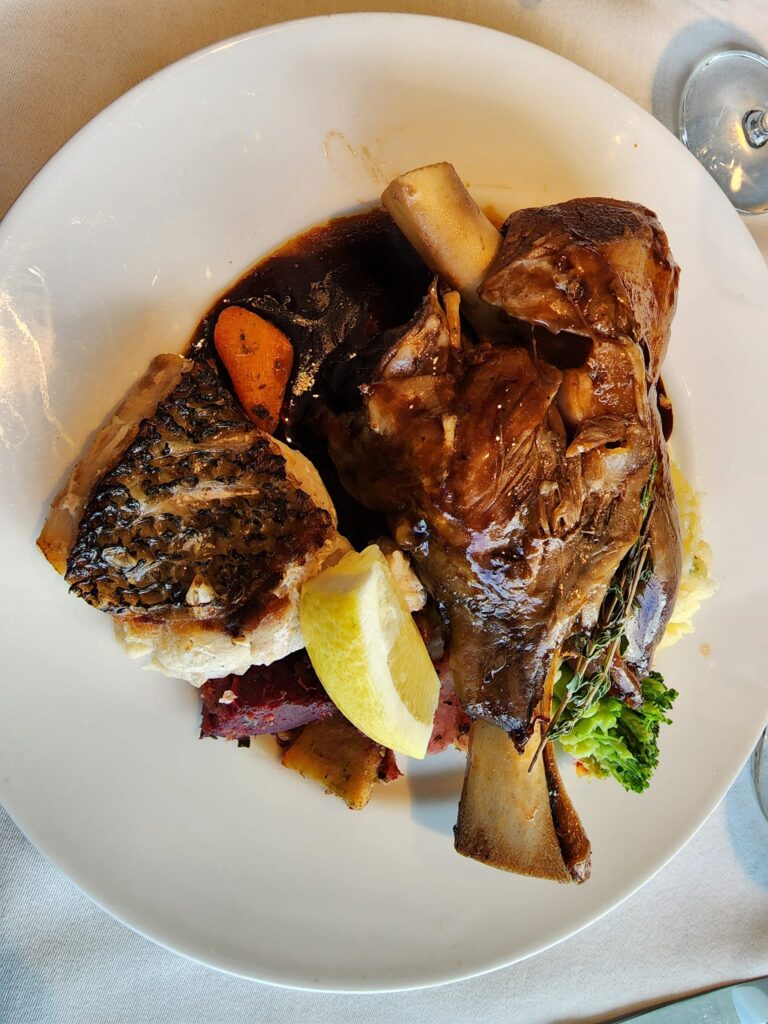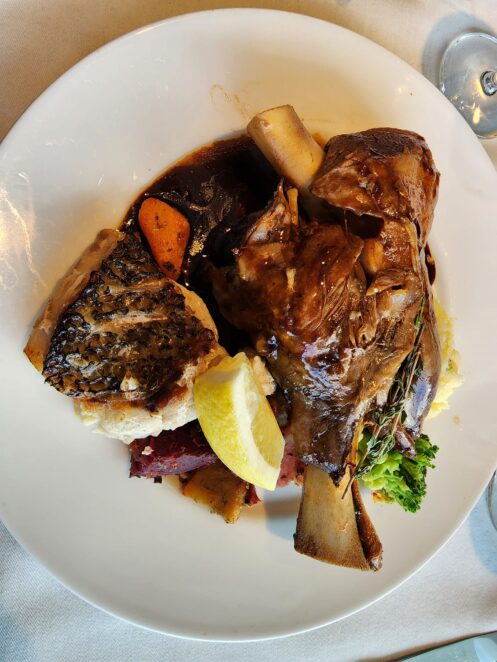 I was on board over Christmas, so they had some fun decorative food for that too.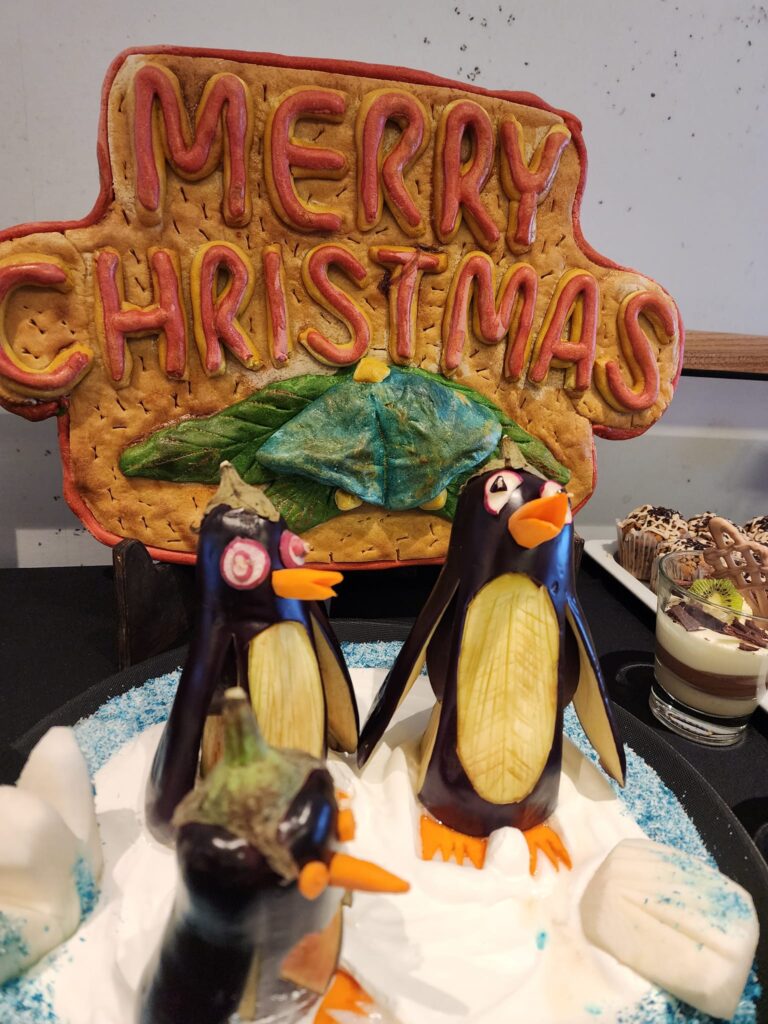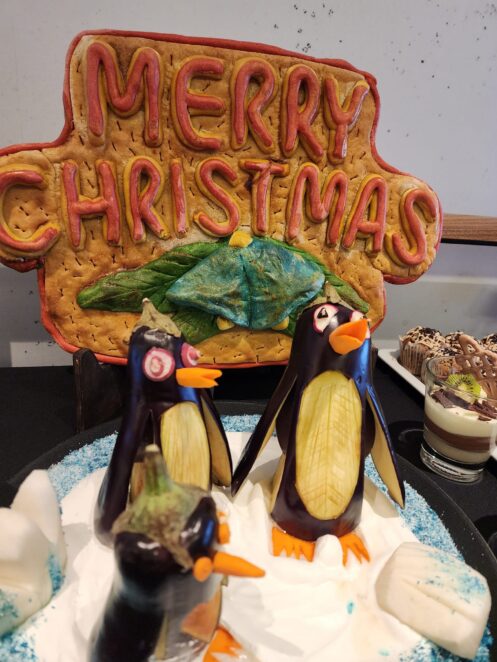 Food Allergies/Special Diets
They're very accommodating.  My allergies are pepper, peppers, and onions (I know, right?), and they would always make sure my food came out ok for me to eat… even if that meant making it special for me!  Some people I met on board also were lactose intolerant and gluten-free, and they always had options as well.
For drinks, you can get coffee, tea, and soft drinks at any time which are included free of charge.  At dinner, you can also get alcohol free of charge.  When it's not dinner, there are a few bars to get drinks at, but the most common place to go is the Panorama lounge. Drinks are actually totally reasonably priced. 
What to do on board
Sightseeing
This is the top thing to do on board!  There is a joke that smokers see the most wildlife because they're outside the most!  That's why it's good to splurge to get the balcony or to hang out in the Panorama lounge where you have easy access to the outside!  
You can see icebergs, wildlife, and cool cloud formations!   Of course, across the Drake you might not as much wildlife, but we still saw some whales and the sporadic albatross!
Health and Wellness
You can also just relax when you're on board as it is a luxury vessel.  It has a pretty nice gym on board which is especially nice on sea days (since you'll get a bit of a workout on landing days hiking in all your gear!)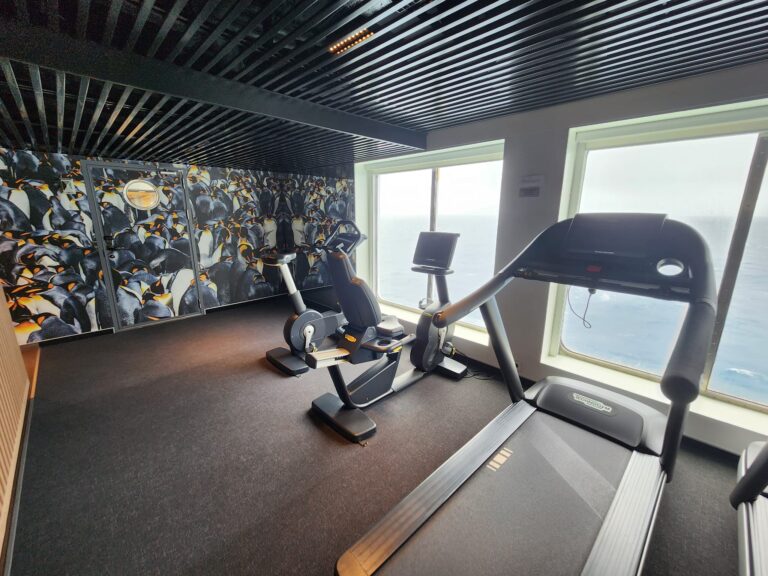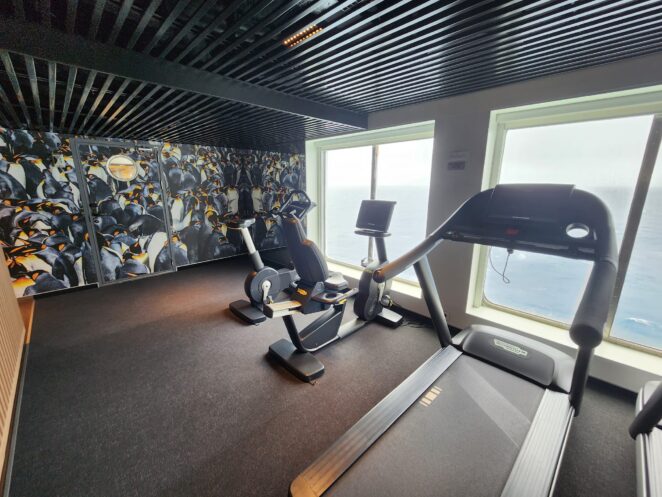 The Ultramarine also has the Tundra spa and sauna! The Tundra spa has a variety of services including Swedish massage, hot stone massage, relaxation massages, and facials.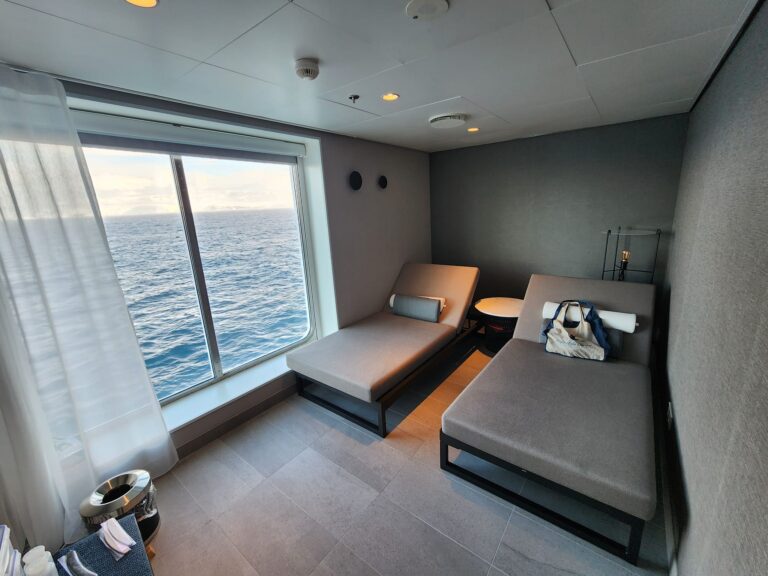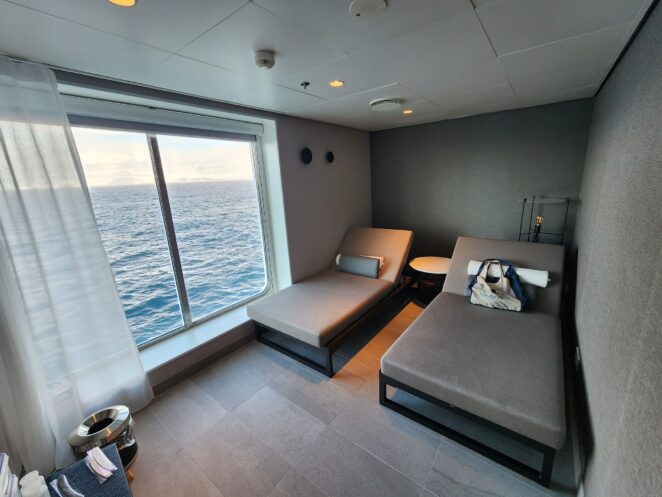 The sauna also has a beautiful view of the outside which makes it even more relaxing and toasty to be warm in the sauna but also able to see snow!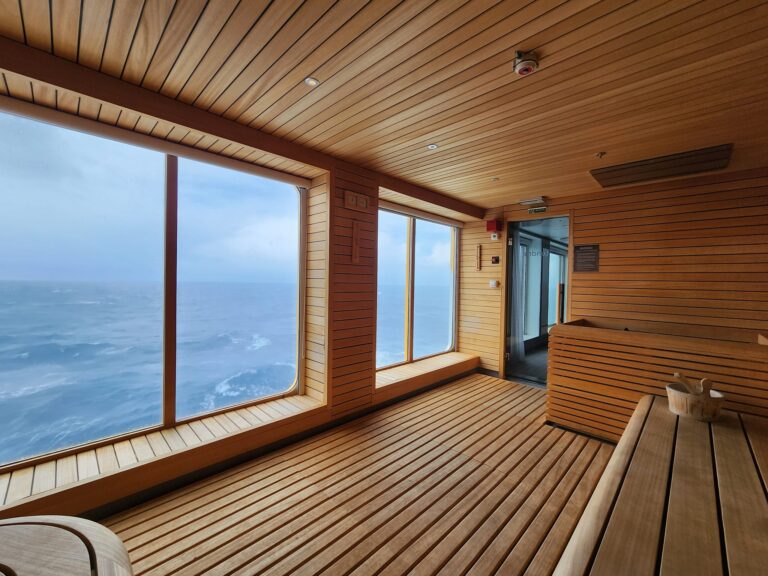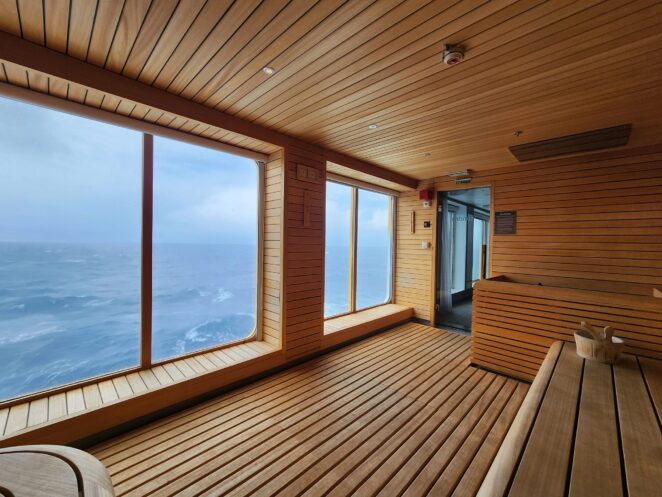 Lectures
Lectures seem boring, but I wasn't sure what else to call them.  These are led by different expedition staff about their specialty!  You can learn more about the animals, history, ice, and more!  I actually found them very interesting.  You can watch in the auditorium or even from the comfort of your room!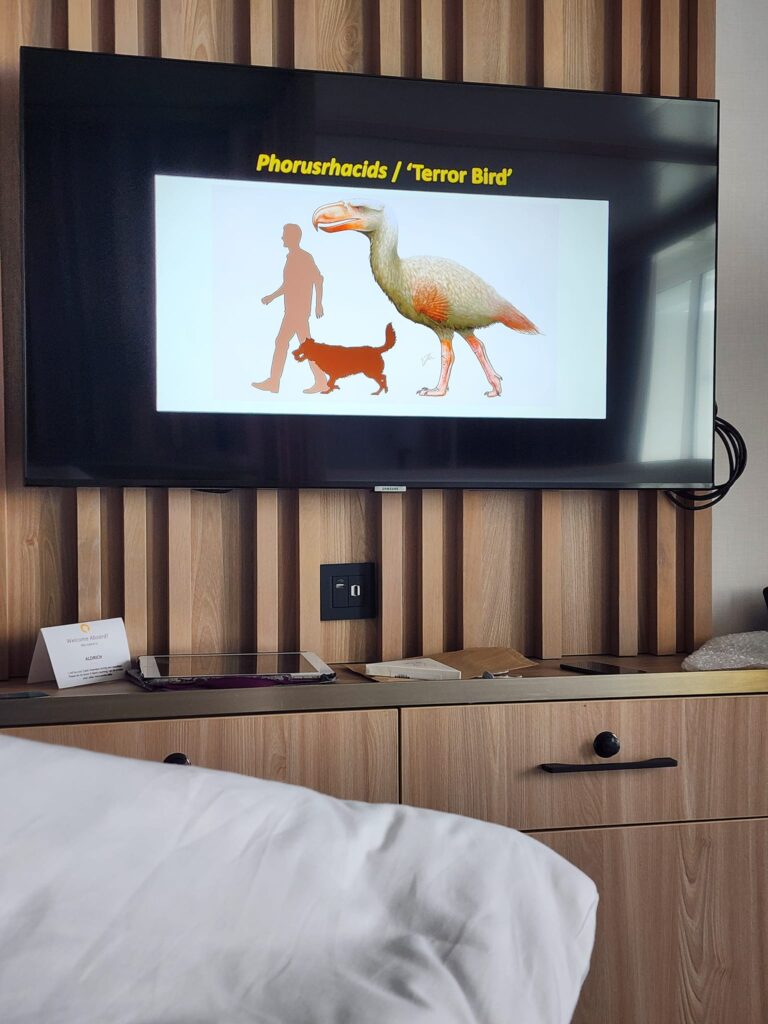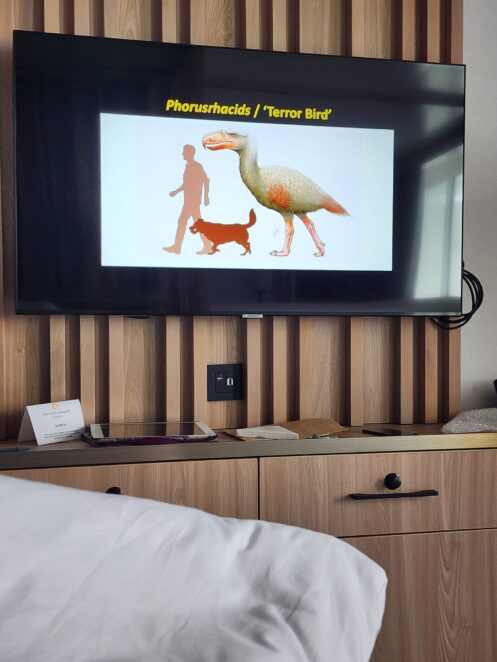 Eating and drinking
There are a few bars available around the ship if you want any kind of drink.  Also up in the lounge are some games (both board and card).  Every afternoon there is also a tea time with snacks.  It's tucked away in the Bistro which is a bit more intimate and quiet than the main dining room.
Library
If you're feeling like you want to get away from the hustle and bustle of the lounge, there is a library with both popular fiction and non-fiction books.  It naturally also has a variety of informational books about the polar regions that the ship visits.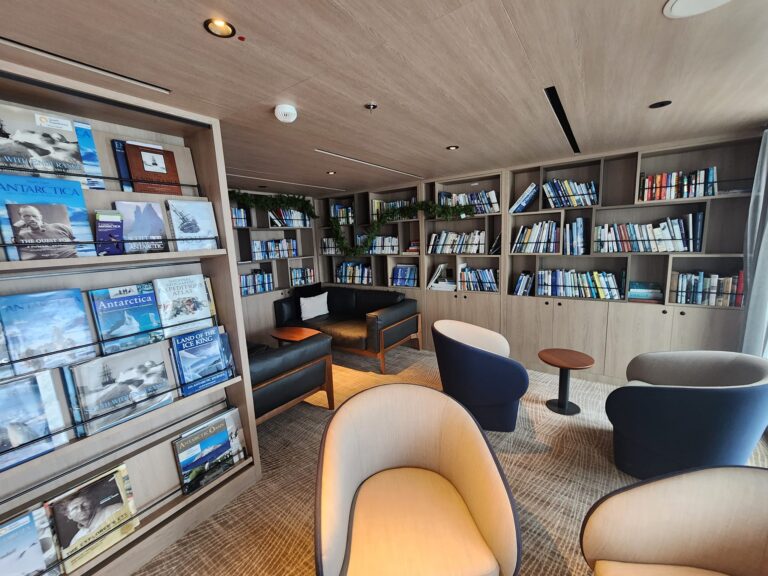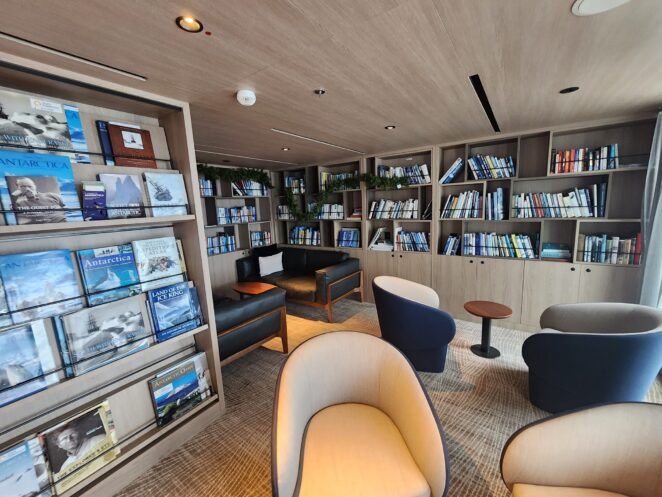 Various activities
My tour was over Christmas, so there were some themed activities for those who celebrate.  We had a door decorating contest (although I was told they try and use that for any holiday that the ship is at sea.  I imagine that would include Thanksgiving, New Year's, Valentine's, and St. Patrick's, but also might just depend on who is in charge).  It was fun seeing the doors decorated, and it was nice to have a chance to be creative! 
One evening when the campers were heading out, we also had a cookie decorating event!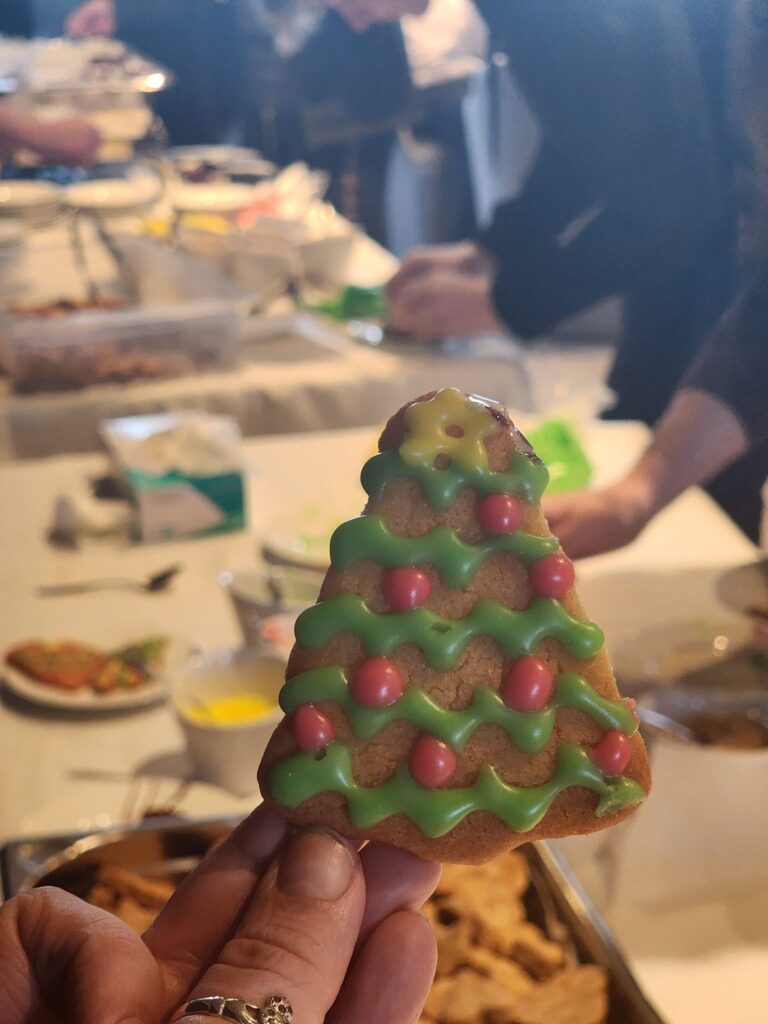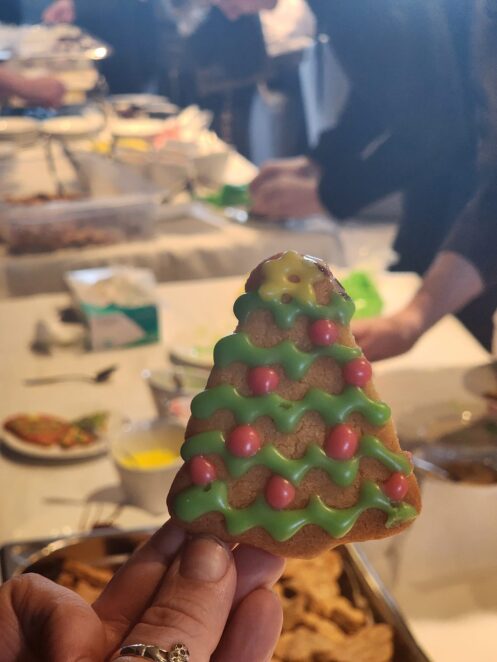 Hang out on the Bridge
Sadly because of Covid, this isn't as prevalent anymore.  The captain said he kind of misses it because he liked seeing the passengers be excited to enter the bridge.  I hope it comes back soon, as it was fun when I went the last time. 


Excursions off Ship
Included:
Zodiacs are both vehicles to get you to land, but they also take you on fun little cruises around the area!  Sometimes the site doesn't have a landing area or sometimes conditions aren't ok for landings.  In those cases, they pop 10 people at a time in a zodiac to go cruising around!  Zodiac cruises are also good for when conditions don't allow for the paddle sports to go, and they need something for people to do while the others are on land (there is a limit of 100 people on land at a time). 
If you're really lucky, whales/penguins/seals can be quite close to the boat!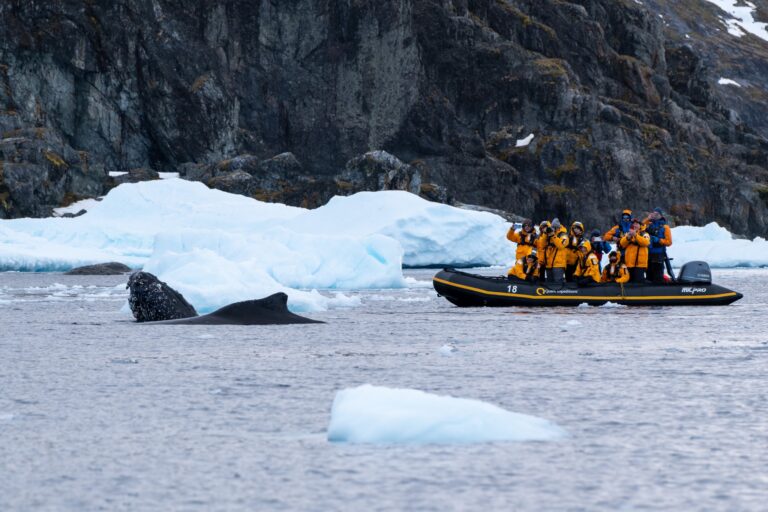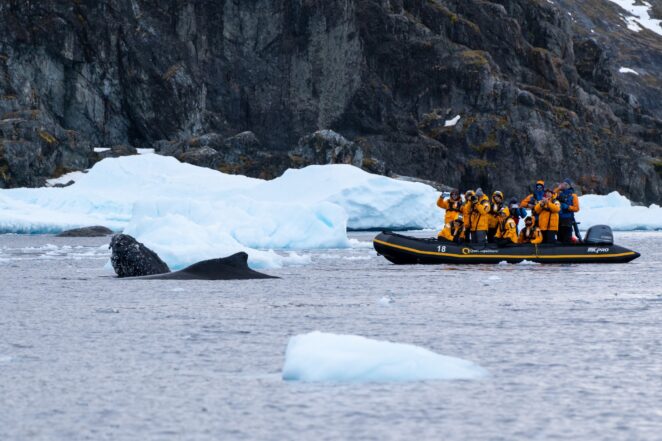 Flight-seeing is an incredible option offered on the Ultramarine because it has 2 helicopters!  This excursion also depends on the weather, visibility, and cloud ceiling, but affords the opportunity to see Antarctica from above!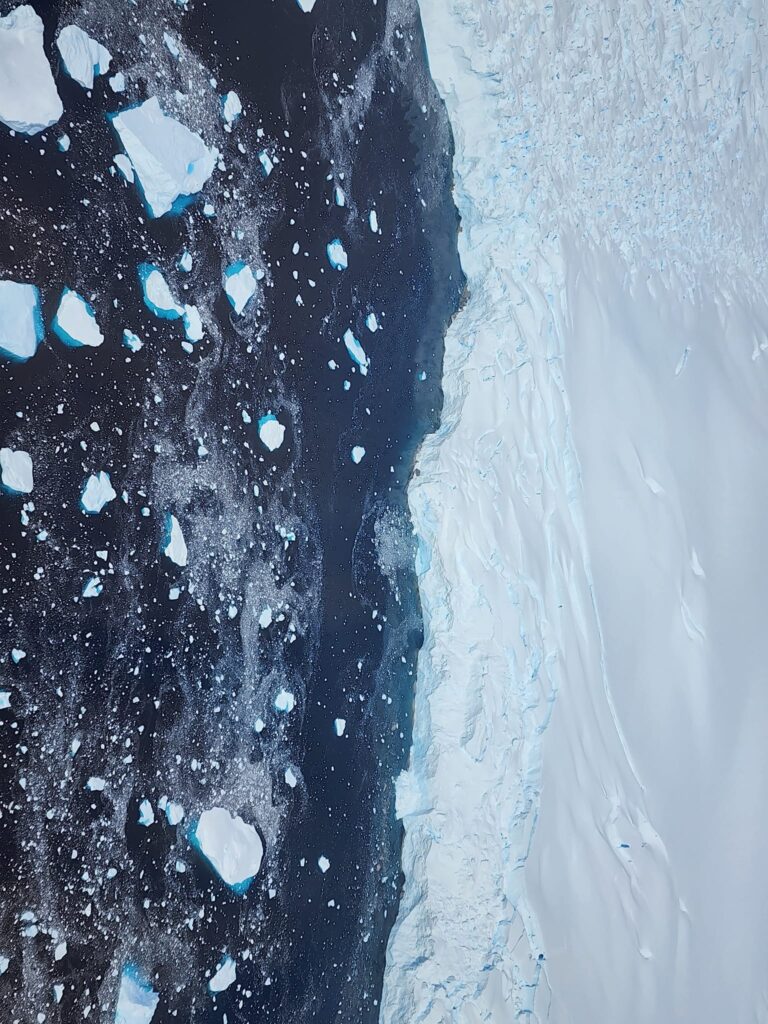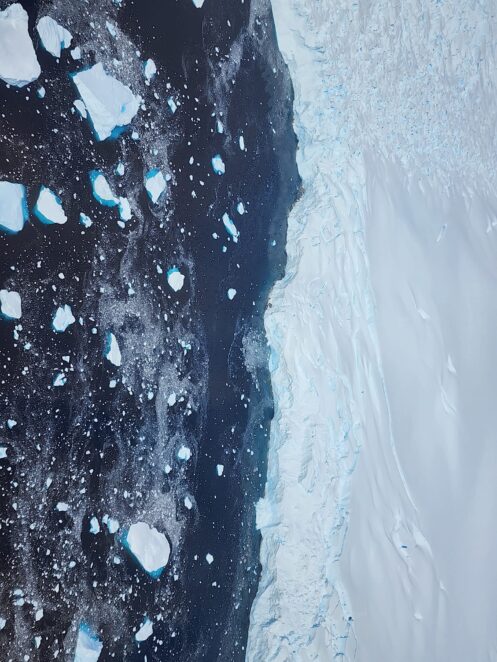 Polar Plunge is a bit of a laugh.  The expedition leader worded it as, "Who wants to throw themselves off of a perfectly good ship?" You'd get a harness around your waist and jump off into the icy Antarctic waters! I've done it both in Antarctica and the Arctic!  It's definitely an experience and worth the story.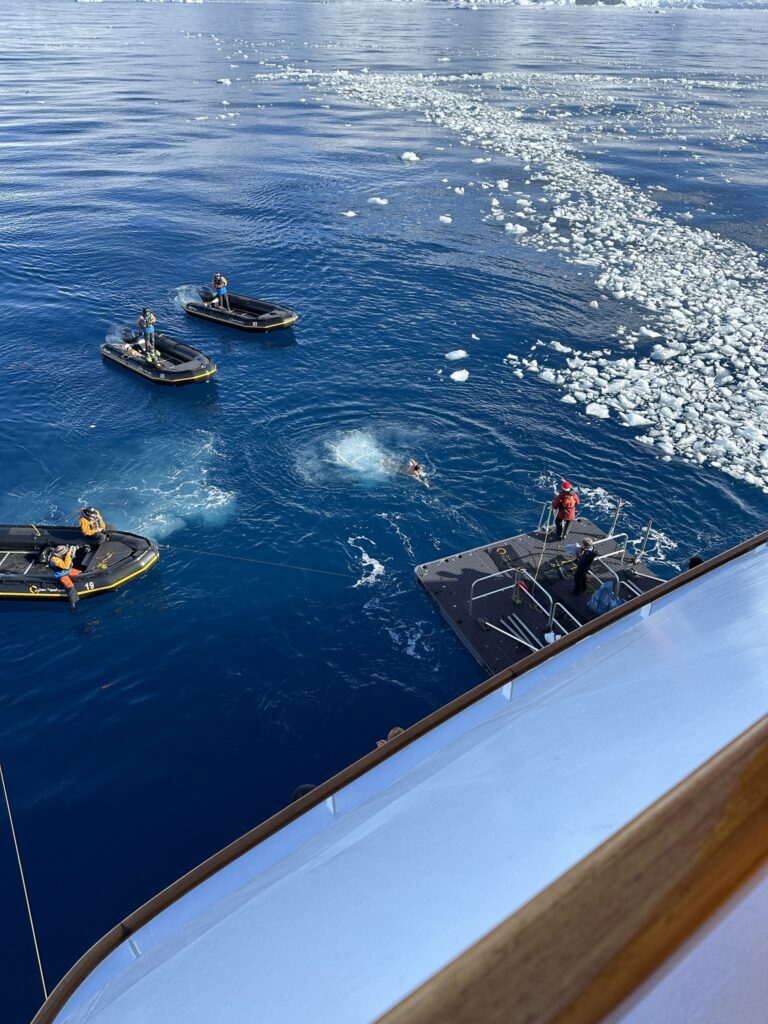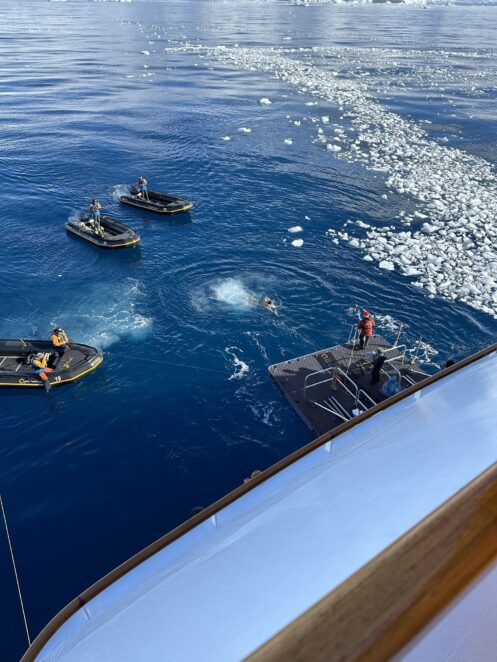 Some landing areas allow for a bit of a hike! Quark does provide hiking poles that you can use.  Some areas are steeper than others, but you can eyeball it when you first get there to decide if you want to or not.  Some areas have different things to see at each level.
Not Included:
Most of these excursions fill up fast, so it's definitely good to sign up well and early!  And all of the paddle sports include all the equipment that you need including a dry suit to keep you cozy ~just in case~. 
Kayaking 
Any of the paddle sports are a great way to get on the water and experience Antarctica in the stillness and quiet of a personal craft.  The zodiacs are amazing, but they can be noisy!  Paddling through brash ice was my personal favorite, but I loved hearing the waves interact with the ice, and I feel like animals came a little closer!  They want you to have some experience with kayaking, but you don't have to be a professional or anything.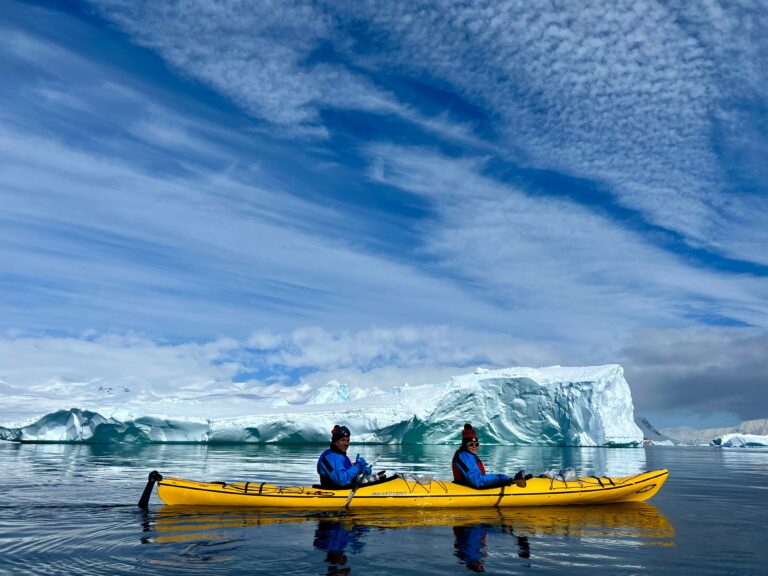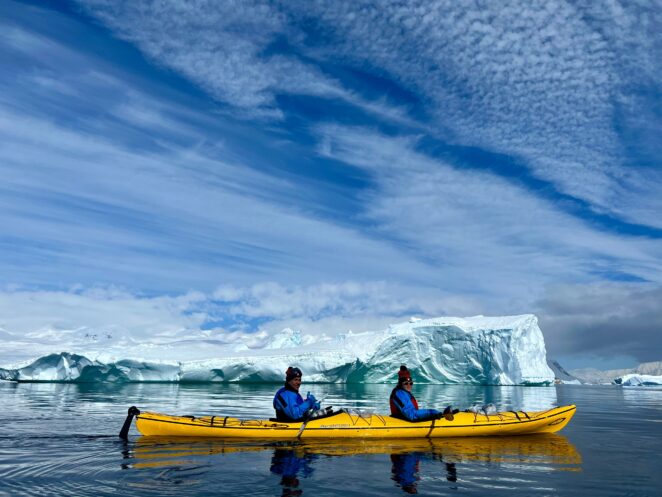 They have kayaks for 1 or 2 people, but they reserve the single kayaks for those with good experience.  There are also foot pedal rudders in these kayaks.
Paddle Excursion Program
This is a good alternative for kayaking.  The main difference is that the craft is inflatable, but it's a bit more stable as well, so some people feel more comfortable in it.  It doesn't have a rudder, so that's also slightly better for less experienced people.  And it's also only one time, so it's less of a time commitment than the kayaking is.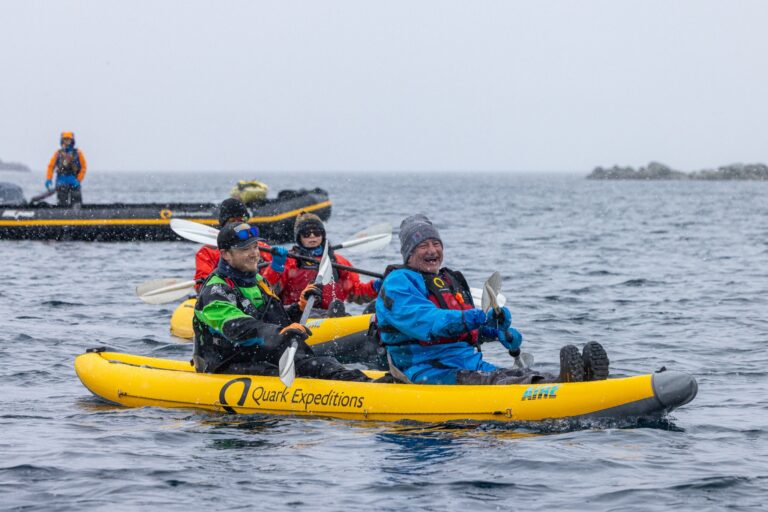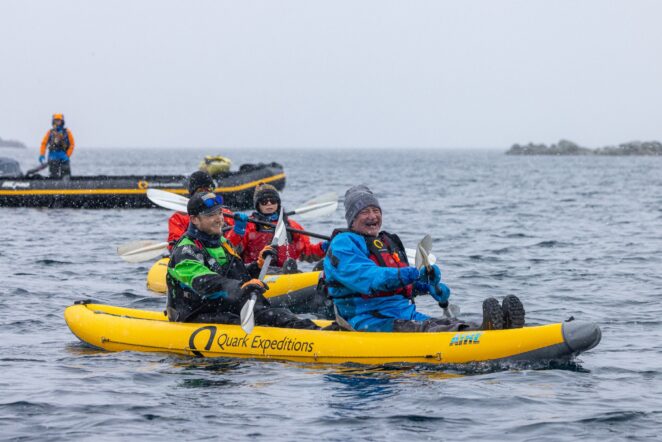 Stand-Up Paddling
Contrary to the name, you could do this standing up or on your knees if that's more stable for you.  It's also one time, and it's just another vantage point.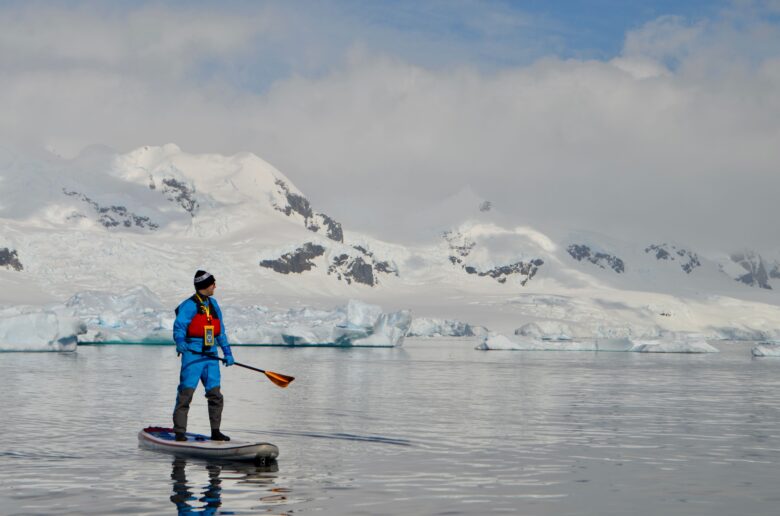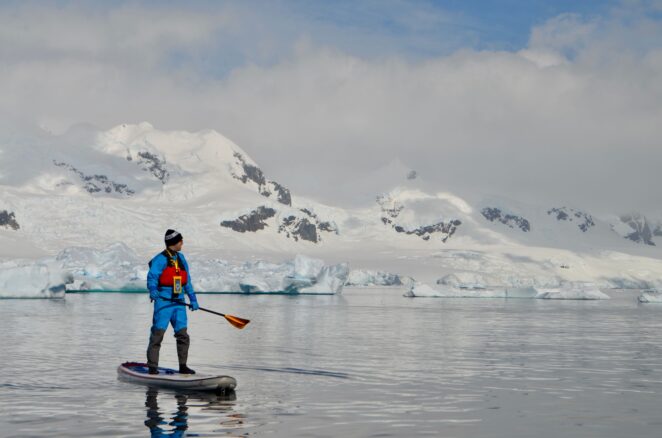 Camping
They don't pick the night of camping until they get good conditions, so the day and location could vary.  For camping, you eat dinner and are taken on land.  The time is about 9 pm to 5 am, and most people's first stop is the sauna when they get back on board! The biggest question is, "Are there bathrooms on land?" and the answer is yes, but for emergencies.  It's really just a glorified bucket that they'd appreciate not having to clean if possible haha.
I went camping my first time, and there were tents, but Quark doesn't utilize tents.  The campers said they did feel quite warm and slept well.  Instead of pitching a whole tent, they actually use a bivy sac, a sleeping pad, another sleeping pad inside the bag, and sub-zero sleeping bag.  The bivy sac still covers your face, so it's like a small personal tent instead of a larger one.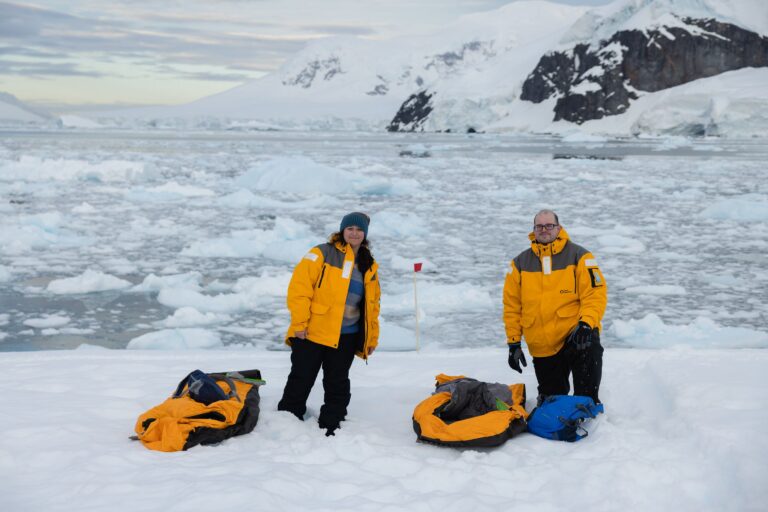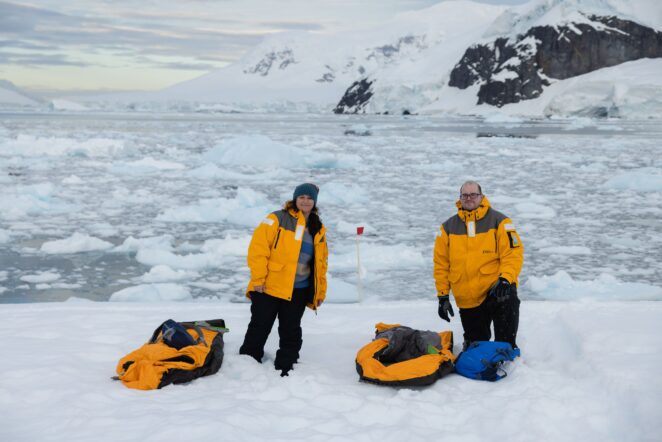 Heli-trekking – Land and then trek and then back. Roped together maybe snow shoes. 
Heli-trekking uses helicopters to drop these intrepid people off in an area that they wouldn't have gotten to otherwise.  Everyone is roped together with snow shoes, and it's about an hour of trekking around.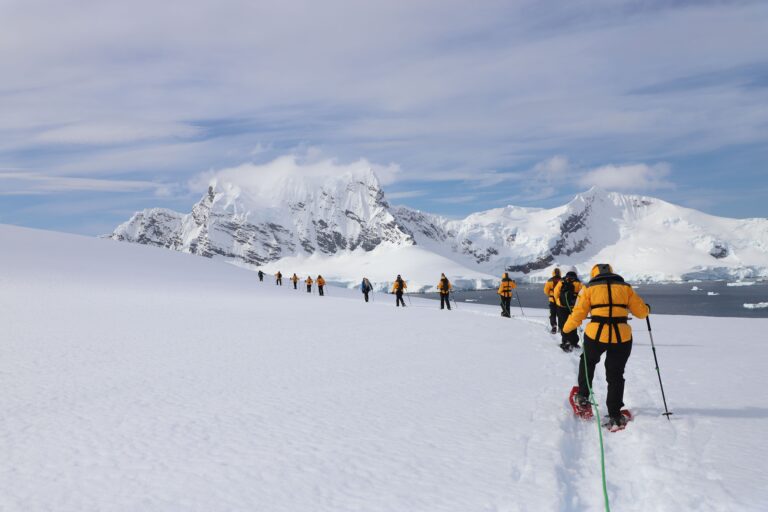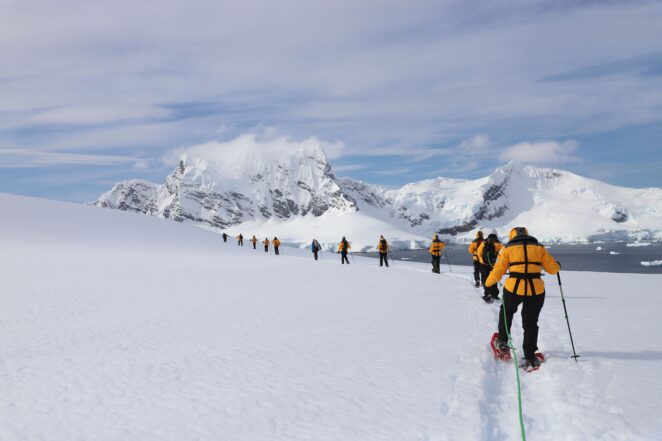 Heli-landing 
Similar to trekking, but it's going to be more gentle of a walk around.
Wildlife
For wildlife, I'm going to direct you to my other post when I went with another company because the animals aren't really going to change! But suffice to say you can expect penguins, whales, seals, and lots of birds!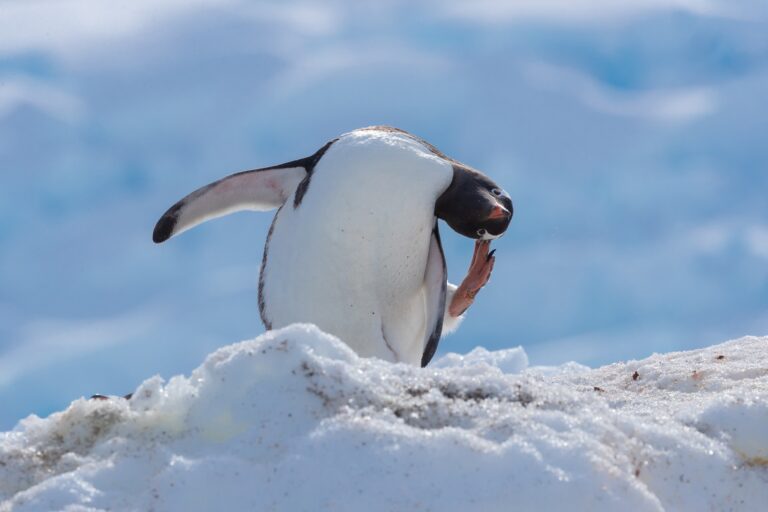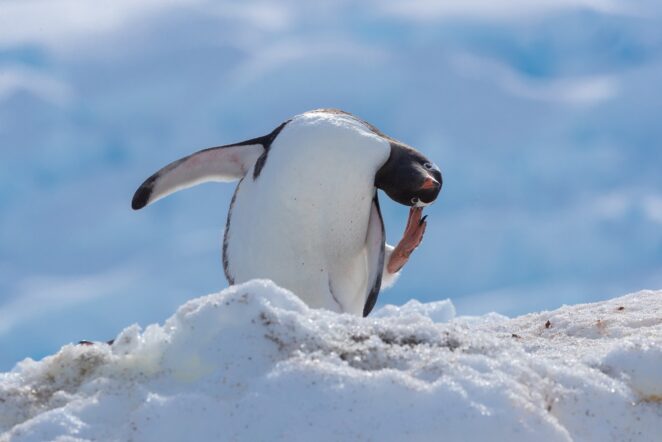 Staff and Crew
The staff is broken down into three main categories.  The staff is very large and is almost on a 1:1 ratio with passengers!
Expedition team
The expedition team on this ship was huge!  I think like 34 staff!  They all have different fortes/interests/passions which makes them a joy to talk to.  You can tell they all love their job, and they love seeing us getting excited about their passions as well.
They lead up on the landings, drive us on zodiacs, get us on our excursions, lead lectures and bartalks, and make sure we have a great time!
Hotel team
The hotel team is in charge of rooms and dining. It must be quite a feat for them to feed all the guests and crew on board, but they always manage quite a spread of food!  The stewards are in charge of tending to the rooms, and they would swing by 1 or 2 times a day to tidy up the room if you didn't ask them not to!  I always feel bad about having them clean up after me, so I usually don't let them in too often. I don't need new towels every day! 
Sailors
You don't see them too often as they're in charge of maintenance and behind-the-scenes work.  The most you see them is getting on and off the ship as they assist us on and off the zodiacs.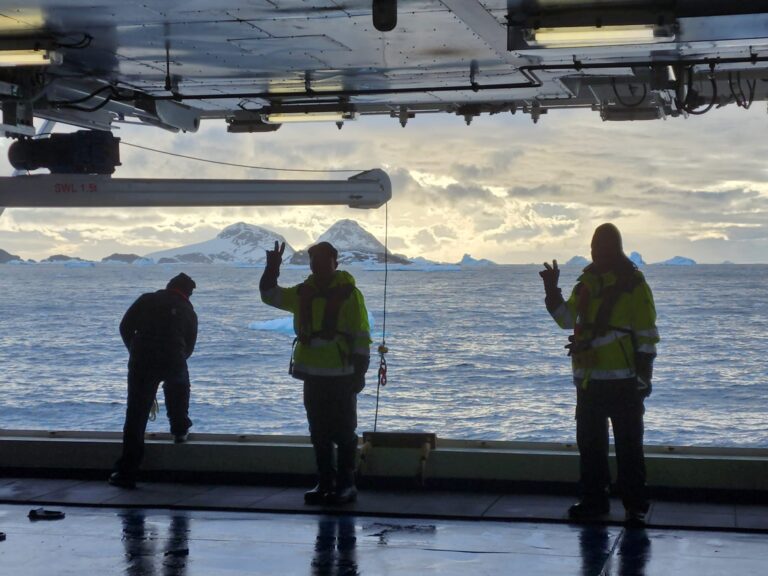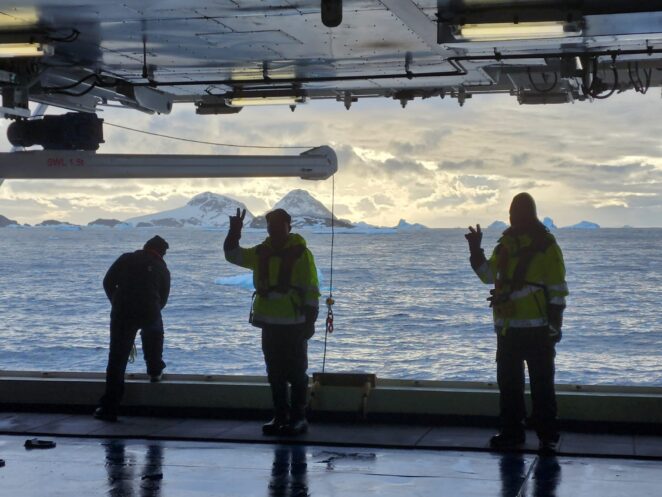 Best
I mean, the trip itself is just the best because of the location, but if I break it down based on what is in Quark's control, I'd say the organization.  Antarctica really dictates a need for flexibility because so much is determined by the weather.  They always have Plan A, B, C, and who knows how many more, but they never seem frantic or stressed.  We had one exceptionally beautiful day one day, and Ali (expedition leader) scrapped a few plans and decided to do a bunch of excursions concurrently to capitalize on the weather.
So at the same time, we had zodiac cruises, paddle sports and flight-seeing all happening at once!  It would have been really easy for that to have been a mess, but it was well-organized and controlled.  I asked some other passengers and they also said attention to detail was the best part.
The heated floor was also absolutely top-notch!
Worst
Again, going to focus on what is in Quark's control, and it's hard to come up with something!  I think the main thing that frustrates me with Quark is that they don't show live inventory and book things online.  Overall the information is better than it was a few years ago because now it will show some cabins as sold out on the site.
This isn't applicable to all Quark tours, but for the mandatory transfer package for Ultramarine (Roundtrip flights from Buenos Aires to Ushuaia and a hotel in B.A.), I wish it was just one way.  I really wanted to spend some more time in Ushuaia, but after paying almost $1000 for the transfer package, I didn't want to have to also pay for another flight back again as well.  I feel like just from BA to USH should be required.
Compare to others
This was my third polar voyage!  My first was with G Adventures to Antarctica, my second was to Svalbard with Atlas, and now Antarctica again with Quark.  I am planning on doing a more thorough breakdown of the differences between the companies, so stay tuned for that.
I feel like for this voyage and the Ultramarine in particular, it really rode the line between science/information as well as luxury.  
How to Book
How to Book
1. You should definitely consider using me as your travel agent! It's no extra cost, I know of the best deals, and I put together a folder to make sure you have everything you need to have a smooth trip!
2. You can book directly with Quark yourself, but then you won't have me to help you with insurance, flights, packing, etc!
FAQ
How is money handled on the ship?
You actually get an account, and they just put it on your account, and you can pay all in one go at the end.  And good news if you're using a travel card; it's billed as "travel" category. I got 3 points per dollar with my Chase Sapphire!
How cold was it? Did you have to buy any special gear?
I actually probably went way overboard (another nautical pun!) with the amount of stuff I purchased because once I got home I realized it was actually just as cold in Atlanta in winter as it was in Antarctica in Summer lol.  Here's a special packing post!  But they provide the parka (that you get to keep) and access to boots to use while on board.
What if you get hurt on the tour?
There is a doctor on board who is available for anyone.  She also came with us to the Polar Plunge in case there were any problems (there weren't!) and on one landing that had a steep climb.  She also lead a lovely "Sea sick" seminar for people worried about getting sick.
What about the ice? Can the ship make it through?
Of course! They aren't going to send us out in an unsafe ship!  Where we were didn't really have too much ice, so it was easy enough to avoid.