Jordan Budget
How much did a 6-night trip to Jordan cost?
Here's the quick rundown of my Jordan budget.  It's broken down below to get a deeper insight!  This tour starts and ends in Amman.  I'd suggest getting to Amman early because there are plenty of things to do in Amman!  I ended up not returning to Amman, but instead stayed down in Aqaba to go to Israel.    This is my budget on my tour, but you're also welcome to try your own 7 day itinerary.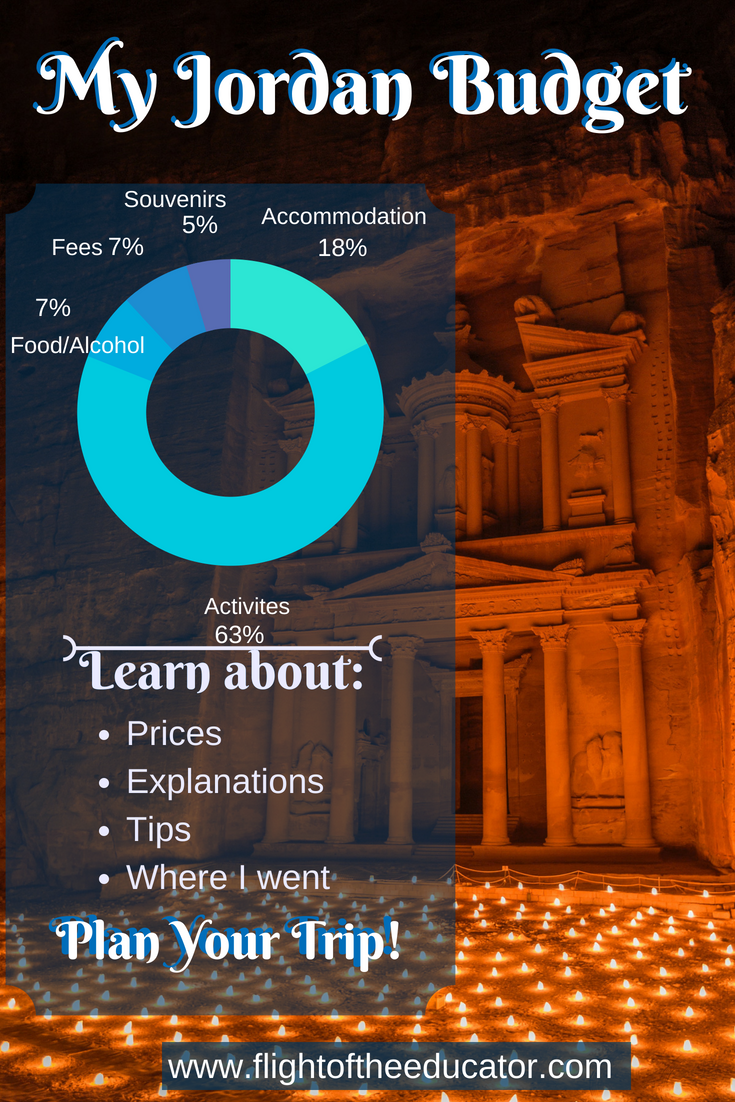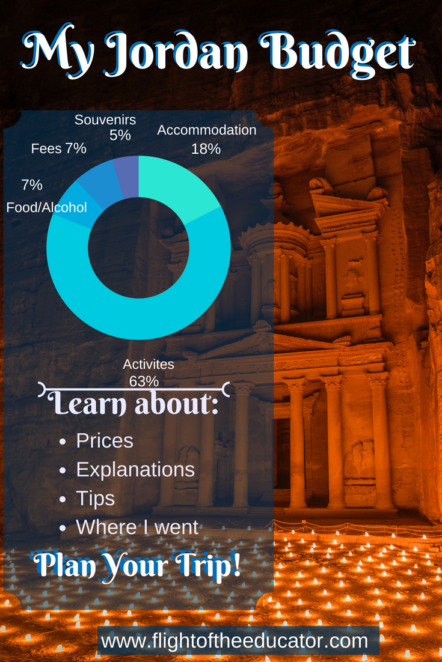 Accommodations
Could you do it cheaper? Yes, the tour stayed at really nice places, and I added on the bubble hotel.  There are definitely much cheaper options.
Keep in mind:  All of my accommodations were included in the tour price, except when I left the tour.  
My nightly room was included in my tour rate, so if you want a better breakdown of the hotels and what they looked like, you'll have to check out my review of my tour!
However, there was one night where we were to sleep in the Wadi Rum desert in a Bedouin tent.  Since I'd already stayed in a Bedouin tent while I was in Morocco, I was really keen to check out a bubble hotel!  
I asked the tour operator before booking if I could sneak away from the tour in order to stay in the bubble, and they said it was fine!  While it was more expensive than I usually pay, it was quite an experience!  A few people have said it was booked up for their dates, so here are more luxury bubble hotels in Wadi Rum!
Bubble hotels come in different varieties. I chose this one because it had more clear openings. I was able to see the Milky Way in the sky from the comfort of my bed (with privacy curtains).  #NoRegrets
If you're interested in going to Wadi Rum, you should check out this much more in-depth Wadi Rum guide on how to get there and what to do!  
If you want to spend the night by the Dead Sea like I did in Israel, but you want to do it in Jordan, read here for the best Jordan Dead Sea hotels.
Transportation
Could you do it cheaper? Most of my transportation was included in the tour.  
Keep in mind: Some were uber and some were taxis.
As much as I loved my tour, I was really surprised that the cost for airport pickup was $60! No thank you!  So when I landed from Egypt, I opted for an uber, which wasn't that bad of a price.
I next used a taxi when I was in Petra.  After a long day of hiking in Petra, I really didn't want to walk back to my hotel! I took a taxi.  It was a little more than my guide said to pay but only by like a buck.
And the last taxi took me from Aqaba to the Aqaba/Eilat border!  From there, I traveled on to Israel.
Food
Could you do it cheaper?  Absolutely!  There were many times that I got a more expensive dish since I decided I deserved it for melting all day during the heat.
Keep in mind:  Some food was included.
Most of the places where the food was included were buffets.   They had a wide variety of starches, proteins, and vegetables.
I actually found most of the food to be very reasonably priced!  It wasn't cheap, but it wasn't crazy expensive either.
Of course, a fair bit of the food budget was just water!  I was trying to stay hydrated in the heat! The waters were normally about 50 cents, but they could get more expensive at restaurants.
Alcohol
Could you do it cheaper?  I feel this one is obvious…
Some of the restaurants we went to didn't sell alcohol, but they let you bring some in.  We all went to a store to grab some, which is where I bought a beer called "Petra" because why wouldn't I with a name like that!  However, it was much cheaper than the beer I got at the hotel in Petra!
I did buy a bottle of wine for my dad as a souvenir, but that's listed in Souvenirs.  
In Aqaba, we went to a very windy and fun rooftop bar!  All the drink prices were about the same, and I thought the bar was very swanky and upscale. I bet a more chill place would have lower prices.
Activities:
Could you do it cheaper? Many of these were optional, but I honestly felt like they were all worth it.
Keep in mind: Aren't these the reason you want to go??
Let me start with the biggest ticket price–the tour itself.  I definitely think it was worth it because it paid for so much other stuff.   
I also saw some other options, but I wanted to go with Gadventures since I'm going with them to Antarctica.  Tour Radar often has sales, so just see what the prices are like! 
Many of the places we went to were included in the price!  That was really great because I was originally going to get a Jordan Pass (allows entrance to multiple Jordanian sites as well as the visa), but I didn't have to!
Turkish Bath
While we were in Petra, I used some of our down-time to scoot off to a Turkish Bath!  It was my first time, and it will probably be my last. It started with sitting in a steam room which was REALLY steamy. I had trouble breathing for a bit!
Then we were taken into another less steamy room where a woman randomly dumped water all over our bodies, ceiling (to drip on our faces), and faces.  I'm not super sure why, but the water definitely helped cool down because what we were laying on got really hot.
The next stage was a very aggressive scrubbing. I went with 3 girls, and we all wanted females, but they only had 1, so half of us had to use the male.  I had a scrape on my leg from Scuba Diving the week before in Egypt, and she was very mindful of that.
It wasn't a bad experience, but it certainly wasn't relaxing! I was noticeably softer though.
Little Petra
Jordan's main draw is, of course, Petra, but there is also a Little Petra!  My guide said that it was where the traders would meet before going to "Big" Petra.  It's nice because you can still see the amazing carvings without the long hike!
If you are planning to go to Petra yourself, then this Petra guide has a lot of good info!
Snorkeling
I'd already gone diving in the Red Sea while I was in Egypt, so I opted to stay with my tour mates and go on a snorkeling adventure!  Our boat was really nice along with good food! The water was very clear and quite refreshing since Aqaba was the hottest place we went to in Jordan.
On the way back, our boat masters threw out fishing lines and caught a few fish!  It was a great last day in Jordan, for me. The rest of the tour went back up to Amman, but I continued on to Israel!
Souvenirs
Could you do it cheaper?  If you're good at haggling and good at saying no!
Keep in mind:  I don't really haggle too much because I feel like they need the money more than I do.
As always, I have to get my spoons! I found a nice spoon in the market around Jerash!  It was in a set, and it was nice of the man to break up the set for me.
In the same market around Jerash, I got this amazing dress!  I ended up getting another one for my friend when I was in Israel.  It's really more of a robe with a belt, but it was nice to wear. I wore it to dinner one night in Petra, and I got a lot of compliments.  Here I am wearing as a swimsuit coverup.
The scarf and kohl combo happened because the salesman was really good!  I didn't even really want the scarf, but here I am with the scarf lol. He put the kohl around my eyes (mostly in though… I had to take over). And then wrapped me up in the scarf!  He dropped the price so low that I couldn't really say no.
The last souvenir I got was a bottle of wine for my dad!  I bought it at a liquor store, so the price was much cheaper than if you went to a restaurant.
Fees
Could you do it cheaper?  If you didn't want to tip the musicians.
Keep in mind: I've also included tips in this section because it sure seemed like a lot of tips were needed!
The biggest portion of the "Fees" section is the visa! It's also possible to get a Jordan pass which covers the visa as well as multiple entry fees to sites.  However, my tour covered all those entry fees, so I just had to get the visa. If you're coming in from Israel, this has more information about the Israel Jordan border crossing.
Then there was the "tipping kitty" which I had to pay at the start of the trip.  That was for all the drivers, baggage handlers, etc that we'd encounter throughout the trip. Rather than wasting time and having everyone deal with that everytime, they collect at the beginning of the trip, and they distribute.
I also ended up tipping our guide $20 which was the last of my money!
While we were in Jerash, there was a group of men playing Bagpipes (yes, you read that correctly) which was so random and funny that I had to toss a coin their way.
Total: $1796.89 for 7 days.
I hope you find this helpful for your trip! Let me know what prices you paid and where!  And if you're not super pumped for a trip, read these

interesting facts about Jordan!
Pin for later!