When I decided to head down to Peru, I knew I had to find a way to make a flight for the  Nazca Lines Tour to happen (they're also known as the Lineas de Nazca).  I've heard of them for years in a variety of places from National Geographic to Ancient Aliens.   When I was making my budget for Peru, I made sure to include it!  The real trick was finding the perfect tour company to go with.  After reading several reviews and doing a lot of research, let me save you the trouble. Use Great Nazca Tours for your Nazca flights!
Why Great Nazca Tours for the Nazca Lines Tour?
Great Nazca Tours has a 5 star review on Tripadvisor, which is well-renowned.  I also like that it's a local company. It's important to give back to the local economy. since some larger companies are owned elsewhere.  Even if the employees are local, not all the money stays local.  Their website also had an English component, so it was obviously much easier for this gringa to read when I was doing my research for a Nazca Lines Tour!
They also have more than one tour too!  I wish I had the time to take some of the others!  The two that looked the coolest were the Aqueducts tour (unfortunately, I had to immediately leave to drive back to Huacachina, otherwise I would've totally done it! Don't miss out!) and the Chauchilla Cemetery tour.  Seeing creepy stuff is creepy, but it's also steeped in history.
Bonus! If you don't want to drive all the way down to Nazca yourself (which I recommend because there are some cool stops along the way), they also have a Nazca flights tour that leaves from Lima! Relax all the way and know you'll be taken care of 🙂
The Guides of the Nazca flights
I was met at the Nazca airport by Oscar.  His name popped up quite a lot in the TripAdvisor reviews, so I know it wasn't a fluke that he was so great with me.  Before I went on the flight, I got a pre-flight briefing! How official 🙂  He walked me over to a large map to see all the geometric shapes and animal figurines that I'd be seeing from the plane.
I don't want to spoil his whole spiel, so I'm not going to include all the fun facts.  But here are some that really stood out to me:
They believe they were made as far back as 500 BC!
They aren't sure exactly who made the lines or why.
Because of the microclimate, these lines have been naturally preserved!
The Palpa lines are actually older.
You can see some figures via a tower.
There are way more fun facts, but I don't want to take it away from you when you go! You're going right? Of course you are.
The Figures Seen on Nazca Flights!
There are hundreds of lines and shapes across the desert, but the tour will take you to see 12.  You'll see the Whale, trapezoids, Astronaut, Monkey, Dog, Hummingbird, Condor, Spider, Heron, Parrot, Tree, and Hands (and partially the lizard).  Now, the Tree and Hands are visible from the tower, but obviously you get a much better view from the plane!
The Whale shows up RIGHT after take-off, so get those cameras ready!  If you  don't have a quality zoom lens, then you might not have much luck with pictures.
The Astronaut is one my favorites!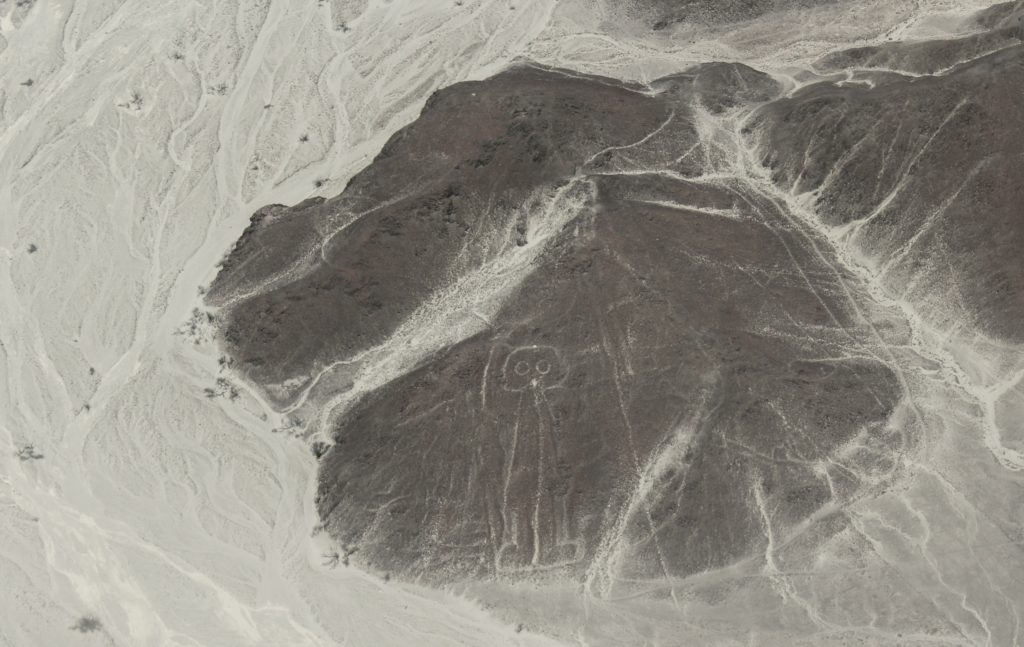 The Flight
They say that the morning is a better time to go because of turbulence.  I went right at noon, and the flight was fine.  It doesn't matter what side of the plane you're on because they swing by on both sides!  About halfway through the flight, I noticed that I was starting to feel a little airsick.  It can be a little disconcerting looking down the whole time while the plane swoops and turns.  To combat this, I started looking down only when it was my side's turn and looking forward when it wasn't.  It also probably wouldn't hurt to grab one of these bad boys.
Getting to the Nazca Lines Tour from Lima
Tour
You can get picked up in Lima, by Great Nazca Tours. It's a pretty long day, but you could even do it as a day trip!  Keep in mind that Nazca is about 7 hours from Lima.
Drive
I rented a car because I had other stops that I wanted to make. Keep in mind that there are some tolls (some of which you only have to pay once though).  Check out my Peru Budget if you want to read more about the costs associated with this option.
Bus
The bus is probably the way that most people should go because driving in Peruvian cities is really stressful.  If you take the bus, you can also stop by some other cities, breaking up the long drive, and see some cool things. I recommend Paracas and Huacachina!
Either way, you get to see this rather ethereal and almost alien landscape <3.
Pin for Later!
Disclosure: I did receive this flight for free in exchange for a fair and honest review.  Fuller disclosure, I reached out to them because this has been something I have wanted to do for a long time, and this is a fair and accurate representation of my time with them.