I'm sure you, like me, have long wondered if Groupon Getaways are worth it?  They have amazing trips to the Caribbean, Asia, Europe, and all over!  But I always wondered… Are there any hidden costs?  They seem like such great deals, so there must be a catch, right?  Well… I investigated! And here is my review for a Groupon Niagara Falls.
Groupon Niagara Falls

I use Groupon pretty extensively at home, so I was keen to try it out!  Using my skyscanner tips, I found that the cheapest flight to China to start my Trans Mongolian Express trip was out of Toronto!  I decided to make a little trip to Niagara before flying out of Toronto to Beijing.  Since I always try and save money, I immediately googled Groupon Niagara Falls!
First, I had to decide which side of the falls to stay on!  I had to compare the American vs Canadian sides, and I chose the Canadian side!
I opted for the Four Points by Sheraton (not to be confused with the actual Sheraton!), and I was very impressed! The location was great!  It was right across from the Casino with a covered walkway (even if you're not into gambling, it's a great landmark to find your way back!), very close to the falls (about an 8-minute walk?), and a little farther up the road from "Tourist Town."  Tourist town was a little much for me with lots of lights and activities that are pretty wildly overpriced for the tourists.  I'd rather be closer to the falls.
Room

My Groupon didn't specify that I had a hot tub (I looked at one at the Wyndham that did specify), but my room did!  I'm not sure if that's standard or if it was because I asked how much it was to upgrade to Fallsview.  Fallsview was all booked up, and she apologized about it. I'm not sure if the jacuzzi was a consolation or if it's standard.  It never hurts to ask about upgrades though!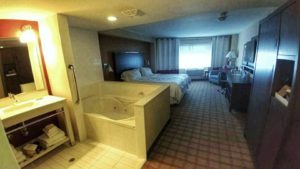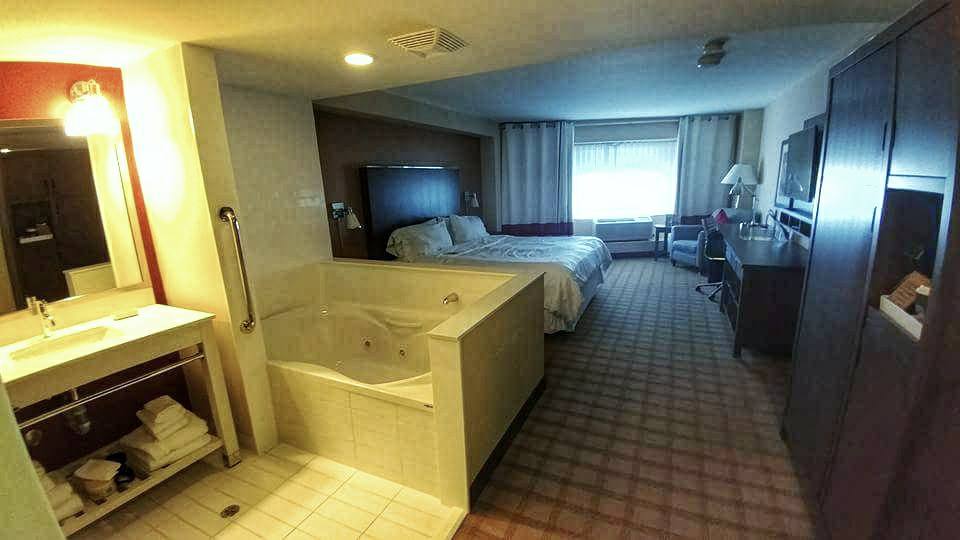 The room itself was spacious, the bed was sooo comfortable,  and the jacuzzi was amazing!  There's a little privacy wall there in case you're with another person and don't want to be in full view.  Speaking of views… our window view wasn't the best. It was mostly a roof, but we were able to see the Casino and a little waterfall of the Casino's water feature.  But hey, we were hardly in the room long enough to be an issue.  
Pro Tip – There's a channel that has a fire on the screen!  That + Bathtub = Game Changer
Parking
Parking on site is more expensive, or you can park across the street for cheaper… of course they throw so many taxes on there, it starts at $15 and goes up to $25.83 (US dollars…ridiculous!)

Parking all around Niagara is pretty ridiculous actually.  
Food
Here's the thing… one of the reasons I wanted this (Groupon Niagara Falls) was because it came with so many meal vouchers.  When I got mine, it came with $100 to Ruth Chris, $10 to IHOP, and $20 to some Italian restaurant. We went to each one of them and looked at the menus, and those vouchers wouldn't even cover half.  If you're the kind of person that would go to those places anyway, then they are a good deal for you… but then I'd also wonder why you're buying a Groupon for Niagara Falls.  One meal at IHOP, for example, was like $18.  Insane.  
We did a bunch of wandering along the street and into the food court of the Casino, and the best thing we found was the $20 Grand Buffet.  Not to be confused with the buffet in the food court.  You want the ~Grand Buffet~.  The food was very varied and tasty, and you can also get free parking.  You have to sign up for a Player's Card to get  discount, but you have to sign up for it anyway for another voucher you'll read about in a sec,
Activities
Besides the useless food vouchers, we were also given a pair of wine tasting passes!  Those were superb!  It's a little booklet that gets you free samples at 4 different wineries in the cute town Niagara on the Lake. Two are just tastings but two also have tours!  I'd really just dedicate the whole day to Niagara on the Lake (and I wish we'd spent more time there), but if you can't, I'd suggest definitely doing the Peller Estates tour.

Both estates had great wine, but Pellar's estate was much lovelier.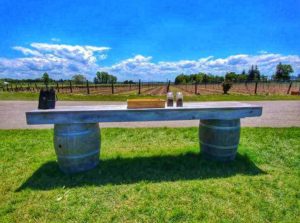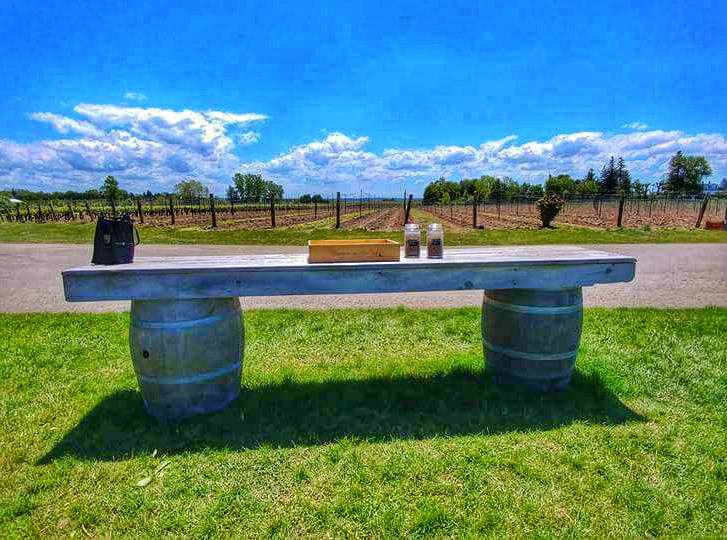 In addition to gorgeous scenery and architecture, Peller also had an Ice Bar!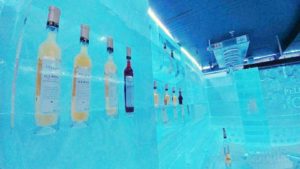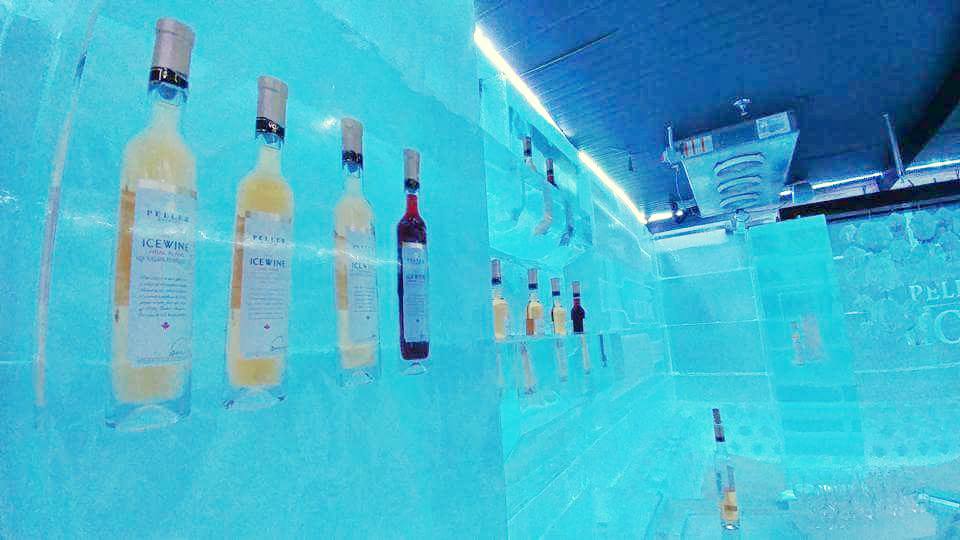 Trius had a great tour as well, even though it was lacking a room made totally of ice.  What was great about the tours is that they didn't really overlap information too much, so you wouldn't be bored if you went to both like we did.  Trius's top parts were watching how Champagne was made!  It takes almost two years, it's insane!  


Another voucher we got was for $25 to spend in the casino.  They put the money on your card, and when the buffet lady asked for my card, I briefly thought that it would pay for dinner. No.  Later I was fiddling around with a slot machine, and I lost most of the money that I put in, but won a bit so I cashed out.  We hadn't used all the money on the card, so in the morning… I had a brilliant plan.

I was going to go put all of the money into a machine and immediately cash out.  They'd apparently thought of that, and it wouldn't let me "withdraw reward" points.  OK.  I assumed I'd have to play and win something to pull out like I had yesterday.  So I did the penny slots.  I won like 12 cents and tried again. It cashed me out for 12 cents.  Oh.  So I had to keep playing. Basically I turned that $25 hypothetical to $5.20 lolol.  Worth a shot. Might as well just play a game that you want instead 😀

Some of the other Groupons also included some cool things like laser tag and mirror mazes.   I'm secretly a child at heart and absolutely wanted to do those, but between seeing the Falls lit up at night, Pokemon hunting walking, and searching for a reasonably priced place to eat, we hardly had time! If you'd like those though, you can also get a separate Groupon for that.
We also went to a chocolate strawberry dipping class and Zip-lining across the falls!  Those were just two of the romantic activities for couples in Niagara!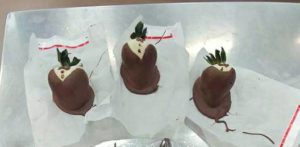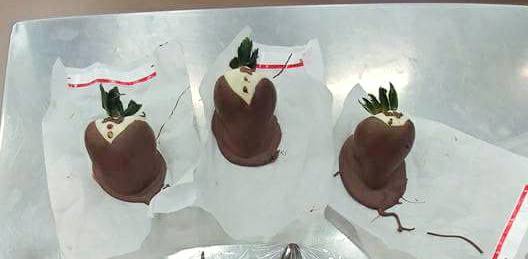 The Best?
The hotel was in a really great location, and the room was really nice.  As we were driving around, I saw all of the other hotels that I had seen on Groupon Niagara Falls and the Four Points was definitely the best placed.  The Wyndham was a close second.  The others had even cheaper price tags, but were slightly farther.
The Worst?
I guess that the food vouchers were pretty useless.  I wish they'd change it up to a voucher at Grand Buffet!  
I hope you found this review of Groupon Getaways helpful!  Share if you think others would be interested too!
https://www.pinterest.com/pin/669699407060766723/