When planning a trip to Jordan, I'm sure you must have been looking up the best things to do in Jordan, the top Jordan tourist places, and even asking yourself how many days in Jordan are enough?  Or you might just be coming for a day trip for Petra.  I admit that when I went, I was only excited about Petra and viewed the other stuff as just a bonus.  But after my trip, Jordan shot to the top of my top 10 countries I've been too.  Keep reading to see all the places to see in Jordan besides just Petra! Do try and spend more time than just a day trip!  All of these places are amazing to add to your Jordan itinerary.
1. Umm Qais

When visitors think of Roman ruins in Jordan, they mostly think of Jerash and Amman. Not many people know of Umm Qais or the ancient city of Gadara, as it was once known, located in north-western Jordan. When I heard of Umm Qais and its black basalt ruins, I was fascinated by its location next to the Syrian border, and we immediately added it to our weeklong Jordan itinerary.
The Roman ruins of Umm Qais are quite different from those at Jerash. For one, they are constructed from black basalt whereas Jerash is made of sandstone that sparkles golden under the sunlight. Umm Qais is mostly destroyed by an earthquake and vegetation grows over the ruins while the ruins of Jerash are the most well-preserved in the Middle-East.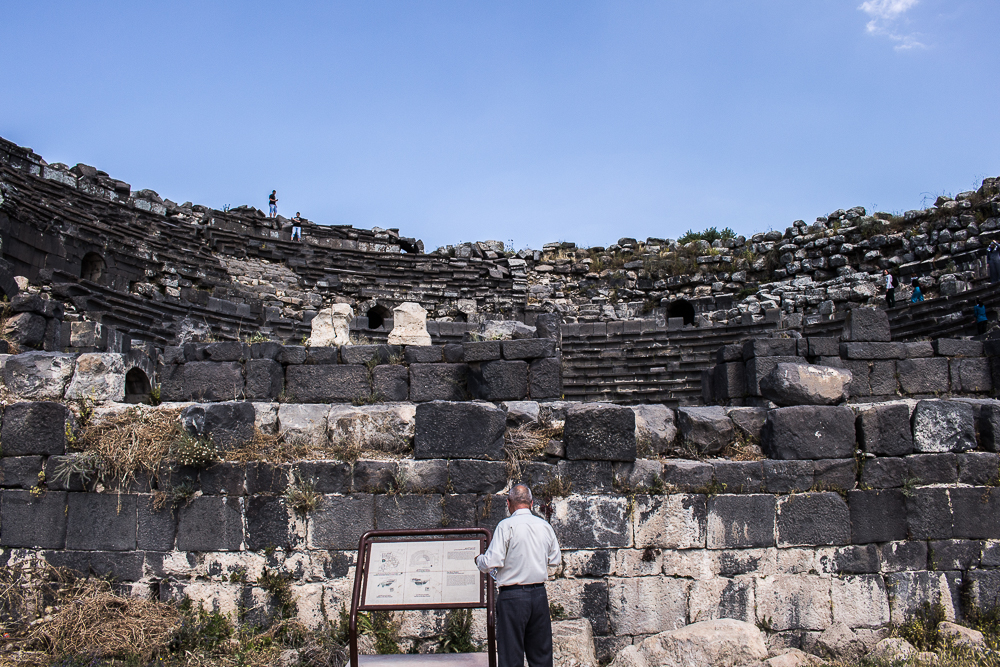 The most distinctive thing about Umm Qais is its location. Situated 5 kms from the Syrian – Jordanian border, Umm Qais has splendid views over Sea of Galilee (Sea of Tiberias) in Israel, Golan Heights in Syria, and the Palestinian territories. We had a great time looking at the views of 3 countries and exploring the fascinating ruins and would recommend everyone to make time to see Umm Qais in their list of Jordan tourist places.
Special Thanks to Ketki of Dotted Globe for this spot!
2.  Ajloun
Ajloun is mostly known for the Muslim fortress called Aljoun Castle!  Like most castles, it's perched atop a hill for good lookout potential.  Even though it's a Mulsim construction, it was actually built on the ruins of a Christian Monastery.  Because of its location, it was a major stopover for trade routes!  The castle is open for tourists, although it's not on most tour itineraries.
3.  Jerash 
If you're looking for one of the best things to do in Jordan, the archaeological site of Jerash has to feature on your bucket list. Jerash was a rich Roman city until the mid-eighth century when it was largely destroyed by a huge earthquake. Over the following centuries, it got more and more ruined by subsequent earthquakes and being the center of war efforts. Today, the archaeological site is located in the middle of the new city of Jerash and is open to visitors.
They started archeological works and excavations back in 1925 but only 5% of the old city is actually visible, the rest is still underground. There are a number of well-preserved sites within Jerash that you should visit, amongst which the temple of Zeus, the temple of Artemis, two almost intact amphitheaters, the Forum, and the Colonnade. The archeological site is quite big and it will take you at least 2 hours to cover it all. It's a very interesting place to learn about Jordanian history and I highly recommend visiting when planning a trip to Jordan.
Special thanks to Greta of Greta's Travels!  Read more about her 7-day Jordan itinerary!
4.  Dolmen Field
I was very surprised to hear about the dolmens in Jordan since I'd first heard about them when I was in Ireland!  Dolmens are basically a "table" used as a tomb marker.  However, these dolmen can be spotted all around the globe!  According to Wikipedia, they're in Ireland, France, Germany, Netherlands, Portugal, Sicily, and of course even in Jordan!  I'm not sure if it's worth going specifically to go see, but if you're renting a car and bopping all around, it would make for a cool stop for one of the Jordan tourist places!
5.  Al-Salt
Al-Salt (also called As-Salt) is located on what used to be the main highway that connected Jerusalem and Amman!  An interesting bit of history is that it was believed to have been built during Alexander the Great's reign, but also once sacked by the Mongols!  Mongolia is pretty far away, so that is quite a journey for them!
Most of the architecture is Ottoman, although there have been many occupying cultures over the years.  There's a great mix of churches and mosques (the region is 65% Muslim and 35% Christian).  There's lots to see in the city including Jordan's oldest high school, but the highlight is probably al-Qal'a AKA The Castle because of the striped pink and white stone.  Not only is it beautiful, but it stands as a memorial for the Muslims who died during WWI.
6.  Iraq Al Amir 
The tiny Jordanian town of Iraq al Amir is the ideal place to get way off the beaten path, connect with locals, and see a side of the rural Middle East that few travelers through the region experience.
For somewhere so remote, Iraq al Amir has a surprising number of headline attractions which make it one of the best things to do in Jordan. You can't miss the spectacular ruins of the pre-Roman castle Qasr Al Abad. The area has prehistoric caves galore — many of which include ancient cave paintings. And the Iraq Al Amir Cooperative is one of the best places in Jordan to buy handicrafts. You can shop here knowing your money will go directly to local craftswomen who have few other job opportunities.
Tourists are quite a rare sight here, doubly so if you visit without a guide. So as you explore this little village, locals will invite you to tea and offer to show you around.
The easiest way to reach Iraq al Amir is with private transportation. Hire a car and driver in Amman for the short (30-minute) drive.
If car hire is out of your budget, you can get here independently. First, take a minibus from Amman's Muhajireen Bus Station to the village of Wadi As Seer. From here, you can pick up an infrequent minibus on to Iraq Al Amir village. Walk an additional quarter mile along the main road to reach the ruins. If locals see you waiting for a return bus from Iraq Al Amir to Wadi As Seer, there's a good chance they'll offer you a lift.
Special thanks to Carrie from Trains, Planes, and Tuk Tuks!
7.  Temple of Hercules
The Temple of Hercules is in Amman and is cool by itself.  However, the big wow factor is definitely the hand of Hercules.  The hand (or few fingers now) is all that remains of a GIANT statue of Hercules that used to be there!  I can't imagine how big and impressive it must have been!  It reminds me of the giant statue over Bravos in Game of Thrones!  I guess I'm a little surprised to see so many Hercules allusions in the Middle East (there is the Cave of Hercules in Morocco).
8.  Desert Castles 
If you want to get off the beaten track and see one of the lesser known Jordan tourist places, a trip to the desert castles in its eastern desert should definitely be on your itinerary. Located an hour or so east of the capital, Amman, the Islamic castles of Qasr al-Kharaneh, Qasr Amra and Qasr Azraq have stood guard over the desert for centuries, serving as caravanserais, private homes and stopovers for legends of Arabia.
The first castle you will reach from Jordan, Qasr al-Kharaneh, is an imposing, rectangular structure which belies a labyrinth of rooms around a large courtyard. Explore the castle building before heading up to the roof for a stunning view over the desert. Heading on to Qasr Amra, admire the historic well and the frescos lining the castle, decorated with human figures in a way that demonstrates clearly that the castle was for private use only – human representations are very un-Islamic and would not have been tolerated in a public place.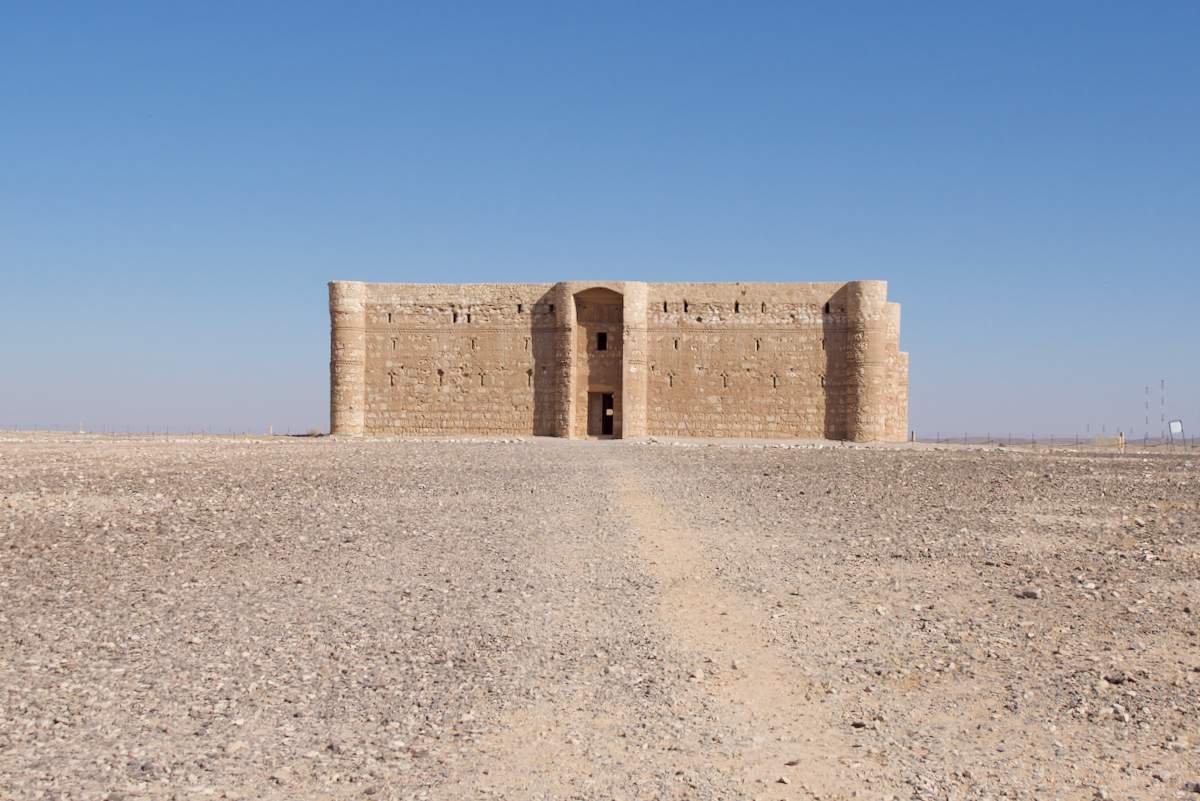 Qasr Azraq, the furthest stop from Amman on the road to the Iraqi border, has an even greater history. Azraq was, for a short while, the home of Lawrence of Arabia, and it is still possible to visit the room he called his own. Roman remains can also be seen in the castle, legacy of an earlier era.
The desert castles of Jordan, being off the main tourist trail, see very few visitors, especially considering the impact the war in Syria has had on safe and neutral Jordan's tourist industry. Worrying though that is, it is magical to have these places almost to yourself, and it is well worth the trip from Amman for the privilege.
Special thanks to Jill at Reading the Book Travel for this cool entry!
9.  Mt. Nebo
Whether you're religious or not, I think we've all heard the story of the exodus of the Jews from Egypt.  At one point during that journey, Moses finally glimpses the Promised Land. It's said that that actually happened at Mt. Nebo.  On a clear day, you're able to see the River Jordan, Jericho, and even Jerusalem!  Bummer though because he was also told that he would never make it there.
Today, however, you're able to walk into a stunning church! The outside is very well preserved, and the inside has barriers to keep the inside beautiful too.  I loved seeing the columns and the mosaics.  It must have been quite a sight in its heyday!
10.  Madaba
Speaking of mosaics, that's what Madaba is famed for!  It still is home to a very large mosaic of the Holy Land, but also many shops to buy decorations of any sort.  We swung by a women's collective where women work in safety creating beautiful mosaics.  Many of the creations have special religious connotations, and some are just beautiful–like a peacock lol.
11.  Dead Sea
The Dead Sea is special for many reasons: low altitude, salt level, and lack of life.  It's accessible from both Israel and Jordan, so I was fortunate to be in it twice! I always heard how buoyant everyone is when they float in it, and they were not kidding. I popped right up when I was in it!  I have a video in my other post about things to do in Israel.  I think I preferred the Jordan side more.  The Israeli side seemed more like a salt farm.
There are public and private beaches in either country.  And both have places in which to smother yourself in mud. It smells something awful, but apparently, it has great beauty benefits.  Unfortunately, those benefits might be the reason it is shrinking very rapidly 🙁 .
12.  Umm ar-Rasas
Another ancient site that was also mentioned in the Christian Bible and home to many civilizations over the years.  I find it so fascinating that most of the walls have fallen away, but the arches still remain.  I'd say that overall these ruins aren't quite as "put together" as some of the others, but are definitely worth a visit if you're driving. It's not far off the King's Road.
13.  Karak Castle
First of all… it's windy here!
Kerak Castle is considered a "Crusaders" castle.  Various parts of it are in varying levels of disrepair, but the parts that are there are fun to see.  It has different levels of defense which were added over the course of the years due to changing war tactics.  Today, you're able to walk around and in it and see where prisoners stayed, soldiers lived, and beautiful tunnels.
14.  Lot's Wife 
If relaxing isn't your thing, or you'd like a break from all the pampering and floating around the Dead Sea, I thoroughly recommend a day trip to hike up to "Sodom." Or as it is known today, the Sanctuary of Agios Lot overlooking Safi, just southeast of the Dead Sea.
This site supposedly marks the spot where–according to the Bible–Lot, his wife and their daughters fled from the burning of Sodom and Gomorrah after angels deemed it too sinful to save. Lot and his family were forewarned by the angels and allowed to escape–on the condition that they did not look back at the destruction. However, as they fled from Sodom and Gomorrah, Lot's wife disobeyed and looked back upon the burning cities and was turned into a pillar of salt.
Thanks to Dagney of Cultura Obscura for this location!
15.  Dana Biosphere Reserve 
Dana is a must for any nature or hiking lovers. The small 500-year-old village is perched on the edge of a canyon and the views from every direction are sublime. It's largely uninhabited now, with only a few families remaining. In fact, we saw more donkeys wandering through the crumbling buildings than we did people. It really feels like stepping back in time.
There are a number of guided and self-guided hiking trails in the area that take you through a nature reserve which is still home to wolves, ibex, and caracal. They prove to be pretty elusive to the casual visitor, although all the locals have a tale or two about wolves coming down into the village and going after the large goat populations.
The trails themselves offer some of the most incredible views of any hikes we've done in the world, and you will likely have them all to yourself. The most famous hike is the Wadi Dana Trail. This 14km walk takes you directly from Dana village to Feynan Eco Lodge –-named in Nat Geo's top 25 eco-lodges in the world.
You hike through the middle of the bright orange canyon. There is little shade but the local Bedouin families are quick to invite you in for a cup of tea in their tents. It's a spectacular walk, and one of the few in the country you can easily make without a guide.
Even if you don't like hiking. It's worth spending a night or two at the guest house in Dana or Feynan Eco Lodge to disconnect from the modern world and enjoy the simple pleasures of a magnificent view and legendary Bedouin hospitality.  
Special thanks to Cat of Walk My World for suggesting the Dana Biosphere Reserve!
16.  Shobak Castle 
Shobak Castle was not exactly making the list when I was planning my trip to Jordan due to the lack of time (although I spent two weeks in Jordan but there is so much to see); however, I ended up making it there. Dana Biosphere Reserve was covered by fog so I took a detour and visited the castle. It's important to know that it gets windy up there so bring some warmer clothes not to feel cold and enjoy going around the castle but also the surrounding views.
Shobak castle was built in the early 12th century and is included as an attraction within the Jordan Pass (which I totally recommend as it's a money saver, especially if you have to pay for a Jordanian visa like I had to). There are guides that can accompany you and explain the castle if you're doing a solo trip and have no guide or you can also just wander on your own. When I visited there was a "guard" who let me use his sword, helmet, and shield to take some pictures. It was a pleasant surprise and although when you check the Jordan Tourism Board they don't have it in their list of best things to do in Jordan, I strongly recommend visiting it.
Special thanks to Lavdi from Kosovo Girl Travels for this cool castle! Read more about safety in Jordan.
17.  Wadi Araba 
Whoever has heard of Jordan or planned a trip there, most probably has Petra in mind. Few people know that only about 40 mins drive from Wadi Musa is the Wadi Araba desert. I didn't know myself about it but I was fortunate enough to meet with lovely Jordanian locals who told me about it and I'm so glad about that. Wadi Araba turned out to be a beautiful surprise.
Smaller than Wadi Rum, it offered something different from it – almost no tourists. It felt like you owned all of the desert and you could stroll around and enjoy yourself and/or your company. Breathtaking views, relaxing scenery, and peace of mind is what Wadi Araba can offer. If you're looking for an escape from the thousands of tourists in Petra, then head to Wadi Araba and enjoy your day. Another good thing is that it's not been commercialized yet so you can actually bring your tent here and spend the night under the stars without other travelers around you.
Special thanks to Lavdi from Kosovo Girl Travels for this one too!
18.  Little Petra
Petra is obviously the main draw to Jordan, but did you know that there was a Little Petra?  It gets its name because it has stunning carvings, but just not on the scale of the main Petra.  I don't think it's worth *only* going to this Petra, but I would recommend going to see it first.  It's nice because it's free and less crowded!
My guide said it was a stop on the trade routes, and the traders would stay here and the Nabateans would try and impress them. Maybe to up trade value?  We could enter some of the carved buildings here, and you can still see some decorations on the ceiling!!
19.  Petra's Other Trails/Experiences

When people think about Petra, they think about the iconic Treasury!  But Petra is a vast complex with some special places!
The best way to visit Petra is undoubtedly to tackle the incredible Petra hiking trails . While there are many trails around the Ancient City, don't miss the Al Khubtha and Ad Deir Trails to experience Petra's Treasury and Monastery.
Want the best views of Petra's most famous monument without the crowds? Take the Al Khubtha Trail for sweeping (and vertigo-inducing!) birds eye views over the Treasury. The Al Khubtha Trail trail starts just off Petra's Main Trail, shortly after the Theatre. The trail winds past the incredible Royal Tombs, before heading sharply uphill to the Treasury viewpoint.
Lemme tell you this: it is 100% worth forking out a few bucks for a drink at the cafe at the top for quite possibly the most majestic views over the Treasury. Allow 2-3 hours for the 3.5km return hike, including time to explore the Royal Tombs and soak up the Treasury views. The Al Khubtha Trail is fairly steep, but doable for anyone with a reasonable level of fitness.
Next up is the Petra Monastery Trail. The Monastery ('Ad-Dier') is of even more epic proportions thank the Treasury at a whopping 48 meters high. You may hear tales of the Monastery Trail being difficult and perilous, but it's really not that tricky. The Monastery Trail starts at the end of Petra's Main Trail, which is itself 4km into Petra. From there, it's a 2.5km return walk to the famed Monastery. The Monastery Trail is steep with lots of stairs, but it's a fairly short sharp walk uphill (took us 40 minutes) with plenty of opportunities to rest your legs and have a refreshing drink at the makeshift cafes along the way. Allow 2+ hours for the Monastery Trail, including time to walk around the site.
Special thanks to Claire of the Adventurous Flashpacker!  I didn't have the courage to go the high path or the energy to walk that far to the Monastery!  I slightly regret it, so I hope you learn from my mistake and check out Claire's suggestions!
20.  Bedouin Camps
This entry doesn't have a specific place because you can do it an any of the Wadis (I think even in Little Petra too, or at least I heard a rumor).  Since I'd already done a bedouin camp when I was in Morocco, I decided to up my game a bit and stay in a Bubble Hotel!
There are tons of camps where you could stay in a basic tent that are pretty cozy as well.
Wherever you end up, you'll be treated to the beauty and fun of the bedouins!
21.  Wadi Rum
Wadi Rum is the most famous of the Wadis in Jordan.  When people get short trips to Jordan, they usually just hit up Petra and Wadi Rum.  It's likely because it's the largest one! I also feel like the sand is a little redder than the others.  All the Wadis have dunes of varying sizes and dramatic rockscapes.  The Martian was actually filmed in this area because of its likeness to Mars (along with many other movies!).
There are tons of activities to do in Wadi Rum! 4×4 excursions, horseback riding, and rock climbing to name a few.
22.  Aqaba
Originally, Aqaba was an important stop on trade routes between Africa and Asia since it sits right on the Red Sea.  Now it's crucial for Jordanian tourism because of its proximity to Wadi Rum and Petra.  I went diving in the Red Sea in Egypt, so when I was in Aqaba, I opted to stay on top of the water this time!
Aqaba was a great way to transition to Israel.  I heard that on the other major routes crossing the Jordan/Israel border, that it could take a long time and was a bit of a hassle!  I went through next to a family, and I think it took about 40 minutes, but that included walking *between* countries which was a new experience.  The lady also asked me a bunch of questions because I didn't have much of a plan for Israel and was just going to rent a car and see where I was going to end up as I went lol.  So, have a plan.
23.  Jabal Umm ad Dami 
One of the Jordan tourist places to put on your bucket list when planning a trip to Jordan is climbing the highest mountain in the country. Jabal Umm ad Dami lies on the border between Jordan and Saudi Arabia. Located on the corner of the famous Wadi Rum desert, it offers you an alternative to other tourist activities. Hiking to the top of Jabal Umm ad Dami is not very popular, even though it's relatively easy. However, getting to the start of the hike can be challenging and requires driving through 35 km of the desert in the 4×4 car.
The mountain has a height of 1,854 meters (6,083 feet) and can be climbed in less than 2 hours. From the top, you can admire the striking views to Wadi Rum's rugged landscape, the Red Sea and even Saudi Arabia's vast desert. The hike is not technically demanding, but in the summer months, it can get very hot between the barren rocks. If you decide to climb the mountain with one of the local Bedouin companies, you will also be able to eat freshly-cooked lunch at the foot of the Jabal Umm ad Dami. Next time you are in Jordan, make sure to plan the trip to Jordan's highest mountain; it's worth it!
Special thanks to Aga of Worldering Around!
I really hope this post made you see the beauty that Jordan has to offer! Please consider adding these amazing Jordan tourist places when planning a trip to Jordan! You won't regret it!
Pin for later!