My post about my Israel Budget did so well that I had to come back and give you my other favorite kind of post to write: Best Things to do in Israel besides the main tourist draw (Jerusalem in this case!). I always think it's really important to remember that there are more Israel attractions than the Holy City (but of course, it's still important to go there).
I wasn't able to get to all of these places because of time, so I asked some fellow bloggers to help me out with the places I wasn't able to go myself! I hope this inspires some of these best things to do in Israel to be added to your list!
1. Banias Stream and Waterfall
It may come as a surprise, but north Israel is full of green landscapes, natural springs, and waterfalls. One of the best places to visit in this incredible area is the Banias Nature Reserve ("Nahal Hermon Reserve" in Hebrew) in the Golan Heights.
The name Banias comes from the Greek god Pan. The Greeks who had started to populate the area, have built a shrine for Pan, and later on, their founded city was called Panias. Years later, the name was changed to Banias due to the locals' pronunciation.
After arriving at the reserve, take the Banias Waterfall walking trail. It is an almost 2-mile linear path marked in blue that starts at the Banias Springs. Besides the flowing Banias Stream passing along the trail, you'll also see an old flour mill, a natural spring, and typical local flora. At the end of your hike, you'll get to a crossroads: the right trail leads to the mesmerizing Banias Waterfall, and the left one leads to The Hanging Trail which is a short, accessible path that allows you to walk very close to the rushing stream. I recommend visiting both the waterfall and The Hanging Trail, as they both provide stunning views.
If you like history and archeology, there is a stairway path also starting at the Banias Springs, leading to the Shrine and Cave of Pan where you can see the shrine's remains.
Practical information: All the details about getting to the reserve, opening hours and prices, can be found on the Israeli Nature and Parks website.
2. Mount Bental/Tal Al-Gharam
Mount Bental is actually not even a mountain but a volcano! It's located in the north of Israel in the lush Golan Heights. It offers sweeping views of both Israel and Syria. Because of its close proximity to the border, there are actually both Syrian and Israeli strongholds on top. Well, the Israeli one is built on top of an older Syrian one, anyway.
3. Rosh Hanikra Grottoes
The Rosh Hanikra Grottoes are pretty far north, right on the border between Israel and Lebanon. The cliffs are made from soft chalk, so years and years have eroded the soft material into the beautiful caves and tunnels that they are today.
It would be a pretty steep walk down, but luckily, modern engineering has sorted that out for you with one of the world's steepest cable car rides! Even the ride down to the grottoes has a great view of the striking Israeli coastline along the Mediterranean.
4. Akko AKA Acre
Akko is a small city in the North of Israel that many times gets ignored by tourists who come to the Holy Land. However, it is one of the most interesting and historically important cities in Israel. Akko's roots date back to the Bronze Age, and when strolling around the Old City (which is a UNESCO World Heritage Site), you can find treasures that reflect its long history through the ages with influences by the Romans, Ottomans, Crusaders and more.
A great way to start your visit is to walk along its impressive walls and learn about the history of the city (even Napoleon Bonaparte tried to conquer it once but failed). You can also take a boat ride from its beautiful port to see it from a different angle and take some great photos from afar.
There are many sites to visit to learn more about Akko's historic roots such as the Hospitaller Fortress (Knights' Halls) that used to be the main headquarters of the Hospitaller Order in the 13th century, the Templars Tunnel where you'll learn about the history of the crusaders who came to visit the Holy Land, Hammam Al Basha (Turkish Bath) that was built by the Governor of Akko in the 18th century and more.
For the art lovers, pay a visit to The Okashi Museum of Art to see great exhibitions by Israeli artists. Personally, our favorite attraction was just walking around the narrow alleys, talking with the locals, and visiting the local market to find some delicious delicacies, souvenirs and local spices (have you tried Sumac and Za'atar before?).
End your visit with a great meal because this is the place to eat some fresh fish accompanied by an unbelievable selection of salads.
5. Sea of Galilee
The Sea of Galilee is basically actually just a lake, but it is most known for being the body of water that Jesus presumably walked across. If you're not into religion, then it's also the lowest freshwater lake in the world (second only to all lakes to the Dead Sea). Tons of fun facts!
Tiberias is a super cute city on the shore of the lake, and really close to it are some hot springs that you can visit! Historically speaking, Tiberias was also very important and was considered to be one of the main Holy Cities with Jerusalem, Hebron, and Safed!
Driving into Tiberias is beautiful too because as the road curves around, you're able to see the whole lake, and it's vast, blue, and beautiful! Tiberias is a great spot to stop if you're going north to Golan Heights or west to Haifa and Yodfat!
6. Yodfat Monkey Forest
Speaking of Yodfat, the Monkey Forest is a must see! It's really a reserve for animals, and it's not just monkeys! Yodfat is a series of winding paths that go through the forest. Some of the animals are cordoned off to separate them while some walk around freely! I definitely followed a particularly lovely peacock for about 15 minutes waiting for him to display his tail.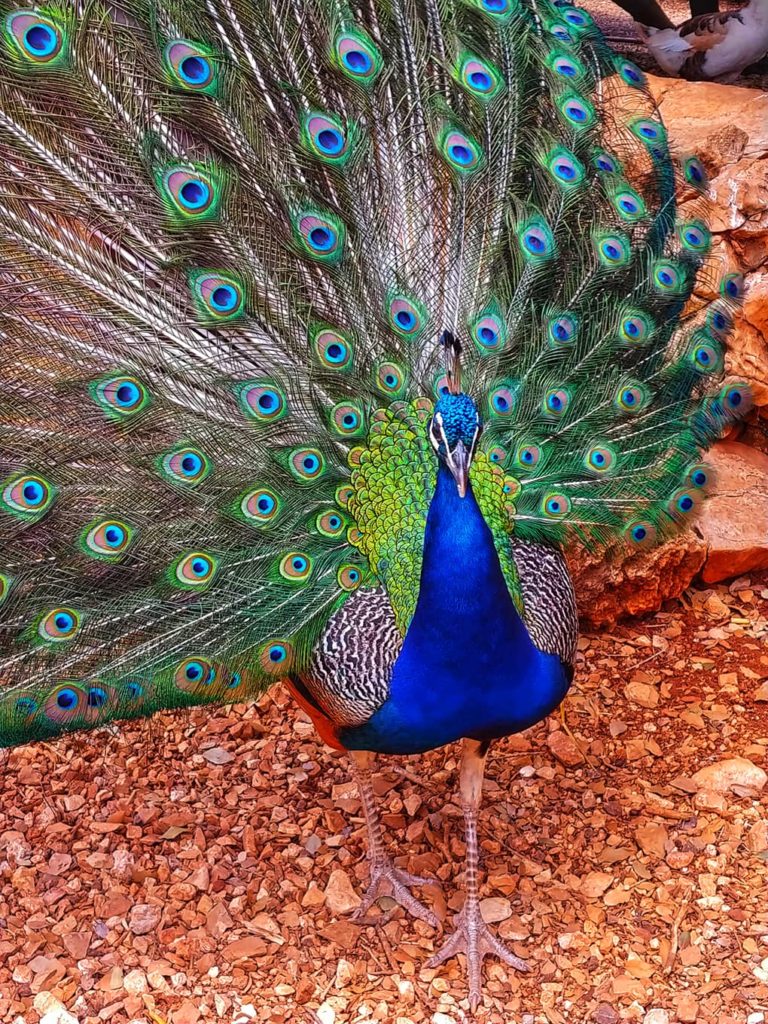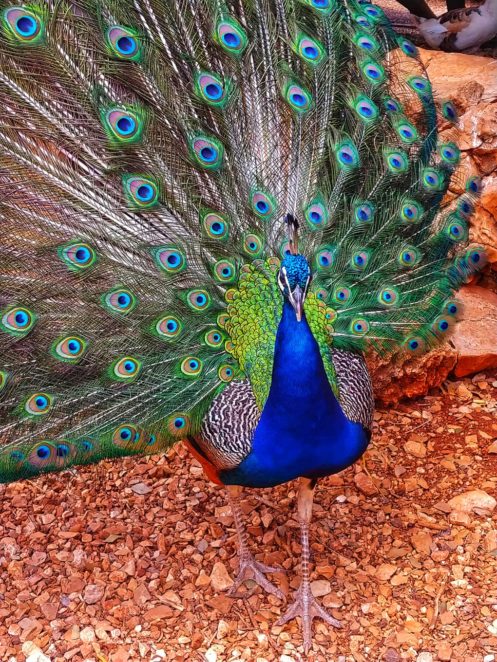 There is a section where you're able to enter in the pavilion with monkeys! If you pay a little extra (so worth it!), you get a little cup with mealworms, and the monkeys scurry up to you when they see it! Be careful though because they'll take that whole cup if you're not paying attention! Hard to be mad though. So cute 🙂
7. Haifa/Baha'i Gardens
Haifa is the third largest city in Israel, and it's right on the coastline. It's mostly known for the Baha'i Gardens, but it's also a major port city. Because of its location, it is home to some interesting specialty museums like the Railway and Maritime Museums! If you're into trains or boats, that's your spot.
Now the Baha'i Gardens are the most famous spot in Haifa known because of their stunning terraces that symmetrically make their way from the top of the hill down to the bottom. With the water in the background, it's just gorgeous. A picture is worth 1,000 words, so:
8. Nazareth
Known both as the childhood home of Jesus and also the Arab capital of Israel, Nazareth is the largest city in Israel's Northern district. Nazareth has a few things to offer whether you're religious or not!
There is a Mt. of Precipice Lookout Point that gives a lovely panorama of the area. There are also some ruins to see in Megiddo National Park, the Holy Caves of Nazareth, and an ancient bathhouse.
However, my favorite part of Nazareth was Nazareth Village! They recreated a village based on artifacts and archaeologists' theories to be like how it would have been like in the year 0. It's really fun because employees are dressed up in clothing and doing activities that would have been done back then. What I really liked about it was that it wasn't overly religious, and it was really focused on history!
9. Aqueduct Beach/Caesura
As soon as I saw this pic on Pinterest, I knew I had to go! Running parallel to the beach are 1,000-year-old Roman aqueducts with varying levels of sand against them. The arches make cozy places for families to sit and take cover from the sun. I even saw people with grills!
There are showers and restrooms even!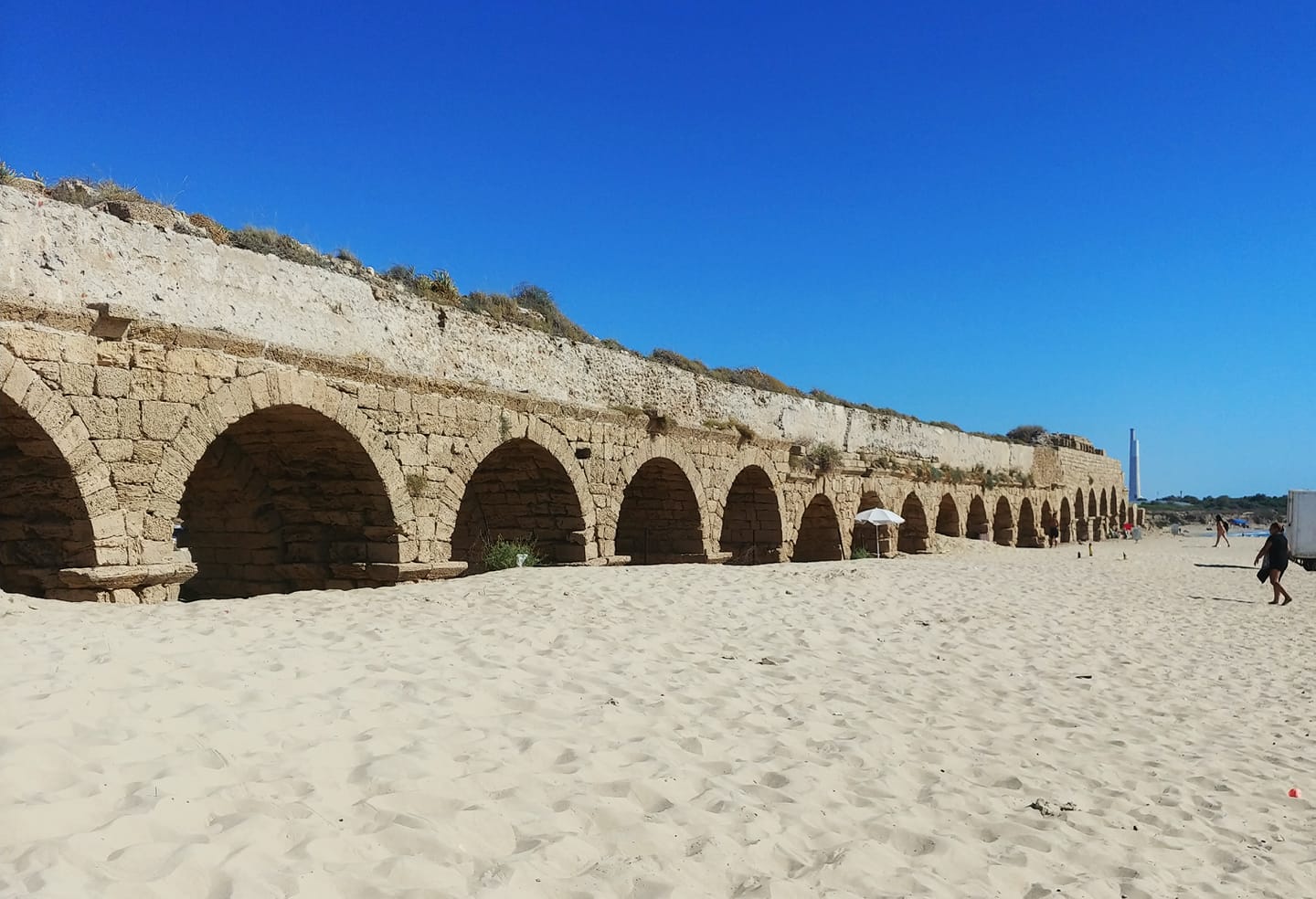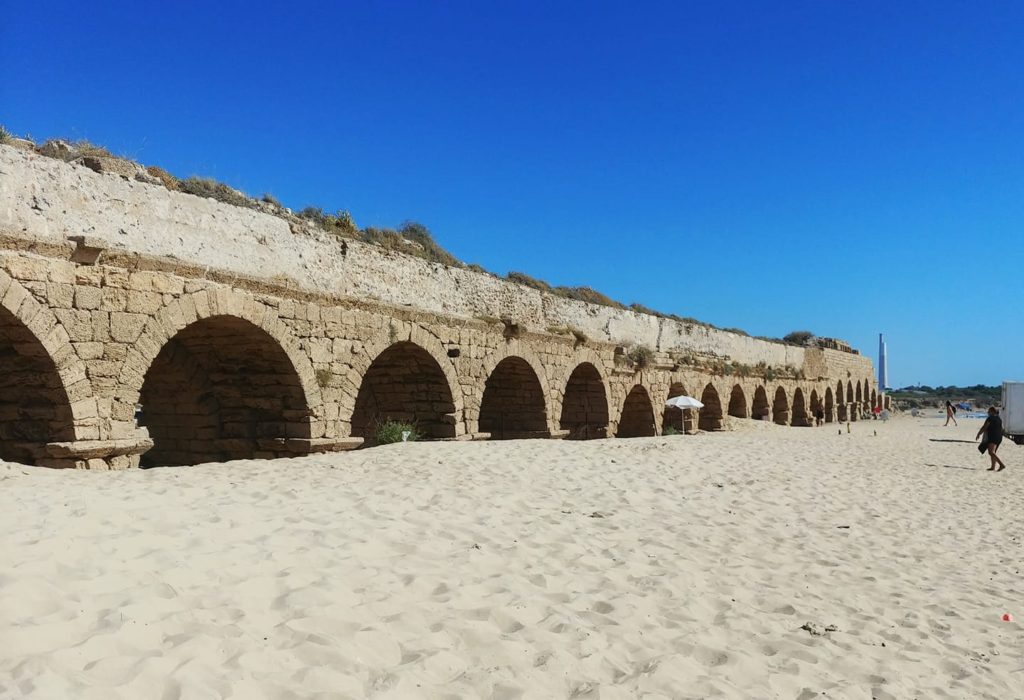 10. Tel Aviv
A visit to Israel just isn't complete without a few days in Tel Aviv. It doesn't have the ancient history of Jerusalem, the lush waterfalls of the north or the wide expanses of the south… but it has pretty much everything else!
In Tel Aviv you'll find a vibrant, modern city where Middle Eastern and European cultures mix seamlessly. The city's western edge is one continuous, glorious beach that constantly beckons you to visit just one more time. The foodie scene is just as good as any in the US and Europe, reflecting both Israeli innovation and love for world travel.
Even beyond eating and lounging on the beach, Tel Aviv has plenty to offer curious visitors. You can visit engaging museums, stroll the many different pedestrian areas, learn about the city's Bauhaus architecture and so much more. If you're visiting Israel, you won't regret spending time in Tel Aviv; in fact, you'll probably wish you spent more. These are just a few reasons to visit Tel Aviv!
Thanks to Melissa Conn of The Family Voyage!
11. Gan Hashlosha
One of my favorite off-the-beaten-path discoveries in Israel is Gan Hashlosha National Park. Located in Lower Galilee, this is possibly one of the most beautiful parks in the country. This scenic oasis offers clear, blue pools of water surrounded by palm trees and green grass–perfect for a day of relaxing or cooling off from the hot Israeli sun.
Not surprisingly, the summer months and the weekends are the most popular times to visit. The park has picnic facilities, restrooms and changing rooms, a small snack shop, and even a small archaeological museum. The easiest way to get to the park is via rental car. It is possible to get there via public transportation, but it will require a few bus transfers, depending on where you are.
Admission is NIS39 for adults and NIS24 for children.
Thanks to Brianna Rice of Archives of Adventure!
12. Mifletzet Park
This park is named "The Monster" after the giant slide-monster that was originally hotly debated. People originally thought it would be too scary for children, but they seem to actually like it! As someone who likes posing with silly things, I was immediately drawn to it! It always reminded me of the monsters from Real Monsters!
It's just outside of Jerusalem, and it could be a fun place to swing by with kids or the young at heart that like fun pictures!
13. Dig for a Day
This is another exciting activity outside of Jerusalem (or Tel Aviv or the Dead Sea!). I left the Dead Sea and did Dig for a Day on the way to Jerusalem! The first time I heard about this was through a friend who unearthed a whole intact bowl from the dirt! I wasn't as lucky, but it was still interesting and fun.
It starts out with a brief history of the area which is an important context for the day's activities. The question I was asked the most was "Isn't it fake?" How can we expect to believe that we're truly Indiana Jones discovering lost antiquities? Well, it's actually real!
I don't want to give away the full story, but basically, the people who lived there–in an act of defiance–buried their personal property into their homes carved from the soft ground. So now we tourists get the fun task of paying to do the grunt work of interns!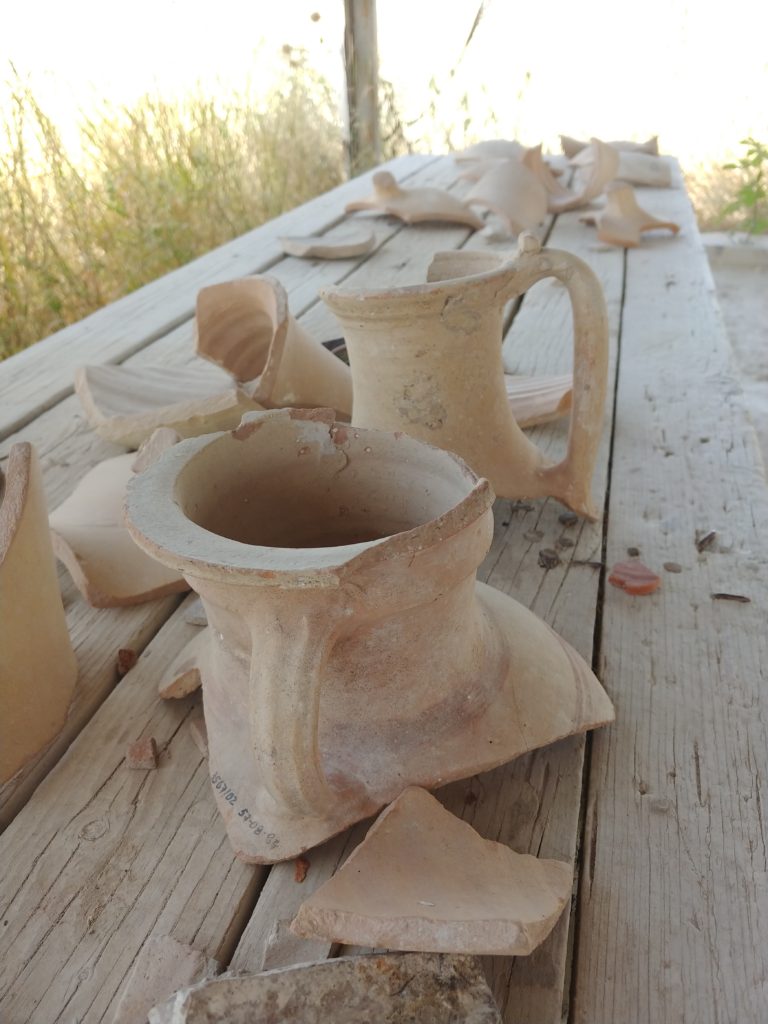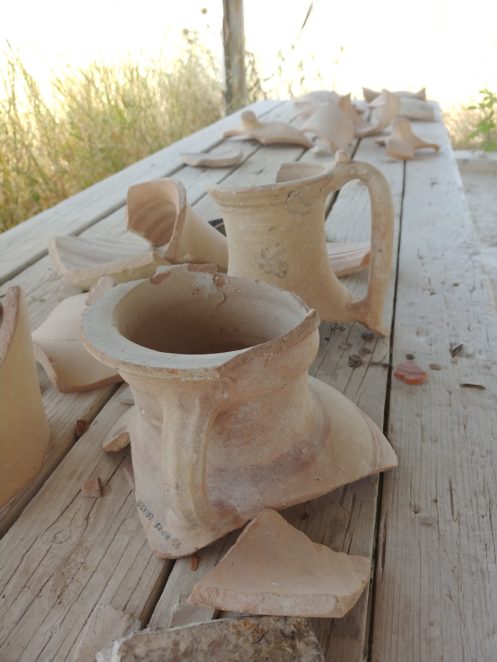 They teach you the best practices of digging and sorting, but I do have some extra insight for you. I didn't find ANYTHING for like 30 minutes, and I was getting slightly frustrated because I kept hearing the exultations of all the other people finding stuff! But once I moved, I found a large pottery shard, a piece of bone and several other shards.
So my tip is the dig where it's more difficult because that means it hasn't been dug before!
14. Masada
Masada is a truly impressive fortress built by King Herod (the Great) on a mesa near the Dead Sea! (Be careful because there are two entrances, and if you come from the Western Entrance then you can't access the Dead Sea. This has a breakdown of some fun facts and logistical facts to get there…including the proper roads!) It's one of the Israel attractions that you can't miss.
As a lady of the thicker variety, I was a bit worried about those steep trails, but they have a gondola, so no worries there. The two trails are the Snake Path (which I saw as I zoomed up on the electric ride!) and the Roman Ramp. The Roman Ramp has access from the Western Side, and the Snake Path is on the Eastern Side. People consider the dawn hike up the Snake Path a critical experience. I'm not one of those people, but I'm sure that was nice.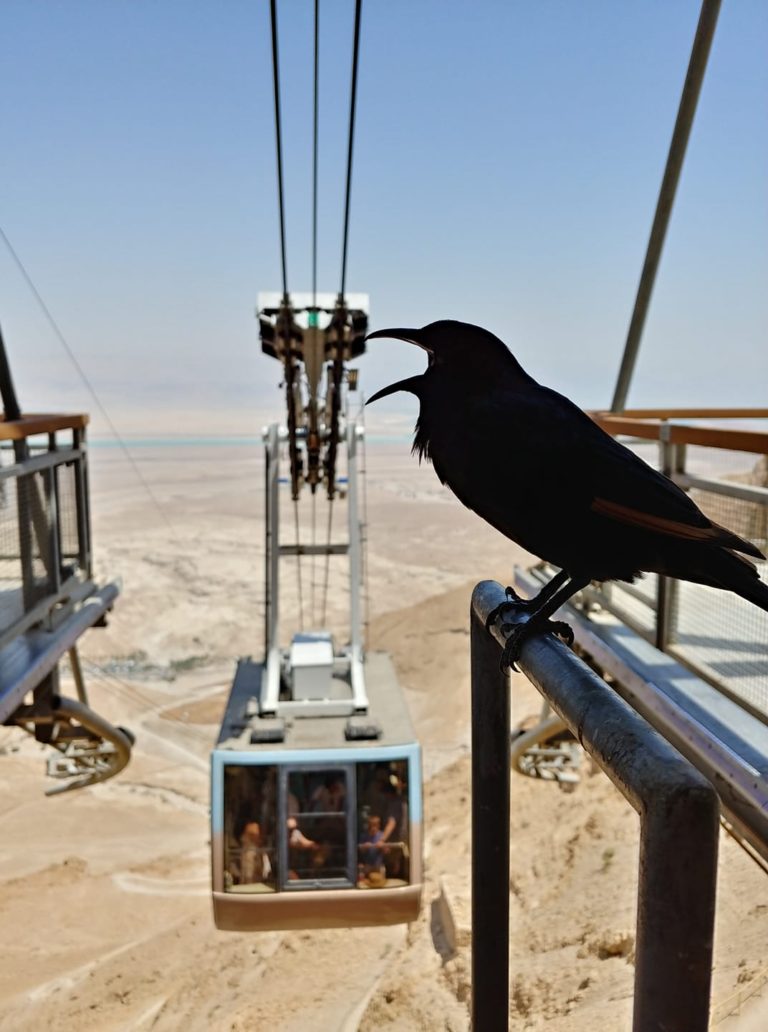 The fortress itself is impressive even in ruins: multiple palaces and terraces, barracks, throne room, and even a swimming pool! With the heat in Masada (at least in June when I went), a swimming pool would have been most welcome! On that note, bring a water bottle! There is a spigot that you can use to refill it at the top!
15. Dead Sea
I mean, c'mon. It's the Dead Sea… you have to go! Now, I did get to go to the Dead Sea from the Jordan side when I was there, but I didn't have my swimsuit due to a fun comedy of errors. So I was really happy to visit the Dead Sea from the Israeli side as well.
I couldn't believe how quickly and easily I floated! I generally float pretty well (that whole thicker girl thing), but you literally will just pop up!
Something to be aware of is how tingly your skin will feel. It's for that reason that I'd say just a night around the Dead Sea is probably enough!
16. Negev Desert
The Negev Desert stretches from Beersheba in the North all the way down to the Red Sea and Eilat in the South which means it covers over half of Israel! It's not the kind of desert like the Sahara that I saw in Egypt or Morocco. It's more of a rocky desert.
However, like the Sahara, there are Bedouin nomadic tribes that have been living there at least 4,000 years!
And even more surprising is that the Negev Desert is actually home to several wineries including the next place I want to talk about!
17. Makhtesh Ramon
Makhtesh Ramon is the largest makhtesh in the world, mostly because makhteshes don't really exist in other places in the world! You get access to the makhtesh from the city of Mitzpe Ramon (which also has a fun statue garden and a winery!)
A makhtesh is similar to a crater (although not from impacts or volcanoes!), except it's created by erosion, and Makhtesh Ramon is massive. I got to experience the makhtesh via a 4×4 jeep and then rappelling! You can read more about it under the Activities section where I wrote about my trip to Israel cost!
18. Timna Park
This is a great stop on the way N to S (or vice versa). It really breaks up the drive, and the scenery is beautiful! Timna used to be a copper mine and was used back to 5000 BC! At the entrance of the park are giant Egyptian figures which was confusing at first until I saw the informational movie at the Visitor's Center! Make sure to watch that movie!
The park is the most famous for the geological features that are in surprisingly close proximity to each other. The park is arranged as a "drive through" where you're able to visit each one along the way. Some are right off the road, and some require a short walk.
The most famous of the formations are Solomon's Pillars, the Mushroom, and the Arches. But there are way more than just those.
At the end of the drive is an oasis with Egyptian themed paddle boats and a souvenir-making stand! They have sand made from the area that you're able to pour into little bottles to save for later! Make sure you pack it full with a mud stopper so the sand doesn't move around later.
19. Eilat
Eilat was a surprise for me because I was previously in Aqaba which is just across the border from Eilat. I guess I assumed that it would be similar, but it had a different vibe!
Eilat is definitely a beach town! I found an amazing room (with a HOT TUB!!!) that was a short walk from the beach. The beach is easily accessible, and you can pet some stray cats as you dip your toes in the water or swim!
Also in Eilat is Coral World!! It's almost like an aquarium, although a lot of it is outside. There are many little exhibits to see the wildlife you can expect to see in the Red Sea. The best part is the Underwater Observatory which allows you to see an active reef with fishies!  There is a movie you can watch but make sure to ask for English headphones lol.  I didn't :S
There is also Dolphin Reef where you can swim and interact with dolphins, but the best part is that the dolphins are in their natural environment. Dolphins are friendly creatures by nature, so they will swim up and investigate the snorkelers without being forced to.
20. Jerusalem
Even though this is a list of places to visit in Israel besides Jerusalem, I still have to talk about it! It is after all a holy city for Christianity, Islam, and Judaism. What's really bananas is that it's one of the oldest cities in the world, and it's been destroyed twice, besieged 23 times, attacked 52 times, and captured/recaptured 44 times (Thanks Wikipedia!)
With all that history, the city walls look amazing. I had a great time wandering the old city's markets. I bought a gorgeous dress for my friend there (it's under souvenirs in my Israel budget).
Pin for later!