Looking into a Game of Thrones Holiday to tour the Game of Thrones places?
This summer (which I think was a great time to visit Ireland) I decided to add to my collection of visiting Game of Thrones places (as a sort of Game of Thrones holiday while waiting for the final season… so sad it's the last!!).  I've previously seen the Slaver's Bay cities when I was in Morocco, and of course, King's Landing when I was in Croatia. But I went to my trusty Google to ask, "Where was Game of Thrones filmed in Ireland?"  
I must not be the only one interested in that because I thought I'd have to figure a way to go visit them all piecemeal and separate, but turns out you can easily tour the Game of Thrones places on a specialized tour!  (And while you're in Northern Ireland, definitely check out more of the Emerald Isle; and while you're in Belfast anyway, check out these free things to do in Belfast or things to do in Dublin!)
Once I figured that out, I looked into a Game of Thrones and Giant's Causeway tour from Dublin (where I was flying into), but I then decided to head up to Belfast since I hadn't been there before (and I'd been to Dublin twice).  So whichever major city you're coming from, you're golden!  There are many options to choose from. (And also, if you're also already been to Dublin, check out some unusual things to do in Dublin!)
Game of Thrones and Giant's Causeway Tour from Dublin –

Click here
Game of Thrones and Giant's Causeway Tour from Belfast ~

Click here


Game of Thrones and Giant's Causeway Tour from Belfast NOON departure! ~

Click here

   BEST!


Winterfell Trek from Dublin
~
Click here
I really recommend taking a tour for this because not only are you going to get a guide who is very passionate about the subject but also video and pictures too!  Wherever we went, my guide held up pictures from the show, so we could look around and really see where they stood! And on the van, we also had video clips to watch!  As a bonus: my guide was actually an extra in the show, so he had some behind the scenes things too!
Pro Tip – Not all tours are equal! Not all provide props!  Please refer to the above list for tours that include props!
I went on the afternoon tour, and we had many sites all to ourselves.  Most tours leave early in the morning! Something to think about if you have the flexibility and don't wish to be crowded!
Keep reading to see the sites you'll see, and then more about the tour at the end!
Dark Hedges ~ King's Road
I think the most famous of the Game of Thrones places has to be the Dark Hedges.  It certainly was my top priority when I was planning my Game of Thrones holiday. The way the trees leaned in to shelter the King's Road has always struck me on the show.  It's eerie. It's beautiful. It's unique.
On the tour, my very knowledgeable guide told us the history of this fascinating roadway.  The beech trees were originally planted along the roadside to go towards a manor to create an impressive entrance.  However, they were trained and twisted to arc across the road to tangle at the tops.
Several trees were damaged during storms the last few years which has created some gaps.  It's very sad those trees (which are older than the US since they were planted in 1775) weren't able to make it.  Sometimes beauty can come out of tragedy, though. The trees that were knocked down were actually fashioned into doors and then carved with different Game of Thrones themes from Season 6.
The doors are scattered throughout Northern Ireland, and they are worth a visit.  They are stunningly carved! On the tour, we stopped for lunch at the Fullterton arms which has a door!  Here is a list of the other doors throughout the country if you're interested in seeing all 10!
The Dark Hedges is also a great spot for dress up!  My tour company provided capes and swords for all who wanted them.  Some people decided to play fight. I decided to get my Sansa on. How did I do?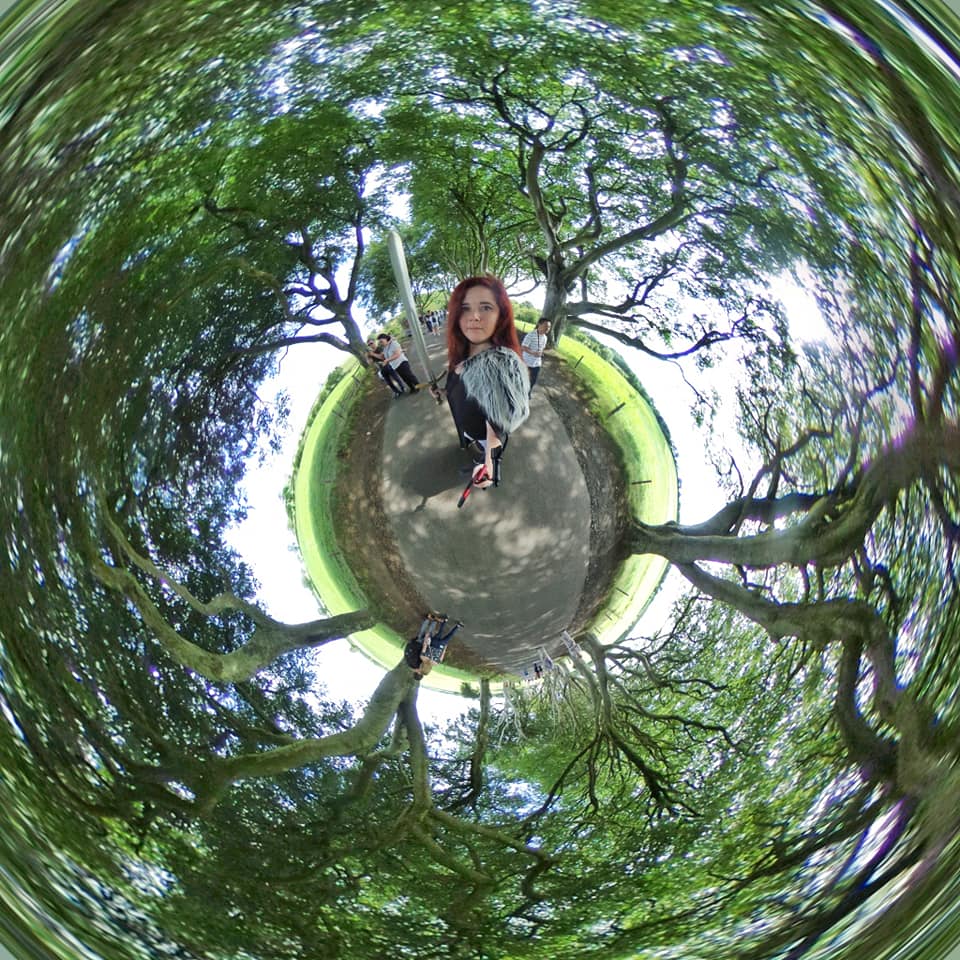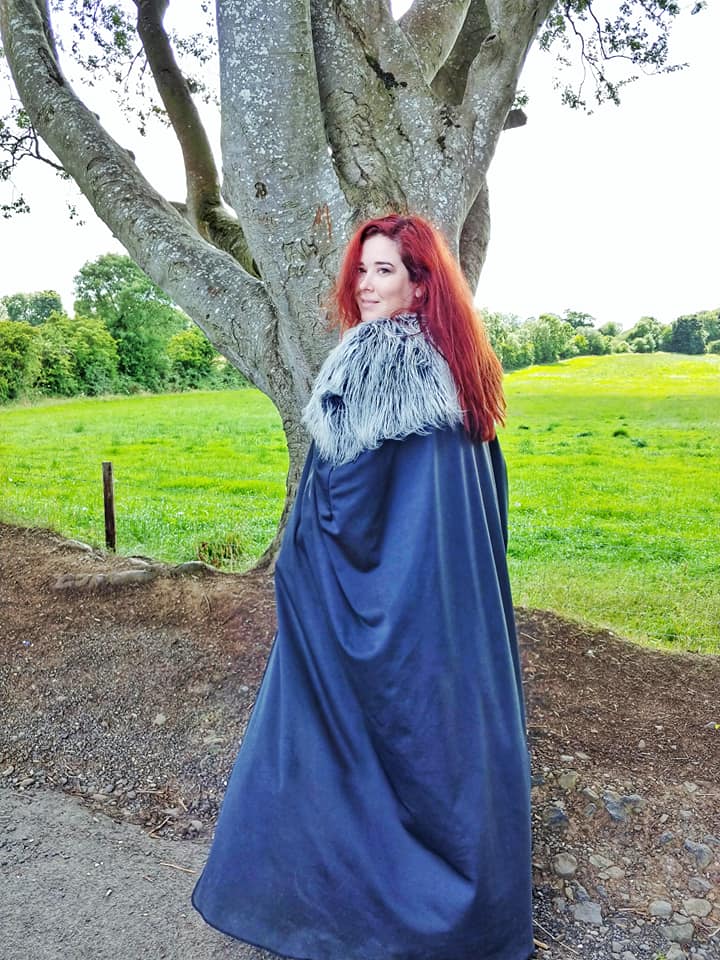 Like the Tiny Planet? –
That's from my
360 camera
and is easy to make!
Cushendun Caves ~ Demon Baby Cave
Speaking of characters with red hair, the next stop is Melisandre themed.  I was actually Melisandre for the last Halloween, so I really felt connected to this spot!  The Cushendun Caves were where Melisandre had her demon baby!
It's just a short walk around a corner to two caves. Sadly, there's a gate, so you can't go too far, but it was definitely interesting walking through the gradually smaller cave and knowing she "gave birth" at the end of it.  I certainly wouldn't want to give birth in a cave! Yeowch!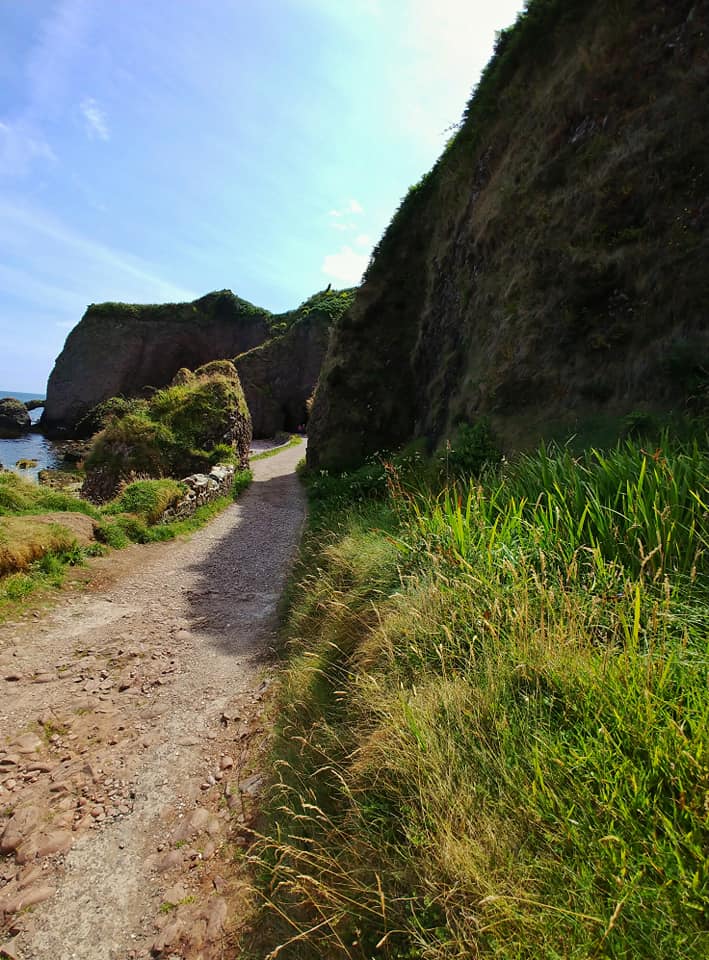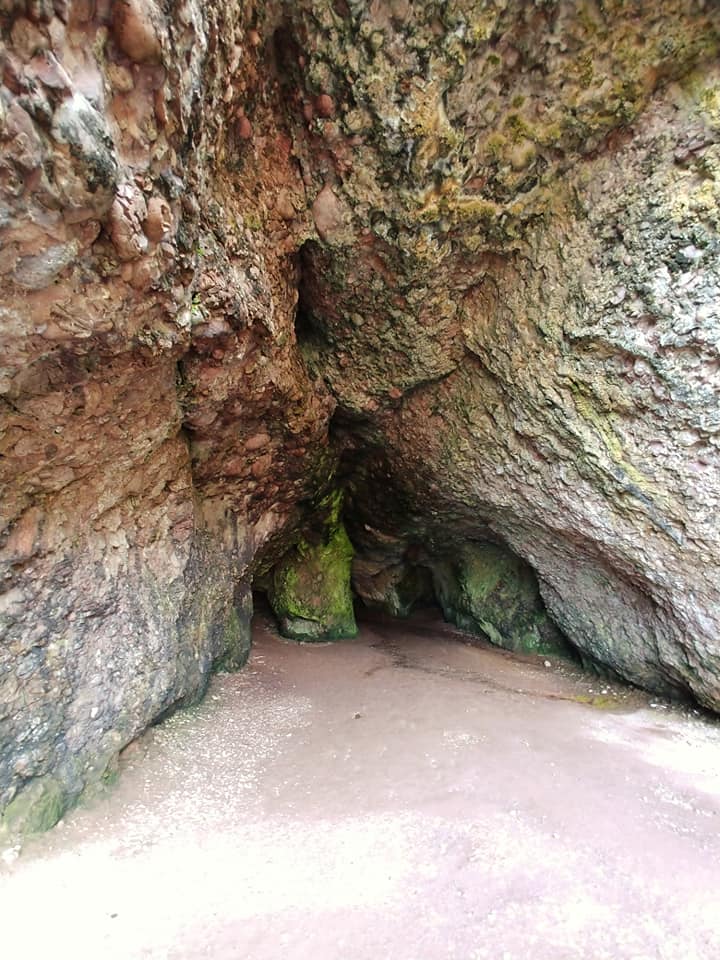 Carnlough Village ~ Braavos Harbour
Speaking of characters going through a painful experience (I'm really killing these segues!), another stop on the Game of Thrones tour was Carnlough Harbour.  This is where I got the worst picture of me ever. I was trying to recreate Arya's appearance here.
This is where Arya crawled out of the water after the Waif stabbed her.  I also crawled out holding my "wound," but a lady on the tour tried to take the following picture, and ended up with just my hand in the picture.  Thanks. I had a redo, and it came out better, but honestly.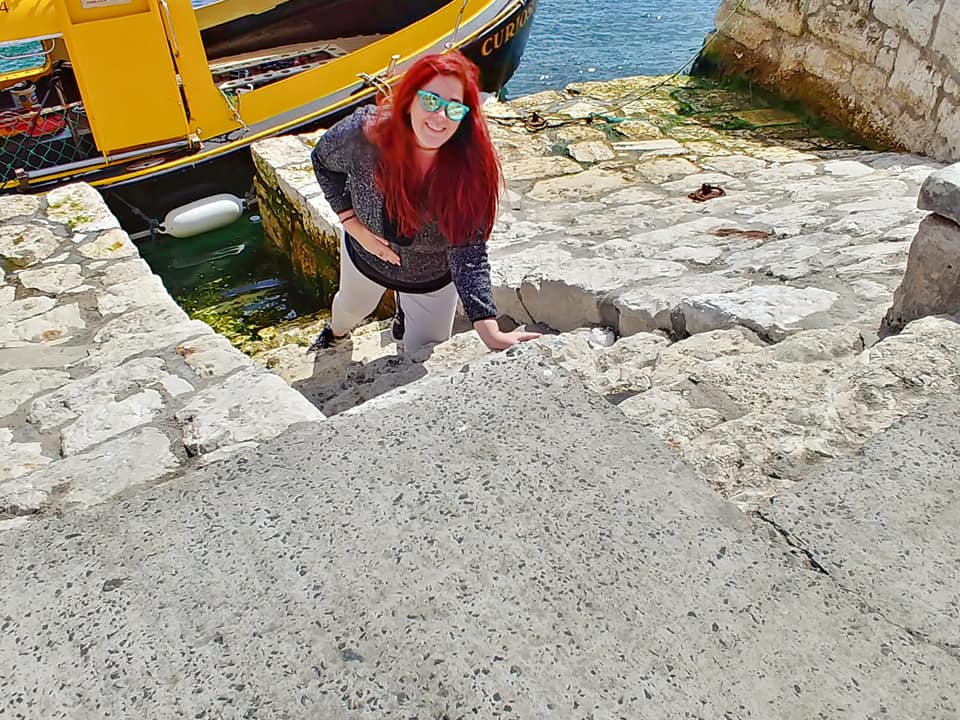 Dunluce Castle ~ Castle Pyke
Dunluce Castle was a quick stop off to the side. We didn't actually get to go up into it, but seeing as it's basically a ruin, it's not that big of a deal.  It was built back in the 13th Century and has actually been mentioned in many poems and songs since. It's also thought to be the inspiration for Cair Paravel in The Chronicles of Narnia.  But Narnia isn't why you're here!
Game of Thrones places is why you're here!  So this was the home of everyone's favorite person to hate, Theon Greyjoy.  Oh Theon. It doesn't take much imagination to picture the rope bridges connecting the towers where Lord Greyjoy fell.
Carrick-A-Rede ~ Multiple things!
Speaking of rope bridges (Ha, did it again!), another stop when you want to tour the Game of Thrones places is the Carrick-A-Rede rope bridge! I falsely thought that this was going to be a Pyke's rope bridge, but it's actually just a cool bit of Irish history.
The rope bridge is what allowed salmon fishermen to get our farther to check their nets in the water.
But wait, there's more.
So it's not a Pyke rope bridge, but the area was still used for filming!  There's a little outcropping near the edge of the cliff where the King's Moot was!  That's where Yara made her bid for the throne of the Salt Islands. Cool stuff!
But it wasn't the only location for royalty.  It's also where "King" Renly held a mock battle (perhaps you remember Brienne of Tarth battling Ser Loras?) before discussing things with Catelyn Stark.
Giant's Causeway
Besides going to the Game of Thrones places, I really wanted to see the Giant's Causeway.  I had thought I was going to have to choose between my favorite TV show and a Giant's Causeway roadtrip, but then I found there was a Game of Thrones AND Giant's Causeway tour! Sold!

I wondered since they were on the same tour if that meant that it was also a film location, but it's not.  I asked the guide about it, and he said it's just too important of a landmark (and we were already so close) to not go lol.  
There is a visitor's center with tons of interactive exhibits and information!  I would definitely allot at least 30 minutes there, but more is better if you have the time.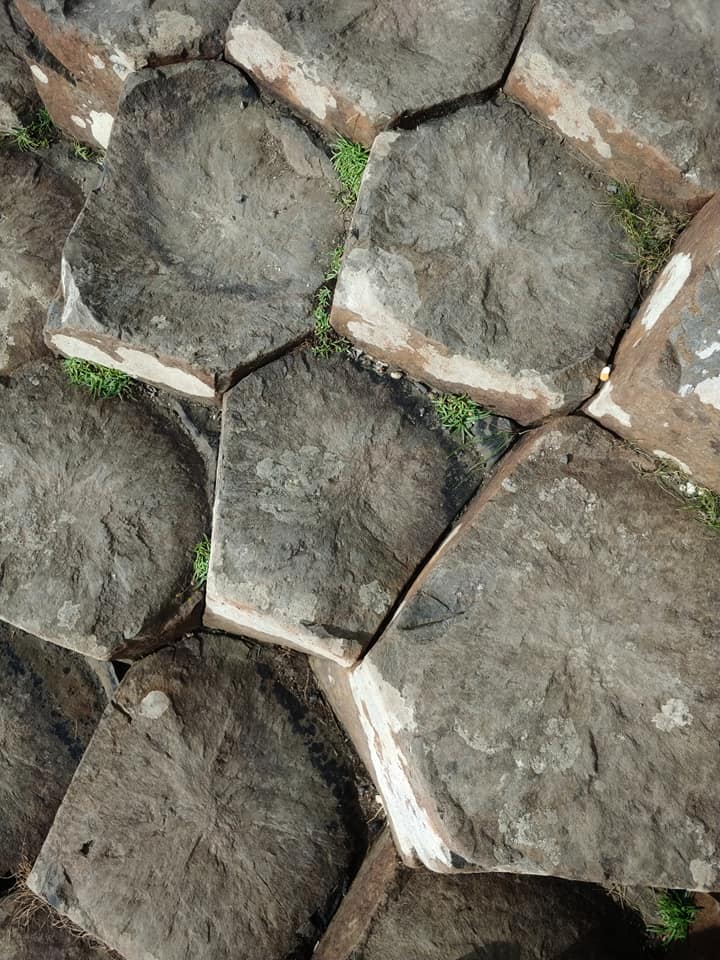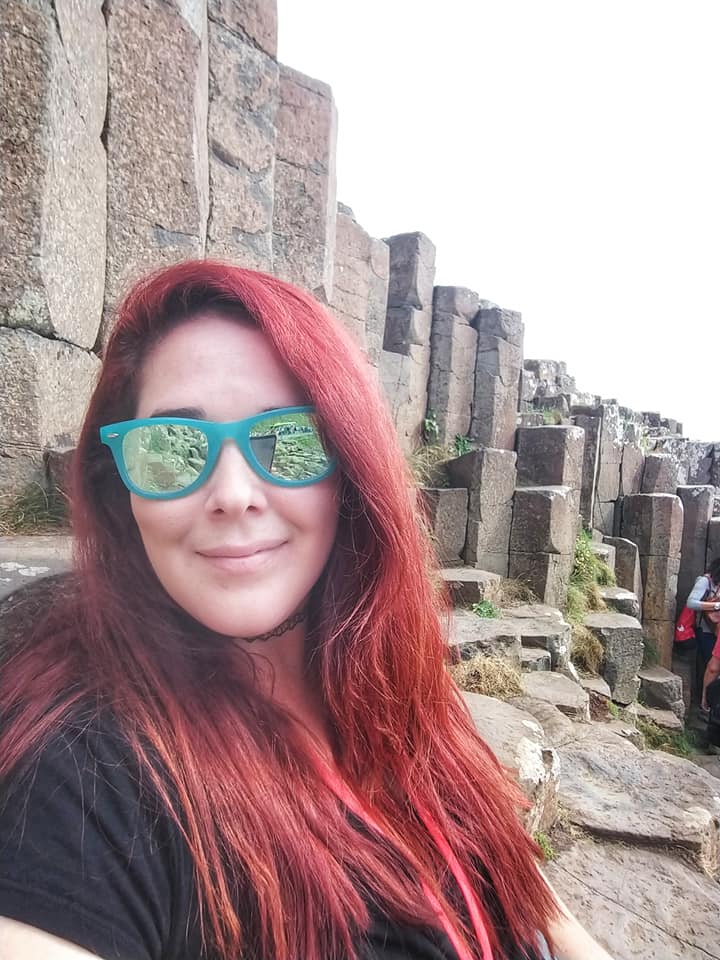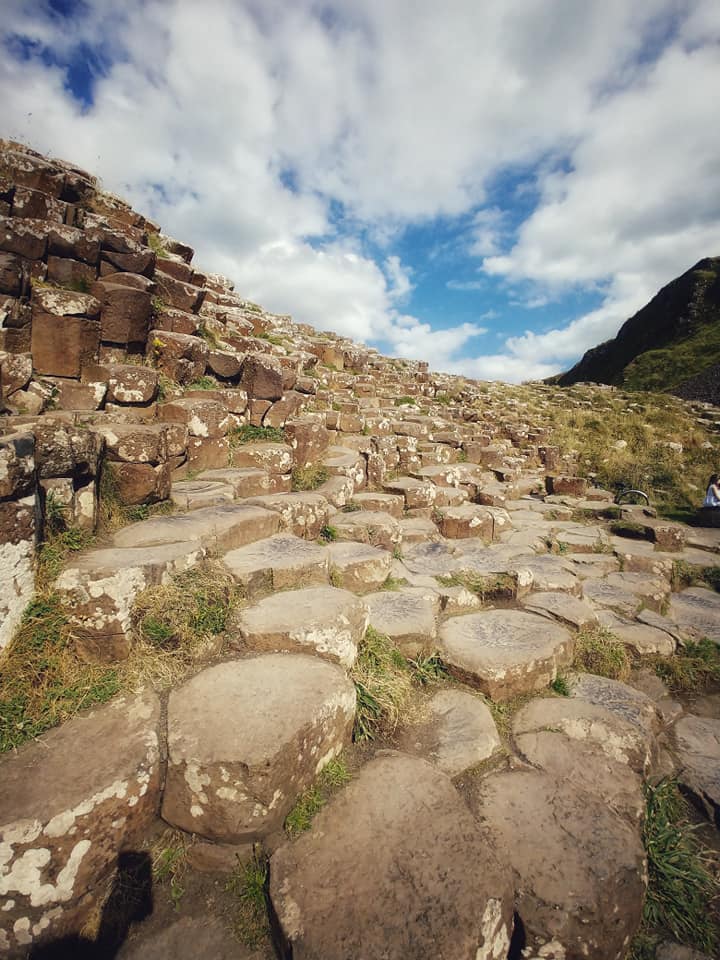 Giant's Causeway has very similar hexagonal basalt columns just like I saw in Iceland! There's a real fun legend about Giants which is how it got its name!  I don't want to spoil it, so you can just wait until you get there and do the audio tour 🙂
There's a really nice walk from the Visitor's Center to the actual Causeway.  There's a nice path, but there is also a cheap bus that goes to and fro. I walked down there and took the bus back.
The Game of Thrones Tour Itself
Like I said, these sites are all around Northern Ireland, and you can get to them by rental car or maybe even bus.  But the cost is so cheap and includes a tour guide, I really don't see one wouldn't take the tour!  Maybe if you had more time and wanted to see more?
I took the Noon departure so that it would be less crowded at the sites, and it was!  I thoroughly enjoyed our enthusiastic tour guide who was an extra on the show.  He gave us lots of fun facts (including bonus Game of Thrones places we could see from the road but weren't allowed to stop at) and showed us pictures at the stops and clips on the bus.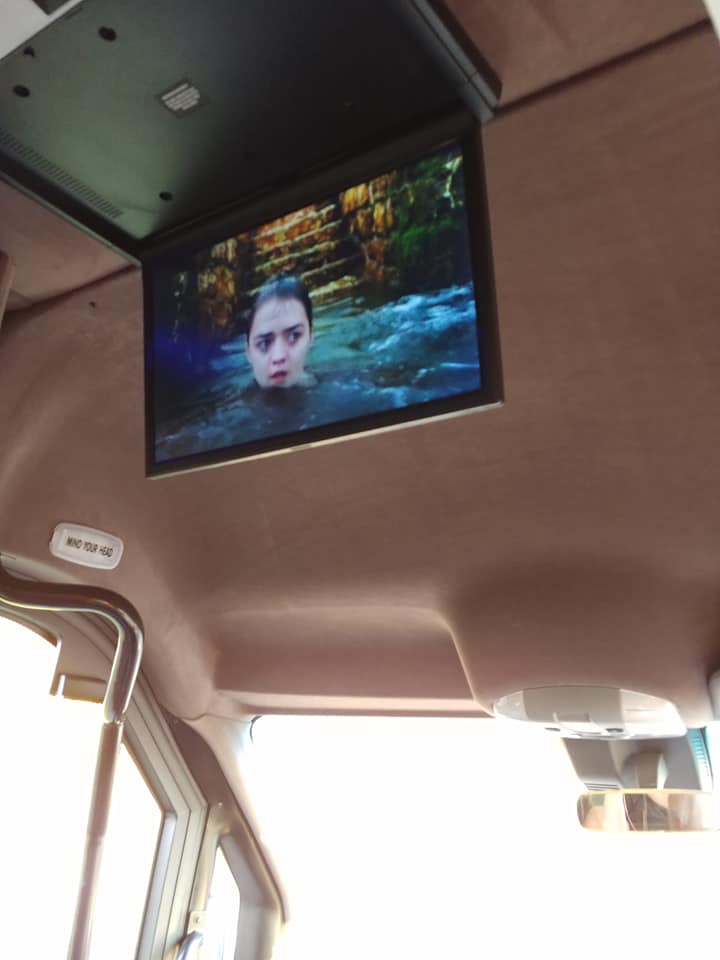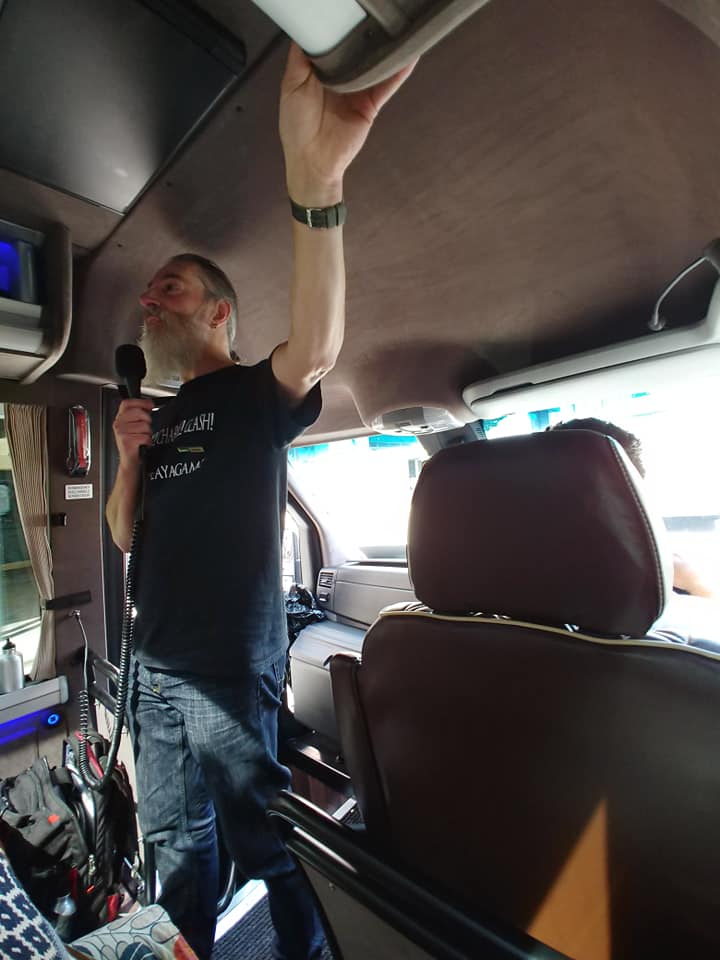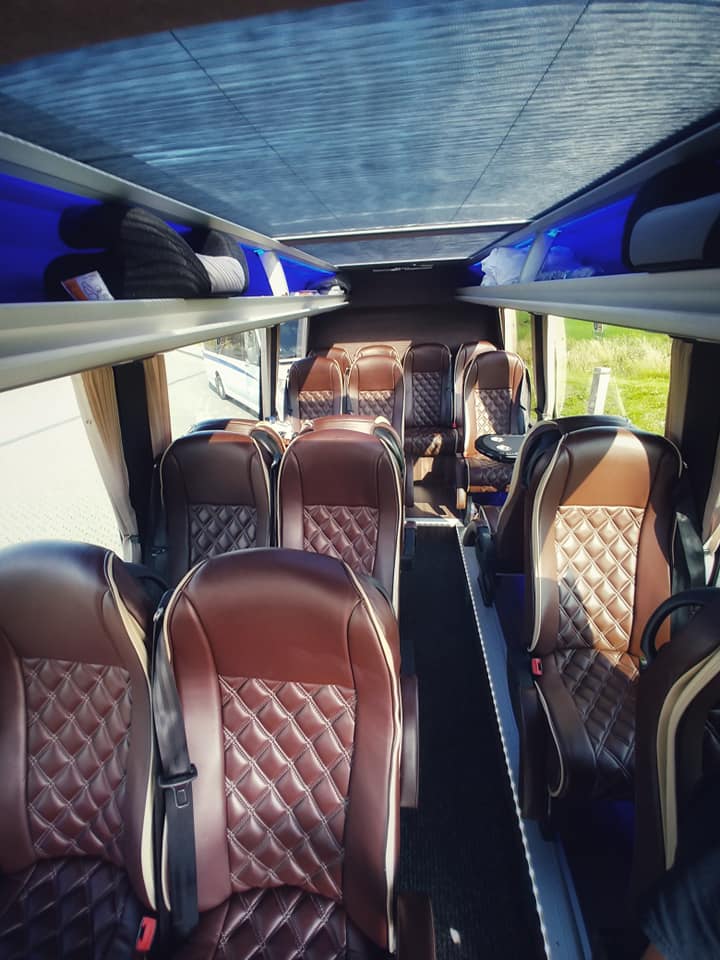 Whether you decide to go alone or to go on the Game of Thrones tour, you'll know you're in the right spot when you see special signs! They tell you about the scene and some fun facts 🙂
If You're Staying in Belfast…
I stayed at this super nice… manor?  I'm not sure what it used to be called, but it was a gorgeous large brick house that is now a B and B.  I adored my room!
Want $15 off? –
Sign up for
Booking.com
to get $15 off!
Super pumped to tour the Game of Thrones places? Pin this for later!