If you wanted more information about what the Atlas Ocean Voyages World Navigator ship experience is like, you've come to the right place!  There is also a sister ship coming embarking Nov 2022 which will be similar to the Navigator, but this article is specifically for Atlas Ocean Voyages World Navigator ship.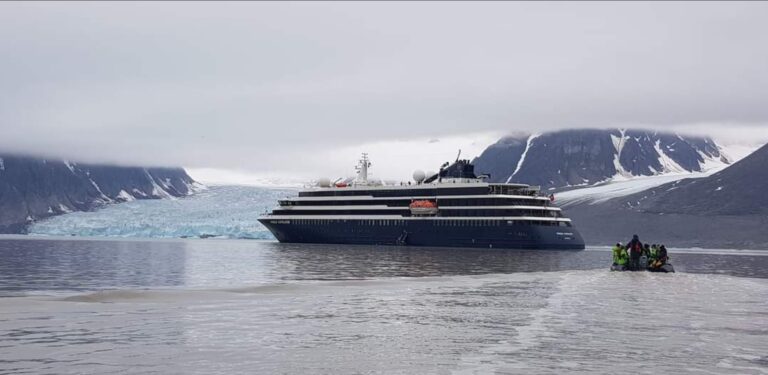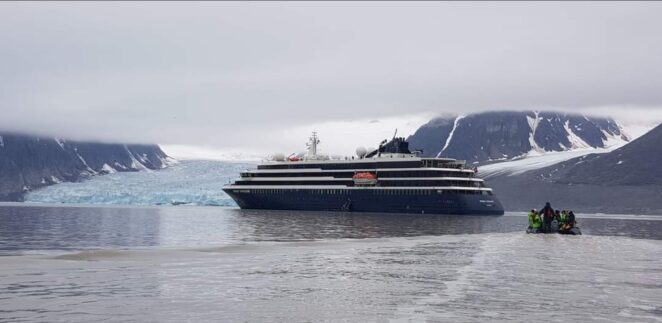 Room Categories on the Atlas Ocean Voyages World Navigator
Each stateroom on the Atlas Ocean voyages ships will come with the same sorts of features which I'll put here so don't have to repeat for each level (but I'll point out some differences for later).
For sleeping, each bed will have Egyptian cotton linens, duvet, and choice of pillow types. If you do want to make your bed a little softer, you can easily request extra padding which is really great to tailor the bed to your personal comfort. Pillow options are also available to find the perfect fit for your needs.  Besides the bed, there will be somewhere to sit (although the type of sitting arrangement might be different), which is good for people who don't like to sit on their bed. 
For entertainment, they all have a large TV with access to movies (a surprising variety of movies), music, and a map to see where you are which is fun to check. However, you might not be in your room enough to watch anything, but nice to wind down at night.  You can also access different camera views to look out the ship as if you were outside.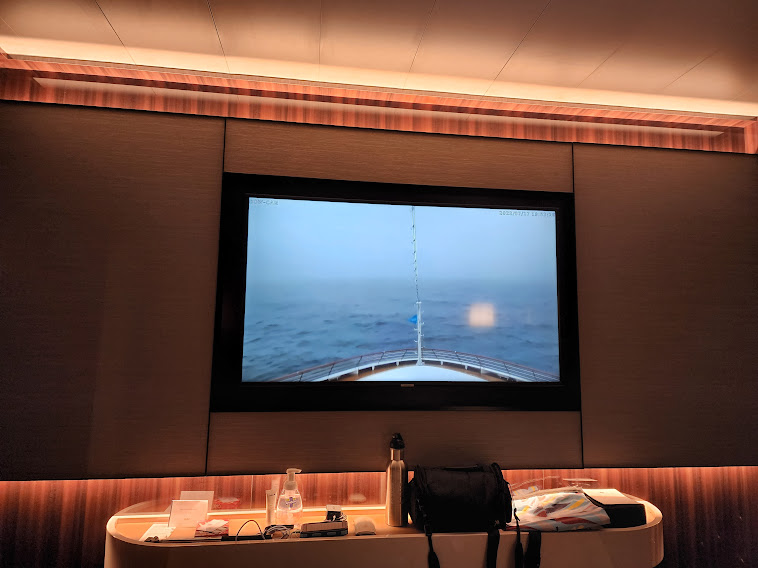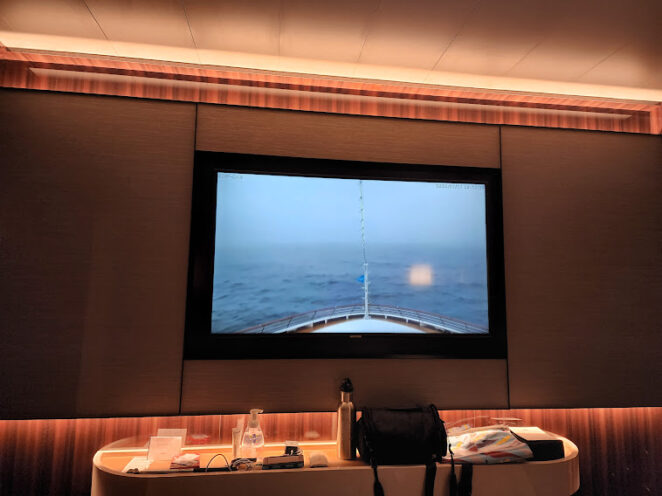 For comfort, there is a super soft robe (you can wear around in the stateroom, but I also wore it to the hot tub.  And of course, there is private climate control to keep the room the temperature that's best for you.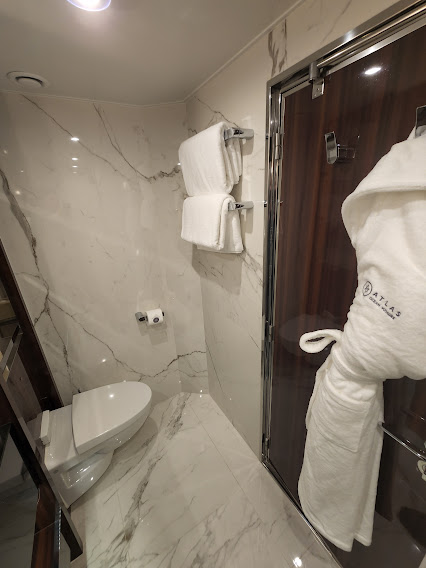 For convenience, each room has a coffeemaker, a mini fridge that you get to choose what it's stocked with, a reusable water bottle (that you can keep!), and use of binoculars while on board.  There is also a safe if you'd like to use that, a hairdryer, and two closets. 
The bathroom has a shower with multiple types of sprayers.  There is a rain showerhead, side body jets, and also a removable handheld sprayer.  I thought the bathroom was just beautiful!  And no need to bring shampoo and conditioner, because L'occitane products are provided.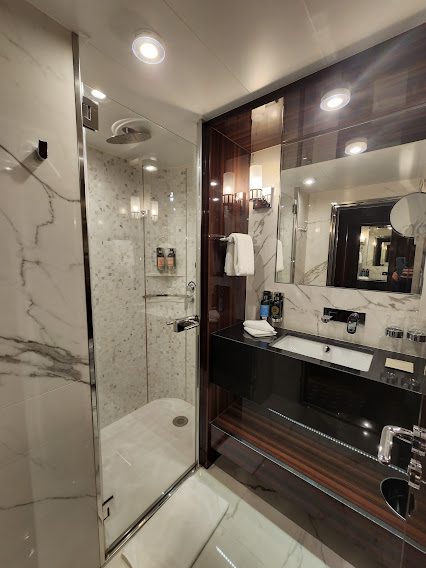 There are plenty of outlets with both european and US plugs. Bonus: USB plugs as well (not pictured, but they're there)!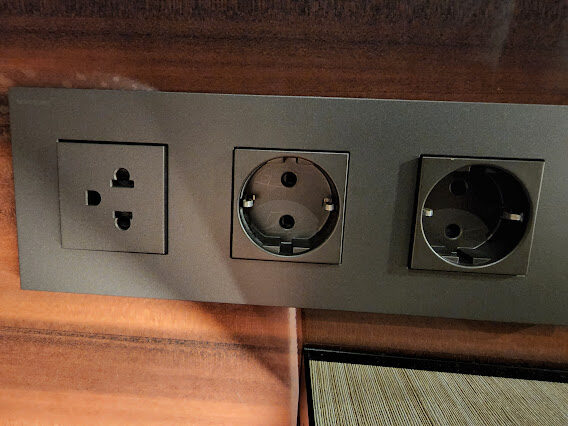 Veranda Stateroom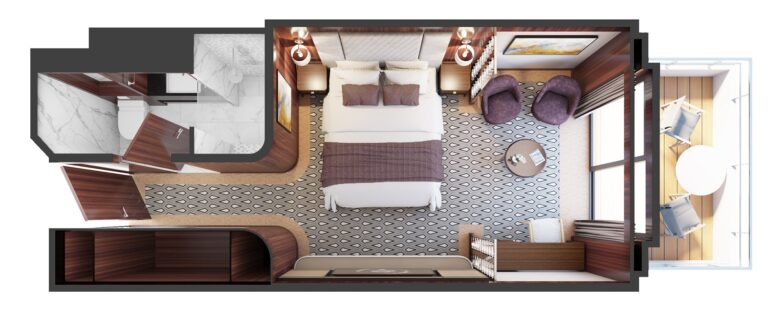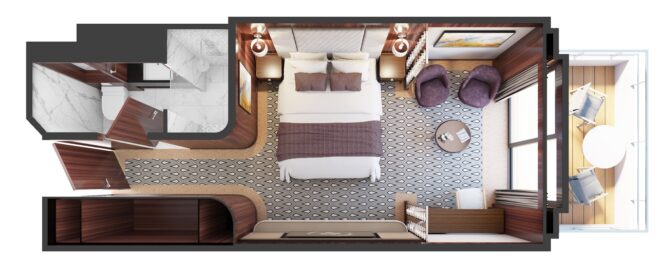 Veranda staterooms are the starting level room (it's the room category that I stayed in FYI).  They're located on decks 5 and 6, and are 270 sq feet.  Veranda's have a walkout balcony with two chairs.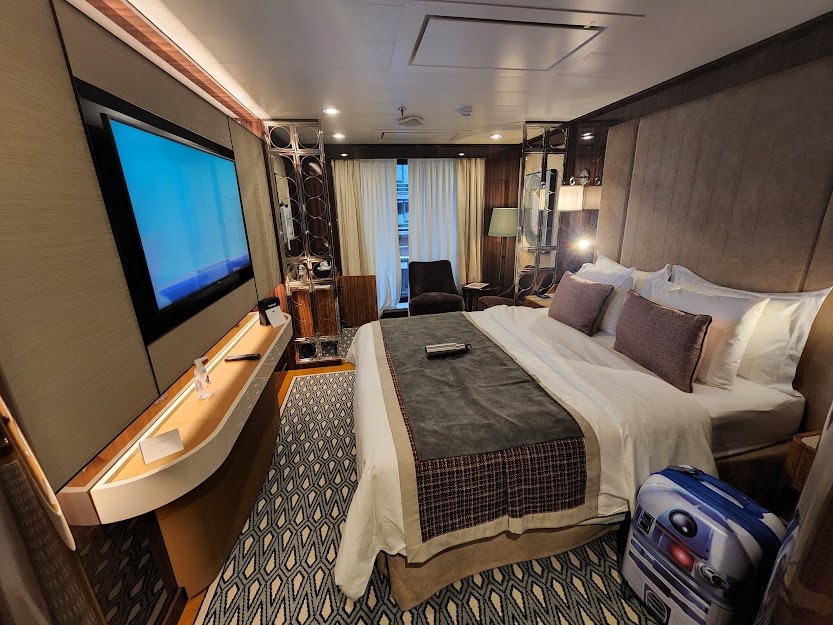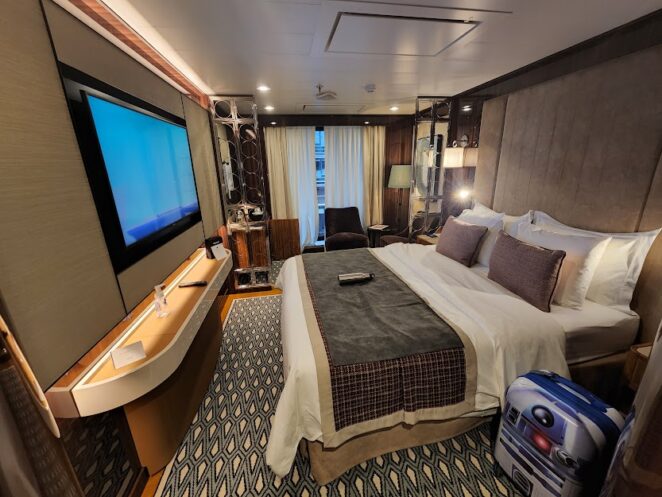 Horizon Stateroom


The horizon staterooms are very similar to the Veranda except they are slightly bigger because they have a Juliette style balcony.  So, the square footage that would be used for the walkout balcony is then transferred into the room, and the balcony is more of a "walk up" not "walk out."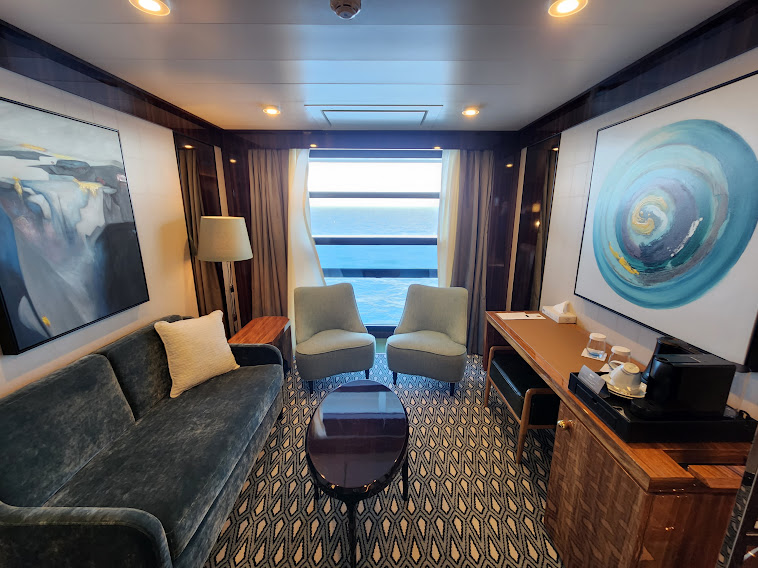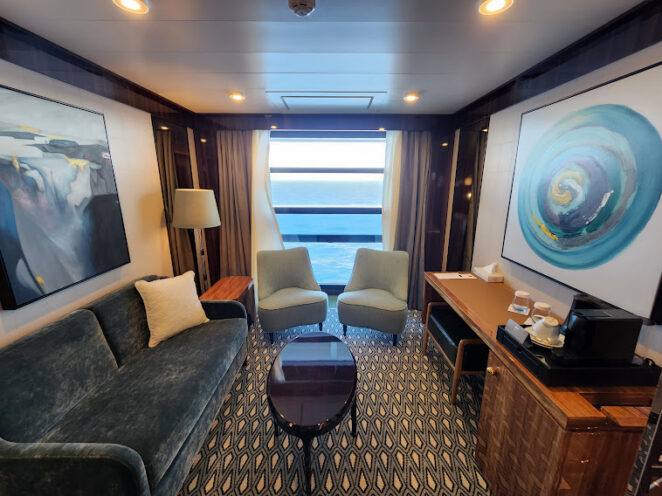 There is a switch that controls the "balcony" window up and down that you can reach from your bed, so you can get a breeze of fresh air if you want. 
Major difference: Juliette style balcony.
Veranda and Horizon Deluxe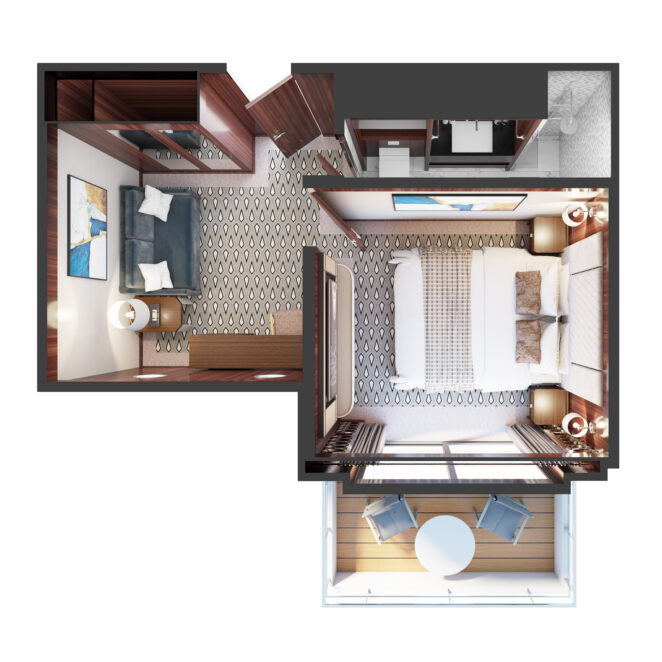 These will be just like the non-deluxe rooms, but there are 30 extra sq feet as like an entry way.  This is because there is a lifeboat out there so they can't put a full room there, so they utilize it as an extra sitting room.  However, the view from the balcony won't be obstructed at all.
Major difference: An extra sitting room.
Solo Accommodation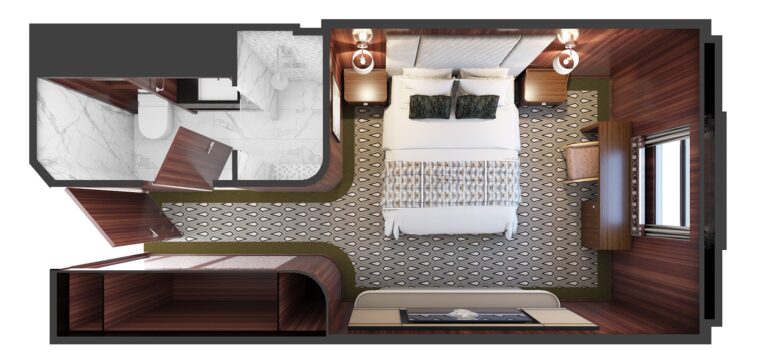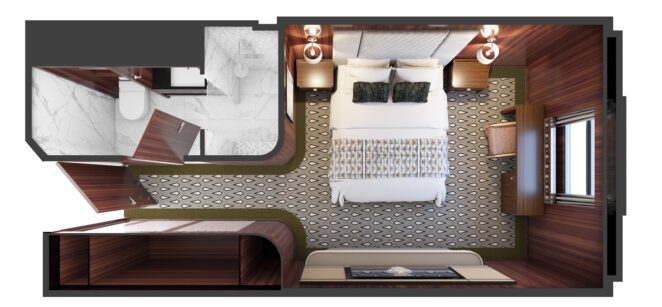 This is the only room category that doesn't have a single supplement, because it's made for one person and it's 183 sq feet.  It doesn't have a balcony, but it does have a large picture window.  
Major difference: No balcony, but it has a large picture window.
Journey Suite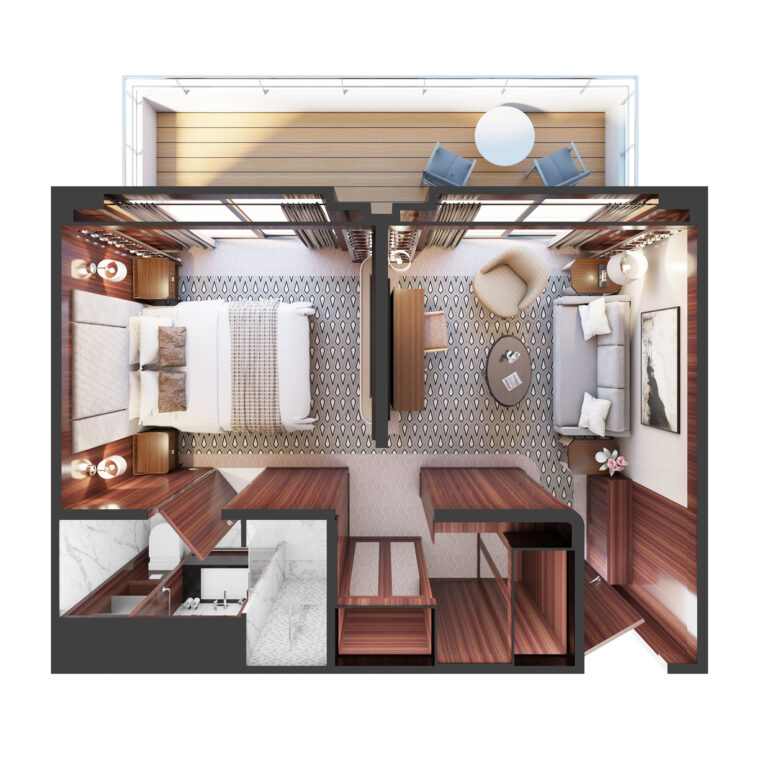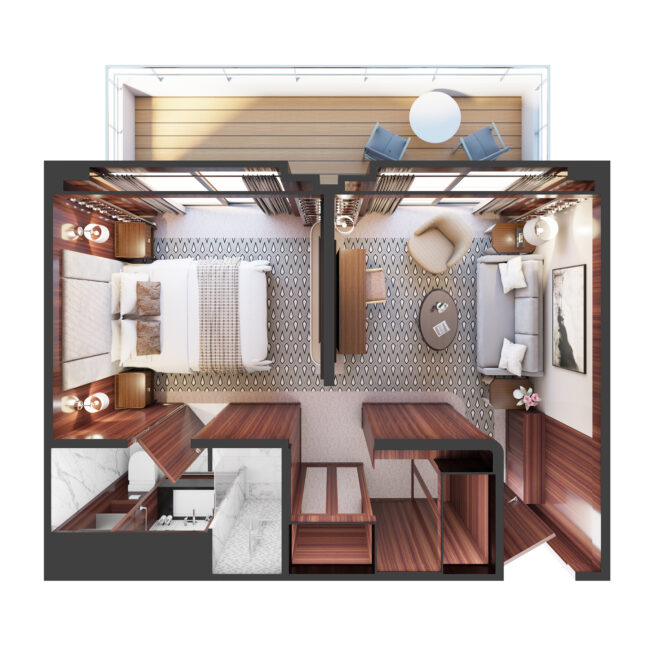 We're now entering the suite portions which will be bigger, obviously!  The journey suite can actually house 3 people, but the third sleeping space is a pull-out couch which would be best suited for a child because it's a thinner mattress–just as a FYI. It's about 382 sq ft.
It basically is like the other staterooms in the bedroom area, but then it also has a separate sitting room.  And because these are connected, there will be an extra-large balcony to wander!
Instead of just having a closet you walk by, it also has a walk-in closet (which is sadly larger than my closet in my personal home, haha).
Suites also come with a butler service. 
Major difference: Pull-out couch.
Discovery Suite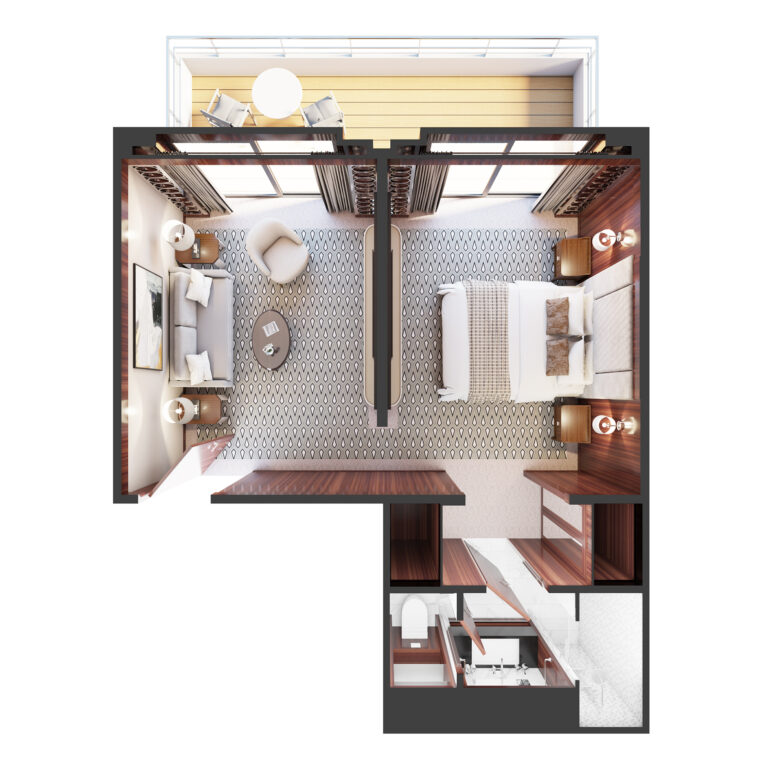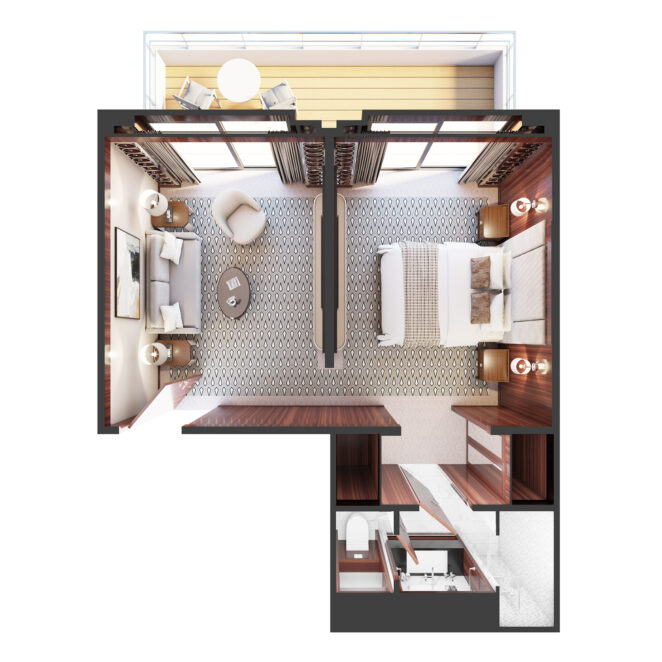 It's very similar to the journey, just in a different layout. The difference is that where the Journey is 382 sq feet, the Discovery jumps up to 445 sq ft!
Major difference: Larger rooms.
Navigator Suite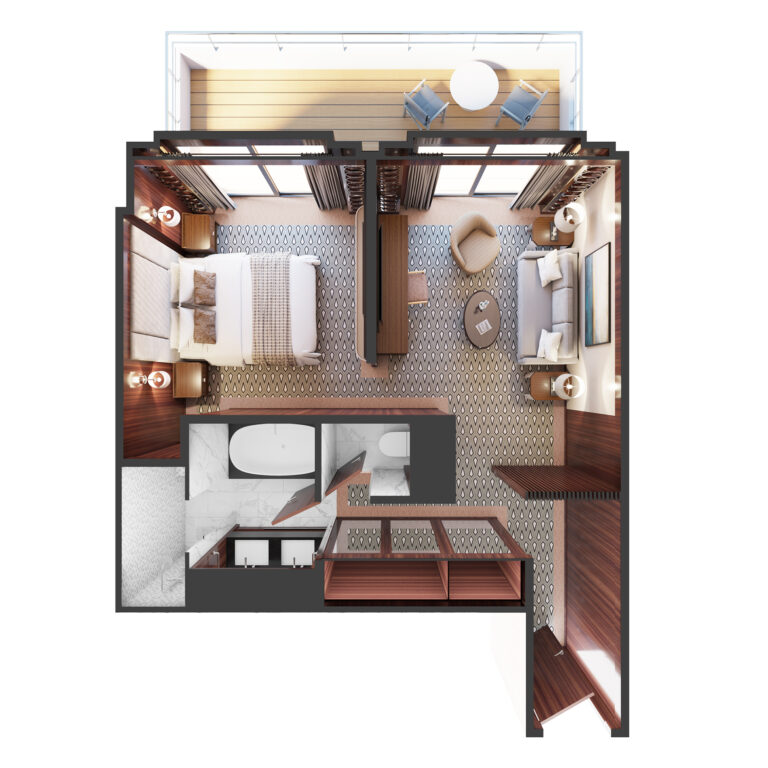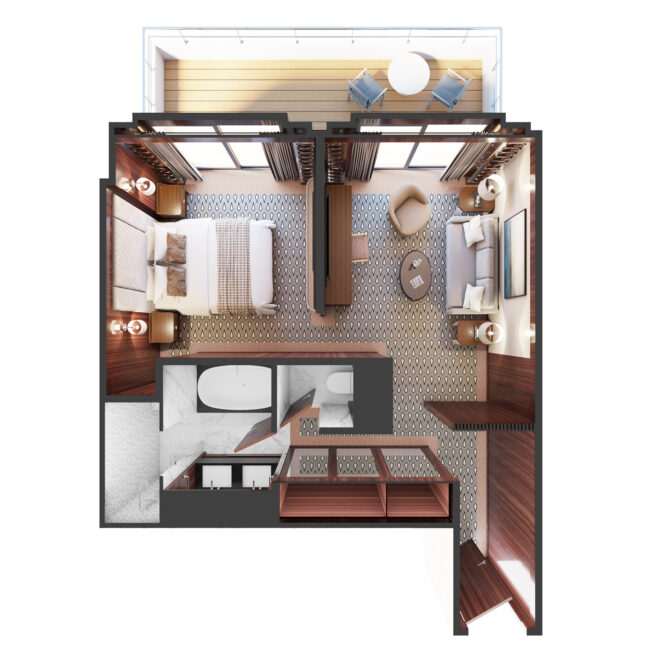 The cream of the crop suite will always be named after the ship, so this is the Navigator Suite!  It is a very healthy 465 sq ft and has all of the features of the previous suites but with one super exciting addition!  A bathtub!  I was blown away when I saw it because I don't think I've seen one at sea!  A special perk to booking this level is that you also get this luxury suitcase!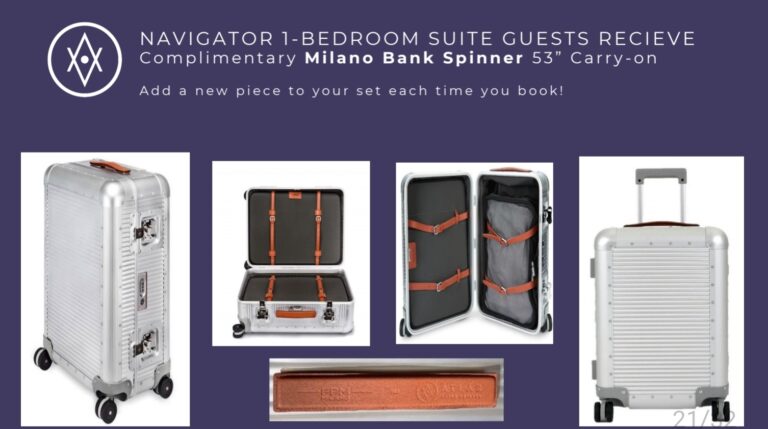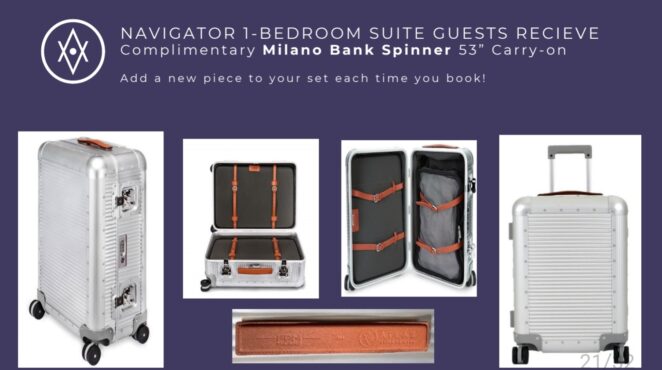 Major difference: A bathtub! And a piece of luggage to keep.
Dining Options onboard the World Navigator
All food is included on the ship, but there are several ways to get it.
Porto Dining Room
This is the main area for dining, and it's open for breakfast, lunch, and dinner.  There are two menus every day.  One menu will be available the whole trip that you can choose from, but there will also be a daily menu option that is often themed!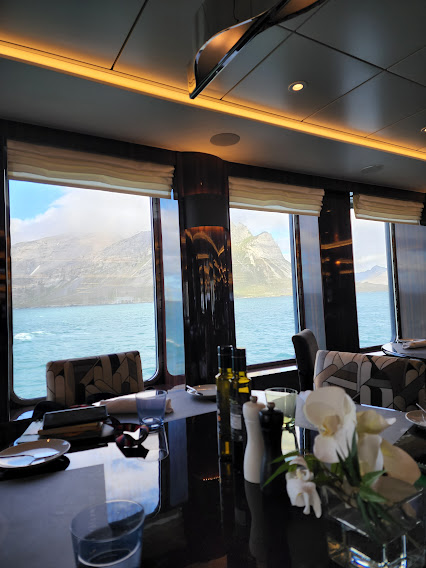 What's really cool is you can pick from either side or both, and as much as you want!  For example, you can just get 5 different appetizers and no entrees… or a few entrees and no appetizers… or whatever combo you want!
The dining room also has giant windows to see outside and very quick access to the outside. Once at breakfast, a whale was spotted, so when the announcement was made, I was outside in seconds.  A good reason to bring your camera and/or binoculars at all times!
7-Aft Grill
This is an outside dining environment by the pool.  It's a grill option with fresh meats and seafood.  This isn't usually an option for polar cruises, for obvious reasons, but we did get to eat there once on a particularly nice day in Svalbard when I went.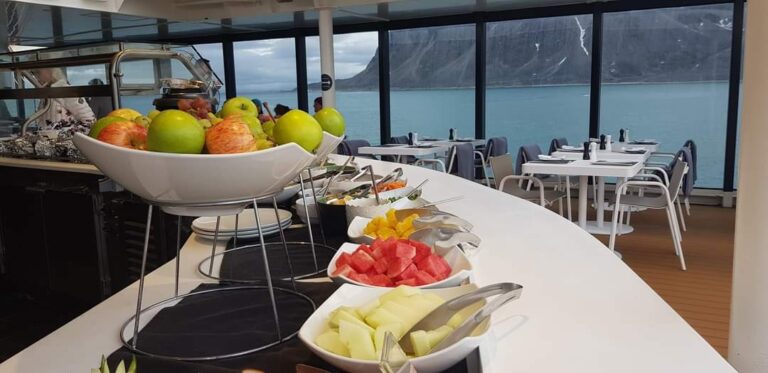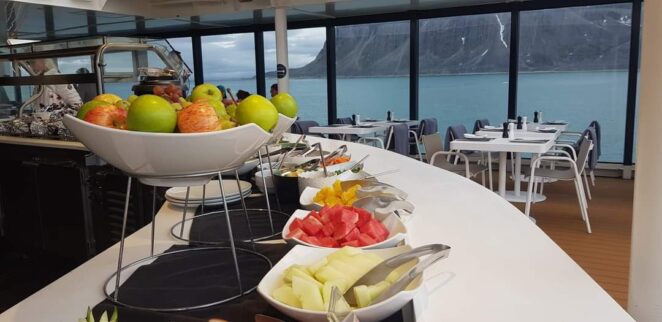 Paula's Pantry
Paula's Pantry is a convenient option if you just want a little snacky-snack.  They have different grab and go options for you if you didn't want a full breakfast, but just want something light.  It will have light breakfast items like muffins, doughnuts and smoothies, but also light food for lunch and snacks like sandwiches, wraps and salads.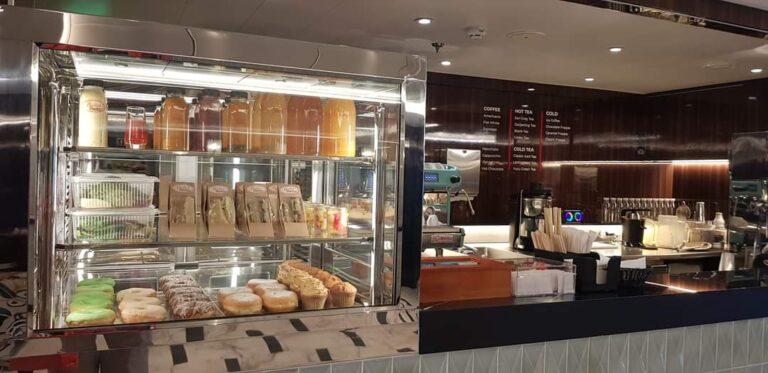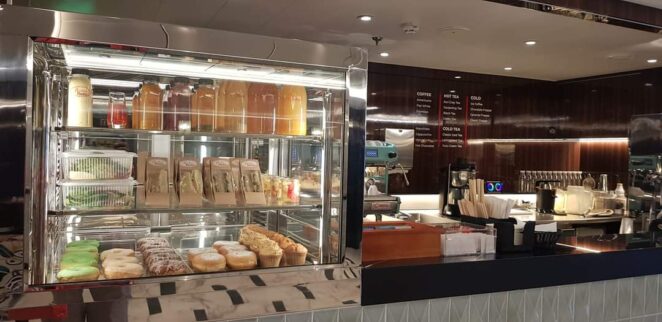 Room Service
This is available any time of the day (including 1 am french fry cravings!).  There is a placard in the room to select your breakfast and delivery time in the morning, but be advised it's a LOT of food. I was able to write in what I wanted or didn't want to tailor it to what I needed.  They brought it right on schedule.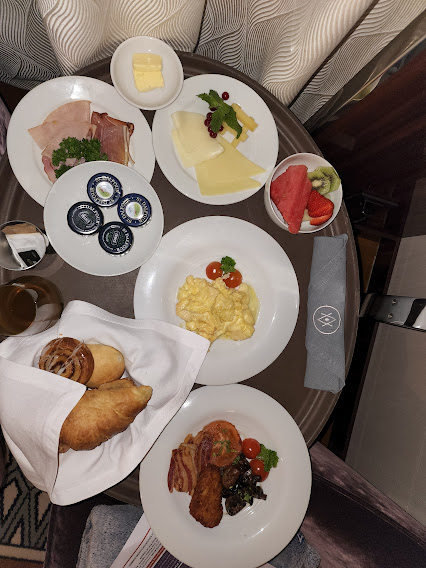 The room service for lunch is also available, but I'm pretty sure you can ask for anything from the main dining room too. But I did decide to try their wagyu burger and have a chill afternoon in my room once, and it was delicious!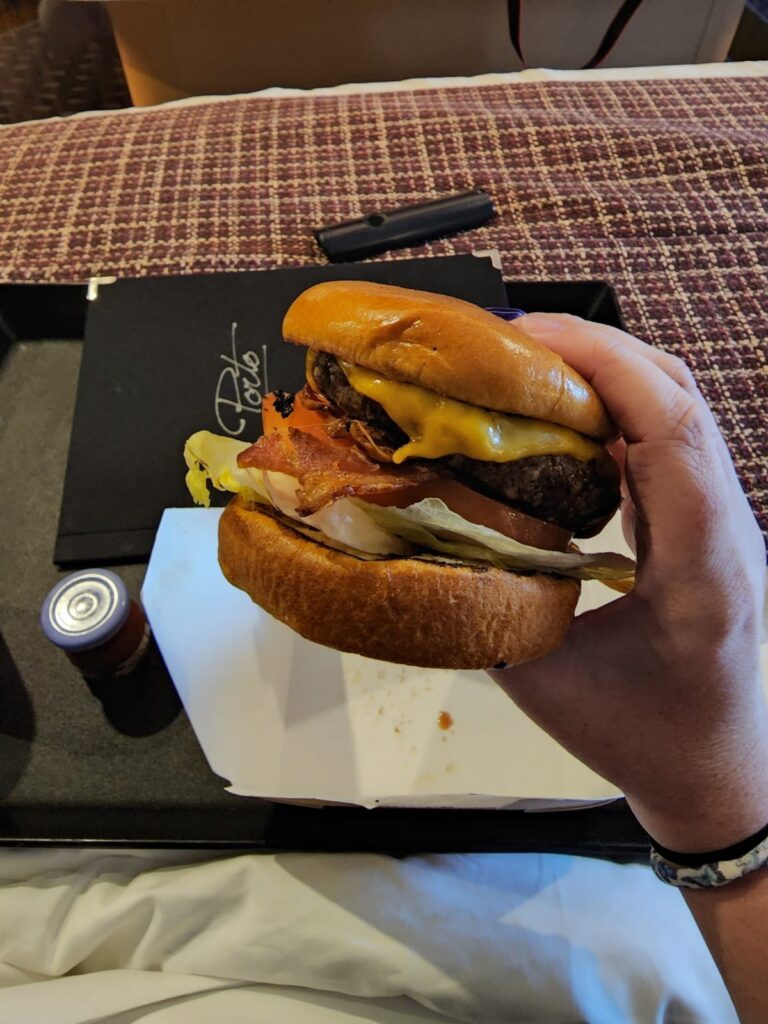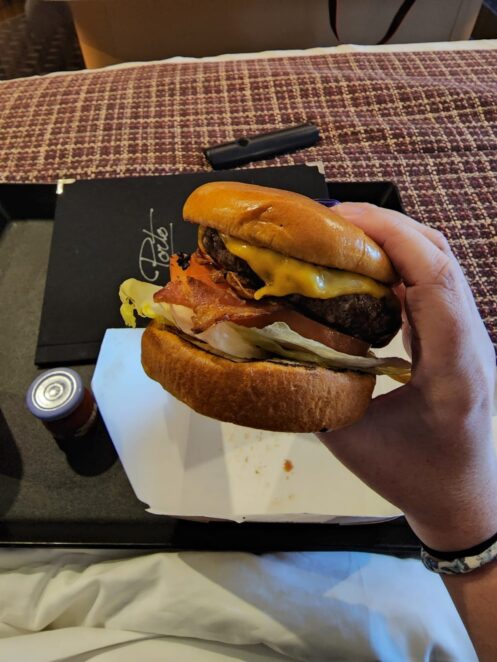 The Dome
The Dome isn't really a restaurant per se, as it's really a bar, but it is where afternoon tea and snack time is located!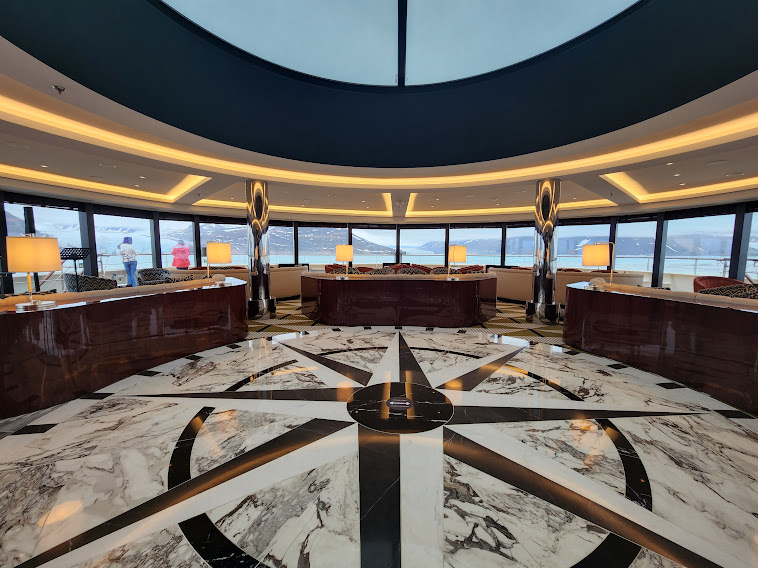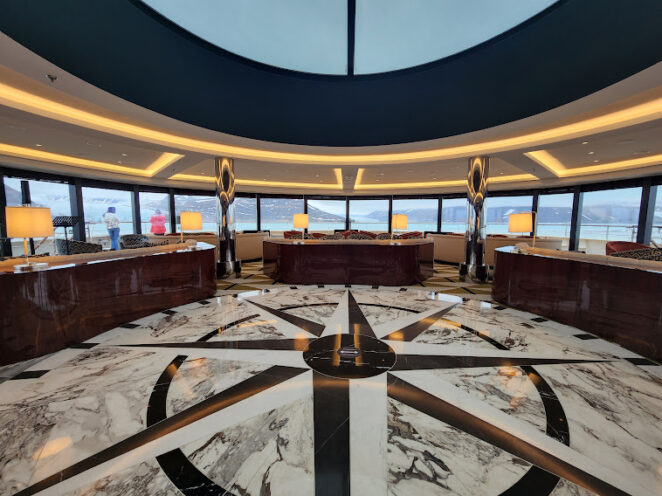 Health and Wellness Available on World Navigator
There are several places on board for you to focus on health and wellness!
Gym
The gym is equipped with some cardio equipment, strength trainings, and material for activities like yoga.  The cardio equipment has a stunning outside view if that motivates you, but there are also screens if you want to watch something instead.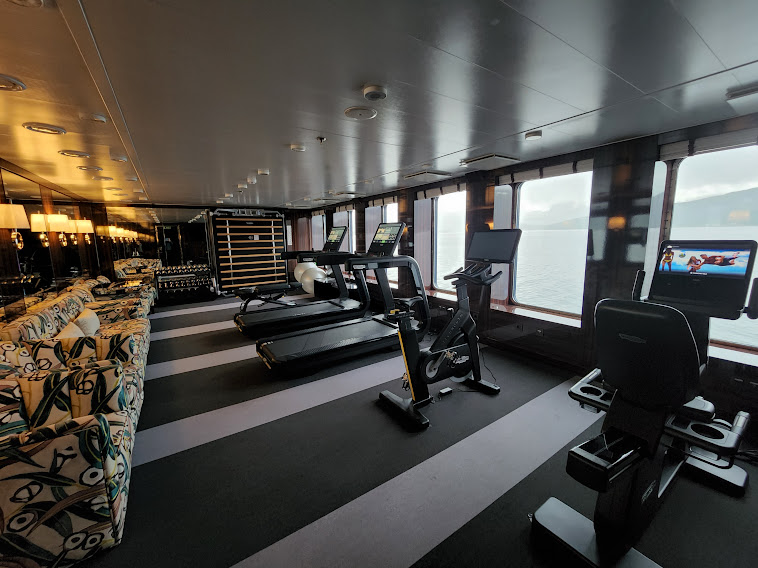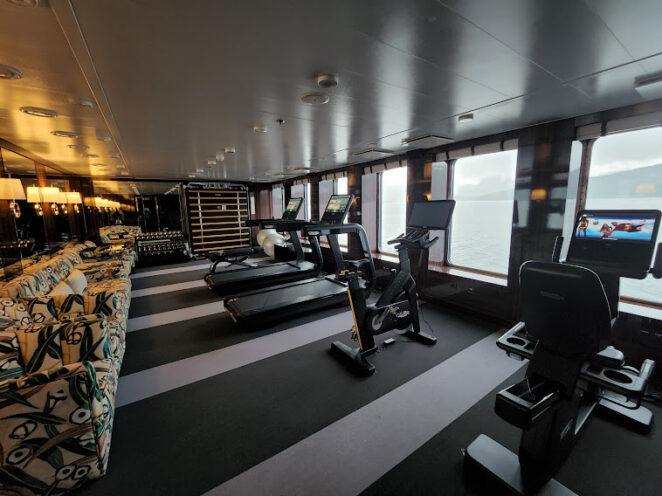 The strength training is located on the wall, and you can set the tension level on your preferences.  It has a lot of pulleys that you can adjust to different levels and locations to target different muscle groups.  There is a guide on the wall if you need help with that.
Sauna
The sauna is located near the spa, and no matter the temperature outside, it will be nice and toasty in the sauna. What sets it apart from other saunas that I've been to, is that one wall has large windows so you can sauna yourself to your heart's content but not miss the scenery.
Outdoor Track
There is also an outdoor running (or light meandering) track that goes around the perimeter of the ship.  Sprinkled around that are also minimalistic exercise equipment if you prefer that over the indoor variety in the gym.  Here I am with my daquiri to show my commitment to fitness.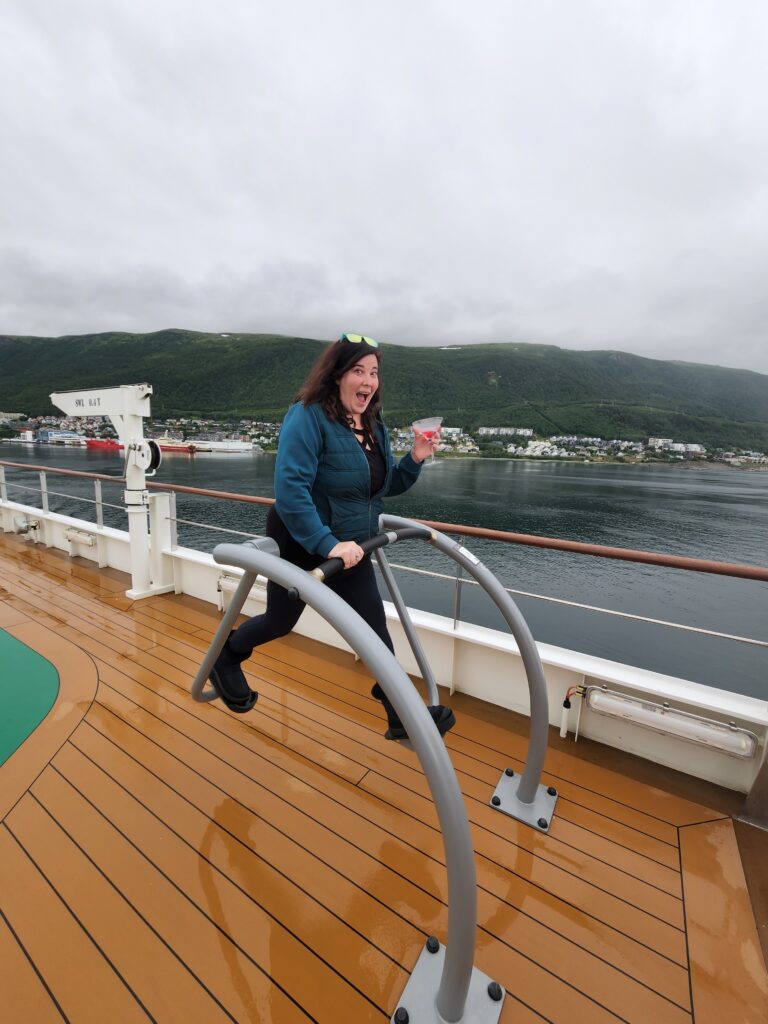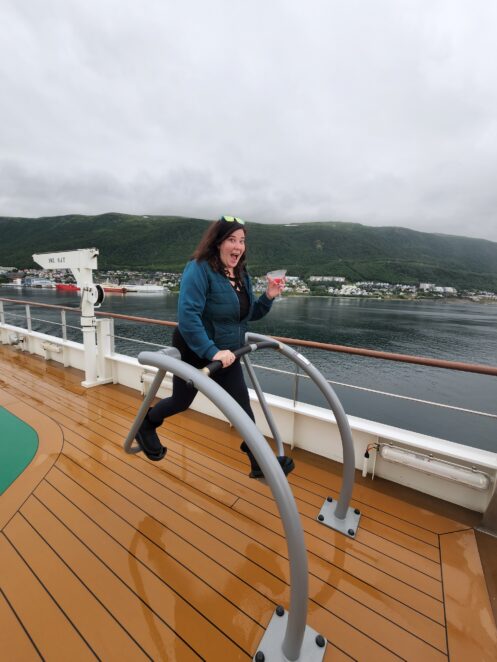 Relaxation on the Atlas's World Navigator
Even though you'll experience a lot of adventure, do keep in mind this is luxe-adventure, and you deserve to treat yourself to some relaxation!
Swimming Pool and Hot tubs
These are located outside, and there is one pool and two twin hot tubs.  These are both located next to the 7-Aft Grill and bar which makes it very convenient.  
In the polar season, the pool isn't open for use, but the hot tubs are.  There is a glass partition that protects you from the wind though, so it's still good to use in the colder zones.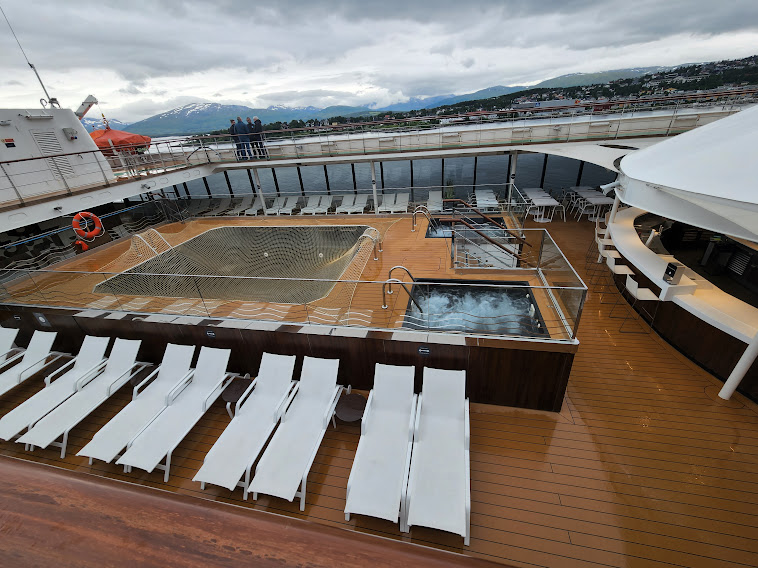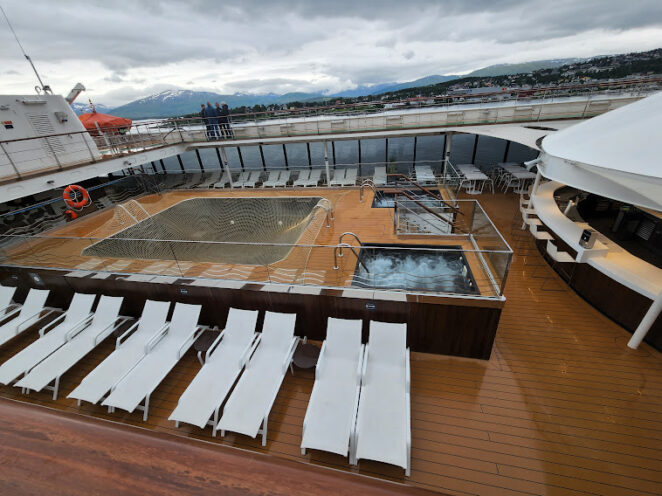 We did have the pool opened in the Arctic for the Polar Plunge (The Pooler Plunge haha) because they didn't want us to jump in because of bears, but only 6 of us did it! Look at us crazy people.  Luckily the hot tubs and cocktails were mere steps away.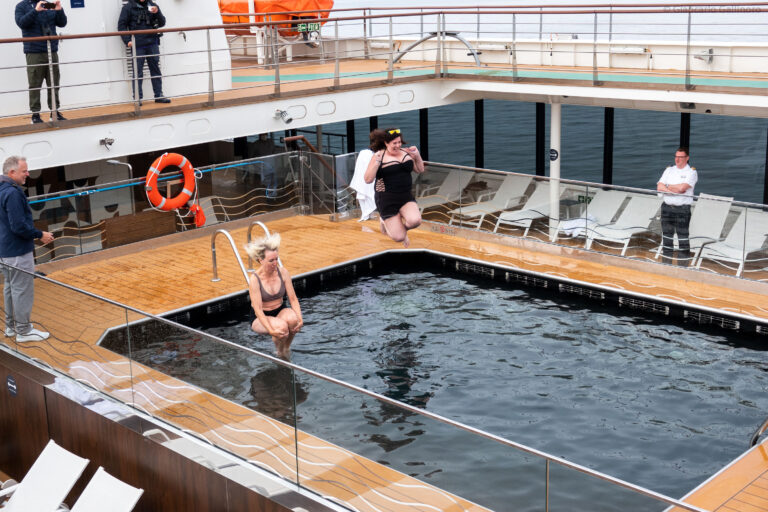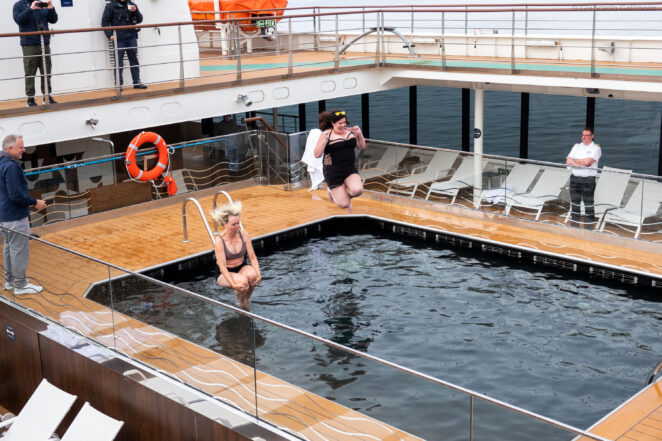 Spa
The spa has a few menu items to choose from of varying lengths.  I opted for a massage, and it was very good!  Please take my word on that as my parents own a massage spa, so I go to them quite frequently!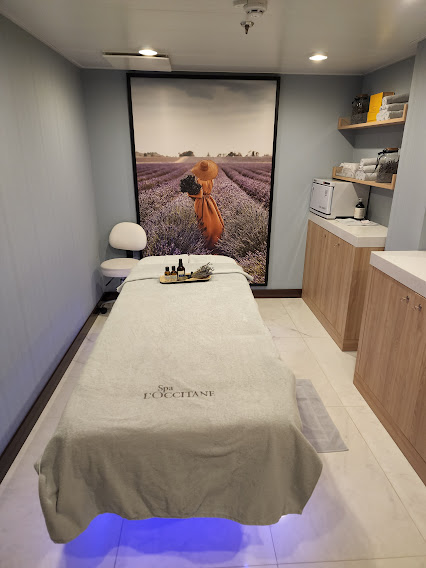 Expedition Features
Yes, this is a luxury yacht experience, but don't forget that it is still an expedition!  The ships are fully outfitted to make that happen!  There is a lot of behind-the-scenes, but the part that you would be using the most often is the Mud Room!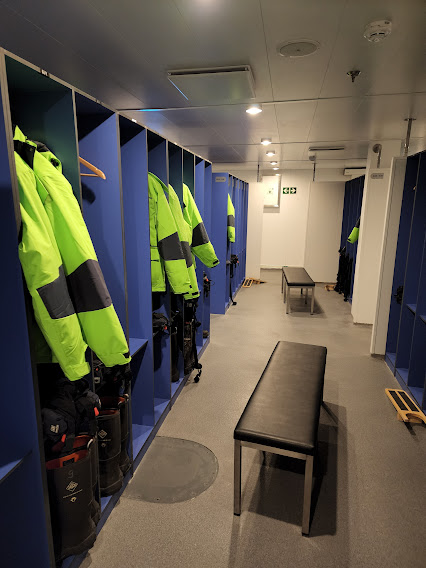 This is basically the getting ready area where everyone has access to a locker (linked to your stateroom) where you can keep your gear.  Generally speaking, you'd leave your boots there every time, and whatever else you want to leave there.  I'd leave my parka, hat, gloves, hand warmers and whatever else I only needed off ship. 
On board are also the zodiacs to get you to shore which are stored on the top of the ship.  It's kind of fun to watch them take it on and off the ship.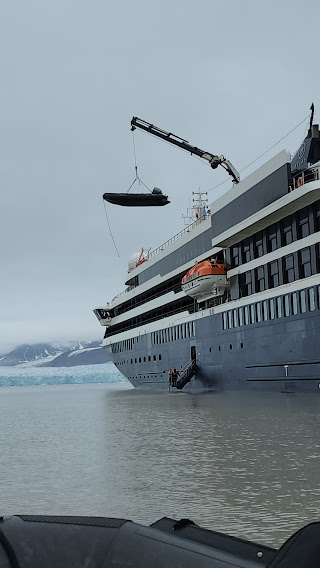 Special Features 
Wifi
Wifi is on board, and you're given an allotment, but you can purchase more.  It is definitely recommended to turn off all alerts, notifications, and updates beforehand, so it doesn't zap through your data without your knowledge.  Other than that, make sure you leave the wifi off and airplane on to save your data as much as possible.
Auditorium
This is where we went for our informational lectures and daily debriefs!  It comfortably housed everyone.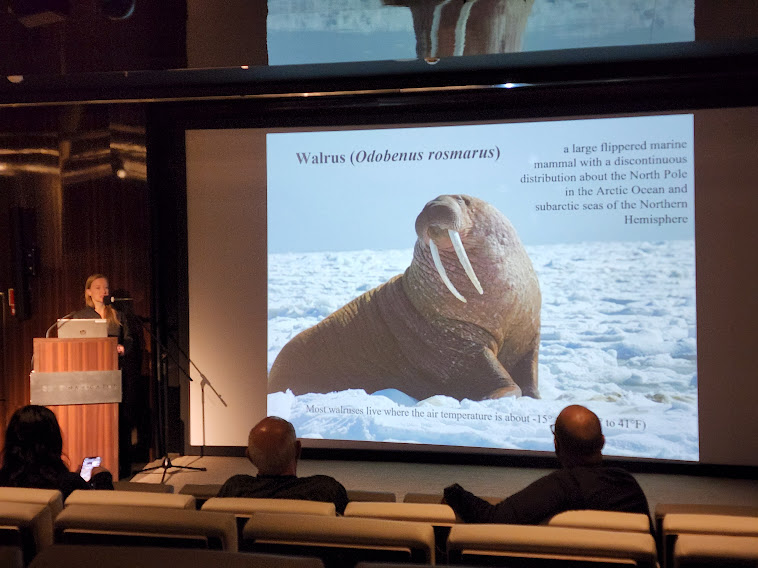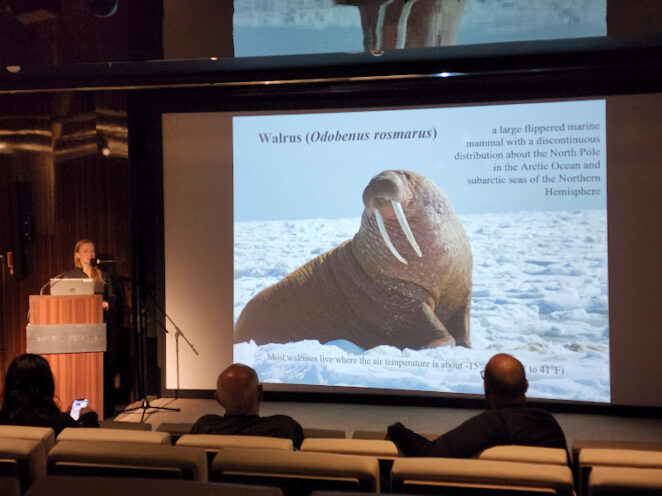 I hope I covered everything you ever wanted to know about Atlas Ocean Voyages World Navigator ship, but feel free to drop a comment below if you had any other specific questions!
How to Book
How to Book
1. You should definitely consider using me as your travel agent! It's no extra cost, I know of the best deals, and I put together a folder to make sure you have everything you need to have a smooth trip!
2. You can book directly with Atlas yourself, but as mentioned earlier, sometimes their communication is sketchy, so it's definitely in your interest to have an agent like me to hunt down extra information for you.