How Much Does a Trip to Iceland Cost?
Here's the quick rundown of my trip to Iceland cost.  I rented a car and did a self-guided Iceland driving tour!  It's broken down below to get a deeper insight!
Accommodations ~ How Much Does a Trip to Iceland Cost?
Total: $189
| Accommodation Cost of Going to Iceland | Cost |
| --- | --- |
| Air BNB at Horse Farm | $61 |
| Air BNB Guesthouse near Vik | $84 |
| Reykjavik Hostel | $44 |
Could you do it cheaper?  I think maybe only by camping in your car? Or possibly booking early.  I booked the cheapest ones I could find that were on the way of where I wanted to go. However my last night, I could have opted out of a room and gone straight to the airport since I needed to be there at 4 am.
Keep in mind:  Iceland accommodation prices are very high.  Especially the Reykjavik prices.
I actually booked one of my nights through my Southwest card to get some more points on Southwest!  My Southwest points are super key to getting to the cheap flights that I find!
I spent my first night at an adorable Horse Farm right off the main highway, F1.  It was very easy to spot, my room was very clean, and the host was really nice. I was pleasantly surprised to see that there was a kitchen that I could use!  Sadly, I only brought materials for Peanut Butter and Jelly sandwiches.
There was also a sitting room that was very large with magazines and games to play!
The directions were very easy to follow for my first night at the horse farm as well as the guesthouse the next night (they provided an address, directions, and GPS coordinates).
The next night I stayed in a nondescript looking guesthouse that was on the way to the black sand beach! It's actually funny because many buildings in the Icelandic countryside looked very utilitarian. I think it's because they don't want to compete against the countryside!
For example, the guesthouse I stayed in was just a white rectangular prism.  But just outside the front door was a jaw-dropping view of a cliff! And just across the way was a small building cut into the rock like a Hobbit Hole.  
Inside the room was lovely, and it was the nicest bed I had in Iceland.  There was also a kitchen (with breakfast included! Although it was a very basic breakfast), and a sitting room with a TV, magazines, and some games.
The last night I stayed at The Capital Inn.  The room was fine, and there was also a kitchen and lounging area.  As opposed to the AirBNBs that were quite quiet and small, the Capital Inn was a hub of activity.  
There was a wide variety of people there from the early 20s that were a little boisterous and active to the older crowd that had lots of questions.
If those aren't available or you want a different vibe, check out this list of places to stay in Iceland for every budget!
Transportation – How Much Is Gas In Iceland?
Total: $347.42

| Cost of Gas in Iceland | Cost |
| --- | --- |
| Rental Car | $175 |
| Gas at 223 ISK per liter (almost $8 a gallon) | $172.42 |
Could you do it cheaper? I'm actually unfamiliar with public transportation for getting around Iceland since I rented a car when I came in winter and in summer, so I'm not sure.  If you're by yourself, tours might end up being cheaper, but you'll have less independence.  An Iceland road trip is always fun though!
Keep in mind: The cost of gas in Iceland!  If you drive slower, you might be able to conserve gas.
I rented my car from Iceland Car Rental to better aid my getting around Iceland.  There are a lot of options for car rentals in Iceland, but I like to pick local when I can.  Iceland Car Rental had great prices and a wide variety of cars.
It was really easy to get to them. There's an airport shuttle that drops off to all the car rental places. It's the 3rd stop, so while it's the last on the shuttle bus, it's also the last taking back to the airport; that's less time to get back to the airport!
The employees were really helpful and friendly, and they spoke good English. We went out and checked the car together, and then I was all set to roam the countryside on my own! It was my first time renting a car alone in a foreign country, and I had a great experience.
How Much is Gas in Iceland? Spoiler Alert: A Lot

The Iceland prices for gas are what makes driving so expensive!  It was 223 Icelandic Kroner per liter which comes out to $7.77 a gallon!  I was under some time constraints occasionally, so I was driving pretty fast which guzzled more gas.  (I had to get back to Reykjavik before a Post Office closed to mail my drone home!)
You do get a discount card, but it's nominal.  It comes with a free coffee though.
What also might have driven my gas cost up is that I had to double back on myself a few times because of my Silfra Snorkeling experience. I wasn't sure what time to commit to doing it, so I just made it early the next day.  Turns out that's for the best because I'd stop so often to take pics that I would have been late anyway.
Read More –
 Read what it's like to swim between two tectonic plates in Glacier water!  Check out my
Silfra Snorkeling
experience
When you're driving, always add at least an hour to your drive time estimation for picture stops. Every 5 minutes there'd be a beautiful site to stop and photograph.  At one point I had to scold myself and say, "OK Carly, no more stops until the Post Office!" and then lo and behold another beautiful vista presented itself…
I stopped again lol.
Renting a car is paramount if you want to drive the Golden Circle.  The Golden Circle is the route that hits all the best spots!
Food ~ How Much Does Food Cost in Iceland?
Total: $27.91

Food ~ Cost of a Trip to Iceland
Cost
Bottles of Water (total for 3 bottles)

$2.34, $3.65, and $4.21 at Blue Lagoon

$10.20
Sandwich at Blue Lagoon
$11.24
Pizza in Reykjavik
$6.47
Could you do it cheaper?  If you only ate the sandwiches you bring!
Keep in mind:  I brought a loaf of bread, a jar of peanut butter, and a jar of jelly with me. I remembered that food was expensive from my last trip!
I super low balled this one! Since I knew that I was going to be on the road a lot, and I wasn't sure what the restaurant and grocery store options were going to be like, so I went ahead and just brought supplies for PBJs.
I only bought the sandwich (disappointing and expensive) at the Blue Lagoon because I was running so late for my appointment that I didn't think I had time for food. Turns out they were pretty chill about the time, so I didn't need to have been so rushed.  
The only other food I bought was a slice of pizza on my last night because, quite frankly, I was tired of PBJ for breakfast, lunch, and dinner!  #NoRegrets.  I had some amazing views with my meals!
Icelandic tap water is actually pure enough to drink, so most of the time I was just refilling my water bottle with it when I could. But sometimes that wasn't an option, and that's the only reason I bought more water bottles.  Otherwise, you really can just keep refilling your own bottle with their clean water!
Alcohol ~ Cost of Alcohol in Iceland
Total=$0
Could you do it cheaper?  I feel this one is obvious…
Most people suggest buying alcohol at Duty-Free and bringing it to Iceland since it can get expensive.  
I went to the Blue Lagoon, and that came with one free drink! I didn't really feel the need to drink anywhere else.  Although at the Glacier Lagoon, there was a vending machine that sold beer! But I was driving… and safety first 🙂
Need more info? –
 Click here to read my
Iceland budget
from winter to see alcohol prices.

Activities ~ How Much Does it Cost to Vacation in Iceland?
Total: $229.71
| Activities ~ Iceland Trip Cost | Cost |
| --- | --- |
| Blue Lagoon | $98.88 |
| Silfra Fissure Snorkeling | $130.83 |
| Waterfalls! | Free! |
Could you do it cheaper? I don't think so.
Keep in mind: Aren't these the reason you want to go??
When I came in the winter, I wasn't able to do the two main things I wanted! Blue Lagoon and Silfra Snorkeling!  So this time I made it happen!
Blue Lagoon:
This was a pretty expensive venture, but I'm glad I did it, but I'm not sure if I would go again.  The entry cost gets you a towel, a drink, and a face mask! There are different levels that you can buy, but I obviously picked the cheapest.
The water is warm and milky blue.  Even though the water is "real," you can tell the lagoon itself is man-made.  That wasn't a big deal to me because it was really lovely.
My first stop was to float over to the bar where my bracelet (coded to me for purchases and locker) allotted me a free drink!  
After a bit of floating around, I next wandered over to the "Mask" bar.  There's a free silica mask that everyone can use, as well as algae mask that you can upgrade to. I just did the regular mask and that was fun.  Also funny seeing people all over the place looking like mud monsters as well.
Silfra Snorkeling:
The next big activity I did was the silfra snorkeling! There are lots of Iceland tour companies, but I chose Arctic Adventures.  I actually wrote a whole post about it, so if you're interested in learning what it's like to swim between tectonic plates in glacier water, by all means, check that out.
Waterfalls
All the rest of the "activities" were free!  The waterfalls were all just right off the road and very easy to get to!  Some require a nominal parking fee (or they all did, and I only saw it at one. Whoops).  Even the Glacier Lagoon is right off the road and easy to get to for free.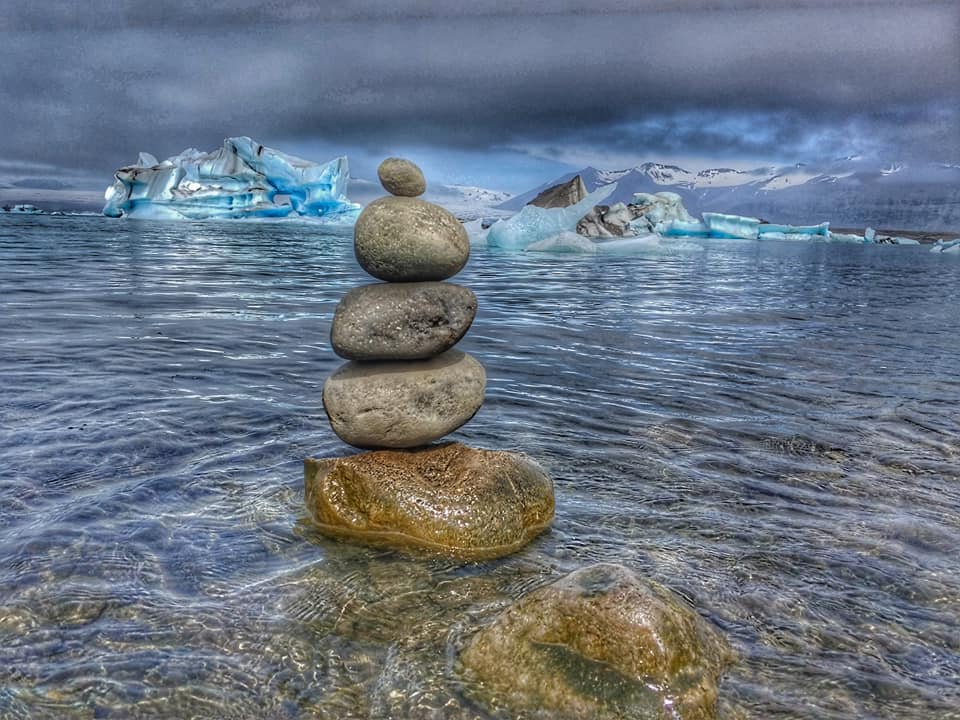 Souvenirs ~ Cost of Things in Iceland
Total: $9.28
| Cost of Things in Iceland | Cost |
| --- | --- |
| Wool Socks with cute penguins on them | $9.28 |
Could you do it cheaper?  Well sure if you don't do souvenirs!  
Keep in mind:  I'd already been here before, and I had another 3 weeks of travel coming up.
Normally I collect a spoon from my destinations, but I'd already gotten one! And since I had a few weeks of travel coming up, I also didn't feel like loading up on anything!
However, because my pre-snorkel trip from Arctic Adventures told me to bring wool socks, I did buy some cute wool socks at a Gullfoss Gift Shop because they had penguins and said Iceland on them. So utility and souvenirs!  You want to be better prepared of what to wear, so you don't have to buy a random pair of socks!
If you're more into souvenirs than I am, check out some great options for Icelandic souvenirs! 
Fees
Could you do it cheaper?  Absolutely. Don't' mail anything home!
Keep in mind: Not every country is visa-free.
Lucked out since US doesn't have a visa to go there!  
I only saw the parking fee once, so I'm honestly not sure if it was only at Seljalandsfoss that I had to pay or if I just wasn't paying attention at the others?
Iceland allows drone footage in some spots (not all), so I did bring my drone, but since Egypt wouldn't allow it in (supposedly… I feel like I could have gotten it in since I went now), I opted to send it home. This cost was for a small package by sea back to America.
Total: $845.39 for 3 days. (Eep!)
I hope you find my cost of trip to Iceland helpful for your trip! Let me know what prices you paid and where!
Pin for later!
Full Disclosure: I did receive my rental car in exchange for pictures and videos of my trip. I did reach out to them first, and I did pay for my own gas.