Besides going on my Antarctica trip in the first place, I think most people were surprised to hear that you could go camping in Antarctica!  Antarctica camping is an add-on for most companies that is limited to a certain amount of people. I've written this article because I wanted to show you what it's like to go camping and what to expect.  As always, I tried to write the article that I would have liked to have read beforehand, so do let me know in the comments if I missed any of your questions about this exciting Antarctica camping experience!
Is Antarctica Camping Always Available?
At least on the cruises that I've seen, camping isn't usually available in March because it starts to get too cold.  However, you have to also be aware that even if you sign up to go camping on your Antarctica expedition, that you might not be able to go at all.
Something my expedition leaders told us is that you should always expect nothing and treasure everything.  Your expedition team will always defer to your safety first, so even if you've scheduled to participate, if there isn't a night suitable for it, then it won't happen.  They don't even tell you which day it will happen, because honestly… they don't know! It's always weather permitting!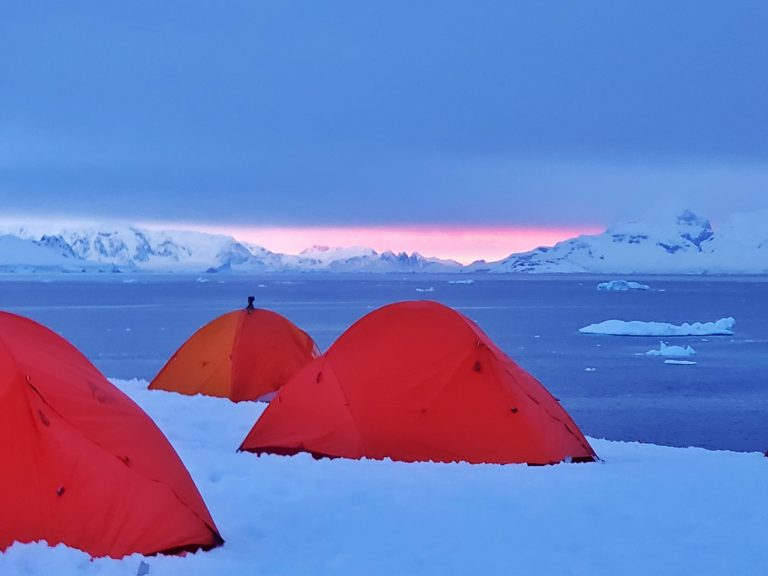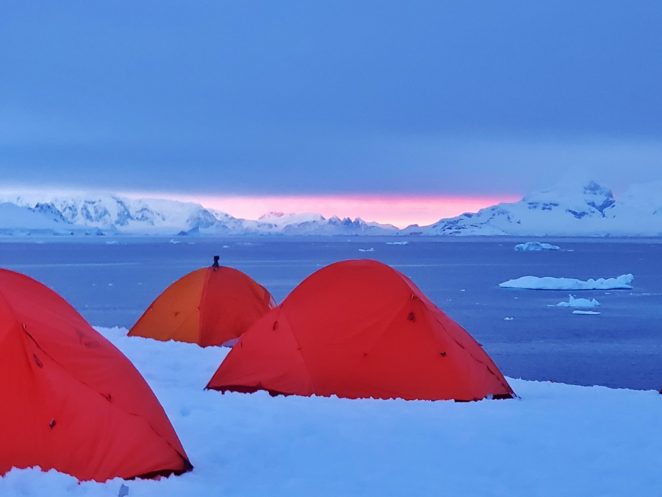 Do You Need Special Gear to Go Camping in Antarctica?
Yes and no.  You will, of course, need a tent and all the accouterments that come with it, however, that isn't something that you need to bring yourself.  The company that I went with provided us with several bags full of equipment.
We were given a tent with a corresponding fly along with all of the stakes and poles necessary to keep it down!  Another bag also held some thermal pads to lay on top of to protect us from the cold snow beneath! And the last important piece of equipment was a cold-weather rated mummy sleeping bag.  A mummy sleeping bag has a special part on top that also insulates your head. You don't have to get as snuggled into it as my friend did, but here's a picture of my tent partner completely snuggled up as a bug in a rug lol.  
Who Sets Up the Tent?
With all of this extra gear, I'm sure you're wondering who sets up the tent!  For us, it was participation camping, and we all set up our own gear. We actually had a day on the ship where we were taught how to do it.  We were even able to practice setting up the tent on board, so we felt very confident when it was our time to pitch our own.
When we landed on the island that we were going to camp on, we got to pick our spot!  We had the whole island to choose from, and the leaders had already roped off unsafe areas.  We picked a spot with a lovely view of the ship. Was it because I always wanted to make sure the ship hadn't left us? Nooooooooooo, hahaha.  It was just a nice spot.
When it's time to set up, first you have to stamp the snow down.  Many times the snow is very loose, and you can be walking along fine when randomly, your leg sinks down. Imagine sleeping on that! So we tramped it down to make it secure. 
Then we took a shovel and smoothed it out.  We ended up making it very smooth, however it wasn't level. I discovered that during the night as I was slowly sliding off my mat 🙂 So do make sure it is level and not just smooth!
Does It Cost Extra to Go Camping in Antarctica?
Yes and no. It is an extra fee, however, if you book with me as your travel agent, then I can get it for you for free!  I'm hoping that this article will let you decide if it is for you or not. If you decide that it isn't, I will transfer that discount to your original booking 🙂
Want to Go to Antarctica?
Consider using me as your
booking agent
!  It's free of charge, and I can get you free camping!

Will I See Any Wildlife When Antarctica Camping?
As always, there's no guarantee, but you're on an island, and anything can happen! We had several bird species come visit us! We even had some Sheathbills dance their way through camp, and a few penguins also came to say hello!

What Is the Weather Like While You're Camping?
This will depend on what month you go, but I went at the end of November and early December, and the temperature ranged between 30-50 F on any given day.  It was actually so warm when we were setting up the tent, that I took off my parka because I was sweating! 
Once the sun goes down a bit, it does get a little more chill.  But here I am even in a short-sleeved shirt (albeit briefly).
Once I was in the tent, it wasn't that cold. I only got cold because I had slid off the mat without realizing it. I didn't know why I was shivering because I was all bundled up, but shivered I did! Then I felt down and realized that my bag had slipped off the mat. Once I repositioned myself, it was fine.
What Do You Sleep In?
When I went, I wore thermal pants and snowboarding pants as a bottom.  I also wore a thermal top, a light down jacket, and my parka on top. Then of course I had my glove liners and mittens.  Once it was time for bed, I took off the parka, jacket and pants, so I was just sleeping in my thermals and 2 pairs of wool socks.  
I was originally cold because I had slid off the mat.  Before I realized that, I had put the hand warmers between my socks. However, they regulate heat so well that I didn't even feel it hardly at all! I ended up putting it directly  against the arch of my foot, and then was toasty warm after that.  
I also slept with a hand warmer in each hand just because I had so many, and it felt nice.  
For my head, I wore a hat not necessarily because I was cold, but because it also acted as a pillow. That was one thing that wasn't provided that I wish I'd brought!
Oh No… What About A Bathroom?
They actually build a little bathroom for you! It is pretty primitive, but it's doable. The paperwork before I left made it seem like you couldn't go to the bathroom AT ALL, and I was slightly in a panic, because who can help that??  Then I heard number 1 is OK, but when we were on land and being briefed, they said number 2 was ok too… but try not to because they have to clean it lol.
The toilet amounts to basically a bucket with a seat, but it's surrounded by blocks of ice for privacy and as a wind blocker.  There are flags there to put up or down to let people know if it's occupied or not.  
I didn't actually have to use it, but the people that did said it was surprisingly nice.  Best toilet view in the world, I imagine!
Do You Have to Be Physically Fit?
I'm certainly not, and I managed. It was tiring walking through the pristine snow because at any second (note: it happens a lot), your leg sinks in to the calf/knee/thigh and then you have to get yourself out. You also have to cover your deep holes to protect any penguins from getting stuck.
The bags with the equipment aren't that heavy, and you'll have a partner to help you (either of your choice or assigned if you're solo).
What If There is an Emergency?
There are several staff members that come on island with us that were in constant radio contact with the ship.  If there was a bad weather pattern on the way, they would wake us up to evacuate if needed. Or if something happened to one of us on the island, there was a boat to get us back to the ship too.  I felt very safe.
What Should I Bring To Be As Comfortable As Possible?
That is the million dollar question! You want to be as comfortable as possible on this excursion.
These are things that I did think to bring!
The parka and boots are provided by the ship (at least the company that I was with), so that's one less thing to worry about. I also had my standard cold weather accessories like a gator, mittens, gloves with a fingertip so I can still operate my phone, and a sweet furry hat with blu tooth!
The mittens were amazing because they even had a little pocket just for the hand warmers! And I was able to attach them to my parka, so I never lost them.
Don't forget the warmers!  I actually only had the hands one and tucked into my socks, but I met a girl that had the actual foot warmers.  She let me borrow one and oh yea!  They basically stick to your sock and warm your whole foot up! Highly recommend. 
I also brought a battery charger for my phone and ipod, small headlamp to help look around, tripod to make that sweet timelapse above, and of course my 360 camera!
These are things that now that I've gone, I wish I'd had!
I really wish that I had brought a pillow! That wasn't really mentioned as something that wasn't provided. I didn't have a dry bag, so I just shared with someone, but it seemed useful to have your own. I did bring a regular bag with some of my stuff in it, but it got wet, so a dry bag would have been a better idea.
 If you're really worried about being cold, I would recommend bringing something that covers your face. And for the last thing, if you filled up a hot water bottle and stuck in your sleeping bag, you'd def feel prettttty toasty!
Overall, is Antarctica Camping Worth It?
While it's not something I would do again, I do think it was worth it!  After All, HOW many people can say that they did it?? There were people of varying levels of fitness there, so I wouldn't let that hold you back. I think if you have even a mild curiosity, that you should sign up.  It is way worse to regret not doing something than regret doing it!
Major things to consider:
You probably won't get much sleep. Not necessarily because of cold or comfort, but there is an early morning wake up call in order to pack everything up and get back on the ship for breakfast!  A perfect day for a nap though!
Bring more warmth than you'll think you need!
You will be assigned a same gender partner if you're solo.
You get hot chocolate or coffee once back on board. Maybe even with a shot of kahlua!
These were my experiences with my personal tour. Read about my whole Antarctica Classic experience.
Overall I would say this experience was better than some others that I read.  Based on someone else's post, on one company's they didn't even have tents?? No thanks.
You can't bring snacks. Only water!
You *can* go back to the ship, but you won't be able to come back afterwards.
This is all based on my own personal experience, but if you want some advice from the experts, I recommend checking out REI's cold weather camping tips!
Please Pin and Share if this is something you're considering!