I spent probably about 2 years planning my trip to Antarctica.  It was so hard to know which was the best Antarctica cruise, and since it is pretty expensive, I didn't want to choose poorly! I ended up choosing G Expedition Antarctica (for several reasons. Click the above article to read more about my rationale). This was a Ushuaia to Antarctica cruise (and back!), and I had the most amazing time.  Please keep reading to find out what to expect onboard the ship and my all-around Antarctica cruise review!
Itinerary for the Best Antarctica Cruise
The specific itinerary is going to depend heavily on which tour you pick.  They range from 11 days with the G Adventures Antarctica Classic (the one that I did) to 22 days including the Falkland Islands and South Georgia!  I sadly didn't have the money and time for that and barely got down for the shortest one they had, but if you do, then absolutely do it! They all start and end in Ushuaia (except for the longest one that starts in Montevideo, Uruguay and ends in Ushuaia, Argentina). 
All of the tours will have the same basic parts which will be a Drake Passage Crossing and Antarctic landings.  
Crossing the Drake
The Drake Passage takes about 2 days to cross (unless you have phenomenal weather like we did), so that takes up about 4 days of the trip.  There are two types of crossings–The Drake Lake and The Drake Shake. Our first night onboard, our expedition leader, Jonathan Green, showed us the weather map for our journey.  It did not look good for us! Red is bad weather and green is safe! Somehow our captain managed to snake us through that green channel and we got the Lake! 
We ended up getting the Lake on both ways which afforded us an extra half-day in the Antarctic as well as the ability to pass by Cape Horn on the way back!  A small faction of guests low-key wanted the Shake since that would definitely be more of an adventure. The crew assured us that no, we did not!  For reference, you've seen the gentle waters in all of the other pictures; here is a picture that my friend took on her crossing (diff date) which was still considered "the Lake" albeit slightly more intense.

And for what I THOUGHT it was going to be like, and what I definitely DIDN'T show my parents, here is an INTENSE Drake Shake crossing video!  We didn't experience anything near that!
Around the Antarctic
Then, of course, there is the actual reason you came on this Antarctica cruise from Ushuaia!  You want to see the continent! Well, they can never guarantee landings because everything depends on the weather, but I can tell you that they will do whatever and go wherever the ice and wind will allow.  They are absolutely dedicated to making this the best trip for you!
On "Operation Days" and with Mother Nature's permission, there will be two "operations."  Operations could be a shore landing, zodiac excursion, kayaking, or a combo! Sometimes there is even a sign-up sheet to do a "photo" or "citizen scientist" themed zodiac excursion which is super fun too.
No matter the operation, it's always done in waves (a little nautical pun for you 🙂 ), so there isn't a massive crowd in the Mud Room (the getting ready room).  The order is in constant rotation, so everyone gets a chance at being first!
Between operations are cruising times, you're either welcome to laze about in your cabin, up in the lounge, or out on the deck!  The more often you're on deck, the more you're likely to spot the wildlife! Occasionally, they will make announcements if you're about to enter a particularly beautiful channel or if some wildlife is hanging around the ship! They will even stop or turn the ship to afford better and longer views <3
Accommodations on G Expedition Antarctica Ship
Your accommodations will depend on your preference and budget.  I personally stayed in the quad room on the bottom deck, and I found it perfectly comfortable.  It was actually nice because we were on the same level as the Mud Room (where you get ready to leave the ship) which was handy since I was constantly forgetting something and going back to my room.   The triples are also on the "ground floor." We had a private bathroom and a porthole window!

There are also twin rooms which can be on the porthole level or a larger viewing window on a higher deck.  And of course, the rooms and suites get nicer and nicer as the price tag gets bigger 🙂 Pros and Cons for being on every floor, so pick which is best for your budget.  You will always get the best bang for your buck by booking as early as possible. This has a layout of the G Expedition ship.
Interested in sales and discounts? Contact me to use as a travel agent. I will always get you the best deal possible, and for Antarctica, I am offering free camping or $350 off 🙂
The beds were very comfortable, and there was some storage under the bunk beds for luggage. Every room also has a closet for each guest, so everyone has their own personal space for their belongings. The bathroom was a little tight, but nothing too unmanageable.  You just had to be a little careful when showering to not soak the whole bathroom! We usually opted to use the "personal" bathrooms up by the lounge area as they were larger, private, and had a beautiful window. One of my friends even saw a Humpback while he was in there! Prettiest bathroom in the world.
Pro Tip:  Something that was a bit of a surprise to everyone on the first day, is that there are no keys to lock the doors.  I imagine because they didn't have the time or resources to constantly be giving out new keys to people locking themselves out or losing theirs.  It was a shock on the first day, but it was very convenient. No thefts on board, so I wouldn't worry about that. For anyone that does worry, there are personal safety lockboxes that everyone individually has access to (of varying sizes), so no need to stress about that at all.  You can lock the door of the room from the inside though.
Food During Your Ushuaia to Antarctica Cruise
Now, this was something I was stressing over before departure, and I couldn't find any information on it even by reading tons of G Adventures Antarctica reviews!  I have some food allergies, so I was very worried about being trapped on a ship with limited options and maybe being forced to eat fries and rice the whole time (like I once had to do on a trip to Cambodia!)

If You Have Food Allergies or Special Diets

Before you depart, you (or me, as your wonderful travel agent) will fill out your dietary requirements.  Shock of the century, they actually pay attention to that! For the first meal, I came to the buffet and saw with dismay that all of the meat had peppers and onions mixed in.  I sadly put some fries and a little salad on a plate and started to walk to a table. A server came up to bring us drinks and asked why I had so little food, and I told him that I couldn't eat peppers and onions. He said, "Oh, you must be Carly! Why didn't you say anything!" and came back with a special plate prepared just for me with no peppers or onions! WHAT!
Every morning, Jay (the head of the kitchen) would come out and show me what the meals were for the day. I would tell him what I wanted, and when I came into the Dining Room later, poof a perfect plate of food would always appear.  Here is my fave meal <3
I saw other diners that had meal preferences (and allergens were also printed on cards near the food): Gluten, lactose, vegetarian, and of course, my peppers and onions!  There was even a pair of girls that specifically asked for Indian vegetarian.  The ship is very accommodating.
Regular Meals
We received our food in three different ways: Buffet style, seated dinners, and an outdoor barbecue!  It was nice to have a variety of ways to eat on the ship, which always kept it fresh and entertaining!  The outdoor barbecue is only available if the weather is beautiful, but it was a highlight! 
Theme Nights
There were a few fun theme nights like Italian and Asian. They fully decorate the dining room as well as having a large spread of food.  They really go all out. I was also on the ship for Thanksgiving, and they even had a classic American Thanksgiving meal option for us Americans on the "road" for the holidays!  
What's There to Do on an Antarctica Cruise from Ushuaia? 
Another worry and wonder!  I had read all about what to do for excursions (mentioned below), but I hadn't read anything about what to do on the ship!  I was right about a few things and also had a few misconceptions, so allow me to enlighten you!
Wildlife Viewing
The outside decks are a great way to check for wildlife!  The Drake Passage is the only place you'll see the Wandering Albatross, if at all, so passage days are a fine time for viewing.  Occasionally there will be whales to watch, but as you get closer to land, you'll see rafts of penguins either floating or jumping through the water. 

One time I saw an Orca SPY HOP next to the ship, and no one else saw or believed me since they are on the rarer side.  Later people believed me as we ran into several others. The running joke on the ship is the smokers see the most wildlife since they're outside the most!  (Although I'm not a smoker 🙂 )

Lectures
The lectures are on sea days and are given by the very knowledgeable staff members.  The topics will vary but are posted every morning throughout the ship, so you're able to plan your day (and naps) accordingly 🙂  This is a great opportunity to ask questions as well!
Polar Bear Bar
This was the place to beeeeeeeee.  We went every night to either play cards, sing karaoke, hear a live band or musician (one guest even joined in!).  They have decks of cards if you didn't bring your own, and there is also a dartboard! This also had easy access to the outside decks, so we were able to flit outside quickly if any photo opps presented themselves.  Now that I'm home, I really miss meeting up with my friends every night in a safe and convenient place <3  

Penguin Library
The penguin library has comfortable reading chairs, large windows, and a large variety of books on and about the Arctic and Antarctic (since the ship goes to both destinations).  It is a good mix of fiction and non-fiction, and is a very cozy place to relax and read.
Gym
The gym has some equipment for you to use to work off all the delicious food you've been eating if that's what you're into!  
Snack Time and Happy Hour
Both of them are daily occurrences.  It's not like a cruise ship where food and alcohol is ALWAYS available, but for the most part it is. The Happy Hour is an hour before the evening briefing, and it will have a cheap theme drink!  Coffee and cookies are always available though!  
Iceberg Watching!
It's like cloud watching except with ice! Lots of fun shapes floating around. What do you see here?
Crew-led activities!
Occasionally, one of the crew members might lead a citizen scientist activity!  Mario had us up on deck looking at clouds and documenting them for NASA! Marcelo (the bird guy) and Andrew (the photographer) met with us on deck for some bird watching and photography.  Andrew was really helpful with tips for capturing birds in flight. I was having some focus issues (the autofocus was focusing on the background), and he helped me fix that calibration. We even had a resident artist that helped us make some watercolor paintings. 
Hang Out on the Bridge
Now, this one really surprised me! Sometimes the bridge is open, and you're able to hang out up there!  There are perks to this. You get to see the Captain and crew in action, which is pretty cool. It's warm. The views are the best on the ship. And you'll always be in the know and the first to know things!  You just have to be quiet and can't block the view of the crew. Easy!
Sauna
Yeah! There is a sauna!  It's on the bottom level deck! I only used it once after the polar plunge, but what a treat to have on board!
Naps
I mean… sometimes ya gotta do what ya gotta do.
Excursions Off the G Adventures Antarctica Classic Ship
Of the different ways to interact with the Antarctic, there are two that you have to prebook–Kayaking and Camping.  Since both came with a price tag, both will get their own article with lots of details and pictures, so you can decide if you'd like to sign up.  Feel free to pop a comment below with any questions you'd like answered in that more detailed post!
Regardless, here are the fun things you can do off the ship!
Kayaking
Kayaking is an option that you must pre-book (And book in advance as it fills up since it's only a small group!), and if you're physically able to do it, I really hope you do.  You can get very close to wildlife since you're on a non-motorized craft. The animals aren't afraid of you! It's also extremely peaceful when you just float and stare around you.  It was a surreal experience, and I'm so glad that I signed up.  Read more about my experience with Antarctica Kayaking to see if it is for you!
Camping
Camping only happens for one night, and it is for a slightly larger group that can still fill up (book early!).  However, camping isn't offered on all departures because of temperature, so double-check that if it's something you're interested in.  You're brought ashore with all the gear that you need! You pick out your own spot and put up your own tent.  
It feels very remote and adventurous!  No worries though; there is a toilet. The most interesting toilet you'll probably ever use in your life!  Bonus: Animals often walk through camp! We had penguins, sheathbills, and some other grumpy bird hanging around our tents.   Read more about what to expect for camping to see if you also want to experience it!
Zodiacs
Everyone gets a little zodiac ride to get to land, but there are some optional sign-ups for alternative rides.  Whether it's because you're just tired of walking around on land, you feel the need for speed, or you want an alternative view, zodiacs are a fun way to explore the coastal waters.  Pretty much every operation, there will be a zodiac tour that you can sign up for.  
There will also occasionally be special themed zodiacs for those interested in photography or science.  For example, there was one where Mario took guests to collect samples of Phytoplankton!

Polar Plunge
Another adventure that isn't guaranteed because of weather. You'll hear that word a lot on this trip… depends, lol.  The tour before mine wasn't able to do it, but we were! We had ours at Deception Bay which is in the collapsed caldera of a volcano.  The earth heats the water to a balmy 1 degree below freezing (on our day at least, haha). Sadly, we thought it was a literal plunge as in jumping, but they make you run in. It's apparently safer on your bodies, but maaaaan does it suck running out haha.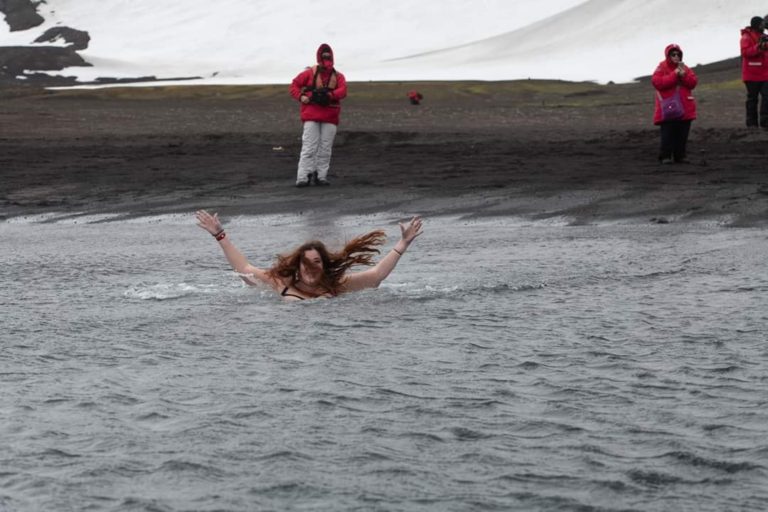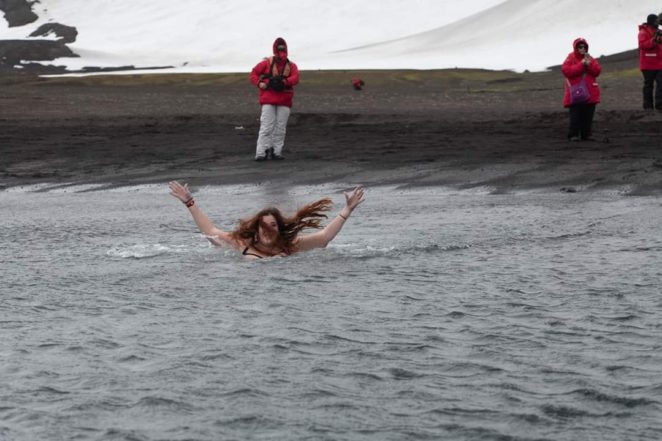 As you're running out, a crew member will give you a warm towel as you shiver and contemplate your life choices.  We just popped our clothes back on, and then it honestly wasn't that bad. Back on board, Gabor met everyone with a shot of whiskey to warm us up.  A few minutes in the sauna, and then we were all right as rain.
Hiking
The hiking options will depend on weather conditions and landing options.  Sometimes it's more of a flat walk, sometimes there might be a little rise with a cool view, and sometimes you're practically hiking up a mountain!  The crew will always brief you beforehand, so you're always able to make a decision that's best for you. Sometimes you can land and see just as much without a hike, and sometimes there's a better view higher up if you're up to it!

There was one landing that had a particularly steep hill (a crew member went early and zig-zagged a marked path to the top for it), and I went slow and steady as I'm prone to slipping.  It was worth getting to the top to see a colony of Chinstrap penguins. I wondered how they got up there!  
But the best part was the slide down!  Sliding down was pretty fast, and it was a thrill! It almost made me want to hike up again to slide back down. Almost!

Wildlife on an Antarctica Cruise from Ushuaia
It depends (I know I know!)!  At least the specific species will vary, but you should be able to see at least these 4 main categories of animals!
Penguins
I know they're technically birds, but they were a large part of my excitement for my trip!  Before this cruise, I didn't know that much about the penguin species, but now I can differentiate between Adelie, Gentoo, and Chinstrap!  Other species can be found farther south and farther north on Falkland Islands and South Georgia, but these were the ones I saw.

We saw the Gentoo the most. I loved their adorable little stripe of white on their head.  I saw them a lot kayaking when they'd come shooting out of the water like dolphins!
The Chinstrap penguin looks like a little soldier and reminded me a lot of a duck I had growing up.  I was also really surprised at their brown eyes. They were funny little fellas, but I thought the Gentoos were cuter.


Adelie penguins were the rarest, but we still saw them.  We actually mostly saw them when they were hanging out with other penguin colonies! 
Cetaceans (Whales and Dolphins)
I was actually very surprised to see some whales because according to a chart I found when I was doing my research November isn't a good time to see them!  However, we ended up seeing Humpback, Minke, and Orcas. We even saw them all at once one morning! According to the crew, they think the Killer Whales might have been hunting the Minke, but the Humpback was protecting it.  That morning, we saw over a dozen Orcas all around the ship!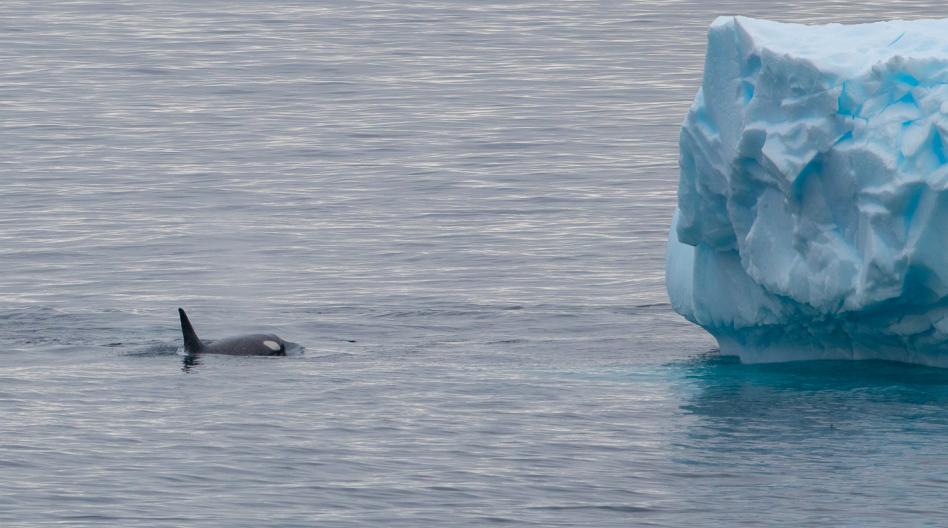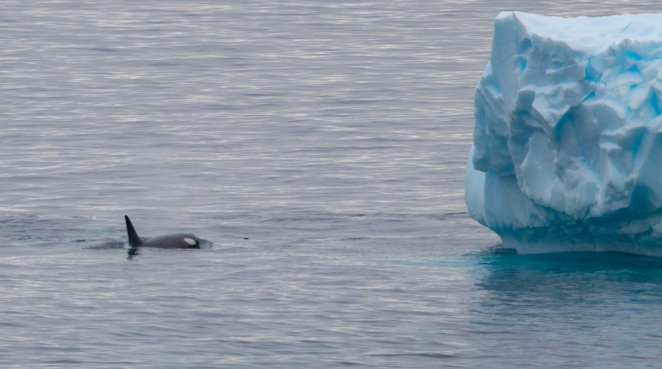 We saw quite a few flukes of Humpbacks as well.  After hearing about all the terrible stories about whaling, it was such a treasure to see them. I love whales <3  
And on the last day coming in, we saw some Hourglass Dolphins! They look just like Killer Whales with their black and white markings.
Seals
The highlight of seals for me was the Leopard Seal. Likely, because we only saw one (on Deception Island), but he also looked so peaceable and satisfied like a little snoozy baby.  This is a juxtaposition from their standing as one of the most fearsome predators in the Antarctic.
Also surprising are the Elephant seals! The younger ones are super cute, like squishy fat slugs, but the big fellas AKA Beachmasters are fatty fat fats!   We were told that they can actually run quite fast and could crush us if they were trying to fight another seal. That seemed so surprising since they were so large, but we did see evidence of some flattened seals, so… I guess that's true 🙁
We also got pretty close to some Weddell seals which are named after an Antarctic explorer!
My friends and I were the only one that saw a lone Crabeater seal on an ice floe, and it was as the ship was passing by.  But! It's possible!
Other Birds
Obviously, penguins are birds too, but for this section, I'm referring to flying birds!  The one to see is the Wandering Albatross. We didn't see one, but they are HUGE apparently. A wingspan of over 11 feet across. WHAAAAAAAT.  We did see several other types of Albatross, but not nearly as big. The biggest bird that I saw was a Giant Southern Petrel which can get a wingspan of up to 6 ft.  Still big!
I saw a few Sheathbills. Some were on land when we were camping, and one actually hopped onboard our ship to poke around.  Very inquisitive.
Across the passage, lots of smaller birds were always zooming around in the wake of the ship. My favorite was the Cape Petrel.  So pretty!
Around land, we saw a lot of Blue Eyed Shags which are a type of cormorant.  
Staff and Crew ~ Antarctica Cruise Review
The G Expedition has more staff and crew of any tour that they offer!  There are three main categories of workers–Expedition team, Hotel staff, and Maintenance Crew.
Expedition Team
The expedition team is in charge of the excursions (whether marine or land).  The staff astounded me. Every single person was a master in their field, and there are many fields represented.  There literally isn't a question that they couldn't answer. Many even held PhDs. Jonathan Green was our Expedition Leader, and besides having a beautiful narrator voice was also featured on Blue Planet and has done some insane things in the polar regions and equator. Apparently he only loves extremes lol.  He and another crew member stood in freezing water with water going into his drysuit to get every single person on and off land safely. G Adventures, you do not pay that man enough!
Dr. Marcelo Flores, Chilean, was the ornithologist, and while regaling us with facts and fun anecdotes about birds, he ended almost every chat with "Birds are awesome." Mario Springer, zesty Italian with a love of hugs, is an Astro-Engineer with a very big passion for… phytoplankton!  Then Hella knew all about the cetaceans (whales and dolphins), John about the seals, Scobie about… well, everything… I could go on and on.
The point is, this ship is CHOCK full of intensely intelligent and passionate employees.  They lead lectures (which are really just fun and informative chats with pictures) when the ship is cruising, but they are always willing to talk about their passions more when they aren't.  You can even sign up for a themed dinner with one to talk more deeply.
Hotel Team
While this is an expedition and not a cruise in a classical sense, there is still a hotel team there to keep us fed, clean, and happy!  My hotel manager was Gabor who was constantly smiling and interacting with the guests. My favorite time to see him was when we were getting back on board, and he'd have a warm beverage for us most of the time!  Or he was always very enthusiastic about encouraging guests to try soup 🙂
We also had our rooms tidied twice a day by a steward (ours was Alex!), and of course the two most popular fellas on the ship… the bartenders Randal and Joel. And at any mealtime, a whole flock of waiters!
I suppose entertainment would also count as under hotel.  There was a musician on board. Ours was named Blaise, and he was very talented!  The ship will always have a photographer as well (and buy that photographer a drink! He/she will definitely make sure to get more pics of you if you do!!!
Maintenance Crew
You don't see them too much, but you should be glad they are there! They keep the ship ship-shape.  They are all super friendly though. We ended up befriending one we kept running into one named Filmar.
Every single employee is always friendly and helpful. I have never seen anything like it!
Best Part of the Tour from Ushuaia to Antarctica
How am I supposed to choose????? I will have to break it down, otherwise, that's impossible.  On the ship? The food was amazing. Off the ship? Getting so close to the animals <3 And personally, I have to say that I really miss having a convenient place to walk up to and hang out with my friends every night.
Worst Part of the Antarctica Cruise
Hmm… this was my favorite trip I've ever taken and absolutely should be on everyone's bucket let… but if I *had* to pick, I guess that the wifi isn't free?  There is wifi on the ship, but it was quite expensive, so I opted not to use it. I guess that makes sense though because we are pretty isolated, and I imagine people would have exploited that.  It would have been nice to have gotten a tiny allotment or smaller increments. 
Compare to Other Antarctica Cruises
In my reviews, I like to compare them to other tours, however, I also have an entire article comparing with other Ushuaia to Antarctica cruise tours.  Now that I've been, I can confirm that I think this was the best Antarctica cruise tour. I saw some other ships while we were down there, and they were bigger which means less time on land (only 100 people are allowed on land at one time)! With that and they are more expensive, no gracias.
How to Book G Adventures Antarctica Classic 
You should definitely consider using me as your

travel agent

!

  It's no extra cost, I can sometimes hunt down some freebies for you, and I put together a folder to make sure you have everything you need to have a smooth trip!  PLUS I'm offering free camping or $350 off 🙂

You can book directly with

G Adventures

yourself.
Some Questions About My G Adventures Antarctica Classic
How is money handled on the ship?


You actually get an account, and they just put it on your account, and you can pay all in one go at the end.  And good news if you're using a travel card; it's billed as "travel" category. I got 3 points per dollar with my Chase Sapphire!

Can you touch the penguins?


No 🙁  As much as I would love that, I'm pretty sure these wild animals would not!  You're allowed within a certain distance of them, but if they get closer then that's fine too 🙂

How would you rate this trip in comparison to your other trips?


This was the best trip of my life!  Which is an absolute relief because imagine spending all that money and it is a disappointment lol.  Now I need another new huge trip to aspire to!

How cold was it? Did you have to buy any special gear?
I actually probably went way overboard (another nautical pun!) with the amount of stuff I purchased because once I got home I realized it was actually just as cold in Atlanta in winter as it was in Antarctica in Summer lol.  Stay tuned for a special packing post!
What if you get hurt on the tour?
Oops, did I forget to mention Dr. Jose!  There is a doctor on board who is available for anyone.  He also came with us to the Polar Plunge in case there were any problems (there weren't!)

What about the ice? Can the ship make it through?


Of course! They aren't going to send us out in an unsafe ship!  I asked the Captain how big of ice could we hit, and he pointed at different sized chunks floating around but mostly they just weave through. Here's a cool shot I took looking down the front of the ship for it breaking up a chunk of ice!

Pin to save for later and to help others!