Bamahenge Dinosaurs in the Woods ~ Gulf Shores Alabama's Attractions
When I plan a roadtrip, I love finding kitschy places to stop and see!  So when I heard about the dinosaurs in the woods and Bamahenge, there was no way I couldn't stop and see them!  Bonus:  Both these Gulf Shores attractions are free!
Bamahenge
Everyone in the South has heard of Gulf Shores, Alabama as a wonderful beach destination. But… I'd bet money that most people haven't heard of an amazing roadside attraction a scant 30 minutes away.  
No, your eyes aren't deceiving you!  That's Stonehenge! Well, colloquially and affectionately known as Bamahenge.  It's a fiberglass recreation of the famous standing stones in England.  I went just after a late summer shower, and the clouds and atmosphere really lent to the magic and fun of this place.  Look at those clouds! So dramatic! 
This was an amazing opportunity for me because on my trip to the actual Stonehenge, my camera was stolen (can't thieves just leave the SD cards??).  So, I was able to "retake" my pictures.  Sure, it's not the same, but it's life-size, and it's something!  What's even more amazing is that you're able to walk up right to them and touch them (unlike the real thing).  To be fair, they definitely feel like fiberglass when you touch them, but they sure do make for great pics!
When you're driving along the road, there aren't any signs.  You need to keep an eye out, but you'll see a glimpse of it from the road.  It's actually life size, so if you keep an open mind, it can be almost as magical as the real thing!  If you've been to the real thing, you know you can't get up close.  That's not a problem here!  I couldn't stop giggling because it was so funny and fun!
It was commissioned by an Alabama billionaire, and spoiler alert… it wasn't the only thing he commissioned!
Dinosaurs in the Woods ~ Lifesize dinosaur statue!!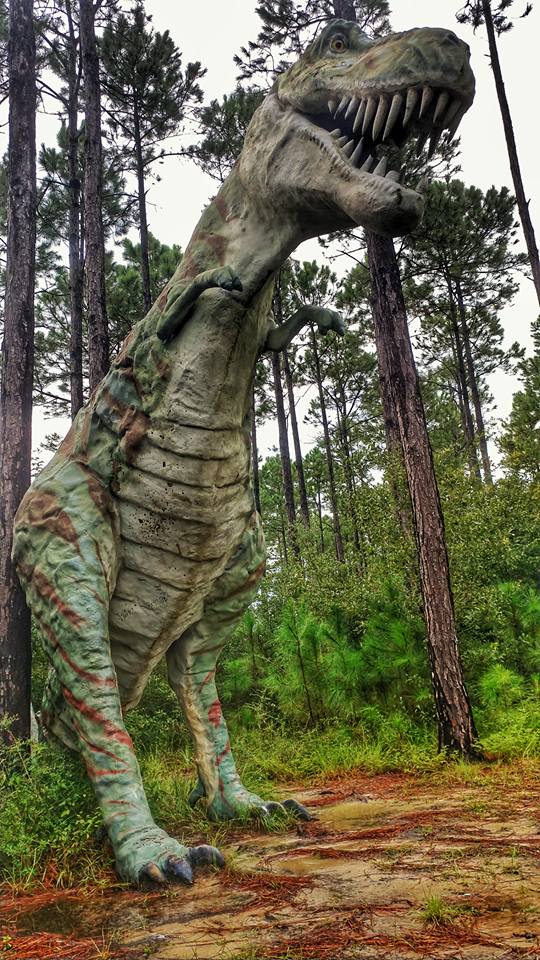 He got the same artist to create a dinosaur statue!!  Not one… not two… but there are multiple dinosaurs in the woods for you to find! The dinos are sprinkled around the woods just off to the side on the way to the marina.  Down at the marina, there's also a "Lady in the Lake."  I thought it was a King Arthur allusion, and because my PokemonGO app told me there was a lake nearby, we trudged through the woods to find it.    We didn't see it there. Turns out it's literally a giant lady in the middle of the water by the marina. I'm not going to post a pic of it because I really want you to be surprised when you see it!
I just love that someone used their money to bring so much joy to everyone 🙂  I hope that brings him a lot of joy too.  All of these fun foam creations are free for you to see! So go get yourself a selfie with a dinosaur statue! My favorite is the T-Rex, but there was also a brontosaurus, triceratops, and a stegosaurus.  
If you're driving through Georgia…
If you head east to get back home like me, you should also check out the Wild Animal Safari in Pine Mountain, GA!   You're able to either rent a van or drive your own car (I'd really suggest paying the extra $20 or so to rent a car there. You don't want those horns and drools all over your car).    I'll write a separate post about it later, but for now… enjoy this zebra.
Pin for later!