I went to Finland for a teacher conference, but added on a little time before and after!  I had heard stories and wondered "Is Finland expensive?" so I could mentally and financially prepare myself!  Some of the countries I've been to like Iceland and Scotland have been a little expensive, and I think Finland is up there.  I kept track of all my Finland prices to help you plan your trip.  I present my Finland trip cost!  (Spoiler alert, if you're on a budget Finland might not be the best bet!  Totally worth it though).
 Here is a chart with the percentages, but keep reading for a more detailed breakdown for each section.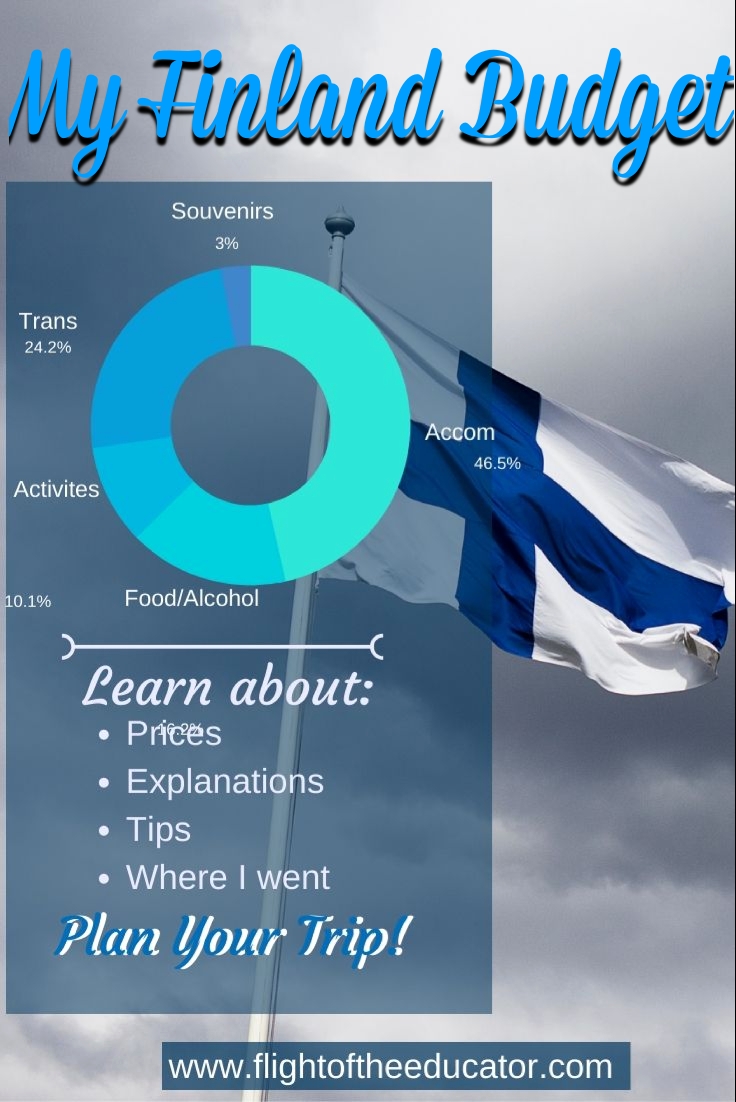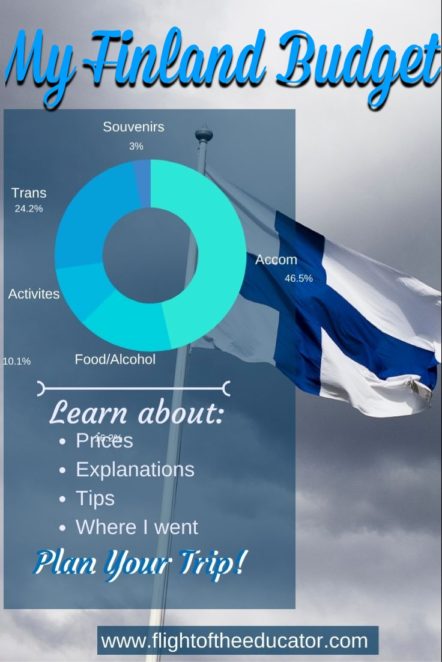 Heads up: This budget is more a collection of Finland prices. I came to Finland for a teaching conference, and once I was at the conference, most things were paid for.  But I did go early for a few days, and I also wanted you to get an idea of prices, so everything here is either a price I paid or a price I was able to find out.
Accommodations Total: $449.28
Keep in Mind:    I booked my hotels very close to departure, which is weird for me! So I'm sure the prices are a little higher than if I'd booked farther in advance.
Could you do it cheaper?   Booking them in advance, absolutely!
| Hotel Budget Finland | Cost |
| --- | --- |
| Nice hotel in near Lake Saimaa | $81.33 |
| Hotel in Rauha | $80.95 |
| 2 nights Helsinki Hostel | $170.00 |
| Hotel Nuuksio | $117.00 |
My first hotel in Finland really set the tone for the rest of my trip all through June!  The first night one was so nice! I stayed at the Holiday Saimaa! My room was so luxurious, I had a princess-like balcony to look at the lake, and a snuggly robe to hang out in. I wish that I had gotten to stay longer!  It's also a spa resort that I didn't get to partake in. And it's right next to an Angry Birds Park which I guess would be good if you have a family! This was also an incredible breakfast! I would absolutely recommend it! 
Cronin's Cafe and Guesthouse
I wouldn't really recommend this stop.  No AC, no fan and the bed was hard. It was a pretty location and on the way back to Helsinki, but I just wasn't feeling it.  It was also very hard to get food as the restaurants nearby closed at 7 pm, and the woman did not tell me that. So :/  If you are prepared for that, you might have a better stay.
This was another dorm-type housing like I had in Scotland.  During the school year, college students live there in dorms, but during the summer you can stay there!  I love them because they are the prices of hostels but with the privacy of hotels! This one was very close to public transportation and not too far from the city center. Def much cheaper than being in the city center.
This hotel was when I was with my teaching conference. I liked it so much that I wanted to add it here.  The rooms themselves weren't overly luxurious or anything, but very comfy. Where this hotel was great is that it had a sauna AND lake access!  This provided an extremely fun evening of getting super steamed in a sauna (we had a Finn with us, and WHOA did she like it hot!) and then jumping into a pretty cold lake and then back again!   I really recommend staying here if you venture out to see the Nuuksio National Park!
Transportation Total: $235.88
Keep in Mind: Gas was over $6.55 a gallon!  I'll never complain about gas prices at home again!
Could you do it cheaper?  Hybrid? Drive slower?
| Transportation | Cost |
| --- | --- |
| Rental Car for 3 days | $145.17 |
| Gas | $76.60 |
| Airport to Helsinki Train Ticket | $5.15 |
| Helsinki Public Trans Day Pass | $8.96 |
Rental Car
I have used Skyscanner for over a decade to find my flight deals, but did you know that you can also find good rental car deals?  It uses the same search engine philosophy as it does for the flights where it searches for the cheapest prices. You can still change certain settings like Automatic vs Manual, Unlimited miles or not, etc.
This rental price was pretty high for the 3 days that I had it.  But, I'm happy I got it because I got to see some places off the beaten path that I wouldn't have been able to otherwise.  I might have needed a tour which probably would have ended up as more expensive.
Day Pass
I just got the day pass since I had the car the other days, it's slightly more for a two-day pass.  This made scooting about on public trans a breeze! Google maps even showed me what stops to get off at and how long AND what time the next tram was coming.  You can buy them from little kiosks around the stops. When it comes to wondering "Is Finland expensive?" yes, it mostly is, but small things like this day pass will definitely help out.
Thinking about taking a

ferry to Tallinn

? –
That has what to expect from the ferry and how to choose one!
Activities Total: $95.54

Could you do it cheaper? I'm sure not everyone needs to do to the Cat Cafe hehe.
Keep in Mind: The Helsinki card made this section much cheaper.
| Finland Prices ~ Activities | Cost |
| --- | --- |
| Entrance to Olavinlinna Castle | $11.20 |
| Helsinki Card | $55,65 |
| Cat Cafe | $5.60 |
| Flying Helsinki | $10.64 |
Only have

1 day in Helsinki?

–
Some of these are in Helsinki and some are outside of the city.  If you only have 1 day to spend in the capital, I wrote up an itinerary for that!
Olavinlinna
This castle was right next to a wooden town and a lake!  The castle was pretty empty, and there were a few times where I'd go several minutes without seeing anyone at all.  It's cute because its name is literally "Olaf's Castle, which makes me think about the snowman from Frozen, lol.  
Inside the castle isn't really decorated too much, although they do have some exhibits.  It's still really nice to see because the views are lovely, and the castle is pretty well preserved.
Helsinki Card
I like to buy passes like the Helsinki Card if I'm going to be doing a few of the options anyway.  In this case, I absolutely was! I love doing the Hop-On Off Buses when I get to cities, and this card included that as well as a boat cruise around the Canal.  Plus it also offers discounts at places such as Flying Helsinki (next up), and public transportation!  You can get a pass for 1, 2, or 3 days.
Flying Helsinki
This is right by the pier off to the left in this pic.  Flying Helsinki is where you sit in these chairs and it zooms you around Finland and Helsinki via a giant movie screen.  It was nice because it was actually pretty hot that day, so it was cool in there, lol.  I opted for the Finland one since I was going to see a lot of Helsinki IRL.  It was cool, but if you're on a budget, I think you'd be fine to skip it.
Cat Cafe
This was a total accident! I was just walking by and saw the sign for the Cat Cafe!  It had just started to rain, so purrfect time to duck in and snuggle some sweet babies.  This was the nicest animal cafe I've ever been to. I went to a few in Asia for cats, dogs, and Racoons, but this one looked primo.  The cats were very happy and active. They even had food and drinks to purchase which were good (and some drinks were served in cat bottles!).
Finland Food Prices
Total: $143.62
Keep in Mind: Once I was with my teaching conference, much of my food was included.  So this was just the prices I paid before and after conference.
Could you do it cheaper?  Well, I did treat myself a few times, but for the most part, groceries.  Also along the pier in Helsinki are lots of food stalls with good prices.
| Finland Food Prices | Cost |
| --- | --- |
| 8 bottles of water ($1.12-$2.80 each) | $21.84 |
| Small Caesar Salad at Olavinlinna | $11.43 |
| Grocery Store ~ Breakfast foods and snacks | $11.94 |
| 4 large sushi rolls | $11.20 |
| Reindeer steak dinner (fancy restaurant) | $30.47 |
| Moose meat pie | $7.28 |
| Nutella Crepe | $6.72 |
| 2 Fazer Chocolate bars on ferry | $6.72 |
| Fast Food burger meal (Hesburger) | $8.85 |
| Large pizza (two meals) | $7.84 |
| Sandwich and drink | $10.42 |
| Fish and Chips | $11.09 |
I'm going to have to talk about the MOST important piece of food I had the whole trip, and that is the Fazer chocolate.  When I was riding the Hop On Off Bus, they even mentioned it in the dialogue, and I was like, yea ok.  Everyone thinks they have the best chocolate.  It wasn't until I went to a teacher's house as part of the conference, and she let us try them that I realized they were for real. SO GOOD.  I bought two bars on the ferry crossing to Estonia.  That was prob the most expensive time to buy, so I would recommend swinging by a grocery store. They look like this, and they taste like heaven.
I tried this moose meat pie on the pier.  It didn't taste too bad going down, but my tummy was a little rumbly that night. I have a sneaking suspicion that there were onions tucked away in there, but if that doesn't bother you, you should def try.  
Besides Moose and reindeer, I also ate a fair bit of salmon.  I had a salmon soup, and when we went to have dinner at a teacher's house, we had salmon there as well.  A little heads up that that salmon is salted and therefore is a little more "raw."   I also had salmon in sushi, because I can't resist sushi at any time, lol.
Alcohol Total: $14.75
Keep in Mind:  Grocery store will always be cheapest!
| Price of Beer in Finland | Cost |
| --- | --- |
| 2 cans of Carlsberg at store | $6.50 |
| OriGINal Long Drink (almost same price as beer) | $8.25 |
What's interesting is that the price of beer in Finland was almost as expensive as a cocktail! Speaking of cocktail, the Long Drink is pretty famous for Helsinki.  It's gin-based, and it became famous because of the Olympics.  It's not too strong.  They didn't want it to be too strong because they didn't want people getting wildly drunk around their city!
You can get them with different flavors and sweeteners at restaurants as well as in aluminum cans at the store (or on the Canal Cruise!), and it's called OriGINal (emphasis on the Gin in there lol).
Souvenirs Total: $29.69
Keep in Mind:  This will always vary person to person!
Could you do it cheaper?  At the stores, there isn't any haggling like there might be for countries like Morocco, but on the craft stalls near the pier, you might be able to finagle a lower price.
| Souvenirs | Cost |
| --- | --- |
| Dragonfly Wool Pin | $17.93 |
| Spoon | $6.72 |
| 0 Euro Finland Bill | $5.04 |
I always grab a spoon when I travel and keep the lowest bill when I can.  Sadly, since Finland is on the Euro, I didn't think I was going to be able to get one!. Luckily, I stopped at the largest souvenir shop in Helsinki, Kankurin Tupa, and they had something really exciting… a fake $0 Euro bill!   It was a cool shop to go to anyway because in the basement is nothing but Christmas stuff.  On the other floors they have a wide variety of Finnish souvenirs ranging from expensive to very cheap.  
I got the Dragonfly Wool pin at one of the craft stalls by the pier.
Fees Total: $17.92
The worst category!
| Fees | Cost |
| --- | --- |
| Tip for Gas Guy | $1.12 |
| Throat Meds | $16.8 |
When I swung by the gas station to do my last fill up before I returned the car, the guy offered to pump for me.  I didn't really need help, but he said that it was no problem, so I said ok,  When I went inside to pay, I found out that they add on a euro to give that guy.  Not a huge, but I would have liked to have known before!
The throat meds were pretty expensive! However, it was well worth it as I thought I had strep throat, and I was feeling pretty miserable.  Always worth it to feel better.
GRAND TOTAL: $986.68
I hope you found this helpful! Please pin for later to help others and to find this yourself!