Scotland is known for Braveheart and Highland Coos, but many people wonder, is Scotland expensive?  So, if you are also searching how much does it cost to go to Scotland while you're planning a trip to Scotland, have no fear.   I went to Scotland for 9 days, and I wrote down all of my expenses, so you can plan your own trip based on my own Scotland prices!!  
Here is a chart with the percentages, but keep reading for a more detailed breakdown for each section. 
Accommodations Cost to Go to Scotland
Total: $631.80
Keep in Mind: Some of these rooms were technically hostels, although I got a single room option.
Could you do it cheaper?  Yes! I booked my hotels much later than I normally do, so I think that drove the costs up.  Also, since I went during the summer, I believe the prices were also higher because it was "high" season.
I've included links in the above chart for all of the hotels if you're interested, but I did want to highlight a few special places.  I enjoyed all of my accommodations this trip, and I would recommend all of them, but some are worth a little extra information.  I'd also like to add, that if I had time between Edinburgh and Inverness, I totally would have stopped at this cool glamping pod.
Knock Castle Hotel and Spa
This was my favorite hotel of the trip and definitely worth every penny of my Scotland vacation cost! It's an actual castle, yassssssss.  It was near Drummond Castle and a really beautiful area, and I recommend that you'd need a car to get here.  It had a very nice dining room for dinners, an elegant bar with nice cocktails (see Alcohol section), and a spa! I didn't arrive with enough time to go to the actual spa, but they did have a giant massage egg massage chamber which I 100% did use!  This is definitely worth considering when planning a trip to Scotland.
Covenantor Hotel
I went to Falkland because of its ties to the Outlander show, but I do still think it is worth a visit if you have time.  Turns out it is a small town where Mary Queen of Scots grew up (which I got into because of the show Reign).  
So why the Covenantor? Well, because that's the same hotel that Frank and Claire stayed at on their honeymoon on the pilot episode of Outlander!  It wasn't just a room that I rented, but a whole apartment! I had a bedroom, a kitchen, a living room, a second bed, a bathroom, and a stairwell!  It was also RIGHT across the street from the Bruce Fountain where Jamie looked up at Claire.  
Falkland was a very walkable town with lots of cute shops and cobblestone streets.
Sligachan Hotel
Sligachan is on the Isle of Skye, and this was in a small town area.  I picked this hotel because of its proximity to several places that I wanted to check out, and the rooms look nice.  Once I got there, I saw the breathtaking view that the hotel had! It was right next to this dreamy bridge and river that led off into some stunning mountains. I could also see it from the window of my room!  It also had a small bar downstairs and a restaurant. Loved it!
College Dorm Hostels
I got into this style of room a few years ago when I went to Ireland. I stayed in a college dorm room that isn't occupied during the summer when the kids are on break.  It's nice because often the prices are on par with hostels, but the facilities are nicer, and I still get my own room just like a hotel! And every time, you get a kitchenette either in the room or shared with 4 rooms in an en suite situation! I stayed at 2 on this trip.  One in Edinburgh and one in Inverness.  I didn't stay in Edinburgh too long since I left for Falkland (I've been to Edinburgh before), but for a better rundown of what to do in Edinburgh, that's a great list.
Transportation Scotland Vacation Cost
Total: $351.85
Keep in Mind: I used my rental car when I was bopping around the country, but once I got to Edinburgh at the end of my trip, I turned it in and relied on buses.  Also keep in mind that I ended up getting a hybrid (I didn't ask, it just came that way, so I was fortunate).  
Could you do it cheaper?  If you got a manual!  I got an automatic because I didn't want to have to worry about driving on the opposite and dealing with a manual!
The most important part of the cost of trip to Scotland is the rental car!  I have loved Skyscanner for over a decade to find my flight deals, but did you know that you can also find good rental car deals?  It uses the same search engine philosophy as it does for the flights where it searches for the cheapest prices. You can still change certain settings like Automatic vs Manual, Unlimited miles or not, etc.
When people ask me "How much does it cost to go to Scotland," they are usually asking about fuel costs (and if it's worth it!) But, renting a car is a great idea because it lets you stop wherever you want, and you can stop and take beautiful pictures of the landscape that you wouldn't be able to get if you were on a tour. Totally worth it.
Food Prices in Scotland Total: $135.95
Keep in Mind: I didn't eat breakfast unless it was included, and I did have a meal bought for me by a nice person.  Not to mention that I had a loaf of bread and made some PBJs for some meals. So this is just a sampling!
Could you do it cheaper?  Making your own food definitely helps with the food prices in Scotland!  I made my own PBJs, but some of my hotels did have a kitchen, so I could have made food.
I've gotta start with my favorite meal of the trip!  It was basically a Philly Cheesesteak, but it was very high-quality steak.  I got it at the Claunie Inn on Isle of Skye. It's possible that it was so good because I was chilly from the rain and also desperate to find a place to stop.  I had gotten pretty worried that I wouldn't find a place to fill up my gas tank and tummy, when out of the mists rose an Inn with sheep on it, hella expensive gas, and mildly overpriced food. I gladly paid.  They were literally in the middle of nowhere, and it was worth it!
In Oban, I had to try the Fish and Chips because (at least according to the sign), it was famous for them!  I will admit that they were pretty good, and they had a wide variety of seafood options since Oban is a fishing town!
In Falkland, I opted to eat at my hotel since it was such a small town, and most places were closing.  I opted for a comfort meal of Mac and Cheese, and yasssssss. So goooooood.  Definitely worth adding some comfort food into your trip to Scotland cost.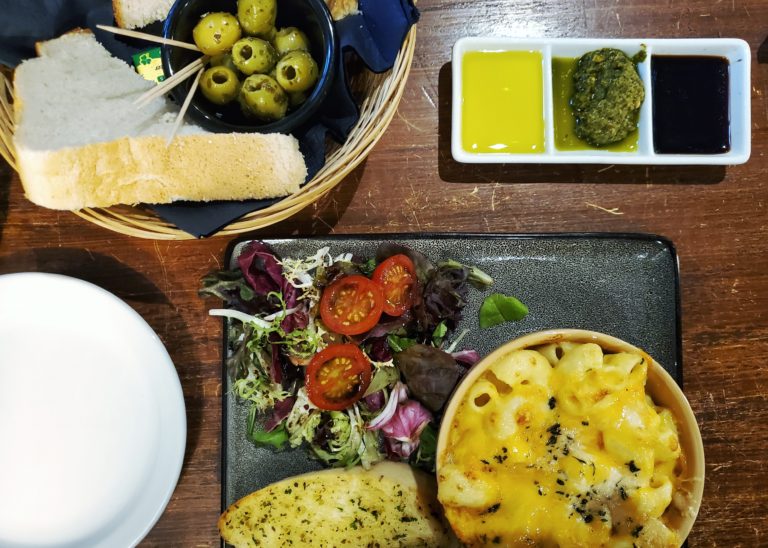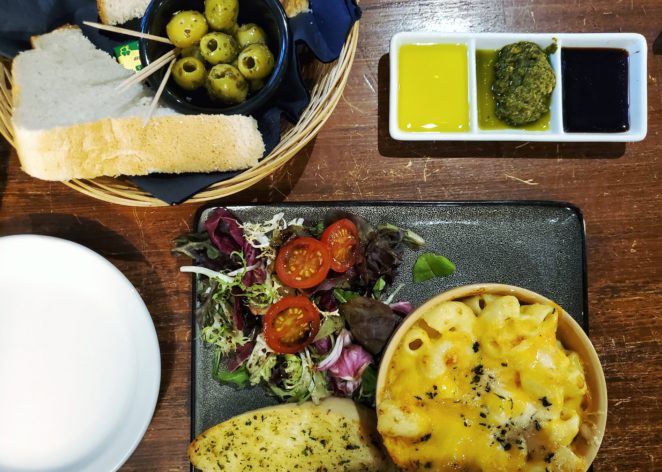 I'm not a hugely adventurous eater, but if you are, here is an itinerary for Scottish food lovers.
Scotland Vacation Cost for Alcohol
Total: $59.51
I have to tell you about this deal in Edinburgh!  There I was, wandering alone in Edinburgh when I came across a shopping complex of sorts. I was drawn into a place called McCowan's.  Lo and behold, they had a deal for a whole bottle of wine for 10 pounds! I don't mind if I do! I had a short and safe walk back to my hostel, so why not 🙂
Also at the complex, turns out there was a Putt-Putt park!  Since I was in Scotland, I naturally had to play golf, lol. But since there was also a bar both at the beginning and middle of the course, I did opt to imbibe a drink while playing Putt-Putt with my new Scottish friend.
In Crieff at the Knock Hotel and Spa, I decided I earned myself a lovely refreshment.  I mostly wanted to hang out in the nice ambiance of a bar in the safety and comfort of my lovely hotel!  It was a very relaxing evening, especially since I'd been driving so much!
I also enjoyed a nightcap of a beer at my hotel in Sligachan while I edited my photos.  It was nice to be around people even if I wasn't talking to anyone. And it did afford me the chance to watch a woman chase her dog around which was funny!
Activities
Total: $208.42
Keep in Mind:  I'm always all about maximizing my experience with fun activities, so I always did it if I wanted to!
Could you do it cheaper? Nope, that explorer pass is really helpful!
Loch Ness Cruise
I don't want to say that the Loch Ness Cruise was the primary reason I had to come back to Scotland, but it was up there.  Not only was it on my Bucket List, I was so bummed I didn't get to go when I first came way back in 2003!  
Pro Tip –
Also interested in a Loch Ness Cruise?  Read more about my experience!
Oban Boat Tour
The three isles boat tour that I took from Oban was a last-minute addition, but WOW am I glad I added it!  It should certainly get its own post, so I won't write too much about it here. I did the Three Islands one because I was desperate to see the Puffins, and I also really wanted to see Staffa Islands.  It was a tough call because they have quite a few amazing tours such as seeing wildlife or this really wild whirlpool.
Explorer  Pass
The Explorer Pass is a necessity for your Scotland vacation cost.  Once paid for, it offers free admittance to several locations throughout Scotland and discounts on other things like Audio Guides at others.  It's good for over 70 places including Edinburgh Castle, Stirling Castle, Urquhart Castle, and Blackness Castle!  You can buy at any of the stops that accept it or you can prepurchase here.
Need more info about that? –
 This has a very
comprehensive list and map
of the places the Explorer Pass gets you into as well as all other additional benefits.
Dunrobin Castle 
Wow, this was my FAVORITE castle.  It was so romantic. It probably ruined the rest of the castles for me as it was one of the first ones that I saw.  And this was after I saw so many beautiful castles earlier this summer in the Baltics.
Dunrobin was absolutely worth the drive and the time.  The castle itself had many rooms and exhibits to see, the gardens were so beautiful with the flowers, hedges, and fountains; and the castle itself was basically like the Disney Castle (not unlike Neuschwanstein in Germany).
Nessieland
Nessieland was an impromptu journey.  Mostly because I hadn't heard of it (I saw it while driving by), but also because it was really rainy that day.  My luggage was still lost at that point, so I didn't really have "rain" clothes, so an inside exhibition on the Loch Ness Monster seemed the place to be! It was floor to ceiling covered in paraphernalia relating to the Loch Ness monster theories, "sightings," and "artists' renderings."  There was also a large gift shop filled with Nessie goodies which is where I bought a pair of socks and an umbrella for the rain 🙂
It also had a whole room dedicated Outlander which was a bit of a surprise!
Souvenirs
Total: $86.47
Keep in Mind: I don't buy as many souvenirs as most people do, since I would never have enough room for them at home haha.
Could you do it cheaper?  Don't think so!  Not really a "haggling" country!
The last name scrolls were gifts for my parents.  I bought them at Stirling Castle, but I also saw them at Edinburgh Castle for the same price.  You look up for your last name in their database, and they find your family's coat of arms, a short history of the name etymology, interesting bits of history associate, and famous people with the same name!  I ended up framing one for my father (Pro tip:  went to Hobby Lobby and got a frame on clearance, got it matted and framed. Looks professsssssional) and my mom is getting hers for Christmas this year (Spoiler Alert.  I wonder if mom will read this hehe).  They give it to you in a nice tube to protect it/them!
Since my luggage was lost, I had to buy some things (just basics, so I didn't include them on here since everyone would bring that with them anyway!).  But since it was so rainy, I also needed something for that, so why not a super cute tartan umbrella?
How could I go to Scotland and not get this fluffy floof.  Here's the souvenir next to the real thing <3.  As an aside, the Scottish highlands are rife with cows and are one of the best spots to see wildlife in the UK!
Fees 
The worst category!
Total: $18.85
Fees are always the worst, but you do need to factor them into your Scotland trip cost.
To get to the "Harry Potter Bridge," you have to park!  I ended up lucking out and getting a place at the Glenfinnan Monument, although it's a pay spot.  There are a few spots up and down the road, but not a lot. So if you don't want to have to walk too much, I suggest getting there early! This is the link I used to find out where to park and where to do. I think it's worth it for this pic!


Parking at Culloden Moor wasn't too expensive, but at the time, it was only payable by coins.  So do make sure that you have some! I mostly came to see where was so largely important in Outlander, but it made the show and history soooo much more meaningful as you actually saw where so many people died.  It's chilling.
TOTAL COST TO GO TO SCOTLAND: $1492.85 for 8 nights
So, is Scotland expensive? Looking back, I suppose it's a little more on the expensive side.  I think the big contender for price was my hotel section which could easily be lessened with someone to split with or hostels. I was *very* surprised by my gas prices!  Man, I really loved having that hybrid!
Pin if you found this helpful, and you want to help others!!