I took one of the amazing trekking tours in Morocco through the Atlas Mountains to get to the Sahara!   I slogged through tons of reviews (like Morocco tours Tripadvisor) to find the best option for me.  Since I was going to be by myself,  I had to be careful when I was looking at Morocco private desert tours because they wanted to gouge me!  Finally, I found one of the Morocco tour operators that didn't overcharge.  Read to find out about this experience and what to know before you go to the Sahara!
Price ~ Morocco Tours Budget
I searched high and low looking for a good deal on these trekking tours in Morocco.  I originally saw a competitively priced package of flights, transportation, and activities, but it didn't go to the one place I wanted to go… overnight in the Sahara desert of Morocco .  I did my due diligence, dug around, read reviews, compared itineraries, asked for quotes, and I settled on  IGoMorocco.com.  I must've looked at over 30 Morocco tour companies.  What was frustrating about over half of those companies is that they hid their price until you asked for a quote!  Since I was going alone, some wanted to charge me over $1000 for the same itinerary!  Don't waste your time or money. Use IGoMorocco.  It is $93.31!!!
I later found out that you could also arrange for similar tours through your Riad (hotel), but the prices were comparable, and I heard the vans were inferior.  Plus, I like having my plans in advance.  And they pick you up from the airport!  My riad would've been impossible to find without my driver dropping me off (Thanks Youssef!)
Guides
Another reason that I chose IGoMorocco as my Morocco tour operators is that it's locally owned and operated!  So we had a few different guides that were experts on their specific spot!
Ait Ben Haddou
Mohammed had the biggest head wrap that I had yet to see.  Maybe he was just a big deal; I'm not sure.  He guided us around to find some good spots for epic shots before we even got to the Kashbah.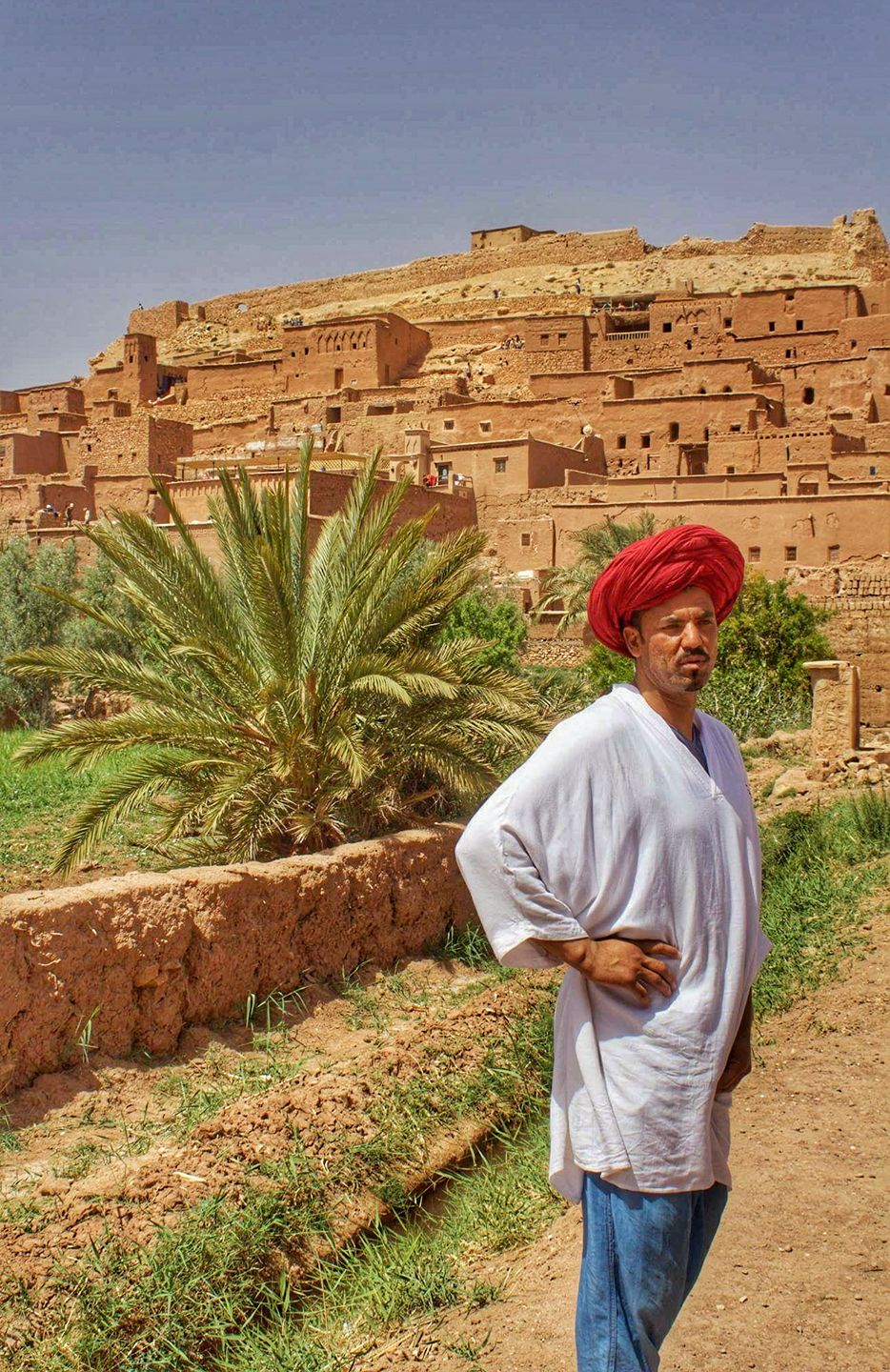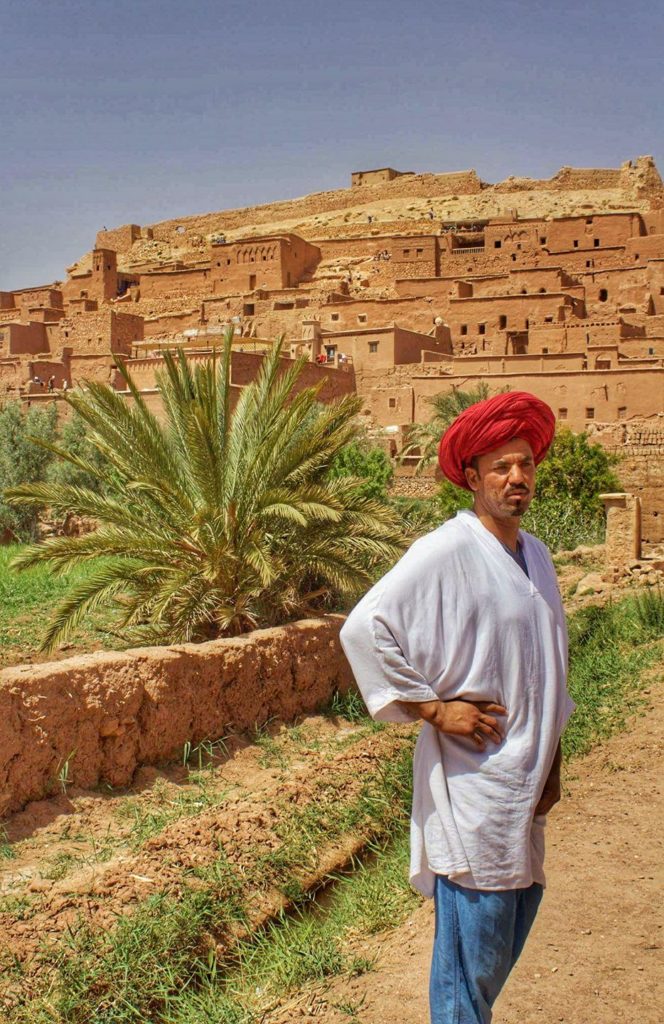 After we crossed the river (there will be small boys who offer to hold your hands while you cross and then demand money), we started learning about all the movies that were shot here!  The list is long and amazing, but the top ones would be GAME OF THRONES, Gladiator, Inception, Bourne Ultimatum, and American Sniper.  Apparently Ouarzazate is considered the film capital of Morocco.  Know whats really fun? Pronouncing Ouarzazate.  It's like Where-za-zat.  Say that five times fast!  Almost as fun as saying, "I edited it" five times fast, lol.  I feel like pretty much all the companies go through Ouarzazate for desert tours.
He also suggested that we buy some head scarves here for about $5 USD  as they'd be $12 in the desert.  He was both right and wrong. It was a good idea to buy there because I had some time to practice wrapping it, and also I never saw a place once we got to the desert to buy them.  I found them for $3 in Essaouira though.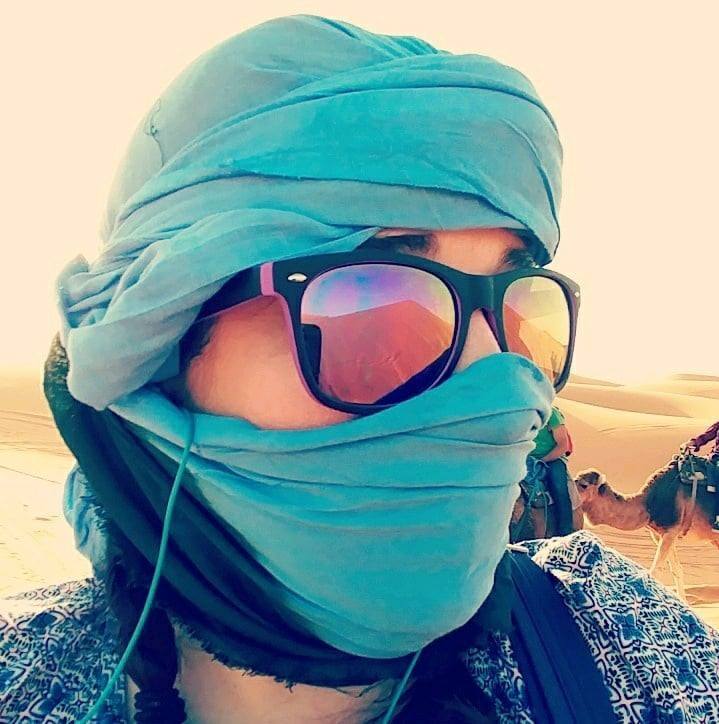 Oasis Walkabout
Aziz looked just like the brother in Prince of Egypt.  He showed us around the Oasis (They say something that sounds like Wa-ziz…. I figured out that it was Oasis), and it's pretty incredible.  Everywhere has a reddish-brown dusty color and then here nestled between some rolling hills or mountains are these lush oases.  It's like being in another world.  Aziz explained how the land is split up (and also that the women don't like their pictures taken).  Also met some fun donkeys!
We ended up doing something that I think most tour operators wouldn't do which is one of the cultural Morocco tour excursions!  He took us into another city and talked about how Jewish and Muslim people used to live here in harmony.  That's kinda nice 🙂  What I wish Aziz would've told us though, is that to end the impending carpet show, that all we had to do was to walk away.  Aziz brought us into a room where we learned about how they make berber carpets and what all the symbols mean.  We even got to practice pulling wool.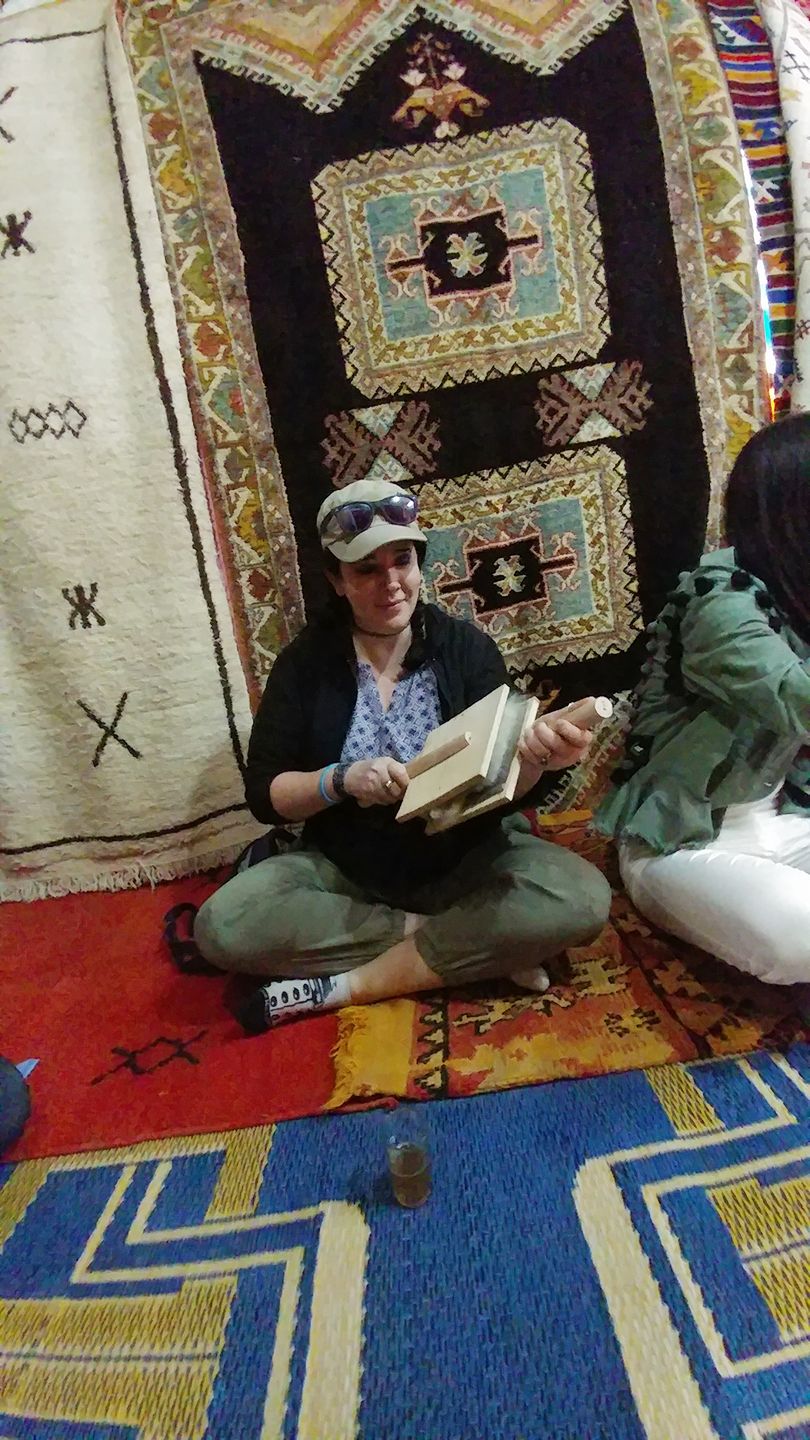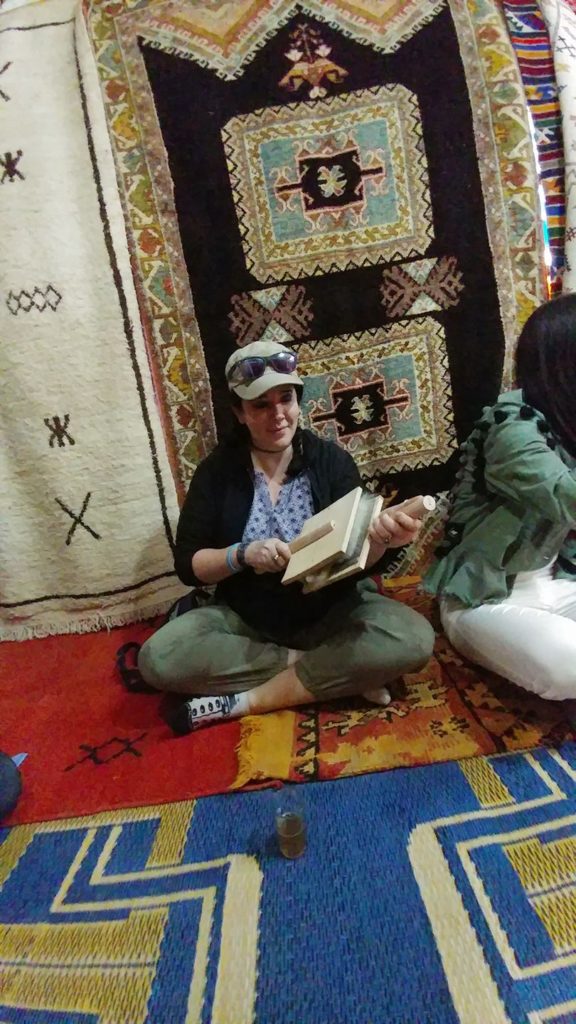 He kept bringing carpet after carpet and assuring us that we didn't have to buy.  At first it was really nice to see all the carpets, but as my tea cooled, so did my attention.  My heart was set on seeing the sunset in the Morocco desert, and if I missed it because homeboy wanted to show me an hour's worth of carpets, I was going to be upset.  I summoned my courage and politely asked if we were still going to make it to the desert for sunset.  I really hated to say anything because I didn't want to be "That American," but what can you do.  Apparently everyone else but the group of Chinese girls felt the same.  That's when he told us we could leave when we wanted to. So we all got up, the girls bargained for a rug, and we got out of there.
C'mon Aziz… just tell us in advance!  So I'm telling you!
The Sahara!!!
The part I was waiting for!  The whole reason I came was for the camel tours in Morocco! Each camel train got their own Berber Guide #Legit  Mine was Ismael… a surprisingly Rasta man with curly hair.  He also had a massive turban, but his was very colorful and looked like it'd be more at home in Jamaica.
When we first started out, I felt bad that he was walking while we were on camels.  About 45 minutes into it, the pity shifted from him to me because the camels are wildly uncomfortable.  Ismael's job wasn't so much to inform as the previous guides were. His job was to make sure we didn't fall off the camels, and that we got to the camp OK.  What he did above and beyond his job was taking pictures of us silly tourists! He really went to town on those cameras. He took multiple shots and angles, so we had a lot to choose from.  I super appreciated that 🙂
After dinner, I went out to set up shop to try and take some star trails pictures.  I'm still working out to make them, so it took me some time to set up. He saw me out there, brought me a blanket and kept me company during the incredibly dull 2 hours or so that I had to press a button every minute (My remote wasn't working well :/).
When we left in the morning, he also filled up an empty bottle with sand for me to take home! I'm still trying to figure out the best way to display it!  Any suggestions?
Overall, I found the guides to be knowledgeable, friendly, and spoke very good English!
Hotels
The first night we stayed in the Dades Gorge (pronounced Dah-des) in Guesthouses.  If you're looking for Morocco tours on a budget, I think you'd be surprised at how far your money goes.  Even on this very cheap tour, we had nice places to stay.  The view out my window was incredible, and I was able to hear the sounds of running water which was really peaceful.  I had a room to myself, but I'm honestly not sure if that's usual if you're traveling alone.  The other people were in small groups or pairs, and I'm not certain that if there was another solo person if we would've been grouped together.
The bed was comfortable, the bathroom was small but functioning, and the water was hot.  You really can't ask for much more than that!
Night two found me in the desert in a Bedouin camp!  We met up with other Morocco tour operators at this camp, and I was happy that I had paid less than they did.  I was in a large tent that had a blanket separating one "room" from the other.  Had someone else been in that bed, I could've scooted my head up about a foot and seen that person.  I was quite surprised that there were light bulbs in the room! I'm sure I could've tracked down a charging port had I asked, but I had made arrangements to not have power, so I didn't worry about it.  All the Berber Guides had phones, so there's definitely something charging them!
A word of caution, ALL AROUND the camp is CAMEL POOP!  Ismael called them Camel Chocolates haha. THEY ARE NOT CHOCOLATES!  It doesn't really smell, and they're pretty hard, so it's not really an issue. Just be aware, lol.
I was a little worried about being cold and being attacked by scorpions.  I ended up being a little chilly (I even slept in my camel clothes and everything), but I just nestled deeper into the slightly scratchy Berber blankets.  It wasn't a big deal, but I was silently wishing that I had brought my soft blanket with me (I left on the bus :/).  I asked Ismael about scorpions, and he said that it was still too cold for them (I went in April).  So if you go in the summer, that might be something you'd have to deal with.
Transportation
The pickup in the morning before the tour was in a small car and another Spanish couple which made it feel almost like a Morocco private desert tours!  But then we were then brought to another area where I joined a different group on a bus, and the couple went somewhere else.  I'm assuming it's because we were picked up based on our area of the city and then separated based on what trip we went on.  I actually appreciated it rather than one bus going around and collecting everyone. I've been on tours like that, and it's a huge pain and waste of time.
The bus out to the desert was luckily mostly empty because the seats were really small.  I had the whole back row to myself which let me stretch out. It was air-conditioned and very clean.  I think when you're picking your Morocco travel company that it's important to keep the transportation in mind… you'll be in that van for awhile!
The camels used for these "Camel tours" in Morocco are actually not camels at all, but dromedaries.  There's your little fun fact!  The dromedary ride was really exciting for the first few minutes, and then I was distracted by how AMAZING the desert looks. It seriously looks like the Sahara is a painting and a fake backdrop.  After about 30 minutes I found myself checking the time because my booty started to hurt.  If I had to do it again, I'd bring that soft blanket to sleep in but also to sit on the camel!
We did spend a lot of time in the van though.  Just in case you wanted to know, here are the driving times!
Day 1: 6.2 hours
Day 2: 5 hours of driving and 1.5 hours on camel.
Day 3: 8.7 hours and 1.5 hours on camel
Luckily they stop about every 2 hours to use the restroom and get snacks!
Food
Let me preface this with the fact that I'm a "picky eater" and that I'm "allergic to flavor."  At least, that's what I've been told.
Breakfast
Seems to be breads and jellies and eggs if you're lucky.
Lunch
Pretty much either Shish Kebabs or Tajines. Shish kebabs are basically meat on a steak.  I was pretty hesitant because when they first brought it out, they were so ~yellow~ that I was afraid that my poor tummy couldn't handle it.  They were surprisingly flavorful while not being overwhelming! I found a recipe to make them here!
The tagine/tajines are named for the earthenware pot that they are made in!  It's slightly conical which traps the steams and then funnels it back down into the stew-y mixture of meat, veggies, spices (even cinnamon!) and even fruits!  They use that shape because it requires less water to cook it all; for a desert people, it makes sense! Here's a crockpot recipe!
Dinner
You guessed it… Tajines!  And something else included that's not edible is the music!  You'll be serenaded by drummers and singing!
Activities
For a full itinerary, check here!
Day 1 of the Trekking Tours in Morocco!
Day 1 took us to Ait Ben Haddou which was amazing!  It was definitely worth the hike up!  They've filmed many things there, but my favorite is Game of Thrones's Yunkai!
We spent the night in Dades Gorge, and the view was incredible!
Day 2 with the Morocco Tours Excursions!
Day 2 took us to an Oasis and carpet salesman.  Getting out of the car was nice, and it was great walking around and seeing all the farming!
We drove to Todra Gorge to walk around in before lunch.  The walls were absolutely massive. I stepped in a puddle because I was looking around so much.  Cuidado.
Then came the Sahara Trek!  Driving up to it was insane.  The horizon went from flat nothing to small dusty brown hills to GIANT DUNES.  I'd seen some other companies go to other parts of the desert that were closer, but these were the real thing!

Day 3 of the Morocco Desert Trips!
Day 3 was mostly just riding the camel/dromedary out of the desert and back to civilization and then driving back to Marrakech (since it was one of the tours from Marrakech, they also bring you back).
Free Time
There wasn't really a lot of "down time" unless you consider the van ride as "free time."  I used a bit of my sleep time in the desert to take some star pics, but that's about it!
The Best?
Seeing the Sahara was truly an epic sight.  One of my bucket list items is to see every type of biome!  I'm not sure what I was expecting, but I was still blown away.  I was also fully prepared to melt in the heat, but it was actually a perfectly pleasant temperature, and bonus, no scorpions!  I'm really happy with my choice of Morocco tour companies, and I hope you try them out.
Getting to see the sun both rise and set was its own separate wonder.  To start off in the dark, and slowly seeing the sun wake up and the light start gently touching the sand…  almost makes you think you could be a poet :p
The Worst?
Definitely being in the van that whole time.  The twists and turns made me slightly car sick, so I pretty much napped the whole time and occasionally woke up to take pictures! Possibly all the sand in my shoe… tough call.
Items to make this trip more enjoyable
I was surprised that I felt a little car sick in the mountains, and I was especially bummed that I took my motion sickness pills out of my emergency stash.  Don't make my mistake!

And the   charger is the bomb dot com!  I said I had made preparations in case there wasn't power, and that's what I used!  Make sure you get one with the most mAh's that you can get.  Most smart phones take between 1000-2000 to charge up. But I also had my ipod and cameras to charge! This one has 22,000!
If you're excited about Morocco, check out these other places to see!
https://www.pinterest.com/pin/669699407059597722/