Is Cuba Expensive? Here's my Cuba Travel Budget!
After my Trans Mongolian trip,  I used my Skyscanner hacks and one of the cheapest ways home was a long layover in Cuba! So if you're wondering how much does it cost to go to Cuba, here's my Cuba budget for my 4 night! Here's another post for some fun facts before you head out to Cuba or what do in Havana!
How expensive is Cuba?
Here's the quick rundown.  Click and read below to get a deeper insight!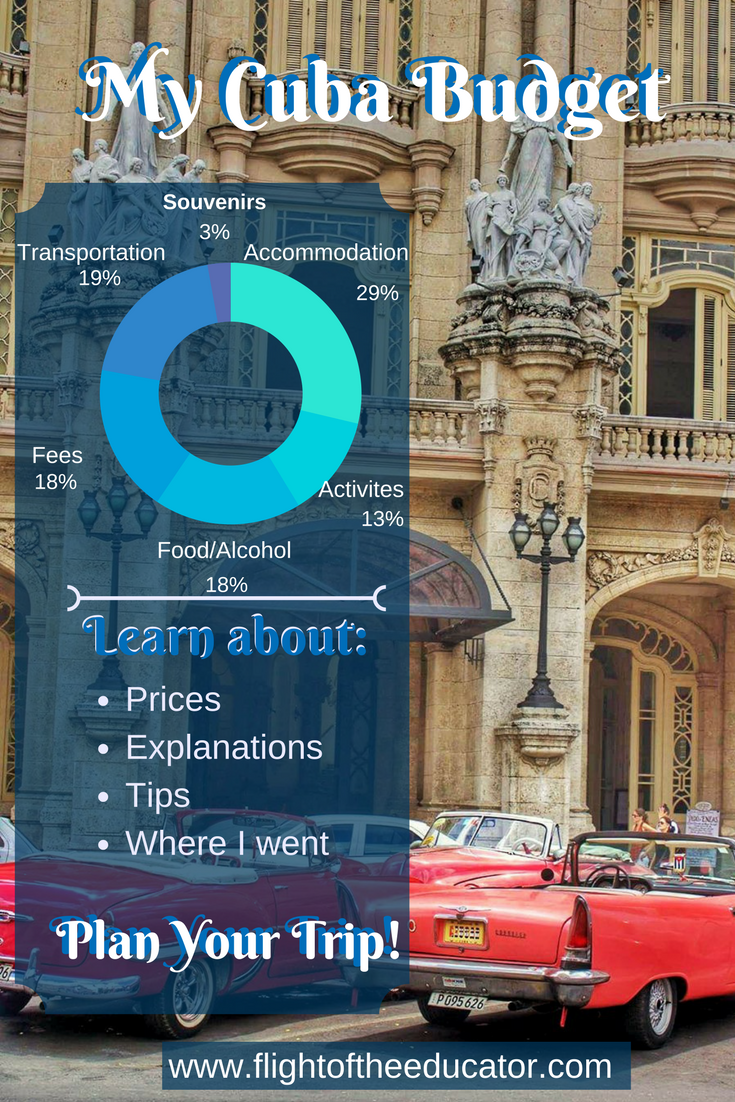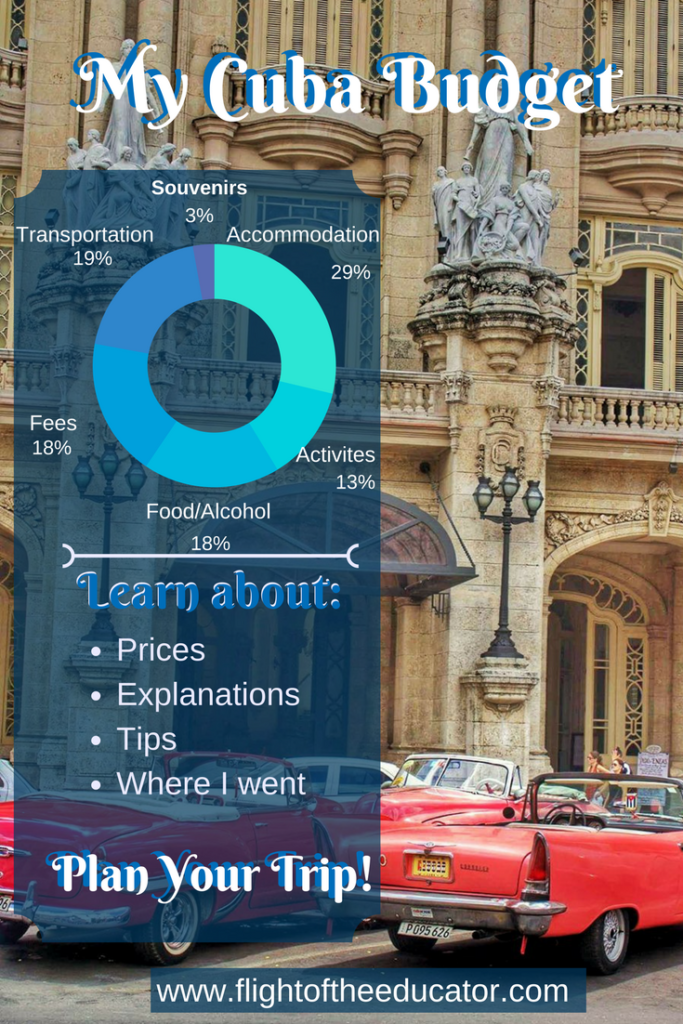 Total: $963.21 for 5 days.  Check each section below to see a breakdown!
Flights Getting to and from
Accommodations Casa Particular and All inclusive
Transportation  Taxis and a Bus
Food Yummy Cuban food 
Alcohol Beer and mojitos!
Activities Many things to do!
Souvenirs Slash Presents!
Fees Visas, man :/!
Flights
Could you do it cheaper? Depends where you're headed.  Same flight? I can't imagine so.

Keep in mind: Your Origin!  Where you start your journey will definitely impact the price.  Please read my post about how to score the best deals possible on Skyscanner.net.     To get these cheaper fares, I also used my Southwest points. You can get flights for like 5,000 points! And you can earn 40,000 points if you get the credit card!  I post good deals when I see them, so always keep an eye out on my FB account!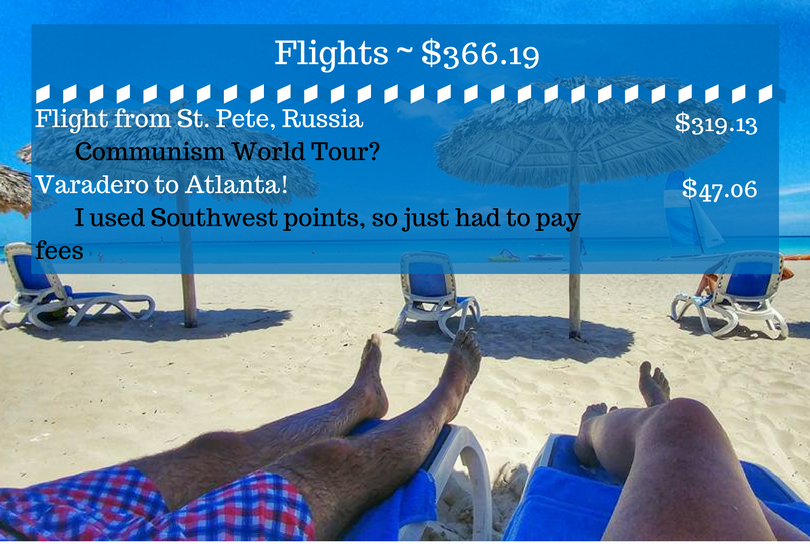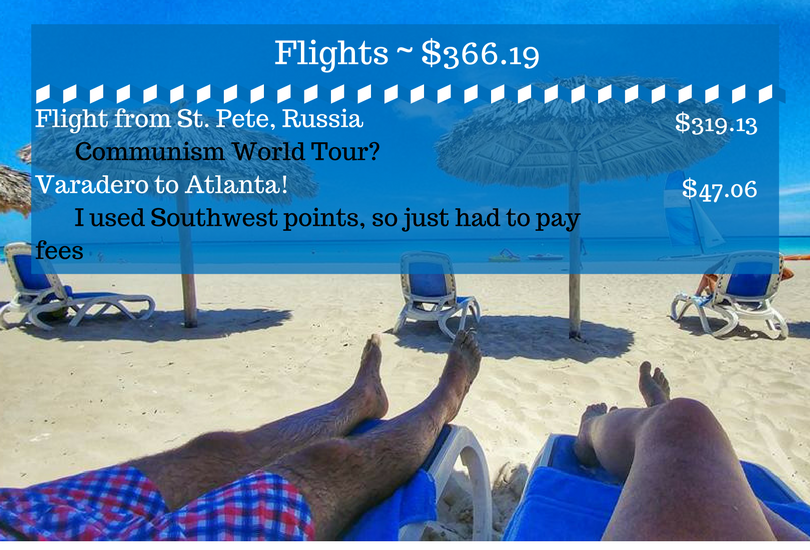 When I used my Skyscanner tips, I found that one of the cheapest ways out of Russia and back to North America was through Cuba! Then it was a simple use of my Southwest points to get back to Atlanta!
Accommodations
Could you do it cheaper?  If you stayed farther away in Havana, but that was the cheapest all inclusive in Varadero.

Keep in mind:  Varadero hotel included food and drinks as well!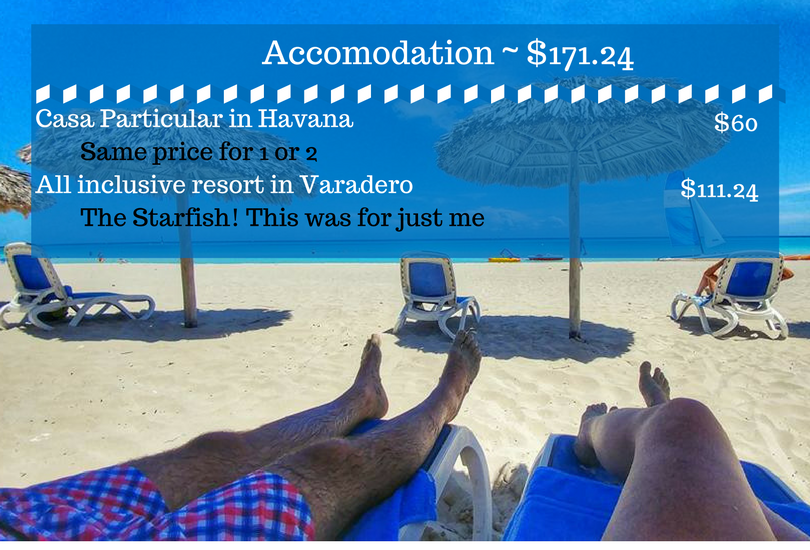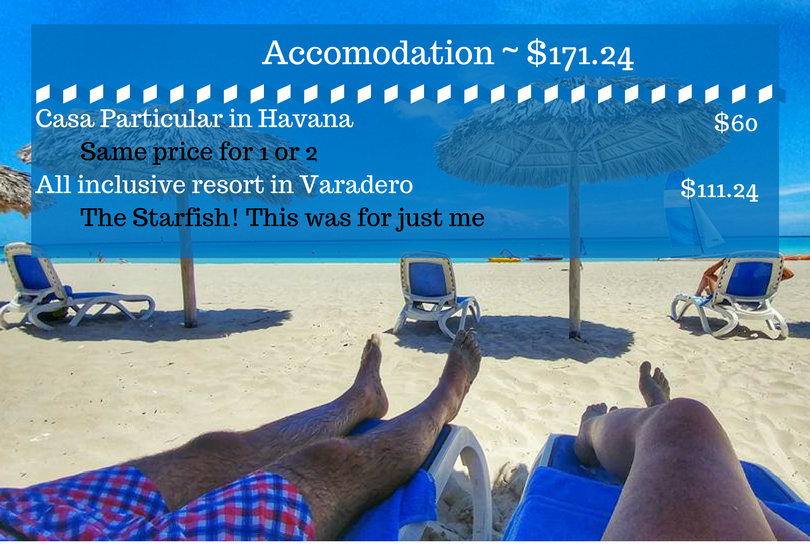 The first two nights were at a Casa Particular right on the Plaza Vieja Square.  It was really great being so close to the Plaza because it made it super easy to find again!  A lot of Havana is very similar, so if we got turned around, we just had to ask for directions to Plaza Vieja and BOOM, there was our CP.
I used HavanaCasaParticular.com, and I looked in Old Havana. It was very close to many beautiful places! So is Cuba cheap?  I'd say $30 for a night in the middle of the capital says yes!  And $50 a night at an all-inclusive? Oh yeah!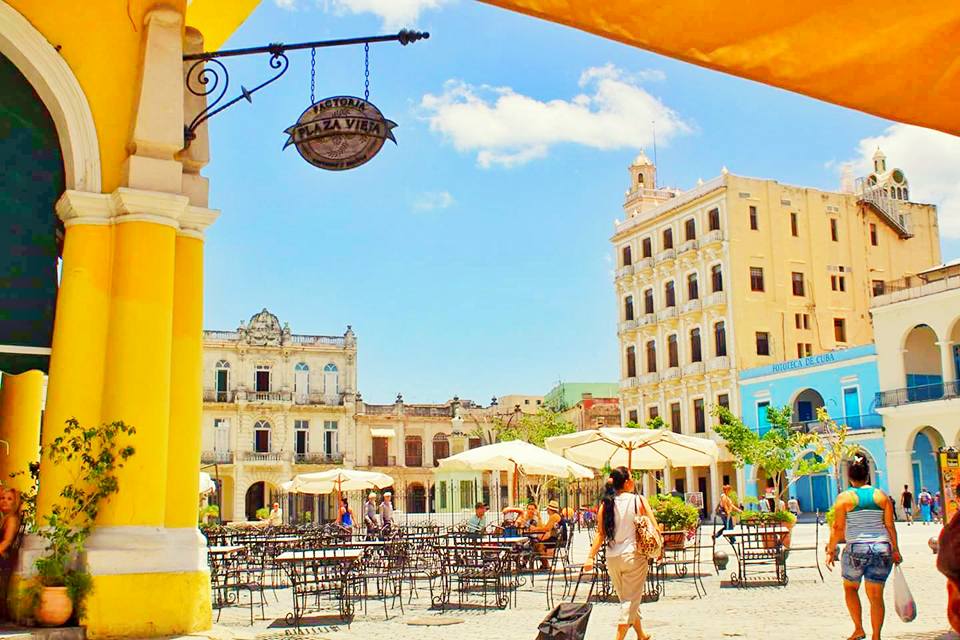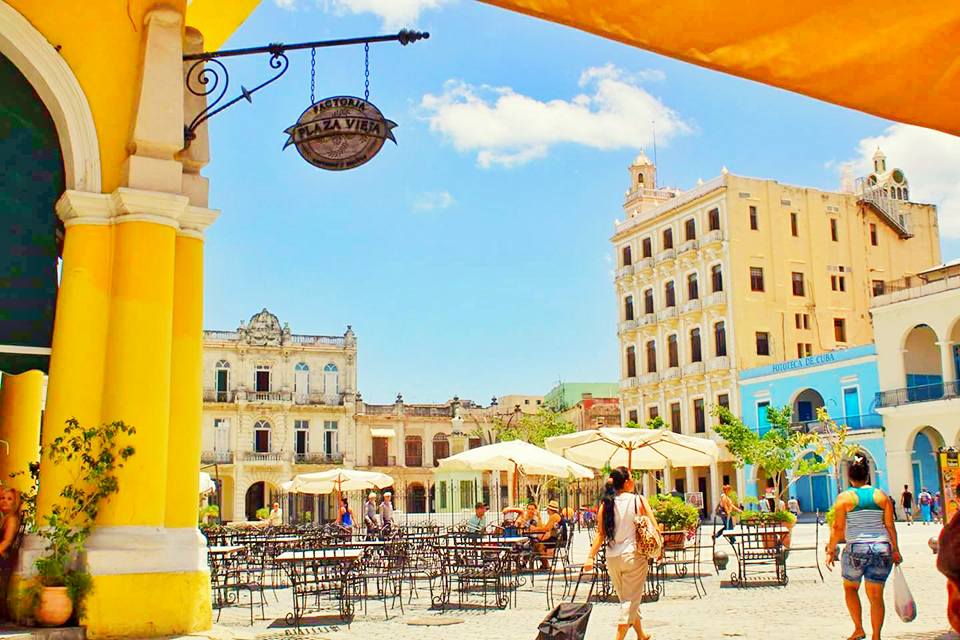 The next two nights we decided to be a little bad and head to an all-inclusive in Varadero. The price is for 2 people and included all food and drink!  I say that we were a little bad because ~technically~ I don't think Americans were allowed, but we did run into quite a few of them there (and ran into no trouble entering the US).
Here's the resort that we stayed at 😀 Flamingo blanket is mine (softest EVER), but the maids folded the bed's blanket into a swan!
Check out this blog if you're interested in some other cities!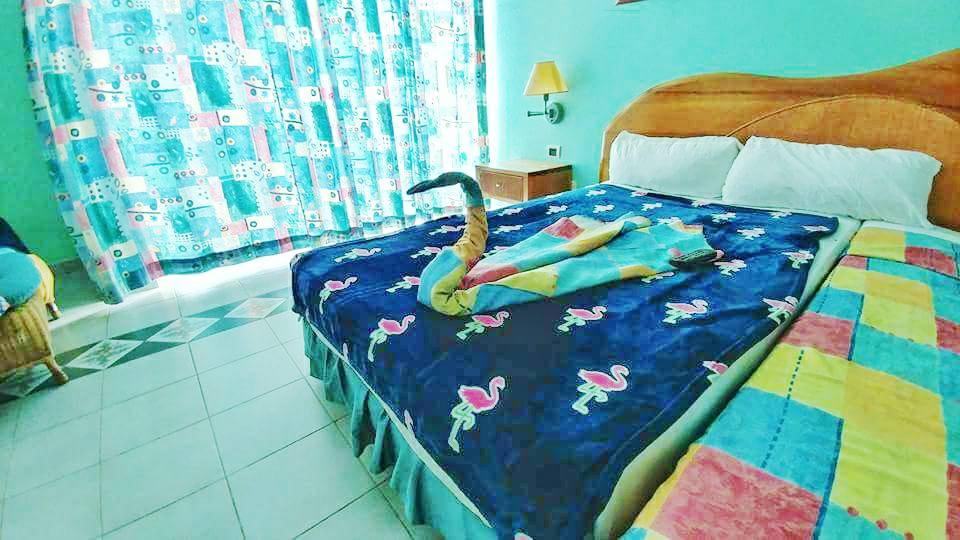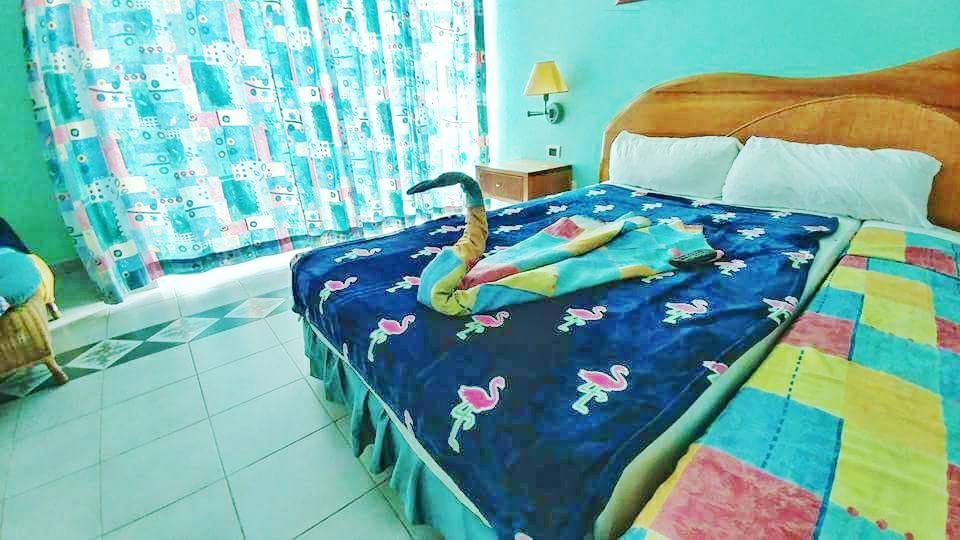 Transportation
Could you do it cheaper? If you want to walk it, but ugh.  There were also some little bicycle taxis peddling around that you could take for short distances where cars can't drive (I don't think they could take us to the bus station, for instance).

Keep in mind: I can't believe we got a bus to another city cheaper than a taxi in the city lolol.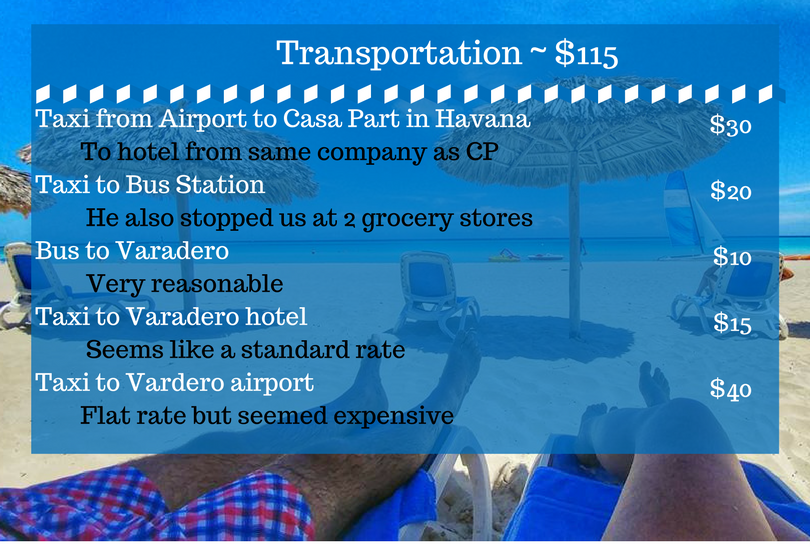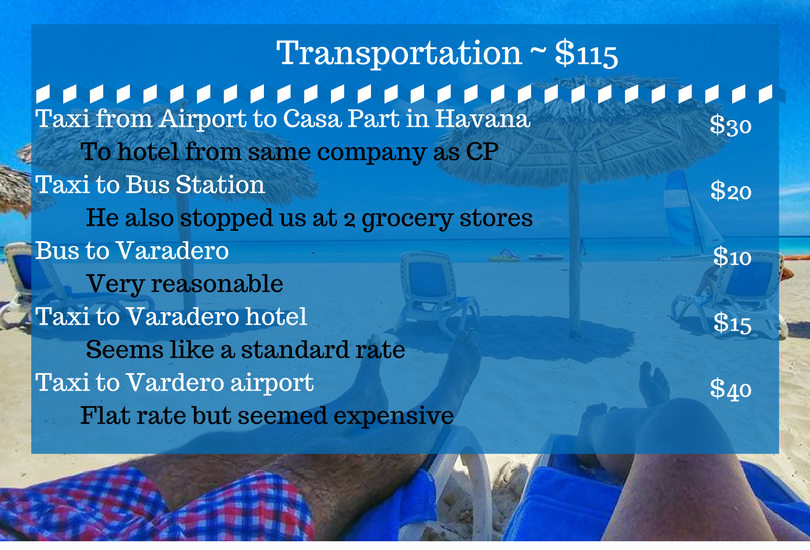 The taxis were a little more expensive than I would have thought when I was calculating my trip to Cuba cost!  I'm sure they up the price for tourists.  A few times I asked a few drivers (in Spanish) and they all gave the same price.  But I bet the price would be lower if I was Cuban!
Food
Could you do it cheaper?  We ventured to some nicer restaurants, but if you go to CPs or farther away from tourist places, you should be set.

Keep in mind:  The all inclusive resort included all food, alcohol, and water.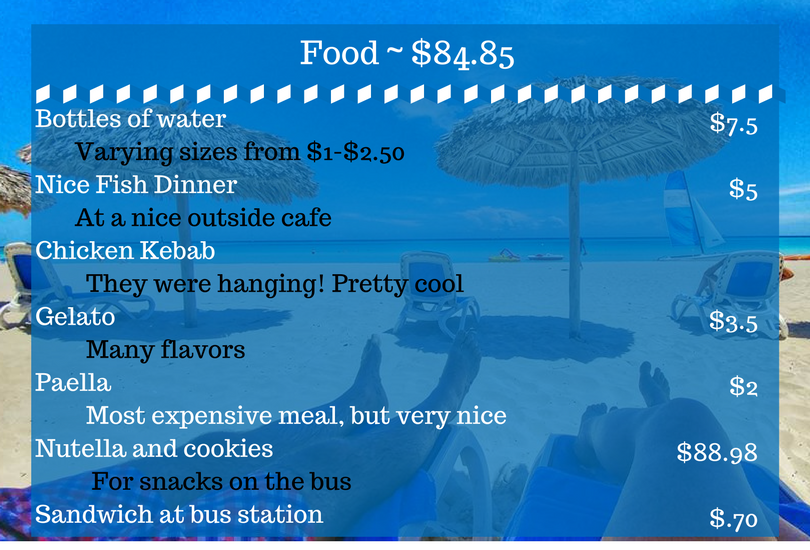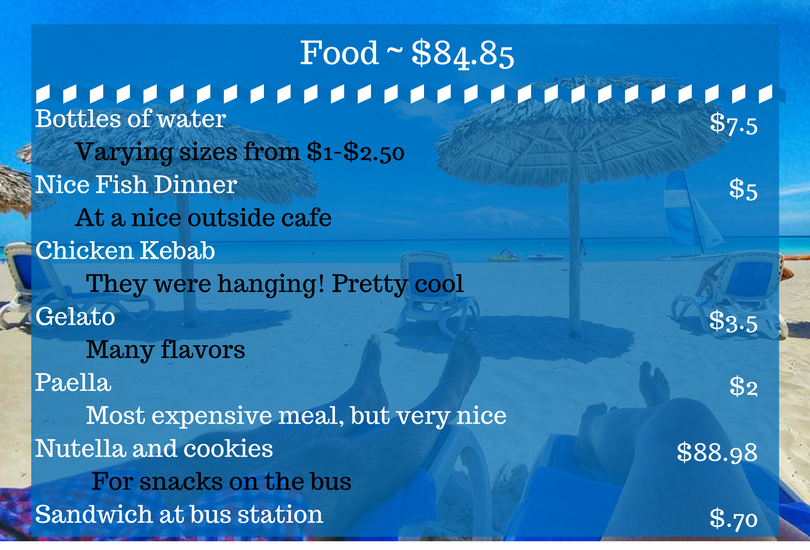 Most of the food budget seems like it was for water! It was so hot, so it was important to keep hydrated! These costs were just for me though.  This restaurant close to Plaza Vieja (called Mojitos I think… consequently… best Mojitos!) had this super near piggy grill and paella! We didn't eat the piggy grill. We just got a pic of it 😀  They also had a great menu of other wonderful traditional Cuban food.
And underneath our Casa Particular is the hanging kebabs!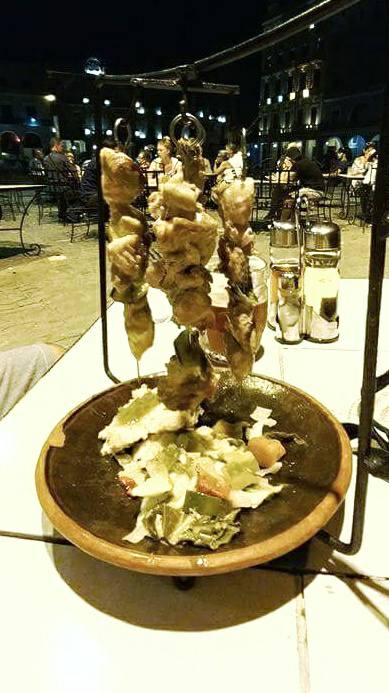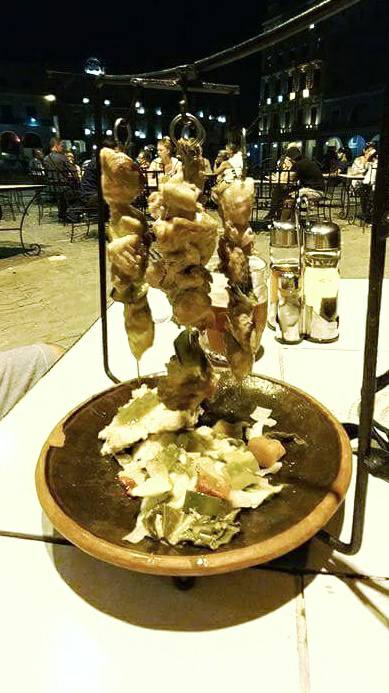 You can see while the water bottles were slightly more expensive, the food prices were pretty good.  So if you're trying to figure out how expensive is Cuba, I'd say overall, it's not.
At Starfish, you could eat at the buffet, or make a reservation at a fancy restaurant. Make sure you make a reservation!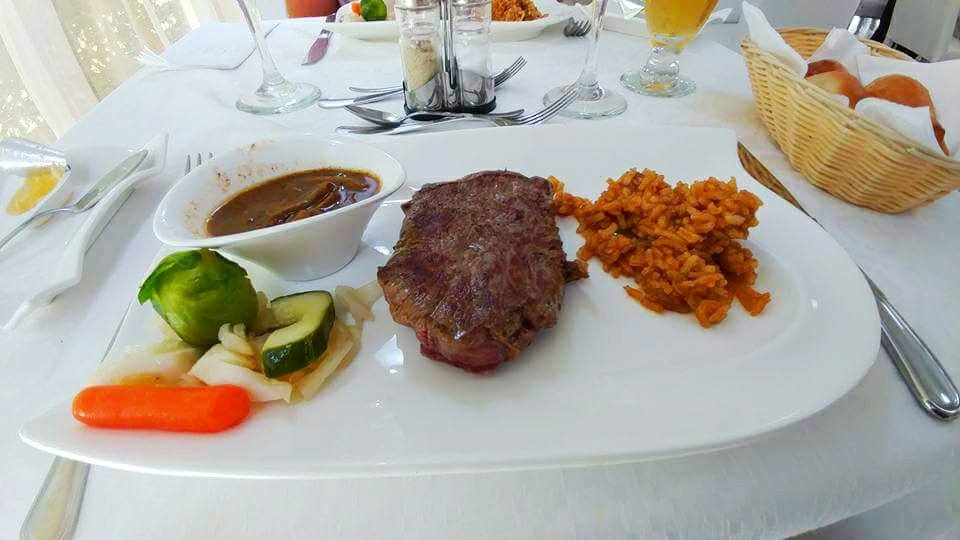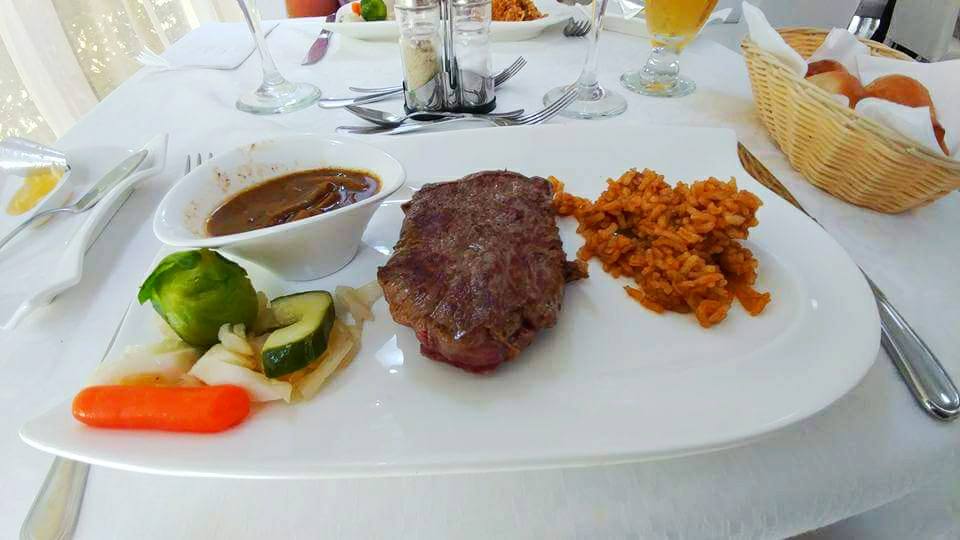 Alcohol
Could you do it cheaper?  I feel this one is obvious…

Keep in mind: Varadero was all inclusive, so we didn't have to buy there.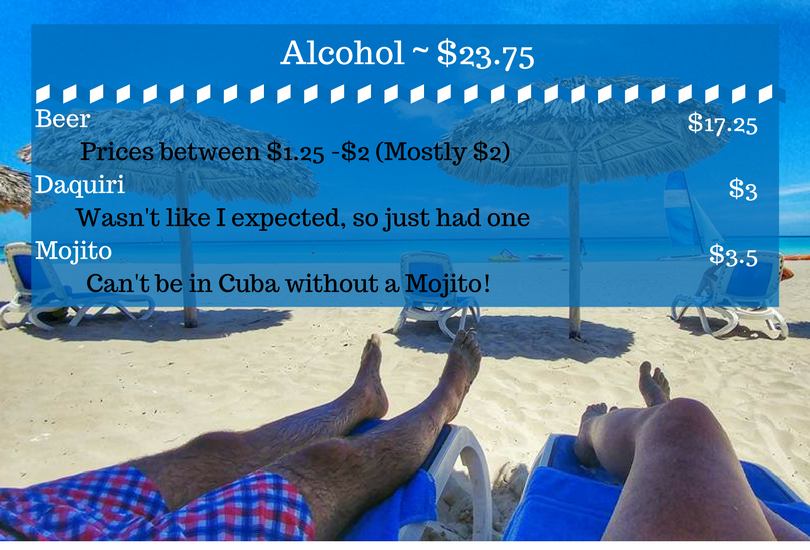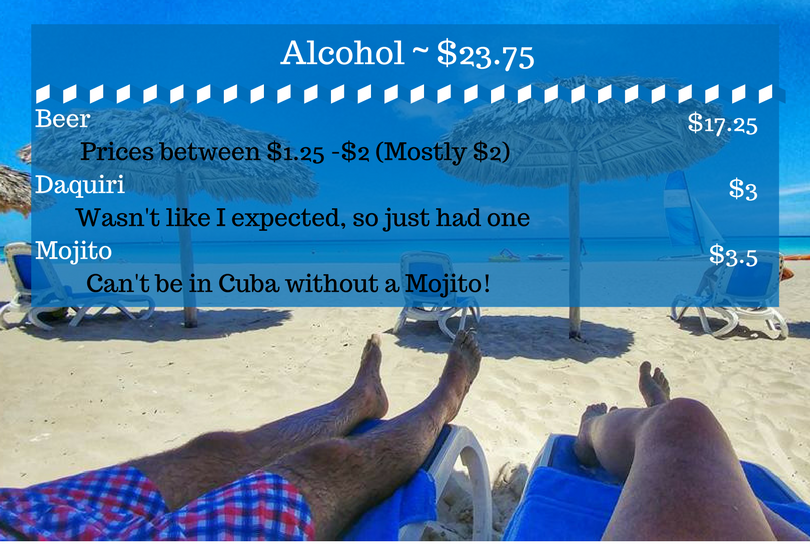 The alcohol was pretty cheap in Havana. I've seen it cheaper in other countries like Cambodia, but it counts as cheap if it's cheaper than back in Atlanta!  
Activities: 
Could you do it cheaper? The Buena Vista is pretty much a tourist trap, but hey… We're tourists!  The singing was cool, as was the dancing.  

Keep in mind: Just wandering the city was great. I didn't feel the need for too many activities. And of course in Varadero, the activities were… beach lolol.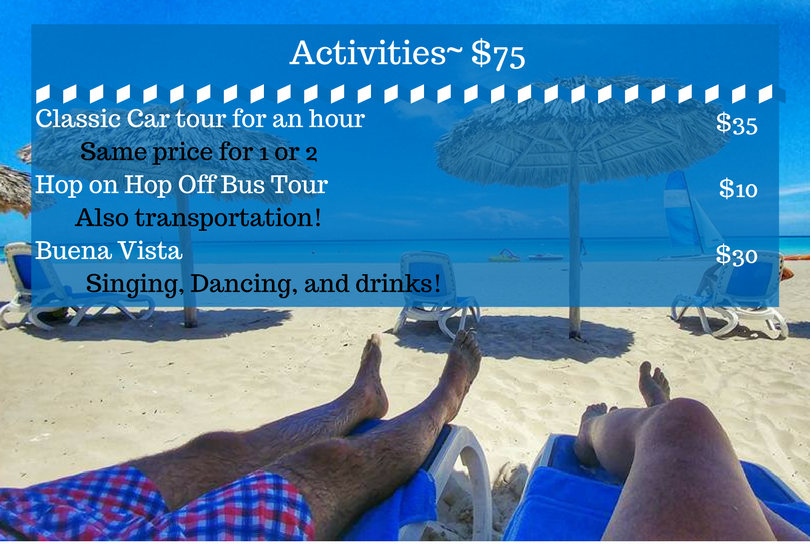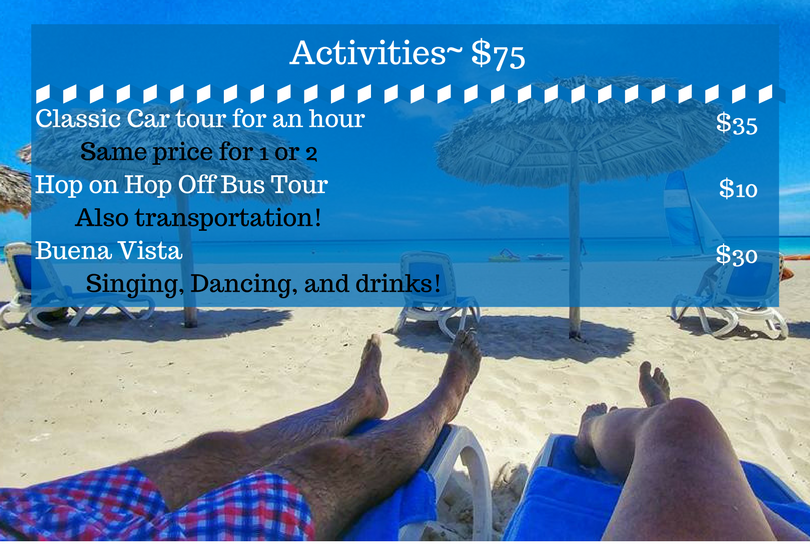 I guess we didn't do too many "activities"!  The Trans Mongolian trip was pretty much a whirlwind trip, so I was excited to just chillax in Cuba.  I did find a Hop on Hop Off Bus (which are my faaaave), but it was all in Spanish.  They also didn't give you a map when you get on, so you have no idea what's around a place until you get there. And they seemed to stop not at stops. So we just kinda stayed on it (especially since it started raining) because we didn't want to get stuck way in the outskirts.  It was nice to see the city though. (And not to walk because it was so so hot).
We also had to do the Classic Car tour.  It was my top thing to do in Cuba! I'm pretty disappointed because I hunted EVERYwhere to find a reasonably priced tour, and I found one on HavanaCasaParticular and booked it, but they "had to cancel."  I was supposed to pay $20 for 2 hours, and because of that had to pay $35 for an hour (and that was haggled down!)  Way not cool.  Maybe you'll have better luck though.   
No trip to Cuba cost would be complete without a classic car ride though! This is well worth the expense!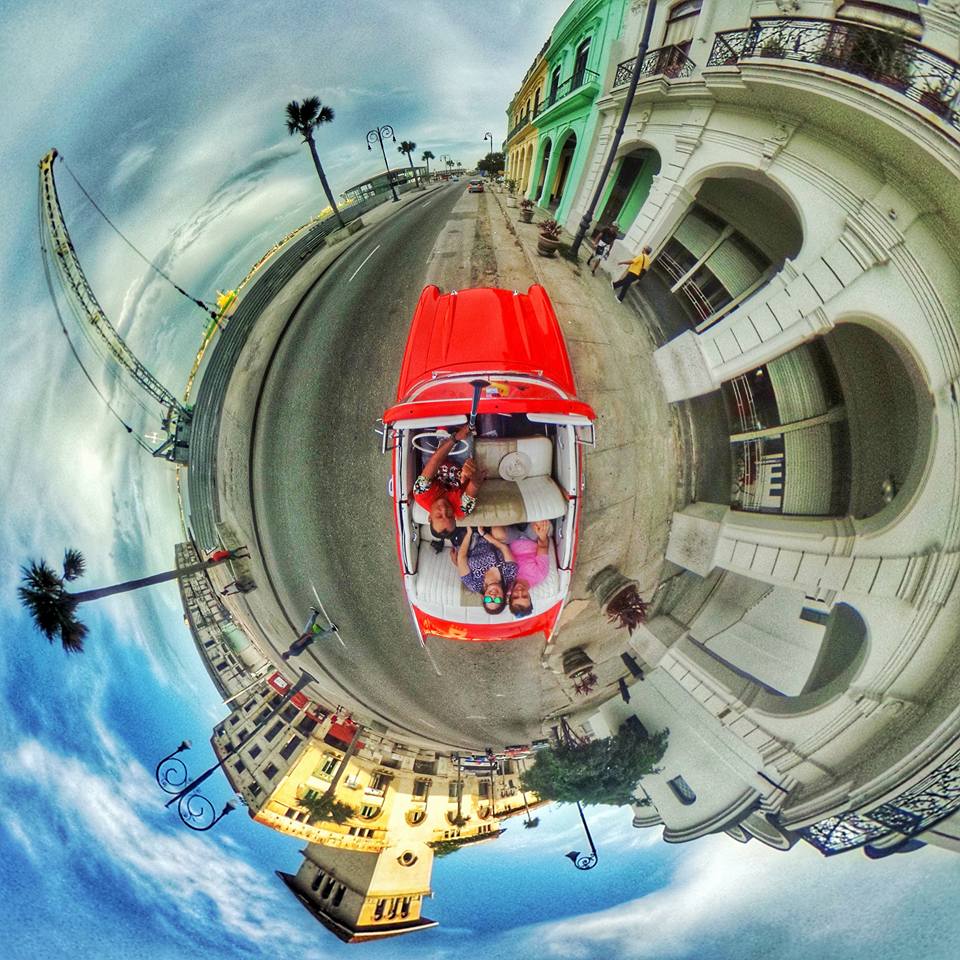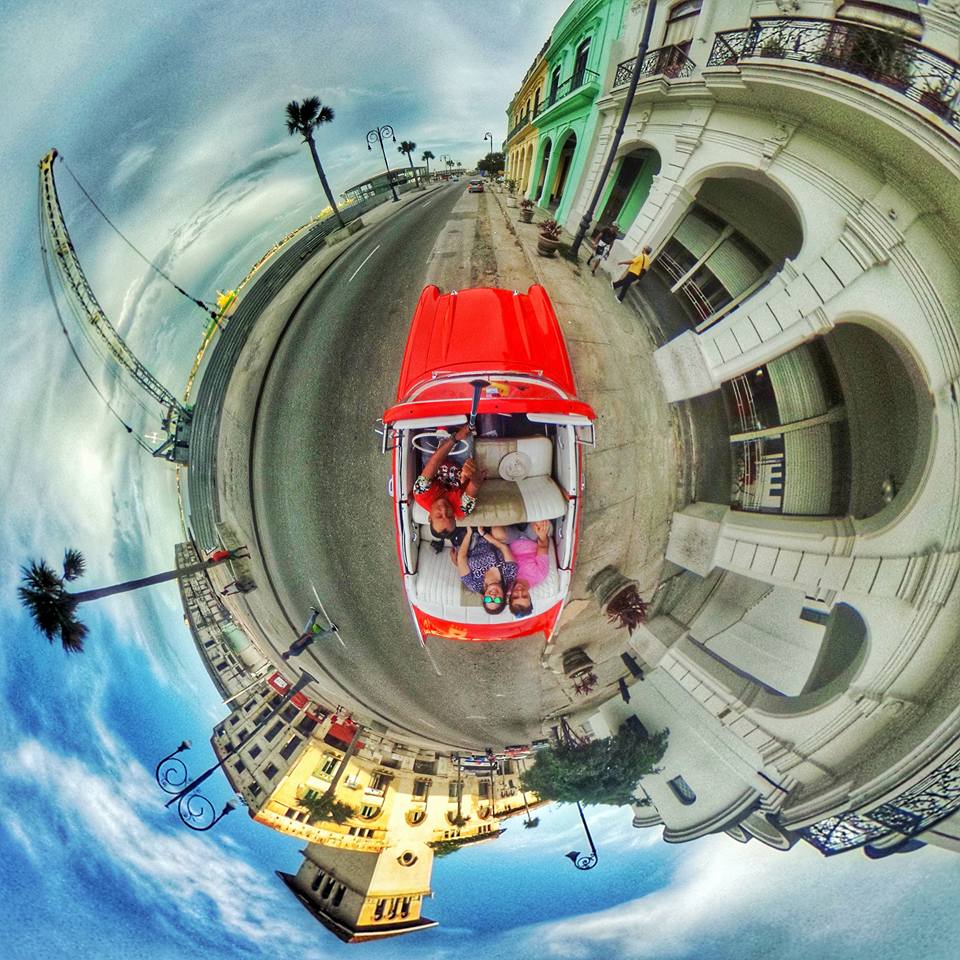 You still HAVE to do it.  We opted for the hour that took us across the water to a fort, Che's museum, and a Jesus statue.
We also went to the Buena Vista which is apparently a "Must Do."  Our Casa owner suggested it and said he could buy our tickets for us (and also asked for a few bucks for the bicycle cab). I was pretty sure that we could've gotten it cheaper if we went ourselves, but it saved us some time, he was really nice, and that few extra bucks def meant more to him than us.  Tickets could be more expensive if you also got dinner, but we just got the one that included a few free drinks.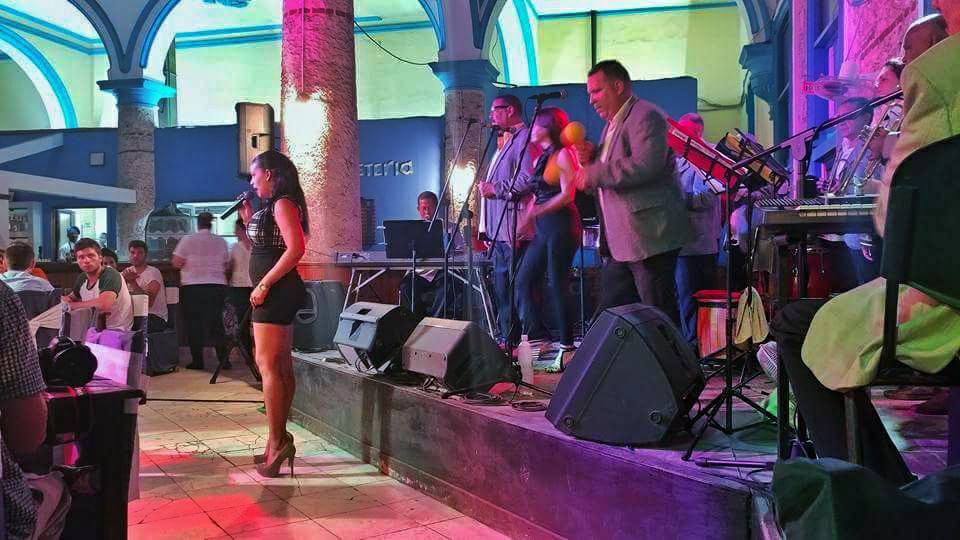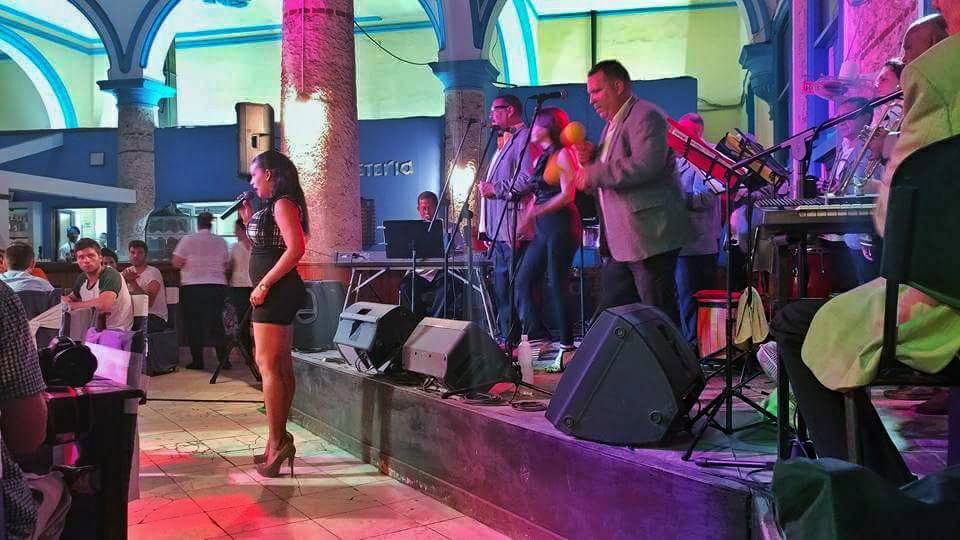 When in Varadero, we mostly just stayed at the resort because I needed some relaxing beach time after my epic Trans Siberian trip!  However, Varadero does have a lot to offer and there are lots of things to do in Varadero!
Souvenirs
Could you do it cheaper?  Well sure if you don't do souvenirs!

Keep in mind:  I couldn't find my decorative spoons D: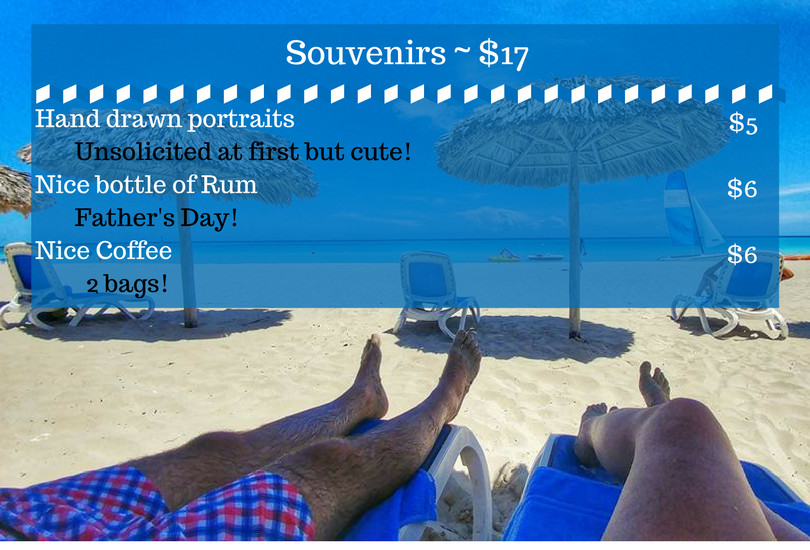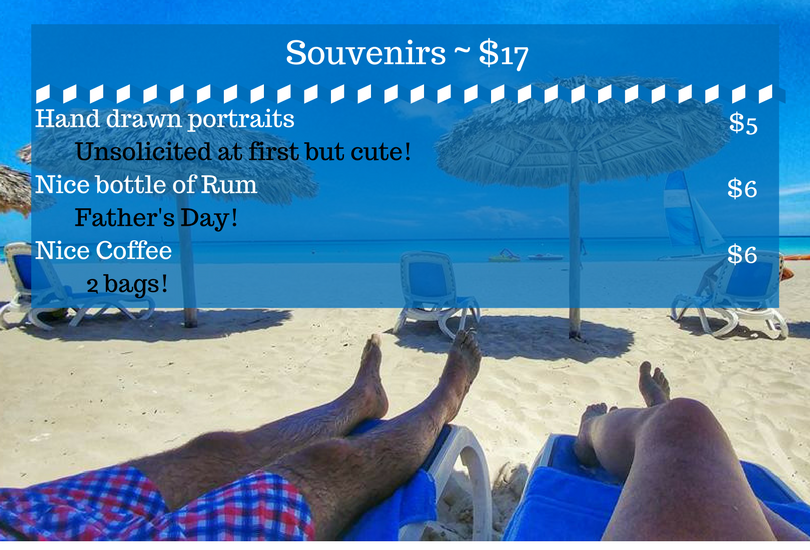 My fave souvenirs are the pictures that a woman drew of us.  We were sitting at a cafe eating, people watching, and drinking… and a woman randomly came up and handed my Bosnian a picture of him and walked off.  We liked it so much that we gave her some money and asked for a picture of me.  I definitely asked her to make me less fat and I feel like I look more fat… but whatever :S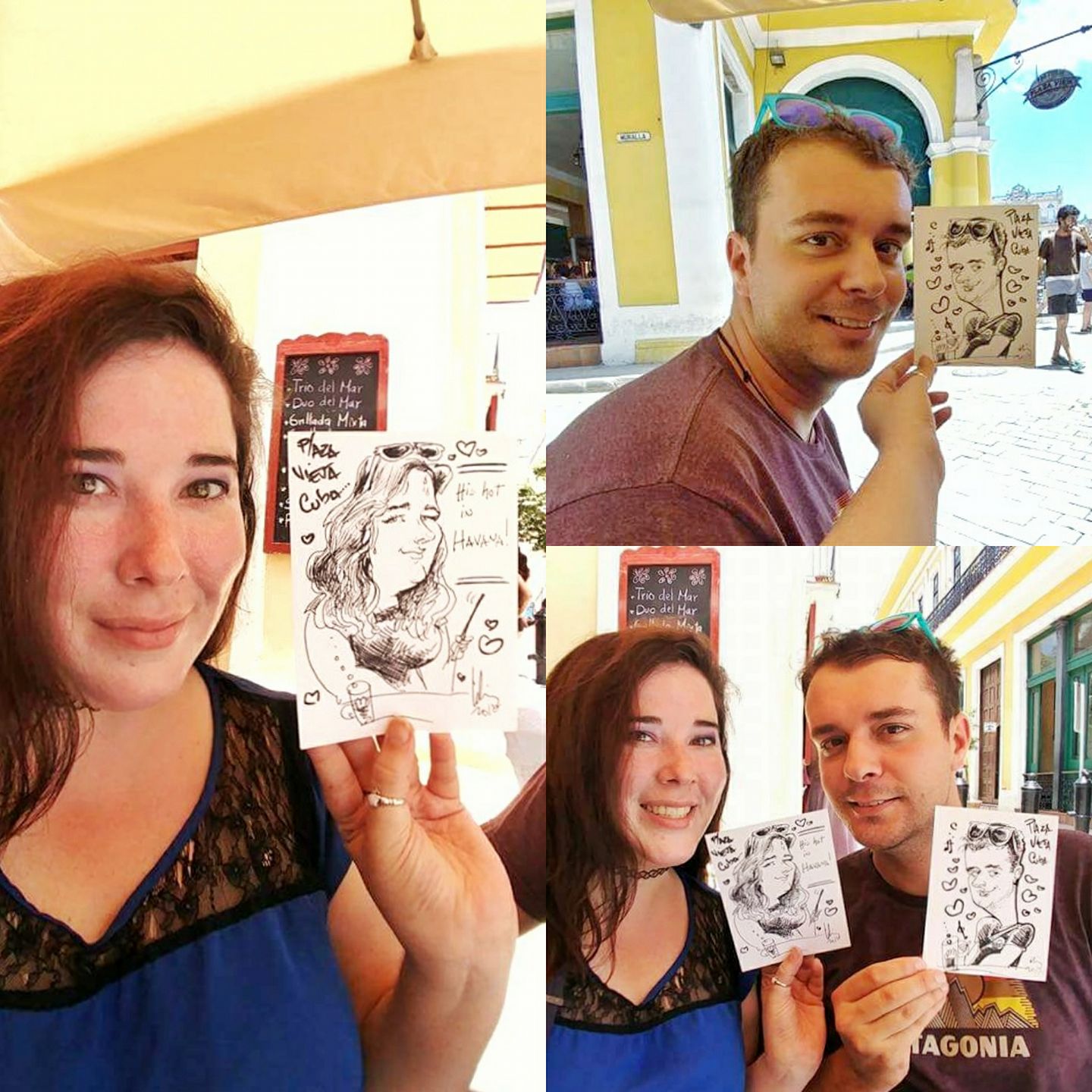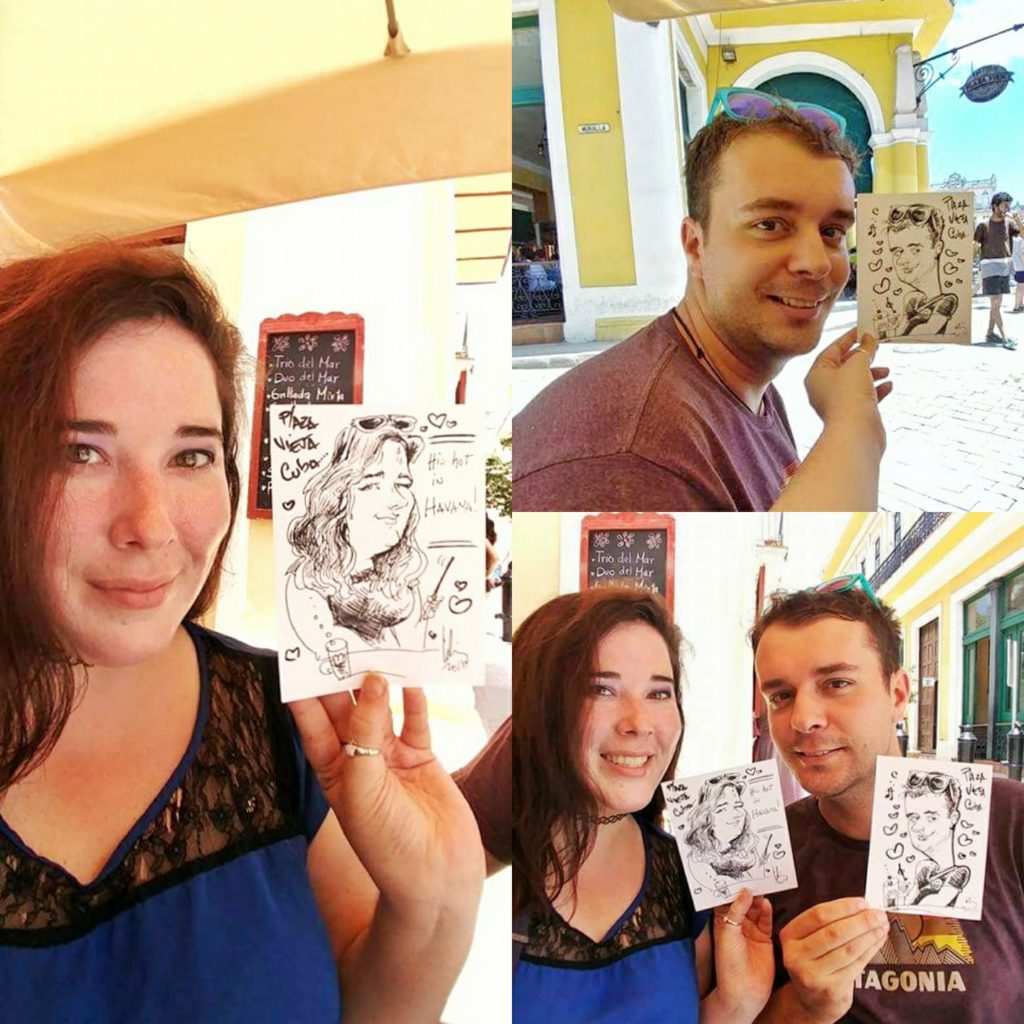 I also grabbed some rum for my daddio and some coffee for my friends 😀

Fees
Could you do it cheaper?  Countries without visa requirements would be great, but alas.
Keep in mind:  I managed to get my Russian and Chinese visas slightly cheaper. Read below!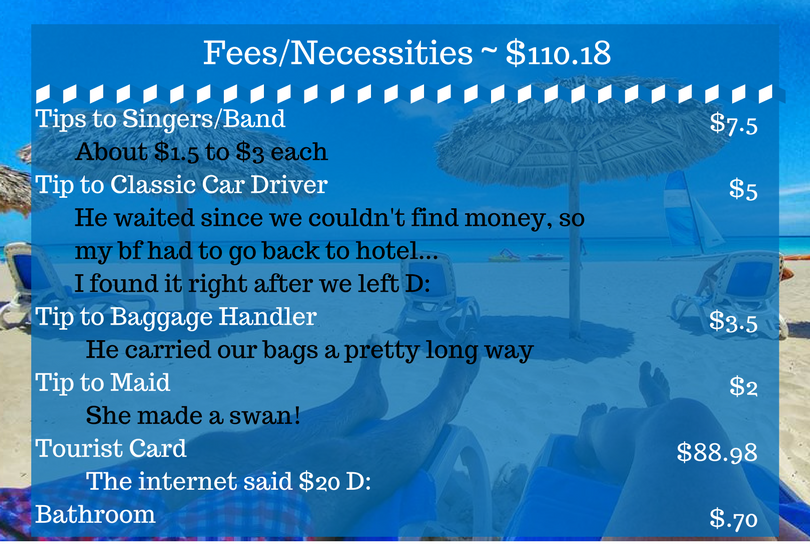 The worst category lol.  
I read online that I could buy my tourist card before I left, and I wish I had. Let me repeat that for those in the back.
BUY YOURS BEFORE YOU GO.  
If you're flying from the US, you should be able to pick it up at the airport (Southwest was $50 I think).  Here's a link to a breakdown of different ways to get your Cuban tourist card! I read that you could scoop it up in Havana for $20, so I thought I'd impress you guys with my saving of money and do that. Long story short, I had a hell of a time even getting to Havana because Turkish Airlines didn't want to 1) check me in all the way to Havana and 2) Let me board in Istanbul.  They said I needed the card. I kept hounding the dude at the desk because he wouldn't let me on and showed him on the site and multiple blogs that said I could get it there.  He finally sighed, said whatever, and let me on.
Well. I did get it in Havana, but it was like $90.  Yeah.  Great.  And because of that I also had to buy a Turkish Visa (they made me exit and reenter the airport, grrr.) for $20.  So to save $20, I ended up paying $60 more.  It said on the website it was only $20, but she just shrugged and said the price went up.  Grrrrr.
If you sit down to eat at a place that has a band or dancers, they will come around every so often with a basket and ask for a tip.  It's not like a church basket that gets passed around.  They pretty much stare at you until you put something in. So try and have some coins available.  My general principle when I travel is that the few bucks I give away in cases like this mean way more to them, so I don't get too stressed about it.  
Paying for Wifi feels way in the past, but here we were visiting the past!  We had to walk a few blocks to a guy's house and ask for a wifi card through a screened door.  Then we had to walk a few more blocks to find one of the few hotels that had the wifi to connect to (and then we had to order something to sit there lol).  It gave me enough wifi to assure my mom that I was alive, and then we were happily unplugged for a few days 🙂  Here are some more tips on getting online in Cuba.
I hope that if you were wondering "How much does it cost to go to Cuba" or "Is Cuba expensive?" that you find this helpful for your trip! Let me know what prices you paid and where!
Pin for later!