11 Natural Wonders in Greece You Need to See
Greece has long been a hotspot for travelers from all over the world. It is much cheaper than other European destinations that are also renowned for their nature (Iceland I'm looking at you) and the weather is reliably warm. But, what really draws in the crowds is its beauty. Mother Nature is truly incredible and nowhere is this more obvious than in Greece. Blessed with a plethora of breath-taking natural wonders, this European gem has left millions of visitors awestruck over the course of history.
Finding affordable Greek luxury vacations is a simple task. You can easily spend a week or two in paradise on a budget that won't break the bank. The tricky part is deciding how to allocate your time. With thousands of islands and more natural beauty than you could ever hope to see in one trip, it is a good idea to have an itinerary planned out before you set off. Because for Greece, natural wonders are all over the place!  I'm sure you'll start with a few days in Athens, and then branch out to these beauties!
Are you ready to start building an itinerary for the trip of a lifetime? Here are 11 of the most beautiful natural wonders you will find in Greece.  And these spots are way more beautiful than even Santorini!
1. Melissani Cave, Kefalonia
Perhaps one of the most outstanding natural features in the entire country, the Melissani Cave will blow you away with its beauty. The cave contains an underground lake, filled with crystal clear, freshwater that is lit up by sunlight pouring through a hole in the roof. To get to the water you will have to walk through dimly lit underground tunnels, filled with glistening stalagmites.
View this post on Instagram
2. Samaria Gorge, Crete
This beautiful gorge runs for almost ten miles through the island of Crete. The walls of the gorge are sheer, chalky cliff faces that shoot straight up into the sky. A sparkling stream runs through the center of the gorge, glinting in the sunlight and at times the gorge is as narrow as four meters.
View this post on Instagram
3. Meteora, Central Greece
Long recognized by UNESCO as a place of unparalleled natural beauty, a trip to Meteora will be unlike anything you will have done before. Huge rock columns plunge down from the heavens, many of which are topped with monasteries or ruins. The area has a magical feel to it, especially when the first light of morning streams through clouds and illuminates the landscape.  While the monasteries are man-made, the dramatic sandstone spears are one of the natural wonders in Greece!
View this post on Instagram
Interested in a tour here? –
I took a tour here with Busabout a few years ago, but it looks like there tons of options on
Tour Radar
!  Tour Radar is like a search engine for tours.  Click here to get
5% off
with them!
4. Petrified Forest, Lesbos
We have all seen forests in our time, but how many of us can boast of having seen a petrified forest? The Petrified Forest in Lesbos, Greece, is formed from the fossilized remains of plants, particularly fossilized tree trunks. Reminiscent of a scene from an apocalypse film, there is certainly something eerie about walking around the Petrified Forest. All the more reason to go and visit, right?
View this post on Instagram
5. Shipwreck Beach, Zakynthos
Surrounded by towering white cliffs, this beach is among the most famous in all of Greece. Not only is it drop-dead gorgeous, but right in the middle of the beach sits a crumbling shipwreck. Accessible only by boat, you will have to put in some effort to get to this beach, but it is worth it. With electric blue water lapping onto white powder sand, this patch of nature is an aesthetic delight.  Read more about what to expect from the beautiful island of Zakynthos!
View this post on Instagram
6. Petrino Dasos, Epirus
There are few natural wonders in Greece more curious than Petrino Dasos. Situated in the north-western part of the country, this site is home to what is known as a stone forest. If you're not sure what this means, imagine huge pillars of rock that look like hundreds of slabs piled on top of each other. That should give you a good idea of what to expect here. These karstic limestone features are wonders to behold.
View this post on Instagram
7. Myrtos Beach, Kefalonia
Yes, another beach. A list of the most beautiful places in Greece wouldn't be complete without at least a couple of beaches. And, this one really is magnificent. You'll need to come down a steep and winding mountain path to access this beach, but once you're there you can kick back and relax. This small cove beach is sprinkled with pearly white sand and turquoise water, encompassed by cliffs.
View this post on Instagram
8. Giola Natural Pool, Thassos
Perfectly clear water inside a naturally carved pool? What could be better? Over on the island of Thassos, in the Aegean Sea, sits the natural pool of Giola. Water lovers and sun worshippers come from all over to leap into the warm turquoise water that sparkles in the endless sun. In between jumps and shrieks of joy, take a moment to appreciate just how incredible nature can be.
View this post on Instagram
9. Neda Waterfalls, South Peloponnese
What is it about waterfalls that completely enthralls and captivates us? The Neda Waterfalls are no exception to the rule that waterfalls are invariably great. To visit these falls, you will need to hike through an impressive gorge, and at times you might even need to walk through the river. It is a tough journey but well worth it for the end destination.
View this post on Instagram
10. The Prespa Lakes, Northwest Greece
Sitting in a remote spot, tucked away in the northwest corner of Greece are the Prespa Lakes. These two lakes represent some of the last vestiges of pure, untouched natural beauty in that part of the continent. Perhaps the most fascinating thing about these lakes is that they stretch over the border and are shared between Greece, Albania, and Macedonia. Wildlife abounds and with mountains in the background, this is the perfect spot to spend a few days.
View this post on Instagram
11. Skiadi, Kimolos
Near the well-known island of Milos, is a lesser known island called Kimolos. Free from crowds and pollution, the island is free to relish in its own rugged beauty. Dominating the landscape here is Skiadi a curious stone mushroom that has formed over centuries of erosion and wind sculpting. If you were looking for something to spice up your Instagram, this could be the one.
View this post on Instagram
I hope this list inspires you to explore Greece's natural wonders and to have the best vacation possible!
Summary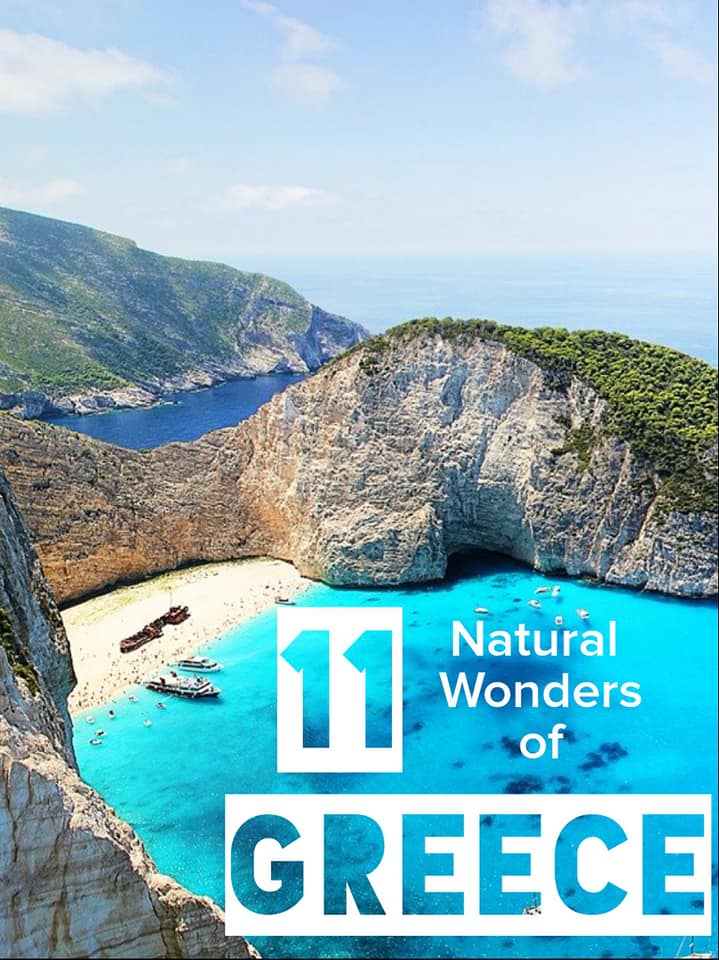 Article Name
Natural Wonders in Greece
Description
Greece is known for classic architecture but is also home to many stunning natural wonders! Read for a map and list of gorgeous Natural Wonders in Greece!
Author
Publisher Name
Publisher Logo