I discovered that I had a 4 day weekend in February (Thanks Presidents!), so I decided to use my trusty Skyscanner Hacks to find a place to go!  I didn't want to go too far since it was a short-ish trip, and I found a good price to have a nice long weekend trip to Mexico! If you're wondering "How expensive is Mexico?" or "How much money should I bring to Mexico?" I bring you, my Mexico Travel budget!
I took the prices in Mexico in Pesos and used xe.com to convert the difference to USD for you.
Accommodation Prices in Mexico
Total: $114.01
| Accommodation Prices in Mexico | Cost |
| --- | --- |
| Teotihuacan Hotel with View of Pyramids | $28.19 |
| Toluca Hotel for 2 nights | $52.20 |
| Mexico City Hotel | $33.62 |
Keep in mind: The second hotel is for two nights.
Could you do it cheaper?  Hostels are always cheaper!
I arrived pretty late at night for my weekend trip to Mexico, so I decided to get a hotel closer to Teotihuacan, so I could have a little sleep-in.  I found this hotel room that wasn't that amazing for the hotel itself, but it was amazing for the view!  Imagine waking up to the hot air balloons rising over the Teotihuacan temples!
The next night, I was planning to stay in Valle de Bravo at this AMAZING looking hotel!  I had it booked and everything! Unfortunately, my credit card on file had expired, and I didn't see the email to provide the updated expiration date and my booking was canceled!  I was heartbroken! Here was the view (from their website). Yes, that's a pool IN THE ROOM!
Since that fell through, and it was Valentine's Day weekend, the prices were pretty high. My friend suggested staying in Toluca which was midway between Mexico City and Valle de Bravo (and the prices were insanely cheaper).  I found a hotel room with a jacuzzi and booked it!
Sidenote – So I picked this hotel because of the jacuzzi, and it said it was for Japanese businessmen (which I thought meant that it would be clean and orderly)… well… to be honest, it became clear after arrival, that…. how to put this delicately… this hotel could be rented by the hour…  It was actually a nice room though, and the jacuzzi was really nice after two long days of hiking and climbing.  I actually felt like it was really safe and quiet, and even though that might be the general ~theme~ of the hotel, it's actually not a bad place to stop. Maybe no families though…
For the last night of my weekend trip to Mexico, I came all the way back to Mexico City to get a feel for the big city!  I found a fairly nice hotel with parking for my rental car (although I ended up parking on street right in front of hotel for free), and it was about a 10-minute walk to the Historical Center area.  If that's not available, here's a guide on where to stay in Mexico City.
I felt very safe at all the places, and they were all clean!
Transportation
Keep in mind: I rented a car because I wanted to freedom. 
Could you do it cheaper? Some of the insurance I got was optional, but honestly, the driving was so different from home, that I'm glad I had it. You could also not do the horse ride at the Sanctuary.  The last big expense were the tolls, and some ways have a "Libre" option. 
The Car
I decided to rent a car while I was in Mexico because I wanted a little bit of freedom, and I had a traveling companion to split the cost (although the above prices are the actual prices in Mexico and not halved).  Since I love Skyscanner so much for flights, I decided to try them for cars as well!  I found a car for $1 a day, and since it was so cheap (Like HOW??), I opted for the extra insurance.  once I got to the pick-up spot, they insisted I needed *additional* insurance.
I had heard about this possible scam, but my friend is Mexican and was handling it, so I don't think it was because I am a gringa.  He said the insurance I got originally just covered my car, and the extra was to cover everything else I might hit lol.  It wasn't that much more, so I didn't fight it.
The Tolls
Oh man, those tolls. I think once I hit 3 tolls in like 20 minutes. It was bananas!  There are two main routes from big city to big city.  Highways with peaje (tolls) or libre (free).  As far as I can tell, the toll roads are highways and quicker, and the free roads are backroads with lots of potholes and speedbumps.
Mexico City to Teotihuacan: $1.62 (32 pesos)
Teotihuacan to Toluca tolls: $10.96 (333 pesos)
Toluca to Valle de Bravo: $13.36 (256 pesos)
Valle de Bravo to Toluca: Libre
Toluca to Butterflies: Libre
Butterflies to Toluca: Libre
Toluca to Mexico City: $7.47 (143 pesos)
If I had to do it again, I would do libre during the day and tolls at night. Driving at night on the roads is more stressful, and the roads are nicer on the highway.  We ended up doing Libre back to Toluca because it was the same time, and doing the tolls the rest of the way to save time and because it was getting dark.
Cost of Food in Mexico
Keep in mind: No breakfasts were included in these hotels.
Could you do it cheaper?  There were several times that I could have eaten at a cheaper place, but the ambiance is something to consider and the prices were reasonable, so why not? Plus, when you're making your Mexico travel budget, you just can't forget all the tacos 🙂
When you're considering how expensive is Mexico, you have to wonder how much is food in Mexico. I know that Mexican places have pretty cheap food in the states, so what about actually when there? The prices in Mexico are pretty reasonable!
I heard about a restaurant that was inside a giant cave, so naturally, I had to go!  This was practically across the street from the Teotihuacan temples, so I really recommend going while you're there!  I thought the cost of the food there was just fine (especially considering the quality), but the cost of the water bottle there was insane at $3.80!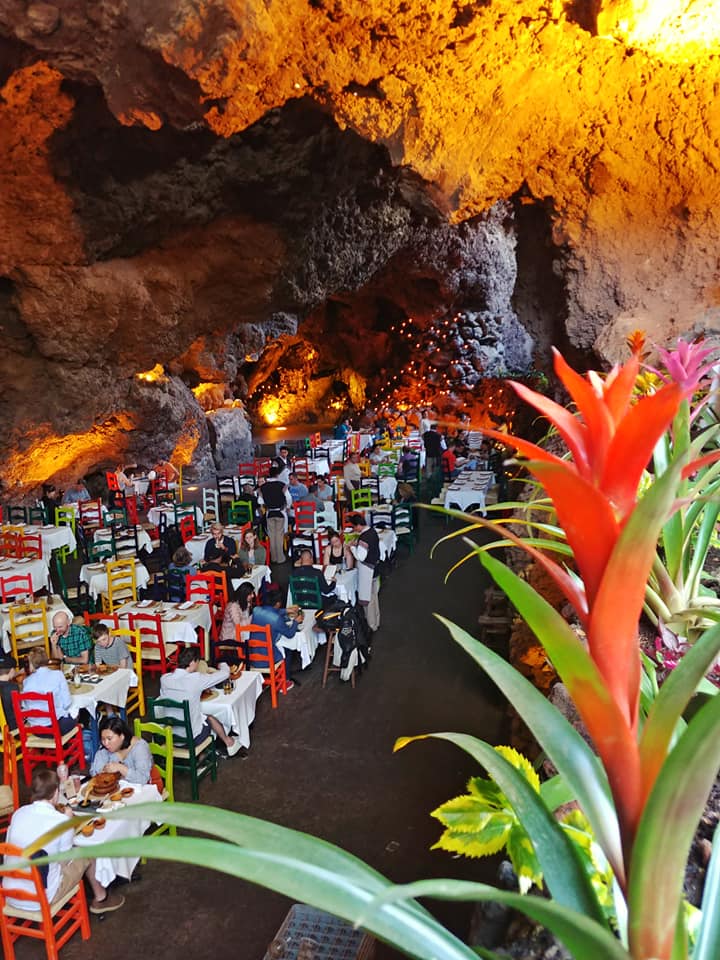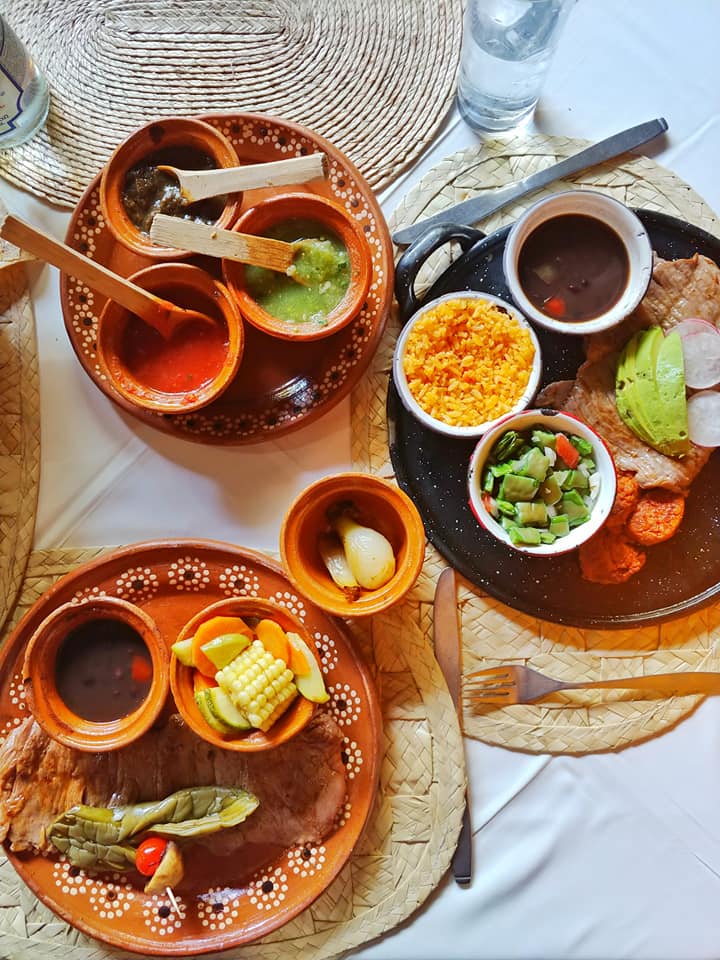 Another nice place to eat was in Valle de Bravo on a boat!  We went to the main square and saw it, and decided to try it! We found out later that it was highly reviewed!  The food was very good, and it was fun to watch the ducks and see the lake while waiting for the food.
The last specific place I want to mention is in Mexico City! It's right by the Palace of Fine Art (if you're looking at the palace, take the street to the right. It's a blue-tiled building with a storefront that looks like it just sells creepy puppets.  There are no signs, but it's called WHAT and this is what it looks like in the inside.
If you go to the Monarch Sanctuary in Michoacan, there are plenty of places to eat. They all have the exact same menu and prices, so go to whichever you like!  I had some pretty amazing pork! Yassss
And then, of course, there's always street food vendors 😀
Alcohol AKA Price of Beer in Mexico
Keep in mind:  I didn't really buy too much since I was so exhausted from all the walking, lol.
Could you do it cheaper? Just buying at Oxxo is way cheaper.
Oxxo is like a convenience store, so if you're looking for the price of beer in Mexico and you want it to be cheap, I recommend you go there!  To compare, I also ordered one for lunch.  As you can see, the prices in Mexico between the convenience store and a restaurant are very different–just like in my home city of Atlanta.  
Activities
Keep in mind:  These are the reasons to go see things!!
Could you do it cheaper? I can't believe how cheap it was anyway!
These activities won't cost you a lot, but they definitely need to be added to your Mexico travel budget!
Monarch Sanctuary
My number one goal for this trip was to go see the Monarch Butterfly Sanctuary! It turns out there are several options, but we went to Michoacan because it's supposed to be really nice and the hike is a teensy bit easier. Plus, it was likely to be a lot less crowded!
Getting into the Sanctuary was so cheap!  It was basically a walk through an open field and then into the woods!  It's about a mile walk down to the core area to see the butterflies, and then of course back.  The horses can only go about 2/3 of the way in, so you'd have to go the last bit on your own.  I walked in and decided to take the horses back since they looked healthy and well cared for. My guide even said, "Bless You" when his horse sneezed, how cute is that.
Teotihuacan
This was actually our first stop, although wasn't able to see it until the morning!  We woke up to see the Hot Air Balloons rise over the Temples of the Sun and Moon.  Then it was a quick drive in for a cheap admittance and a lovely walk around the complex.
Included in the entrance price is the museum! It has a large recreation of what the whole complex was like in its heyday!
Valle de Bravo
Almost got away without spending any money in Valle de Bravo!  We went to several squares and churches which were, of course, free and then a lookout point to get a shot of Valle de Bravo and the lake.
To get this next pic, we had to go to Mirador La Pena which required an entrance fee and a bit of a hike.  It was a little rocky, but you get this amazing view.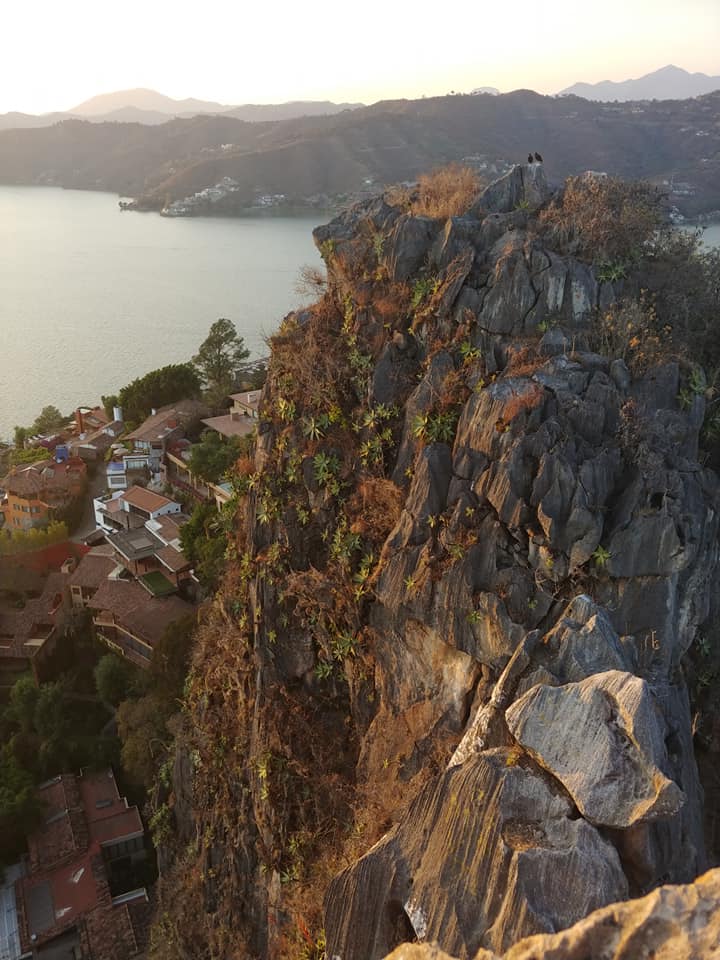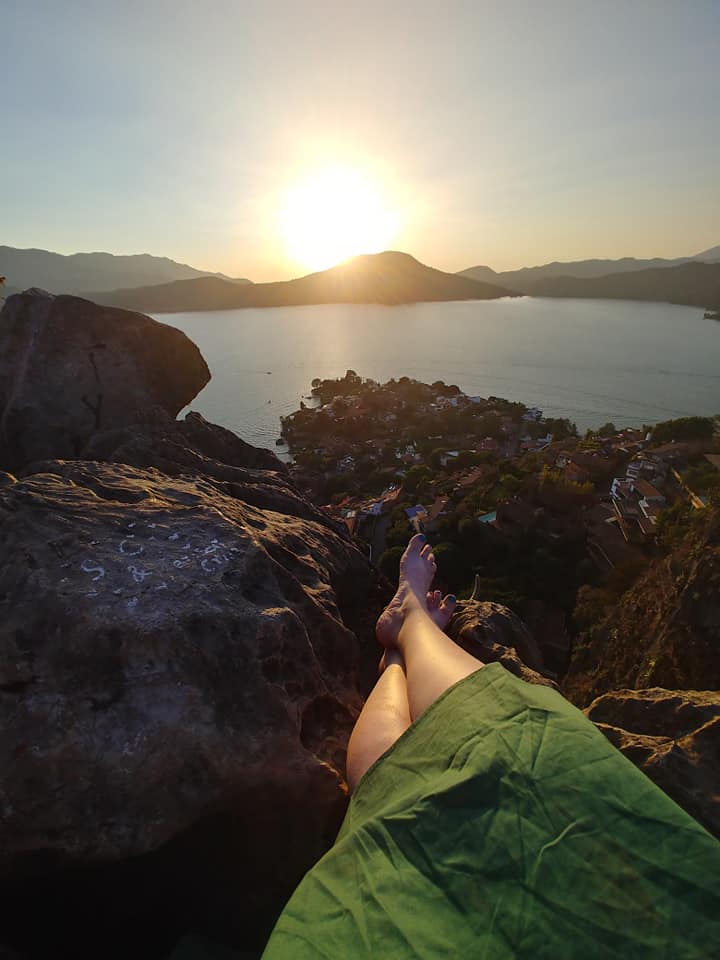 Mexico City
I thought the Palace of Fine Arts was so beautiful at night, so I wanted to go back and see it during the day.  If you go to Sears right across the street to the 8th floor, you can go to a nice cafe to get a beautiful unobstructed view! Free!  I recommend at least pretending like you're going to get something at Sears though.
After the Palace of Fine Arts, it was a nice stroll down a pedestrian street to the main Square to view the cathedral!
If I had more time in Mexico City
I guess this section could be called "If I had more time" or "If I had planned better," I would have loved to go see a Lucha Libre show.  My whole weekend trip to Mexico had been such a whirlwind that I really wanted a relaxing day of wandering around the city.
Souvenirs AKA Cheap Things to Buy in Mexico
I was sadly unable to find a spoon for my/my grandmother's collection, but luckily she already had one. What I *did* manage to find was this cool necklace that lets me look at the sun! Basically, like solar eclipse glasses. I'm thinking of going to Argentina for one later this year, so that will be perfect!
Then I bought this gorgeous necklace in Valle de Bravo that went perfectly with the green dress that I brought to pretend to be stylish. I'm basically a mermaid now 😀
So, how much does a trip to Mexico cost?
Total: $396.05 for 4 nights
If this was helpful for you please share on Facebook or Pinterest!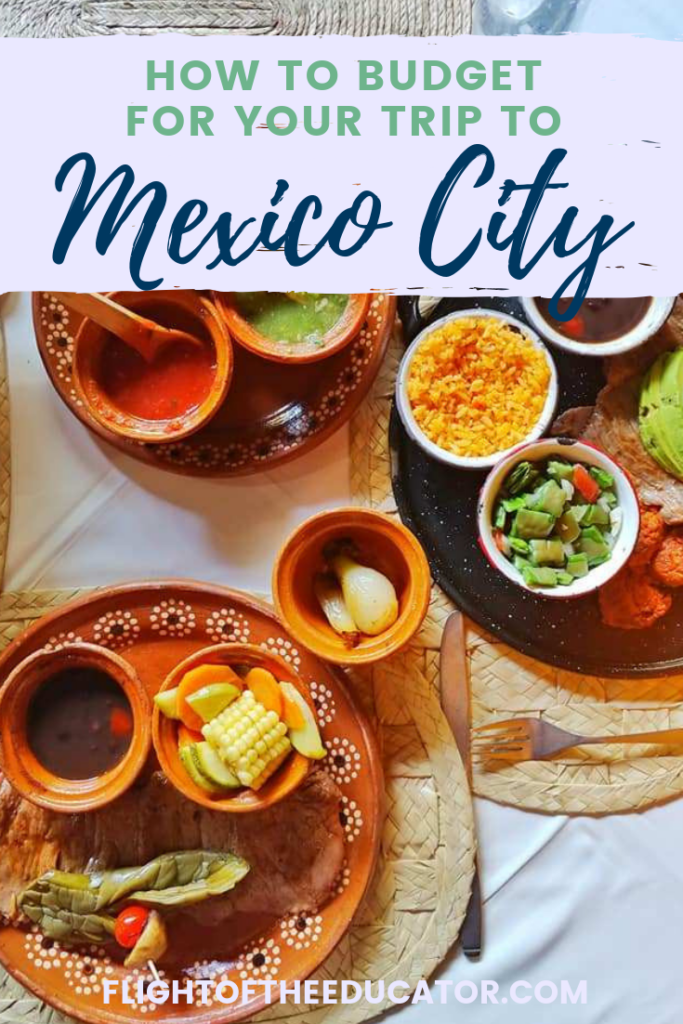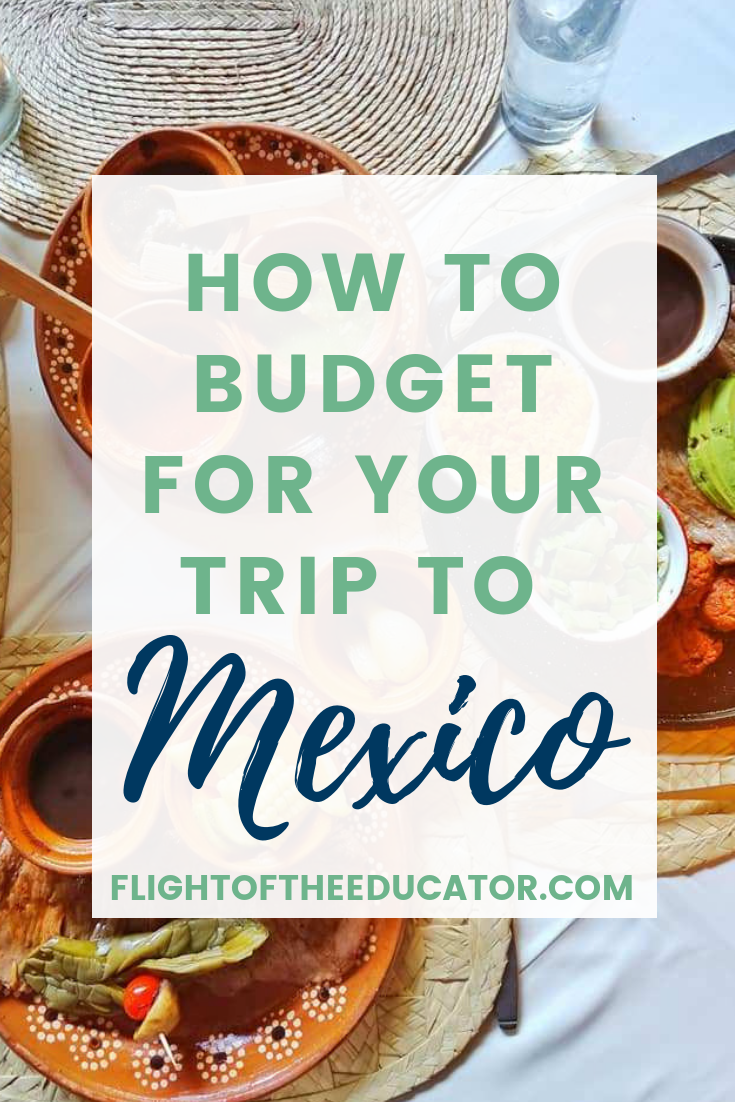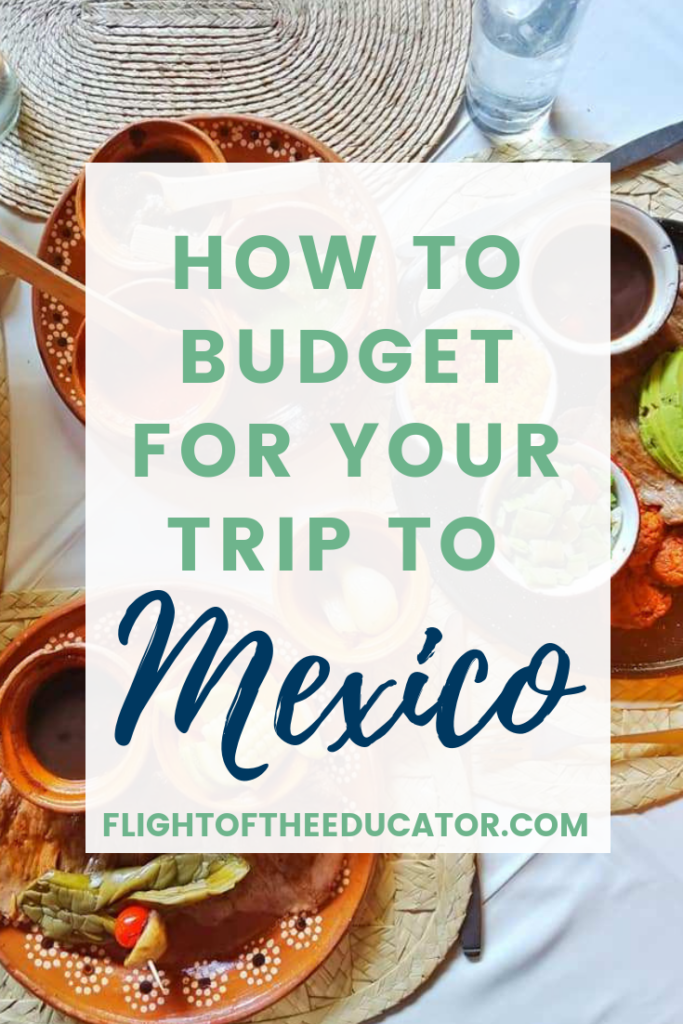 Summary
Article Name
MEXICO TRAVEL BUDGET ~ MY ACTUAL PRICES IN MEXICO!
Description
If you're wondering a trip to Mexico cost, read my actual prices in Mexico from what I spent on my weekend trip to Mexico! How much is a trip to Mexico?
Author
Publisher Name
Publisher Logo