Swim with Otters Georgia ~ An Otter Encounter Near Me and You!
Behind the question "Can you have an otter as a pet?" is definitely "Where can I swim with otters as an otter encounter."  Don't worry, you're not alone. I first became aware that this was even an option when I saw (as I'm sure you have) a video on Facebook of people having the time of their lives with one of the best animal encounters–otters!
Why not me?
First: Search for "Otter Encounter Near Me"
Otters in Georgia?
You betcha!  I was so sad to see that the video I saw was in California, so I took to the trusty internet and searched for "Where can I swim with otters in Georgia," and I struck gold with the North Georgia Zoo.  It's one of the many zoos in Georgia! I knew there were otters in Georgia Aquarium, but you only get to hang out with them… not swim with otters! And isn't that the point!
Want to

Drive a tank

? –
 It's only an hour from here! Might as well while you're up there!
First step: Otter Encounter!
Once you sign up for your awesome otter experience, you'll get the rundown of what you can and can't wear! Make sure you stick to those guidelines! They're there for a reason! For example, you have to wear long pants because these adorable little critters will be walking around you and sitting in your lap!  They do have claws, and while they won't be using them to attack you, it's possible you might accidentally get scratched (similar to how my kitty sometimes scratches me in play).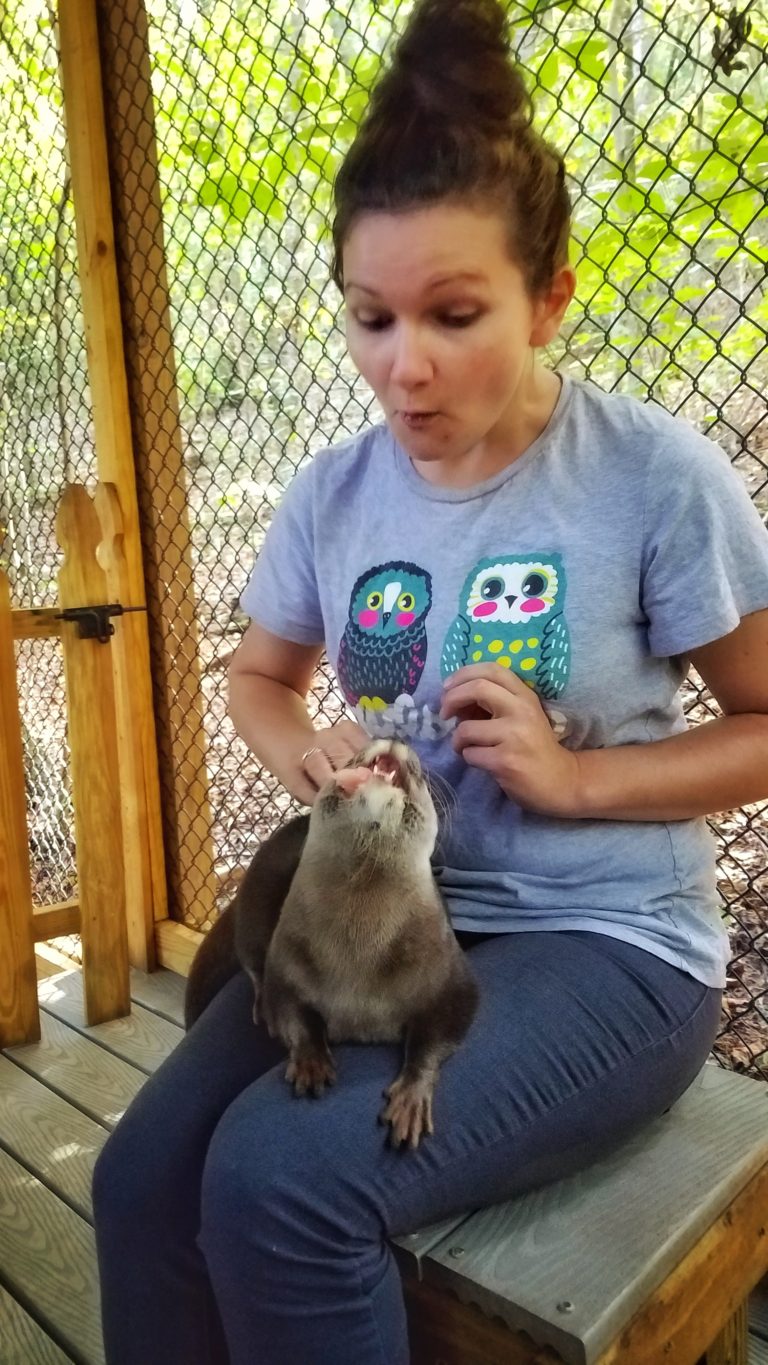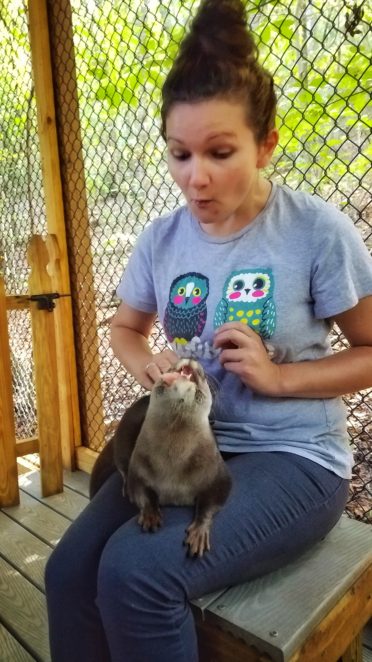 Now time for Otter Experience!
The first real stage of the Otter Experience is getting to know the otter!  Your guide will talk to you about some interesting otter facts, how to interact with the otter, and what to do!  You can sit down, and the cute little otter will run around you and sit on your lap! It is SO CUTE watching them eat their little bits of fish with their cute little pawsies!!
This is the time to play with otters while they aren't distracted by the water.  You'll be in a little enclosed area where you can safely interact and see some tricks!
Now It's Time to Swim with Sea Otters!
According to the website, you'd be swimming with otters in a 18 ft pool that's 4 ft deep. That was not the case when I went. I'm not sure if they've since upgraded the pool facility or if it was because I went on the last day of the year (they stop it if it gets too chilly).  As you can see in my pictures, it was in a kiddy pool. I honestly haven't decided which was better because in the small pool, we got very close and personal with them.
The otter had a little boogie board, and the trainer was getting him to wave.  Then he'd zip around in the water around us. So fun.
Wildlife Encounters
On the way up to play with the otters, we were driven by other animals that you're able to have animal encounters with! Now, keep in mind that I've only done the swim with sea otter wildlife encounter (so far!), so I can't speak to them other than say that they are offered!  
Want more info?-
Here
is a full rundown.
Sloth Experience ~ $94
Wolf Encounter ~ $94
Wolf Encounter-Puppy ~ $35
Monkey Encounter ~ $94
Kangaroo Encounter ~ $54
Kangaroo Encounter-Joey ~ $35
Reptile Encounter ~ $7
Owl Encounter ~ $54
Cougar Encounter ~ $54
Baby Wildlife Encounter ~ $54
Camel Encounter ~ $7
Deer/Porcupine ~ $54
Fox Encounter ~ $54
Hedgehog and other small wildlife encounter ~ $54
Tropical Birds Encounter ~ $54
Otter Encounter (no swimming) ~ $54
Otter Experience Splash (with swimming with otters) ~ $150
Want it FREE –
 Do a
focus group
and it will pay for this or anything else you want! Easy money!
I know my next animal encounter is definitely going to be the Sloth Experience!! Which are you excited about?
Pin to save for later!