This post is part of the series Around Atlanta
Other posts in this series:
The mark of a truly brilliant idea is one so simple and amazing that you can't believe someone thought of it before you.  Well… let me tell you about the most brilliant thing I've heard of…Unclaimed Baggage.  I feel like I've heard about an unclaimed baggage auction, but this is more an unclaimed baggage sale. 
As fellow travelers, you know that sometimes airlines lose your bags. It's awful, but it happens.  According to Brenda Cantrell of Unclaimed Baggage, it's only less than 1% of bags that don't actually make it back to their owners that end up as unclaimed baggage for sale.  What a relief.  
But for those poor bags that don't… for you, my friends… profit.
I mean… look at this stuff! Isn't it neat?
So what is this Lost Luggage Store?
You might think of it as a thrift store.  …And you'd be wrong. But that's ok!  Thrift stores are filled with unwanted and unneeded things. Think about all the stuff you've donated.  Exactly.  Carelessly thrown into a box, a bag, or a pile and sent off to faceless no ones. You're just happy it's out of your closet.  But Unclaimed Baggage is filled with stuff people wanted. They wanted their favorite outfits on vacation. They wanted the souvenirs that they bought.  And they wanted random puppets from famous movies…
Unclaimed Baggage For Sale… What Will You See?
Their tagline is "You'll Never Know What You'll Find," and they couldn't be more right.  I walked into the clean, bright, and colorful store, and I didn't know what was "in store" for me.  I saw a gorgeous, brand new saddle for the horse my dad never bought me.  Brand new turquoise leather chaps that I hope someone was planning on wearing pants underneath.  A wedding dress for a woman that I hope lost her bag on the way home.  A belly dancing top that I bought even though it was way too small, BUT IT WAS SPARKLY.
Speaking of sparkly, I *cleaned up* in the sparkles department. My best friend and I got matching Cubic Zirconia rings for $15. FIFTEEN DOLLARS!  It's so sparkly that I don't even know what to do with myself but look at it.  
They have men's, women's, children's, formal wear, shoes, sunglasses, hats, electronics, sporting goods. OH MY!  You need to check out this amazing collection of stuff that they've found in bags!
Don't forget to scoot outside through the men's department. There's a separate 3 story building that houses more stuff for children, household items, and clearance!
You're going to want to spend a lot of time here, so there might be something more important than the shopping if you're like me… and that's food!  They have a cafe called Cups Cafe which has sweet treats and yummy eats!  The club sandwich I got was HUGE and easily split-able.  
Unclaimed Baggage For Sale ~ Prices!
I was happily surprised at the prices.  I'm pretty famous for "That's nice, but not $___ nice."  What's incredible is that some of these things are brand spanking new!  Here's what I got!
What's funny about that $3 necklace, was that I thought she said $20  (Why??), and it was only $3!
I'm not much of a shopper, but I had a ball cruising around and checking everything out.  I almost got a new lens for my camera, but they didn't have a wide angle lens (the others were going for about $150), but they had ipads and computers galore!  
Do they really just sell other people's things?
Most of the stuff is one of a kind, but they also have duplicates of things because they have contracts for lost freight packages.  Little fun fact for ya.
They actually only sell about a third of the stuff that comes in.  Every day but Sunday, they have a fun experience at 2:30 pm where a lucky guest gets to unpack a fresh bag to sort!  They trash, clean, sell, or give away every item that comes through. They actually launder more than dry cleaning companies!
I love that they also give away a lot of stuff.  That makes my heart happy 😀
While you're at this airline lost luggage store…
If you do decide to hit up Scottsboro's coolest attraction AKA lost lugage store (don't be fooled by the posers across the street), there are some other interesting places to see too along the way!  I passed all of these places on the way home to Atlanta, so it is definitely not out of the way to hit them up!
Miracle Pottery
Named after the founder and owner Valinda Miracle, this place holds up both ends of the entendres of the name.  Valinda went through a horrific car accident and had severe damage to her short term memory.  I've long been a proponent of using art as therapy, and she has definitely taken that route.  She started doing pottery, and even though her teacher told her she couldn't do it (What kind of teacher would say that??), nevertheless… she persisted.  And here she was showing us how to make pottery WHILE telling us her deeply moving story.  From no hope to multitasking? A true miracle.
If you're heading from Atlanta, it'll be on your left, and it will be on your right coming from Scottsboro.
Wildflower Cafe
We came here for brunch, and I was pretty hesitant to try the tomato pie that this adorable cafe is famous for.  I can assure you that it is famous for a reason (I heartily enjoyed it).  I ate the Brunch Sampler so I could try everything!  It was only $12 which when compared to the Atlanta brunch prices is a helluva good deal.  Quiche, tomato pie with melty cheese, fresh fruit and a strawberry crepe.  Oh my.
If you take the scenic way home (IE: Not through Birmingham), Miracle pottery and Wildflower Cafe will literally be right on the side of the road.
De Soto Falls State Park
We stopped at so many stunning vistas, that I couldn't begin to tell you what they were all called!  Definitely hit up the lovely Visitor's Center for a map or guidance!
 Goose Pond Colony Resort
This resort is a great place to set yourself in the midst of everything!  The prices are really reasonable starting at $155 a night (and that's for a cottage that sleeps 8!  Two wings with 2 queen beds, 2 bathrooms, a kitchen in between, a living room, and a screened in porch!)  They have golf, fishing, and watercraft rentals for Lake Guntersville.  Or you can do what I did and just chill on the dock right outside my adorable cottage.
They also have a menu that you can order from with very reasonably priced goodies.  Breakfast sandwiches for about $3 and a $4 bacon cheeseburger!
Slightly farther Away…
I'm a huge fan of Florence, Alabama and the fun fairy doors and silly hot dog art.  Even farther south is a fun Theme Park called OWA!  And of course, the fake Bamahenge and dinosaurs of Elberta!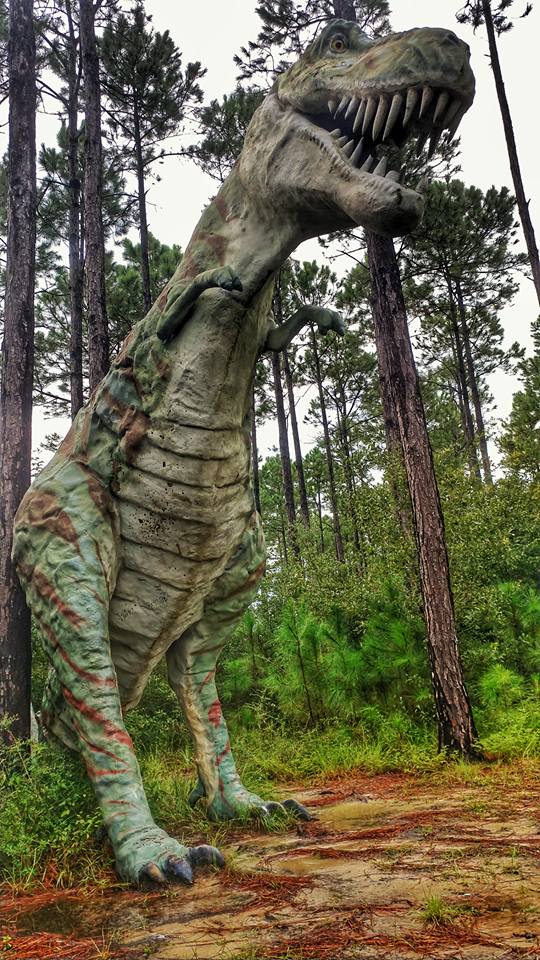 Pin this if you want to go!!
https://www.pinterest.com/pin/669699407059842338/