Best Things to do in Dubai in 2 Days
If you have only two days in Dubai to spend in this vibrant, extremely-tourist-friendly city, don't worry.
In two days, you can still get to experience the very best of what Dubai has to offer. Once you've tasted
the delights of this amazing country, we assure you that you will
, most definitely, be back for more
.
I've listed out the places you can visit during your visit, both during the day and night. If you're willing
to sacrifice a few night hours, you can enjoy so much more of Dubai–the city that never sleeps!
Early 
Morning
: Old Dubai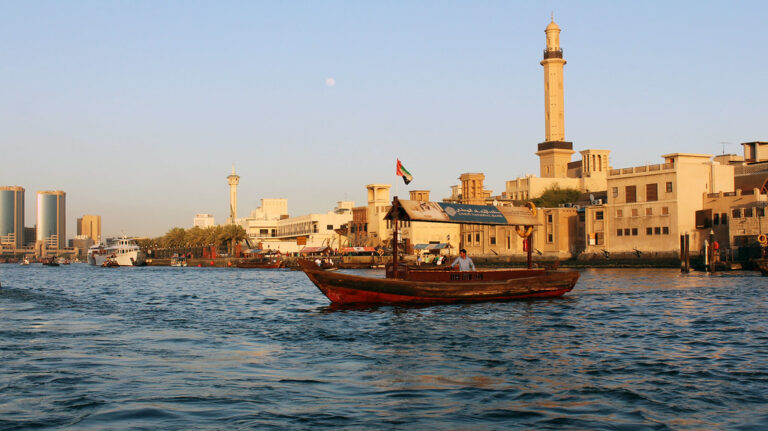 Old Dubai 
is best explored during the day, when the light causes interesting shadows in the narrow stone
lanes, alleys and markets. 
At Deira, p
ay a visit to the 
Sheikh Mohammed Center for Cultural
Understanding 
to learn how Dubai has evolved from a m
ere fishing village to the bustling metropolis it is
today. You can learn about Emirati culture, Bedouin culture and about the Dubai royal family.
Put this on
your list of things to do in Dubai in 2 days!
Be sure to check out the spice souk, perfume souk, gold souk and the carpets market
 at Deira
.
 Then
cross the Dubai Creek in a wooden vessel called the Abra
 for 
1 dirham. 
The B
astakiya area
 is a remnant
of Dubai's days of old. When you explore this area, with its quaint mud houses, narrow lanes and simple
life, you'll notice the huge difference between traditional and modern Dubai. Do pay a visit to the
famous 
Arabian Teahouse 
for a cup of tea and some eats. 
Here in this old area, you can experience the
famous Emirati hospitality and 
even t
ake a selfie with a falcon. 
If you want to 
explore Dubai on a budget
,
you cannot do better than w
alk along its many souqs, lanes and amazing parks.
Early 
Afternoon: Helicopter Tour
Enjoy a nice lunch at Bur Dubai, 
and get ready for a fantastic aerial experience. Get an amazing eyeful of
the scintillating 
Burj Khalifa 
whose tip seems to pierce the very clouds. The beautiful 
Burj Al Arab
, the
scenic Dubai Canal, the 
spectacular Palm Jumeirah
 and 
World Island
s – it'll be a visual treat the likes of
which are rare. The 
aerial tour
 gives you a very special, totally 
unobstructed view of Dubai
. No traffic, no
noises, no people to watch out for. Just a very luxurious 
helicopter
, flying smoothly over amazing sights.
Your helicopter tour will be the highlight of your 2 days in Dubai!
Evening: Sunset Desert Safari
~ A MUST for Dubai in 2 days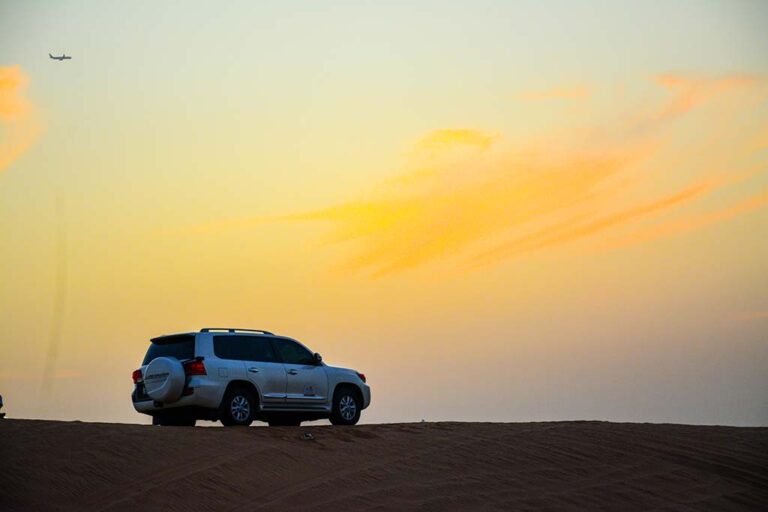 You'll 
travel to the 
desert camp in a 
4×4
 at 4 P.M
. At the camp you can 
enjoy 
dune bashing, sand
boarding, quad-biking 
and more
. As the sun sets, you'll see the entire desert bathed in the most luscious
colors, from a bright orange to red, and then vibrant blues and purples as darkness sets in. It's time now
for a nice 
barbecue dinner 
with the other guests, while enjoying a 
tanoura and belly dance 
performance.
If you like, you can choose to stay overnight at the desert and enjoy a night safari, or ask to be dropped
back to your hotel at night.
Next Morning: Dubai's Incredible Attractions
Sunrise at the Burj Khalifa
: 
Rise early, and get ready to watch the sunrise from the top of the Burj
Khalifa. Use a taxi – the metro does not open at dawn. You need to be at the observation deck of the
Burj Khalifa by 5:30 A.M.
,
 to watch the most amazing sunrise in the world. The city will be dark when 
you
get there and
 it
 lightens by degrees – laying out the entire panorama in front of your eyes in moments.
It's an unbeatable experience. Note that you can view the sunrise from the Burj Khalifa only on 
Friday
s
and Saturday
s. If your trip falls on other days, you can enjoy the regular view.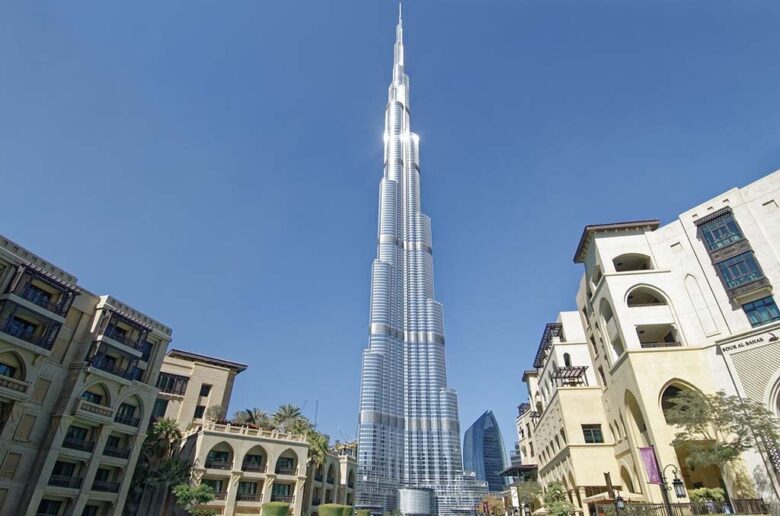 Shop at Dubai's Great 

Malls: 
Right next to the Burj Khalifa is the
Dubai Mall. You'll need several hours to
enjoy all the attractions here. 
Dubai Mall has 1,300 plus retail outlets and over 
150 eateries
. There's also
a 
25-theatre multiplex cinema
! There's an ice rink,
the Human Waterfalls, Dubai Dino, Dubai Aquarium
and Underwater Zoo. There's an amazing VR Park – Virtual Reality Park that has the coolest games and
VR experiences you can dream of. The Dubai Mall even has a gold ATM! 
Even if you are not a shopper,
enjoy the sights and the amazing architecture.
 Don't miss out on shopping at the Mall of Emirates while
you're at it. It's another great mall, and well worth the visit.
Enjoy the Dubai Fountain
: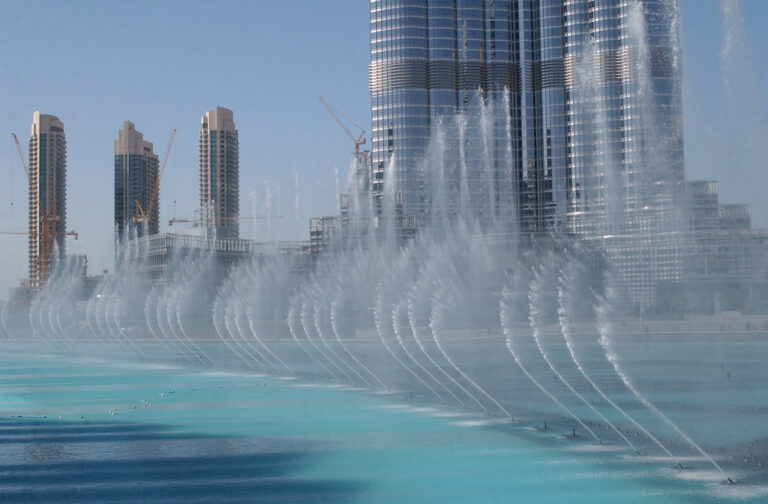 Set majestically on the 30-acre Burj Lake, the Dubai Fountain was the largest
fountain in the world till 2020, when it was eclipsed by the Palm Fountains. 
Sparkling, colored bursts of
water reach 
up to 500 feet (high as a 50-story building). The fountain is c
horeographed to music
, and is
very delightful to watch. It's an overall mesmerizing experience, which you can see at around 2 in the
Afternoon
: Hit the Beach!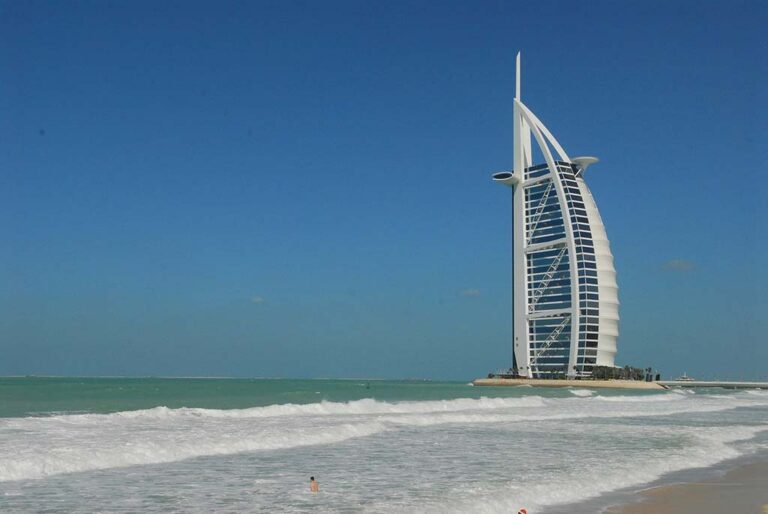 The must-visit beaches at Dubai are the Kite Beach, also known as Umm Suqeim Beach, which offers a
magnificent view of 
Burj Al Arab
. It's the only 7-star hotel in the world. The Burj al Arab's 
curved glass
façade 
is designed in the shape of a boat's sail, to represent Dubai's connections with fishing and
shipping. The entire hotel is embellished with 
1,790 square 
meters 
of 24-carat gold leaf
. The four towers
of the Burj al Arab 
shoot out 
propane fireballs 
(non-toxic) – the shooting flames reflect on the
surrounding glass, creating an amazing visual treat. If you want to explore the hotel, you can do it only as
a guest, or if you book lunch or tea at one of 
its 
many restaurants. 
Exploring Dubai's amazing beaches
and enjoying the 
numerous 
food 
carts while taking in the view should definitely be part of your Dubai
Evening
:
 Dhow Cruise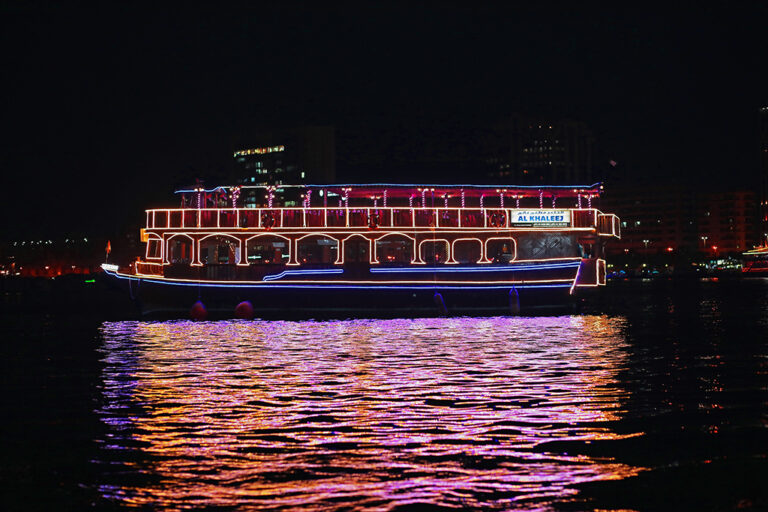 You've seen Dubai from the air, now get a great look at its brilliant coastline. The best way to do this is to
take a 
sunset 
dhow cruise from Dubai Marina. The dhow is an ancient wooden vessel, the same one that
was used by ancient fishermen and smugglers. The 
dhow
 cruise
 is a renovated, jazzed up version, with
all possible amenities for trippers. It's an evening cruise, which culminates in drinks (non-alcoholic) and
an excellent Emirati dinner. Your cruise will take you to the Burj al Arab on the water side, along with a
good close trip around 
Atlantis the Palm Resort and 
the Palm Islands. Watch Dubai's brilliant coastline as
you cruise by. No other city can boast of so many lights, tall skyscrapers and architectural magnificence.
At night, Dubai is like a royal princess wearing all of her jewels, decked in shimmering silks. 
At 7 P.M, fix
your sights on the Burj Khalifa across the water. You'll see the most amazing light show, comprising of a
kaleidoscope of colors, geometric shapes, images, videos – it's mind-boggling. 
So now you know…exactly
what to do in Dubai in 2 days…
so 
get packing!
For Dubai 2 days may not sound like a decent enough period to enjoy everything that Dubai has to offer, but you
can take in the main attractions, as listed above. Use your two days in Dubai as a teaser – and plan