Trying to figure out how much you should budget for Dubai trip?  The UAE is famed for its opulence and luxury because of the oil wealth there, but when considering your own personal budget for Dubai trip, you probably won't have to spend as much as you think!  I bought a tour package from Dubai which covered airfare and hotel, but below I have listed my actual Dubai trip expenses to show you what to expect. I'm a mid-range traveler, so I don't go super basic or super luxury.
Here is a chart with the percentages, but keep reading for a more detailed breakdown for each section.
Groupon Trip Cost to Dubai Price
Total: $1099
I use Groupon in Atlanta a lot to fund my fun activities at home to save money for travel, I had used a Groupon for Niagara Falls before which turned out super well, but I had never done a Groupon Getaways for a package deal.  Since I'm a teacher, it's so hard to find a Groupon Getaway that fits my schedule, so I was super excited to find this one to Dubai!   We bought the upgraded package for $1099 instead of the $899 deal.   The rest of my Dubai budget is what I spent on what wasn't included.
Accommodations in Dubai Trip Cost
Total: $64.48
Keep in Mind:  The Groupon price included 5 nights at the hotel, so this section is so low because it's only the extra night we added.
Could you do it cheaper?  Absolutely. This was considered a 4 star, so obviously, a lower star would get a lower price. However, at $60 a night, that's a really good price.  Something to balance that out with though is how far from some of the cool places it was.
| Dubai Hotel Prices | Cost |
| --- | --- |
| Extra night at hotel | $64.48 |
We stayed at the Savoy Central hotel which is priced at roughly $60 a night.  We ended up booking another night at the hotel since our flight out was at 3 am, and the voucher had us checking out at 11 am the day before.
What's frustrating, is that on the phone the agent said we would have that extra night included so we could rest before our flight, but that ended up not happening. Always get everything in writing! I digress…
The hotel was nice, but it was about $20 in uber to get to the main parts of the city like the Marina, Dubai Mall, Burj Khalifa, etc.  If I were to book accommodations separately, I'd probably book at a hotel closer into the city such as the Double Tree. This hotel was close to the Souks, though.  You just want to make sure you book in the best area to stay in Dubai.
Transportation Budget for Dubai Trip
Total: $82.73
Keep in Mind:  The Groupon price included a lot of transportation.  These are the actual prices, but I did split them with my travel partner. These prices reflect if only 1 person was paying.
Could you do it cheaper?  Dubai seemed to have 4 forms of public transportation: Public transportation, taxis, super taxis, and Ubers.  However, my traveling companion didn't want to take public transportation, so we took uber and taxis.
| Dubai Travel Expenses for Transportation | Cost |
| --- | --- |
| Monorail from Atlantis to end station. One way | $5.45 |
| Uber from hotel to Dubai Marina | $24.57 |
| Uber back to hotel from near Marina | $24.03 |
| Uber Dubai mall to hotel | $11.03 |
| Cab hotel to Dubai Museum | $5.45 |
| Cab hotel to Glow Garden | $4.90 |
| Cab Glow Garden to Club near hotel | $5.04 |
| Cab to hotel from souk | $6.13 |
| Cab to Scuba shop | $7.16 |
The round trip airport transfers were nice because we got picked up at the airport with my name on the sign!! That's always fun.  We were then taken to our hotel after we dropped off some other folks. It didn't take too long though.  The pickups for the Dubai and Abu Dhabi city tours (along with the transportation for the tour itself) were also included, although they were always late, lol.
The rest of the cost for this section was for Ubers basically getting us to and from the city at varying prices due probably to the time of day and distance.
PRO TIP: There are Ubers, taxis and "fancy taxis."  The taxis were the cheapest and were sand colored and all look the same.  It's nice that they were the cheapest, and they also take credit cards! It's annoying not knowing the price before you left which is why I prefer uber. They became our normal transportation though.
Fancy taxis appear to be nice cars like Lexus that do have a meter, but it ended up being more expensive than an Uber.
Food ~ Cost of a Meal in Dubai
Total: $122.86
Keep in Mind:  The Groupon price included breakfast every day and lunch on the Abu Dhabi city tour.
Could you do it cheaper?  Well, our hotel room actually had a small kitchenette, so if we were cooking, that would have saved money.  We were on team #TreatYoSelf, so we did not do that haha.
| Cost of a Meal in Dubai | Cost |
| --- | --- |
| Fancy Seafood dinner on riverwalk | $32.66 |
| Doner kebab at Dubai Mall | $10.08 |
| Kebab Meal at Ferrari World Emirati Restaurant | $19.06 |
| Large Pizza for food for all day diving | $13.07 |
| Fish and Chips lunch | $8.17 |
| Nutella Pancakes on riverwalk | $6.81 |
| Terrible Indian food that I didn't eat | $5.45 |
| Pizza lunch (Do I eat too much pizza?) | $3.81 |
| Doner kebab on the street | $1.36 |
| Random gas station snacks | $5.04 |
| Banana at airport | $1.43 |
| Coke at restaurant | $1.91 |
| Various waters at restaurants from $0.27 to $2.18 | $4.63 |
| 4 waters at Supermarket | $3.38 |
My favorite thing to eat is always a doner whenever I leave the States if I can find one.  They're usually all over Europe, and I became obsessed with them when I lived in Germany.  So, that was obviously my first official meal 
The most expensive meal wasn't actually my own because I wasn't too hungry, but it was a giant seafood platter that my friend got after our yacht cruise. She didn't feel well on the boat, so she didn't eat the included dinner.  We walked along the canal street, and she told the man she only wanted a little food, and he brought this out!!
Also along the "riverwalk" were all these food trucks and portable eateries. I just had to try these tiny pancakes covered in nutella, woooooooo boy were they good!
Most of the other food was just based on convenience and what was around when we were hungry (Note: mostly pizza apparently, lol).  But we did want to try Emirati food, so we found an Emirati restaurant just outside of Ferrari World.  It's probably because it was so near to Ferrari World, but this felt like the Dubai eating out prices were higher than usual.
Alcohol ~ Beer Price in Dubai and Liquor Price in Dubai
Total: $76.65
Keep in Mind:  Alcohol is not readily available in the UAE.
| Liquor and Beer Price in Dubai | Cost |
| --- | --- |
| Two large strawberry daiquiris at rooftop club | $29.95 |
| Tall Carlsberg Beer at Safari Camp | $8.17 |
| Cocktail at hotel diving center restaurant | $11.85 |
| Huge draft of Coors Light at rooftop club | $13.61 |
| Cocktail at Hard Rock at the airport | $13.07 |
The UAE has some strict policies for alcohol.  It seems you can really only purchase it in hotel bars.  Our Dubai tour guide made a joke (after a man on the tour kept asking how to get alcohol) that the man could round out his tour by also viewing the Dubai jail cell!  I think that's just in reference to walking around with alcohol though.  We did find several places that sold it.
You can bring up to 4 L of alcohol with you into the country, so most people just bring stuff or buy Duty-Free at the airport. My friend and I just brought some individual bottles of wine to enjoy a glass at the end of the day.
We did check restaurants to see if they had any (just because I wanted to be able to give you some ideas of alcohol prices), but we never saw a restaurant serve any.
We did finally seek out what seemed to be a club/restaurant near the hotel.  We'd been hearing the music for several nights in a row, so we figured why not check it out.  We were able to buy drinks there, and it actually stayed open pretty late!
Activities for Sightseeing in Dubai with Prices
Total: $449.34
Keep in Mind:  The Groupon price included Dubai City Tour and the Abu Dhabi City Tour.
Could you do it cheaper?  I'm not sure since I did do a lot of comparison shopping to be sure, but you could skip some.
| Dubai Attractions Prices | Cost |
| --- | --- |
| Dinner Yacht Cruise | $56.00 |
| Scuba Diving | $114.36 |
| Glow Garden, Ice Park, and Dinosaur Park | $29.95 |
| Desert Safari | $32.56 |
| Table Service Upgrade at Desert Safari | 13.61 |
| Henna Upgrade at Desert Safari | $5.45 |
| Burj Khalifa Entrance Ticket | $100.75 |
| Massage Tips | $12.26 |
| 60 Minute Massage | $35.40 |
| 90 Minute Massage | $49 |
| Dhow Dinner Cruise | Included |
| Dubai City Tour | Included |
| Abu Dhabi City Tour | Included |
Burj Khalifa
Gotta start with this big boy! The Burj Khalifa is the tallest building in the world at over 800 m!  However, not for long because Dubai is *already* building an even taller building to be completed in 2021 which will be a full kilometer tall.  Baffling.  But that's just what Dubai is all about! The biggest and best of everything!  The Burj Khalifa is just one of the things to see only in Dubai.
Besides the height, the biggest difference between the two is that the Burj Khalifa is habitable and workable.  There are offices, residences, and activities in pretty much the whole building. The new one is basically a beautiful, gigantic tower to be built "just because." Oh ok.
The Burj came with a hefty price tag, but I think it was worth it to go to the 148th floor.  The man selling the ticket said that the difference between 148 and 155 was negligible, but the price was almost double.  We went at sunset, so we got day and night pics. I recommend the same time (Middle option).
Yacht Dinner Cruise
The yacht dinner cruise was the first thing we did in Dubai.  We landed early afternoon, freshened up, and headed straight to the marina!  When looking for our best yacht cruise option, we wanted a tour that went around the Palm and the Atlantis, and this one did.
We picked Xclusive Yacht company because they had good prices and a variety of boats.  You can pick up your tickets online beforehand or from one of the stalls on the walkway around the canal on the pier.
The boat itself was super fun!  Try and get a seat in the very front of the boat (not on the top, in the front front).  We didn't realize until too late that it was an option, and a set of couples took over and no one else was able to sit there.  Make sure you're early, so you can grab them!
I really recommend the sunset cruise because you get to see Atlantis during the day (and jellyfish! There were so many jellyfish!) and Dubai at night, which is stunning. I swear they planned the city and the lights based on how it would look at night.
Scuba Diving
I always try and squeeze in some diving when I can, and I hadn't been since I'd been to the Hurghada Diving Center.  I checked the reviews for a good diving center in Dubai, and I decided to book with Al Boom Diving!
Turns out that the diving around Dubai isn't really that good, so they offer a shuttle a few times a week because Fujairah diving is better.  I heard there were even some wrecks to see, but I didn't do those.
The two dives sites I went to were close to the dive shop, so it didn't take forever to get out there.  The visibility wasn't great which just shows how amazing my dive guide Larry was for spotting things!
He would tap his tank to point out things that even if I was looking for them I could barely see! Thank goodness he was there! I would have never seen my first wild cuttlefish without him!
Want more info? –
Get a more detailed review of my
Fujairah diving
experience with Al Boom Diving!
Desert Safari
The desert safari was fun because we got to go sand bashing!  Our driver basically went nuts and started sliding down hills, spinning, zooming up and down the dunes, and all with total control!  If you want a more intense experience, be sure to ask!  After a few fun minutes of that, we stopped to have a little photo shoot so I was able to celebrate my 60th country!
Afterwards, we were taken to the camp where we were able to wander the shops along the edges. There was a place for free henna (or you could pay extra for more intricate designs), alcohol, dress up, and more!  Then we settled down to eat (we upgraded so we didn't have to get up and get food, they brought to us and we got better seats #TreatYoSelf) and watch the belly dancer, the spinning guy, and the fire dancer!
Dhow Dinner Cruise
We did this on the last day of our tour!  It was very relaxing to cruise up and down the Dubai Creek on a brightly lit boat. There are SO many options for this including departure time, cuisine type, and level of partying.  Ours was nice and we had a magician, another spinning guy, and some weird dress up creatures.  The food was good, but not great.
Dubai City Tour
This was a half day tour, and I was pretty unimpressed.  I would have rather just done a Hop On/Off bus tbh. I heard another group went on a different bus doing the exact same tour supposedly, but they had a much better one than ours.  Ours basically just drove by things quickly and we weren't able to get out and take pics at very many stops. And pretty much everything seemed to be on the left side of the bus, and I sat on the right, so guess how great my pics are of the day 
 It's not like I have a travel blog where I document everything or anything…
So I vote to skip this even if it's included. If I could tell Past Carly, I wouldn't have done this tour at all.
Abu Dhabi City Tour
I'm excited we were able to squeeze some attractions in Abu Dhabi into the schedule.  The buildings in Dubai were much cooler, but the Grand Mosque in Abu Dhabi was insanely gorgeous.  However, it was also the only place where I felt the "dress code" was enforced.  You have to be totally covered as a woman, which is frustrating when it's hot, and the men don't seem to abide by the same rules.  But we do what we must to be respectful!
I had to delete some pics because the guard didn't like that I had "60" number balloons to help celebrate my 60th country. My guide and two other guards didn't have a problem with it, but one did.  There seemed to be a lot of discrepancies in rules, but I didn't want any issues.  Later, I also had a guard ask to see the pics I took to get this one, because when I twirled, he wanted to make sure my legs weren't showing.
It's definitely important to be respectful here.
Souvenirs ~ The Most Fun of the Dubai Trip Expenses!
Total: $88.13
Keep in Mind:  One of these was a present!
Could you do it cheaper?  Maybe with more haggling? I'm not a huge haggler.
| Souvenirs ~ Are Things Cheaper in Dubai | Cost |
| --- | --- |
| Sapphire bracelet in Gold Souk | $50.00 |
| Coin headdress at Safari Camp | $9.53 |
| Beautiful mosaic purse | $17.70 |
| Dubai Spoon for spoon collection | $5.04 |
| Pictures with falcon in desert | $5.45 |
I decided to splurge and get a bracelet!  Dubai is known for the gold market, but I'm not a gold person, so I bought silver!  I was told the gem was "medium quality" and the diamonds were CZ.  When I got home, I did have it appraised by a jeweler, and he said that $50 was a good deal, but my sapphires were man-made.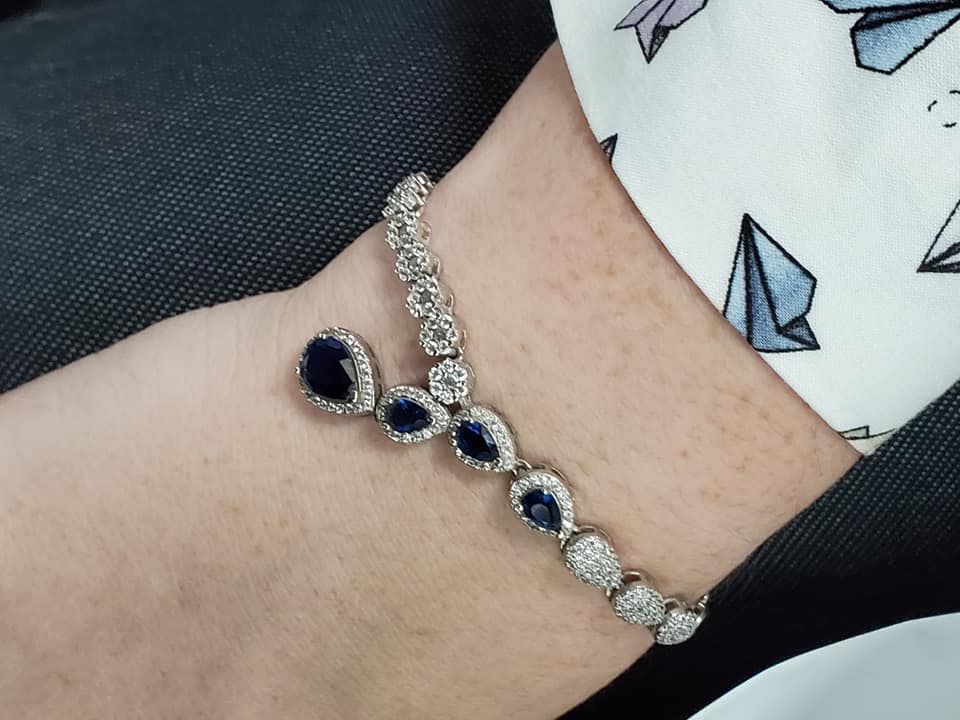 My friend bought a zultanite set which changes colors!  I would look into that if you're into ambers and purples!
At the desert safari camp, they had a dress-up booth. I ended up liking the coin headdress, so I bought one!
Fees ~ Including Dubai Visit Visa Cost
Total: $16.34
As an America, I didn't require a visa! The only fee was a tourist tax issued from the hotel. It was 10 AED or about $2.72 a night. Nothing major.
GRAND TOTAL: $1999.53
This total includes flights as well (where normally my budgets do not).  And some of these costs were split (fees and transportation).  But that's what you can expect for Dubai travel expenses!
I hope you have a great time on your trip to Dubai!
Please pin for later and to share!