Even though I once lived in Germany, I never did seem to be able to make it to Poland!  That's why I was pleased as punch when I was able to tack it on to my Baltics trip!  I didn't know much about it, and I had started off my summer in the very expensive Scotland, so I had no idea what to expect for the prices in Poland.  I wondered is Poland expensive or is Poland cheap! I think you'll see for yourself by the end!  Here are my actual prices in Poland!
 Here is a chart with the percentages, but keep reading for a more detailed breakdown for each section.
Accommodations…Is Poland Expensive?
Total: $312.54
Keep in Mind:    I stayed at mid-range hotels in the city center!  I also got a more expensive one in Bialystok because it was so beautiful!
Could you do it cheaper?   Booking them in advance, absolutely!
| Accommodation Prices in Poland | Cost |
| --- | --- |
| Bialystok 1 night | $76 |
| Krakow: 2 nights ($74.88 per night) | $149.76 |
| Warsaw: 2 nights ($43.39 per night) | $86.78 |
Overall, I wouldn't say that Poland is expensive. These room rates seem pretty standard. I've stayed in cheaper, and I've stayed in pricier.
Bialystok
Oh, this was the hotel that I was the most excited about!  The rooms at the Boutique Hotel Aristo looked *beautiful* and funky and modern! Not to mention it was pretty much directly next to Branicki Palace and a very short jaunt down the street to a quaint part of town.  The room even came with a balcony with a view of the Palace.  It almost made me wish I was going to stay in Bialystok longer, but alas, off to…
Krakow
Krakow turned out to be a real surprise.  I loved Tallinn, Estonia so much because it held the Old World charm that I held so dear, but without the roving masses of tourists.  Krakow was *the* busiest city center I'd ever seen, but instead of being overwhelming, it was bustling and exciting.
Hotel Wyspianski was slightly off the beaten path, but it wasn't too far of a walk to Old Town, and it was close to a park and public transport.  It also had a bar in the lobby, and it was a nice stay for sure.  They were very kind because I accidentally left my drone charger there, and they graciously mailed it to me.
If you're wondering is Krakow expensive, it did seem to be the most expensive of the 3 cities I visited.
Warsaw
Warsaw was my final city, and the place I stayed was nice, but I wouldn't necessarily recommend it unless you just wanted a budget option (which is what I did, lol).  Hosapartments were far from the Old Town (which I ended up loving).  It was close to the train station though and the hustle and bustle of downtown.  The apartment was nice, but it didn't have a reception like a normal hotel.  It was more like an AirBNB which I hadn't been expecting.
And for the record, this is the Old Town in Warsaw that I wish I had been close to rather then the new modern center where the above apartment was located.
Transportation
Total: $66.97
Keep in Mind: I didn't rent a car here! There weren't a lot of places that I wanted to see in between the big cities like I did in Scotland and Israel, so I just took the train between.
Could you do it cheaper?  There were quite a few times that I rode the scooters instead of walking.  One part lazy and one part scooters are fun!
| Is Poland Cheap? Transportation Prices | Cost |
| --- | --- |
| Train from Bialystok to Krakow | $22.93 |
| Train from Krakow to Warsaw | $21.73 |
| Krakow: Bolt from City to Hotel to Train | $2.95 |
| Bialystok: Bolt from Bus Station to Hotel | $1.93 |
| Bialystok: Bolt Hotel to Train | $2.66 |
| Krakow: Bolt from Train to Hotel | $2.54 |
| Warsaw: Bolt from Train to Hotel | $1.93 |
| Warsaw: Bolt from Hotel to Airport | $4.53 |
| A few scooter rides (3) | $2.77 |
| Krakow: Bolt from City to Schindler | $3.43 |
| Warsaw: Scooter around then to brekky | $2.4 |
| Warsaw: Scooter straight back home | $0.38 |
Trains
Prices in Poland for train tickets are so low!  I took the train from Bialystok to Krakow, and then from Krakow to Warsaw.  I will say that it's worth it to upgrade to first class (I use that term preeetttttty loosely), because it's 6 people per carriage rather than 8.  In fact, if I did it again, I'd probably buy another seat for the space like I did on the buses around the rest of the Baltics lol.
An interesting thing about the trains is that you can still ride them even if you don't have an assigned seat. It is SUPER annoying.  When the train pulls up, everyone clamors to get on, but the people who don't have tickets just stand in the very tight walkway, so if you *do* have a ticket, you have to squuuuuuueeze past them.
Bolts
Bolt is a company like Uber or Lyft.  I recommend downloading the app before you go (I didn't, and it was a pain waiting for it!).    Bolts were pretty cheap! Even a trip from the city to the airport was barely $5!  So is Poland cheap? I say yes!
Scooters
The most fun mode of transportation! I'd seen them all about Europe, and I was excited to try one!  The trick is making sure that you have the right app for the one that's around you! They are a great way to zoom across distances, although it's hard to keep track of where you are on the map.  Definitely start slowly because braking is a new experience, and you don't want to run into anyone… which I almost did!
I recommend downloading Lime, Bird, Hive, and City Bee.  By the way, I listed them in order of how many I saw them.  Additionally, I would recommend downloading the app called "Scooter Map" because it shows all the scooters around you from all the companies in one app.  Then you can just open the one you need!
Activities… Is Poland Cheap?
Total: $116.73
Keep in Mind: Just walking around is free! All the Polish cities that I visited were very walkable!
Could you do it cheaper? Not that I'm aware of.
| Prices in Poland: Activities | Cost |
| --- | --- |
| Krakow: Auschwitz and Birkenau tour | $44.31 |
| Krakow: Boat cruise | $10.43 |
| Krakow: Schindler Museum | $4.53 |
| Krakow: Wawel Castle | $5.04 |
| Warsaw: Royal Castle (Normally: $7.66) | $5.04 |
| Warsaw: Organ Concert | $5.04 |
| Warsaw: Massage | $46.12 |
| Krakow: Dragon Den (At Wawel) | $1.26 |
I booked my excursions through Get Your Guide, I've added them below.
Auschwitz (From Krakow)
Visiting Auschwitz and Birkenau wasn't high on my to-do list because it was going to be exciting… it's the kind of historical place that you must go to.  I've previously been to Dachau in Germany, but I knew I had to go.  I normally try and edit my pictures to make them a little brighter, but I couldn't bring myself to edit these pictures.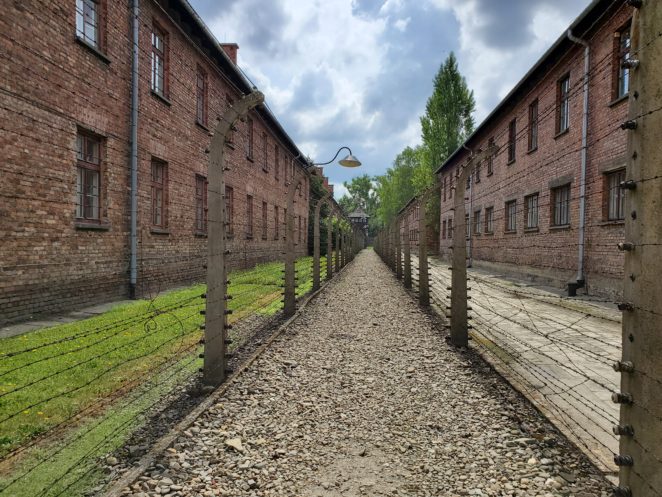 Suffice to say, this excursion weighed heavy on my heart, but it was still humbling and beautiful.  Whoever curated the museum did an incredible job of conveying the emotions and mood that the people who lost their lives there deserved.
This tour picked us up, gave us a guide at both locales who was very knowledgable and brought us back to our respective hotels.  There is also a combo tour that includes the Salt Mines, but I wasn't able to cram it in that day!
Water Cruise (From Krakow)
The water cruise was at the base of Wawel Castle, so it afforded lovely views of the castle, and it was extremely relaxing.  I was lucky enough to get a gorgeous day for it!  At this price, you'd be silly not to do it!
Schindler Museum (In Krakow)
I wasn't sure what to expect from this experience, but since I was so familiar with the story of Oskar Schindler, I decided to squeeze it in before leaving for Warsaw!  Because it was my last morning in Krakow, I didn't get it the time it deserved.  It was filled with interactive exhibits and recreations.  I would recommend getting tickets beforehand, and I was very lucky to squeeze in and get the last tickets for the day by pure chance.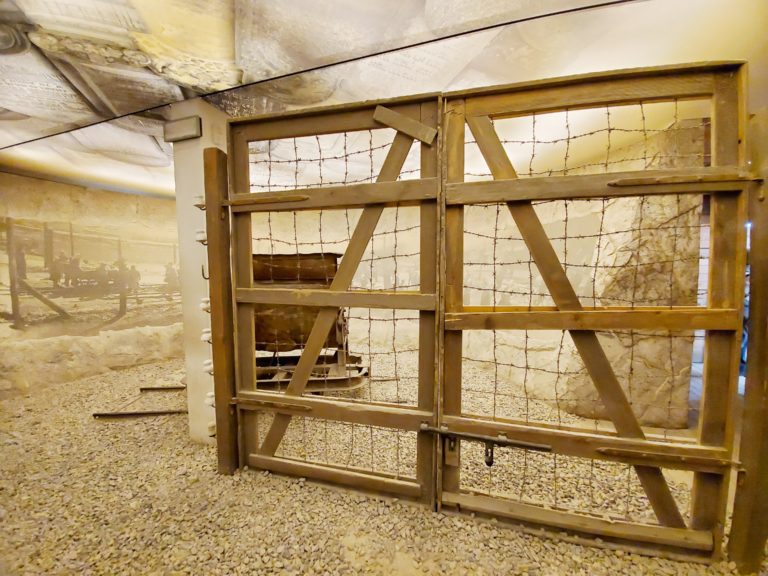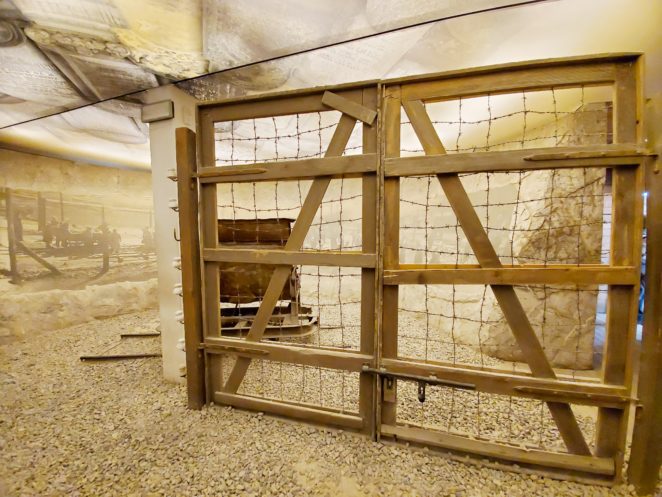 Wawel Castle (In Krakow)
Turns out they stop selling tickets for the whole castle pretty early in the day!  I got there early afternoon, and they were already pretty much shutting it down!  I would then recommend making it your first stop of the day!  My entrance fee was cheaper since it was later in the day and therefore I would have access to less.  The other fee was going down to the Dragon's Den, which brings you down and out of the castle, so that should be your last spot when you're finished with Wawel!
Royal Castle Warsaw
It was a bit of a chore to find the entrance since it was under construction, but it was lovely once inside!  In case it's still under construction when you go, if you're looking at the long side from the outside, the ticket sales are on the right, but then you have to walk outside and around to the left to enter.  Terrible planning, haha! I did receive a teacher discount, but it would only be slightly more expensive for you.
Organ Concert (In Warsaw)
This was a "by chance" occurrence since I was just walking by and saw a sign for it!  Inside the church was a giant organ that was played by a master organist.  I loved feeling the music reverberate throughout the church! And bonus: Catacombs tour!  It's around noon at St. John's Cathedral.
Massage
Don't judge me!  I had just spent a month on too hard beds, sleeping on buses and long road trips, so yes… massage time!!!!  There were actually a ton of options to choose from all over the place.  Just make sure it's a "legit" massage place, so you don't accidentally end up at a "gentleman's" massage place like I did in Dubai, haha!  I believe the one I went to was called the Oasis because it was near where I was and it had an opening.
Poland Food Prices
Total: $129.06
Keep in Mind: I didn't always pick the cheapest places.
Could you do it cheaper?  Yes, going to cheaper establishments or cooking your own food.
| Poland Food Prices | Cost |
| --- | --- |
| Dinner feast in Krakow (For 2) | $60.44 |
| Salmon and Avocado Toast in Bialystok | $5.04 |
| Pierogies in Warsaw Old Town | $4.28 |
| Caprese Salad at Warsaw Royal Castle | $4.28 |
| Doner Kebab Krakow | $5.04 |
| Burger King Haha, sorry y'all | $5.42 |
| Cheeseburger at Brooklyn's in Warsaw | $7.31 |
| Mac and Cheese at Hard Rock Krakow | $9.55 |
| Sushi Roll and 2 Nigiri in Bialystok | $10.08 |
| Panini at Auschwitz | $6.30 |
| 6 Water Bottles: $1-$2 | $8.55 |
| Fancy donut and pie in Krakow | $2.77 |
Bialystok
Nothing too wild in Bialystok, but the friend that I met up with in Poland has a penchant for breakfast foods, so our first meal together was at a fancy breakfast place–Maison de cafe.  Not particularly Polish sounding, but the salmon avocado toast was pretty tasty.
Krakow
The most expensive of my Poland food prices was definitely the splurge at Galicyjska Restaurant in Krakow.  I met my friend in Poland, and he suggested that we try some local cuisine!  Our hotel gave us a coupon to get a free welcome drink there, so we decided to give it a shot.  It was a really cool building underground, and we decided to splurge on the banquet.  I tried a lot of meats like wild boar, veal, duck, and pork ribs!
Warsaw
I couldn't leave Poland without eating pierogies!  I was excited to find some of the tasty potato pockets with only cheese and no onions around the Old Town Square!  Yassssss.
The rest of the Poland food prices are just random places that looked good at the time, and I'm sure are standard. And of course, the doners that I'm obsessed with <3
Alcohol
Total: $46.61
Keep in Mind:  This was the only part of my month-long trip that I actually had a friend with me.  Since I was solo before, I didn't really drink too much (safety first!).  So since I had a friend with me, I did have a few more drinks.
| Is Poland Expensive? Alcohol Prices | Cost |
| --- | --- |
| Warsaw Old Town Cocktail | $4.28 |
| Warsaw Panorama Sky Bar Cheapest beer | $4.28 |
| Krakow: Cocktail in Lobby Bar | $5.43 |
| Krakow: Cocktail in Karaoke Bar | $6.05 |
| Krakow: Cocktail at Hard Rock Cafe | $6.30 |
| Warsaw: Cocktail at Brooklyn's | $7.56 |
| Warsaw: Large beer at sports bar | $7.56 |
| Krakow: Cocktail at Jazz lounge | $5.04 |
My favorite drink that I had was in Warsaw's Old Town!  It was also my last official day of the trip (before I went home for a week, and I went back out to Scotland!), so I deserved a proper send-off!
Also in Warsaw was the Panorama Sky Bar, and I got the cheapest drink available. I would recommend going before sunset, so you could see the view during the day, sunset, and night!
,
Souvenirs AKA What To Buy in Poland
Total: $5.54
Keep in Mind: I'd been traveling for a month, and I didn't really need anything besides my spoon!
Could you do it cheaper? I did find a cheaper one, but I really wanted one with the Krakow dragon on it.  
Here is the Krakow dragon! It blows fire every once in a while!!
If I was going to buy a Polish souvenir other than a spoon, I would have gotten something with amber.  All of the Baltics are famed for their amber!  But here
Fees
Total: $0.50
The worst category!
Ah, the 50 cents to go to the bathroom! It's not like it's a lot of money, but it sure is annoying!  But that's life!  Just make sure you always have change with you in foreign countries.  This fee to wee was at a random stop on the way to Auschwitz.
GRAND TOTAL: $677.95 for 5 nights!
I hope you found this helpful! If so, pin for later and to help others!