After going to Antarctica, my next major bucket list trip was an African Safari!  I had originally booked this for 2020, but because of Covid, it was canceled for 2020 and 2021.  I had originally booked Kenya and Tanzania, but when mine was canceled in 2021 *again*, there was a South African option so…. Took it!  This is a review and breakdown of the tour that I took which was the G Adventures Kruger and Victoria Falls Upgraded.
NOTE: Because of Covid, the upgraded tours were the ones operating because it was easiest to keep with Covid protocols.  So just keep that in mind.  Near the end, I'll discuss how it compares to other tours.
Itinerary
Day 1
The first day is just the arrival day, but you do get served a traditional South African braai, which is sort of like a barbecue!  
Day 2
This is a big driving day, but it was interspersed with some gorgeous scenery which broke up the drive a lot.  We stopped at three places to get out and walk around.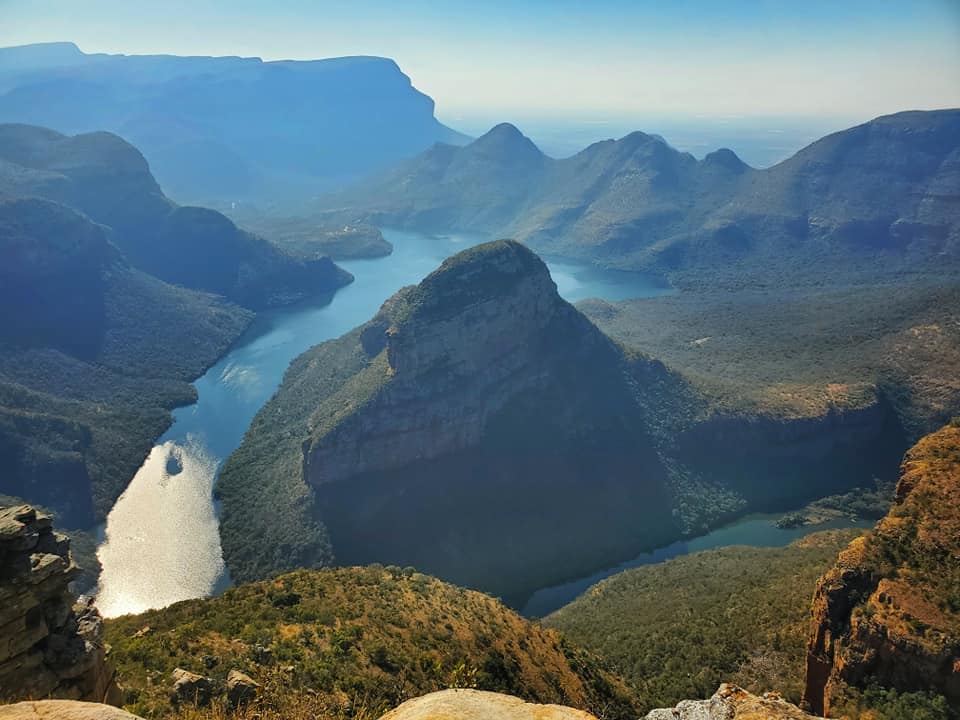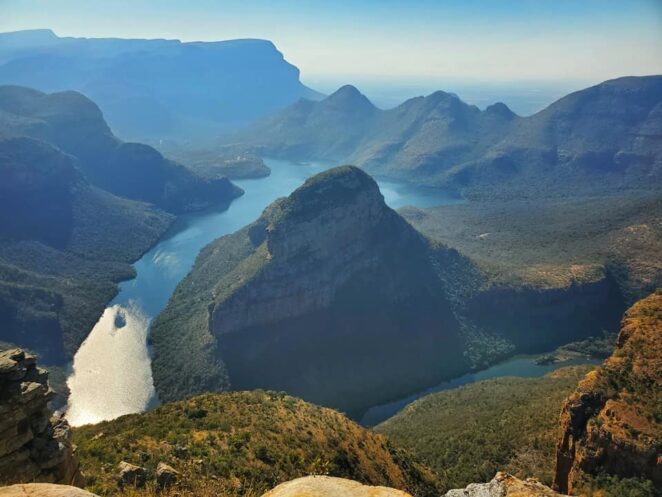 At the Potholes, it's *imperative* to dunk your head!  Gail, our guide, told us it was for good luck, and since it was a hot day anyway, we all did.  We ended up having amazing encounters!  We attribute that to the head dunking, lol.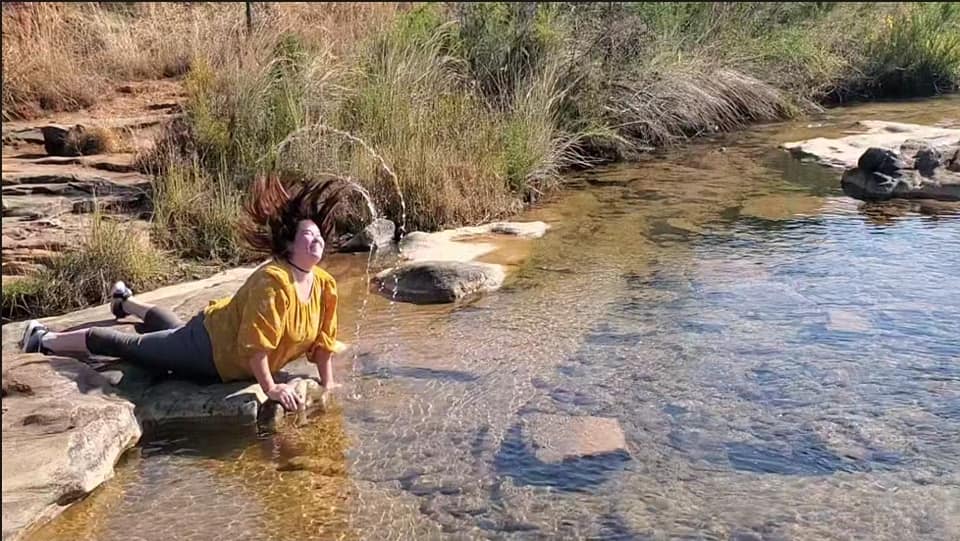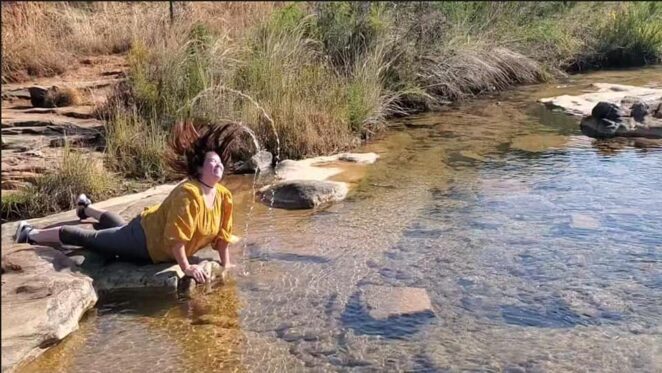 Day 3
All-day Kruger drive!  This is an early morning wake-up! We stopped for bathroom breaks at a designated area as well as another one for lunch.  I didn't drink much water just in case, because I didn't want to have to go to the bathroom when I wasn't able to, but we did have some stops.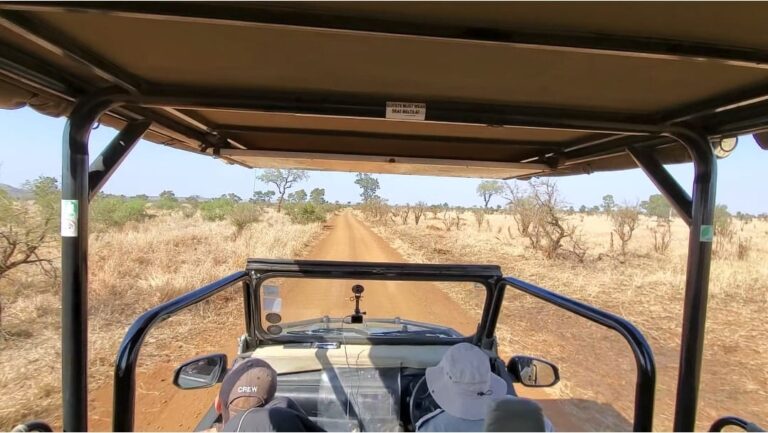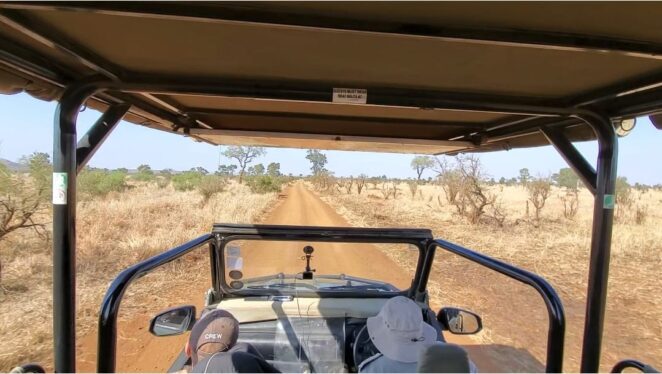 Day 4
We transferred to the private game reserve, Karongwe.  We had such an excellent time in Kruger, that we couldn't imagine it could get better.  IT DID GET BETTER!!!  Since we arrived at lunch, we ate there before going out on an evening game drive.  We had an excellent rhino encounter which was special to us since we didn't really see one in Kruger.  It was also cool driving during a beautiful African sunset, and at dusk, they would take a spotlight to find creatures.
Day 5
This was probably the best day of my life, lol.  (Sorry future husband).  I certainly can't guarantee that for you, but we had an incredible interaction with Lions in the morning followed by incredible interactions with Cheetahs in the afternoon. I love kitties <3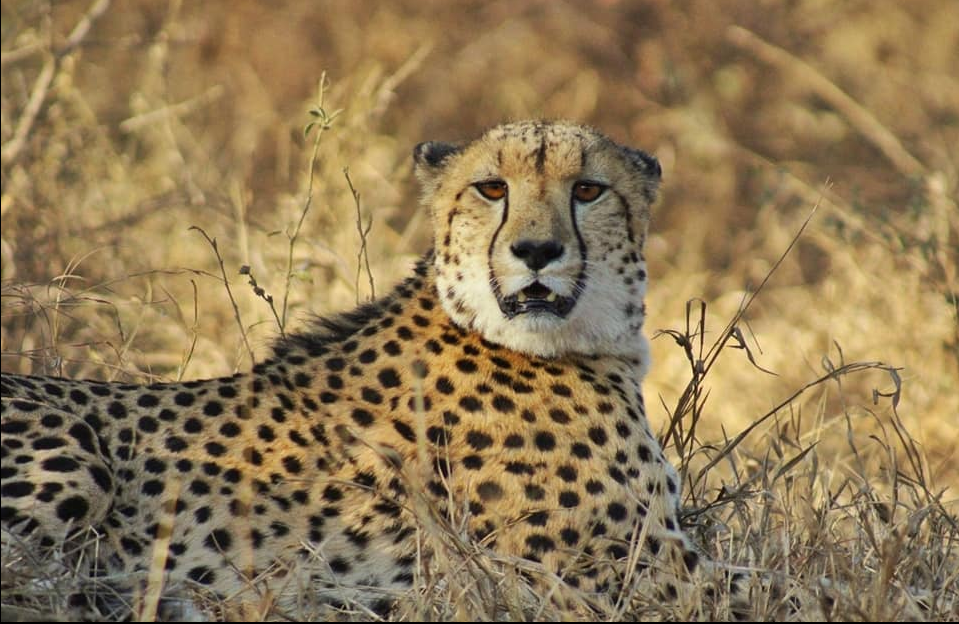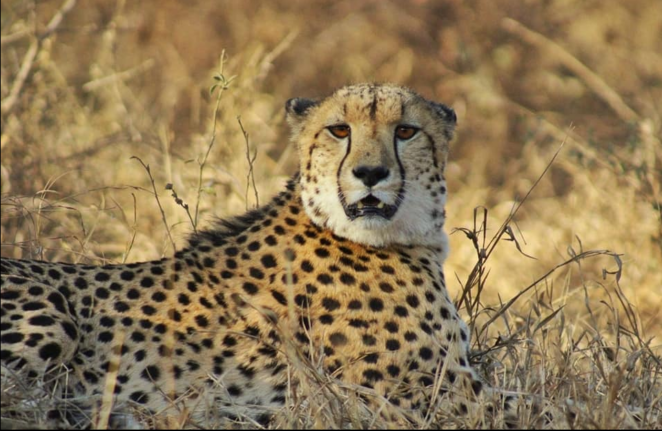 Day 6
We had one last game drive where Juan really tried to find us a leopard, but we only heard it roar which was super cool in and of itself.  Instead, we had a VERY close encounter with a biiiiiig poppa elephant which was thrilling.  
Sadly, then it was time to drive back to Jo-burg.
Day 7
We left for the airport a little earlier than normal to make sure everything was in order for Covid, and then flew to Victoria Falls!  I recommend that you try and sit on the right side if you can to get your first glimpse of it from the air!
That evening we went to a local woman's (Flatter) home to learn more about traditional Zimbabwean food and culture!  She was really kind and answered all of our questions!
Day 8
Time for a wonder of the world!  The morning was spent walking the mostly flat terrain to see 16 different viewing spots of The Smoke That Thunders–Victoria Falls.  I've been to Niagara and Iguazu (which were mentioned on the informational board), but Victoria blew them away!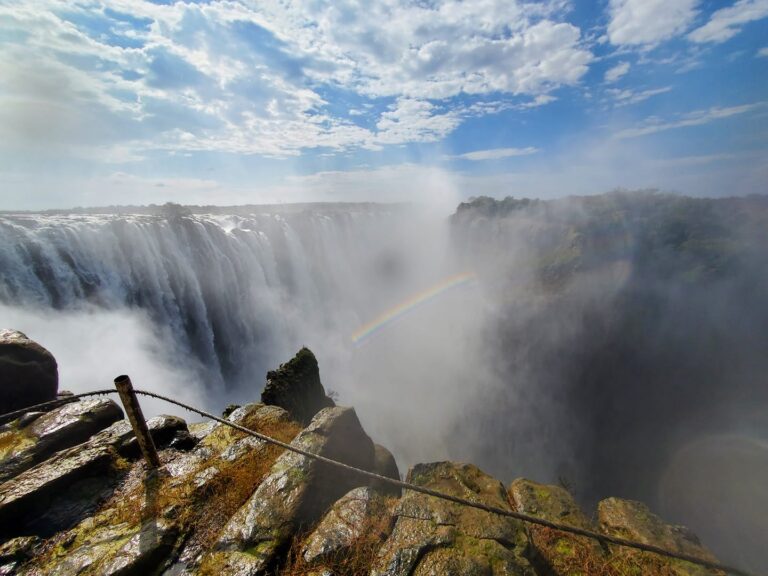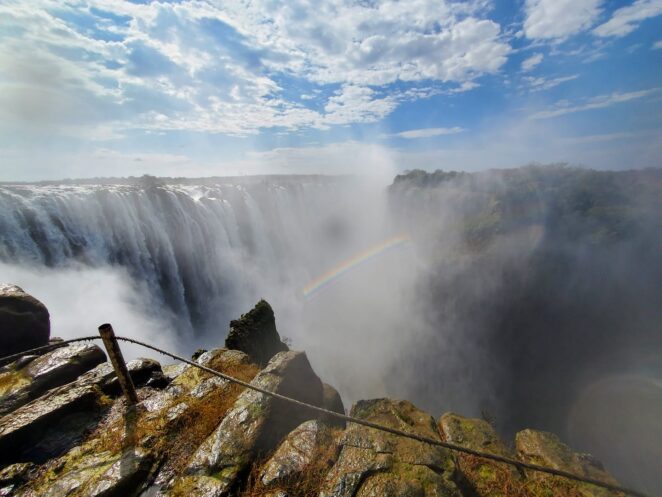 I'm out of shape and pretty lazy (being honest), so naturally was a little worried about the walk.  But you stop so much and it's flat, so it wasn't a problem at all.  They have made it so even wheelchair users can be accommodated on almost all the paths (there's one called Danger Point that isn't accessible). 
After a very wet walk, we got in a helicopter!  I originally wanted to do the microlights, but alas it wasn't open.  The heli was incredible too though.  This wasn't included in the price, but I'm glad I booked it.  
That evening was another optional extra, which I think is a must, the Zambezi River Cruise.  After the adrenaline rushes of the morning as well as the excitement of the game drives in South Africa, it was a perfect way to end the trip in relaxation and beauty.
Day 9
Nothing planned, so we just walked down to the market to look at some stuff and buy some trinkets.  Most went home, but my friend and I continued on to Kenya to extend our African Adventure.
Accommodations
Do keep in mind that this was the upgraded tour, so the other itineraries will vary.
Johannesburg
In Jo-burg, we were picked up at the airport and brought to Safari Club which is nearby.  It was a cute little guesthouse hotel with comfortable beds and great hosts.  I came in July, which is winter, and it did get a bit chilly, but overall was nice!  It didn't have a fridge in the room.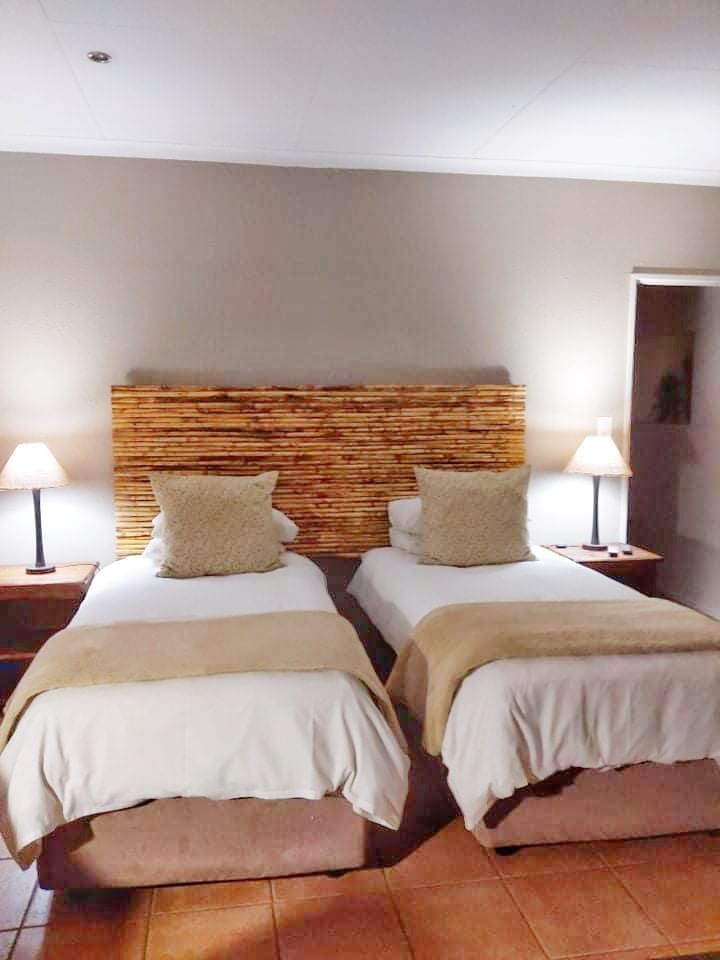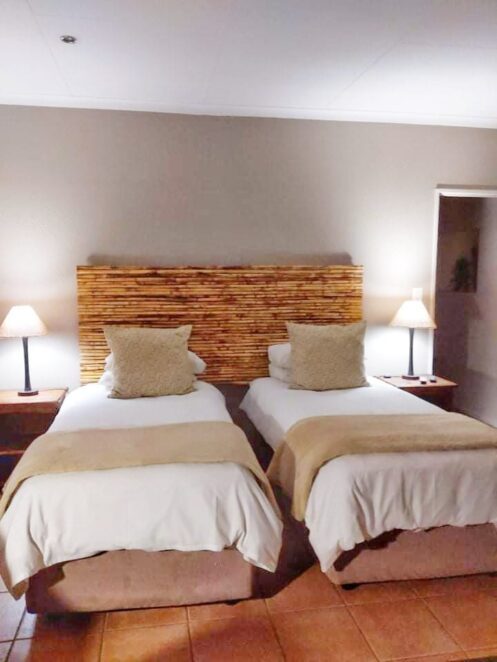 Kruger
The first two nights, our tour was situated about an hour outside of the Kruger National Park at Muluwa Lodge.  The beds were really nice, but it was a very luxurious-looking "tent."  The windows opened up in a way that provided a lovely view of a rising sun.  There was also a mini-fridge for our drinks to keep them cold, and heated blankets under the sheets for winter.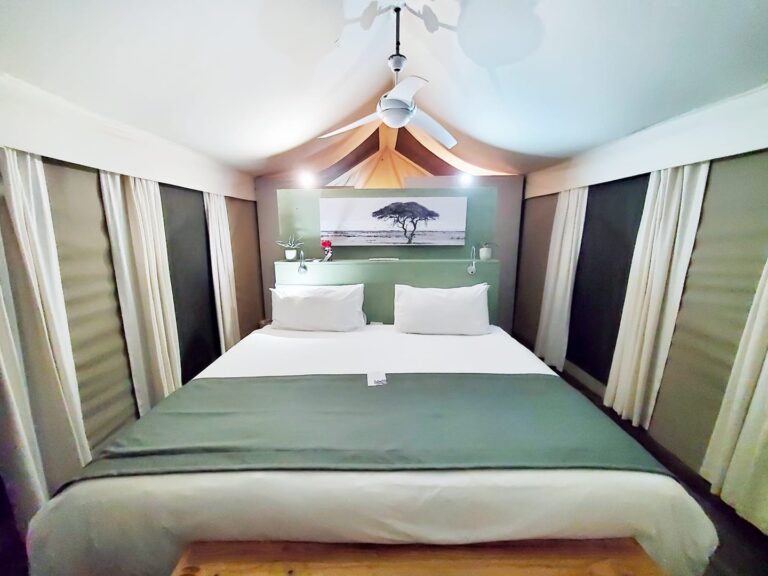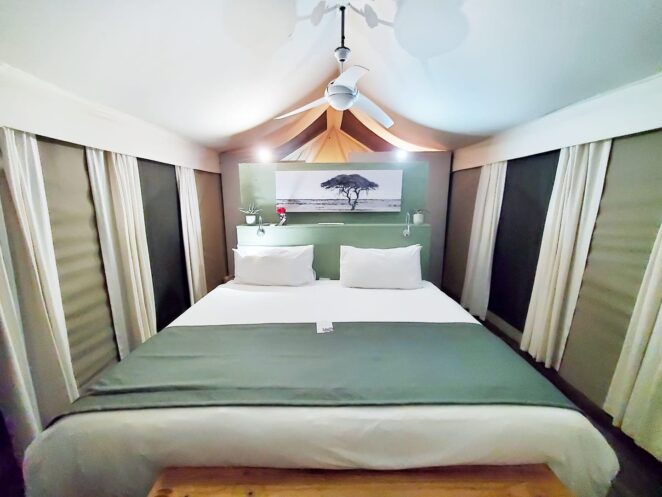 It in itself was a game park reserve, so there were animals scurrying about.  I'm pretty sure I heard a warthog in the evening! All perfectly safe though as there weren't any animals that would hurt us.
The second two nights, we stayed inside the Karongwe Private Game Reserve at Beck's Lodge.  Normally the tour stays at Chisomo (if you'd like to look it up), but it was apparently full, so they moved us to Beck's to enable better social distancing.  We were the only ones there.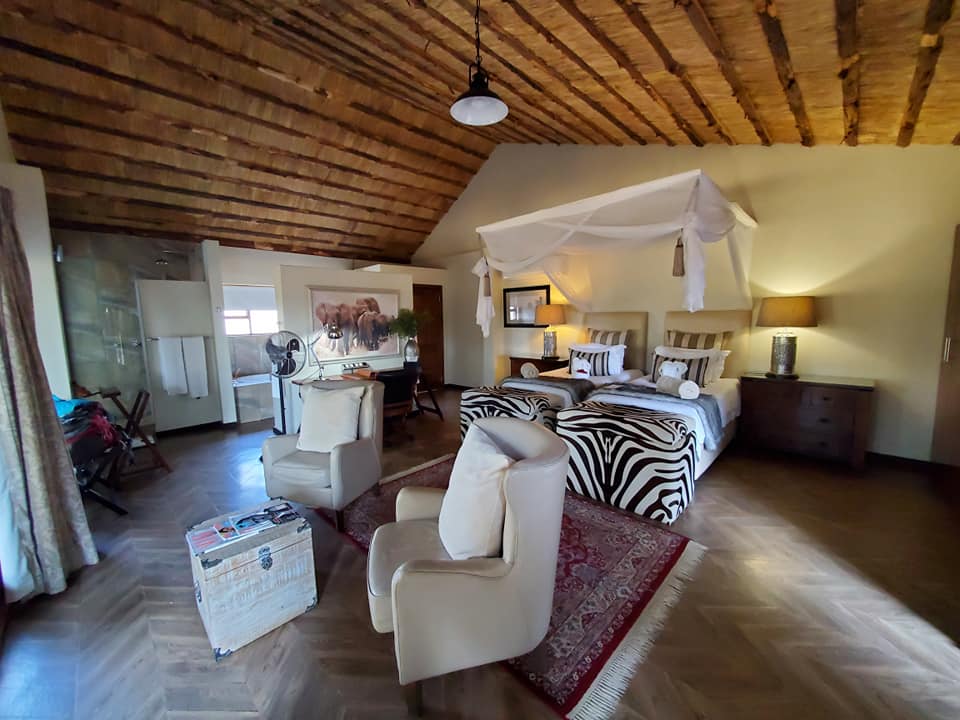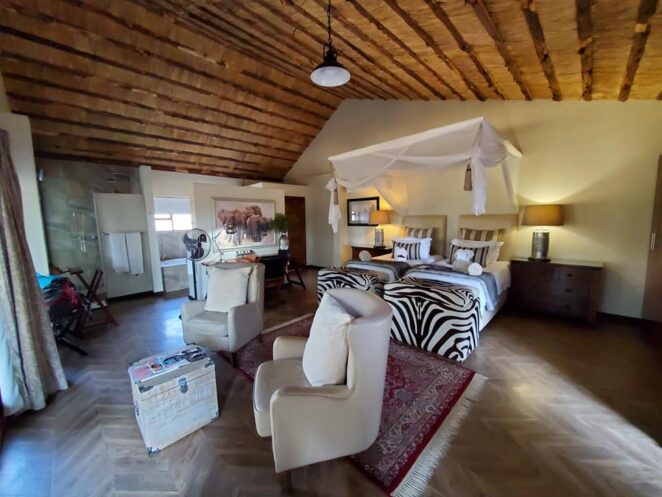 Beck's was absolutely gorgeous.  Again a luxurious pseudo-tent (felt like a room on the inside, but the outside really was canvas!).  It had a shower that opened up to the outside, a bathtub, a porch, and lovely beds.  Several times from the porch, I saw 1-3 female Nyalas grazing.  Once even when I had my shower door open!
Beck's even had an infinity pool with an incredible view! Even though it was winter, I got in (what's a chill pool after a polar plunge in Antarctica hehe), and it was refreshing.  There was also a fridge to keep our drinks brisk and refreshing too.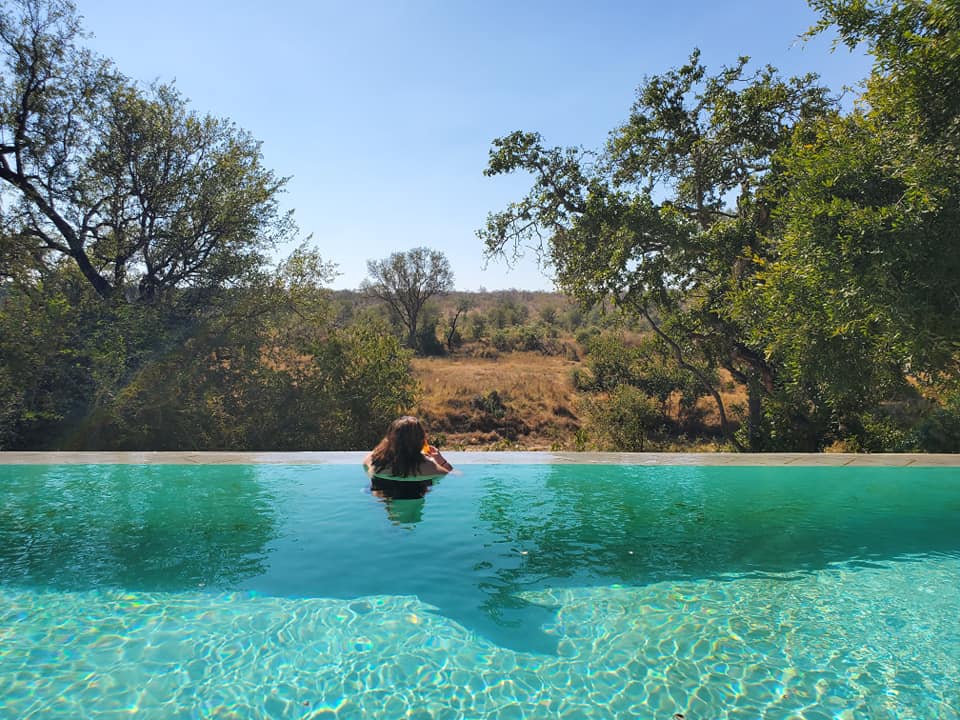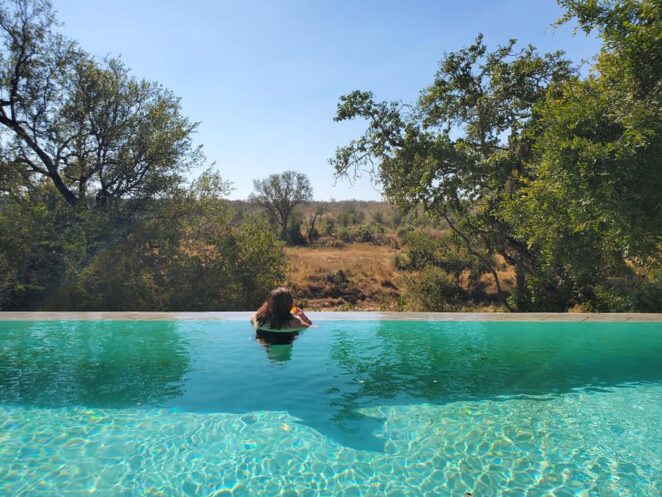 Victoria Falls
The last bit of the tour took us to Victoria Falls where we stayed at the Sprayview Hotel. The beds were my favorite of the trip, and there was also a mini-fridge.  Sprayview also had really good food for a surprisingly low cost.  Its pool was very pretty as well, but not as gorgeous as the one at Beck's.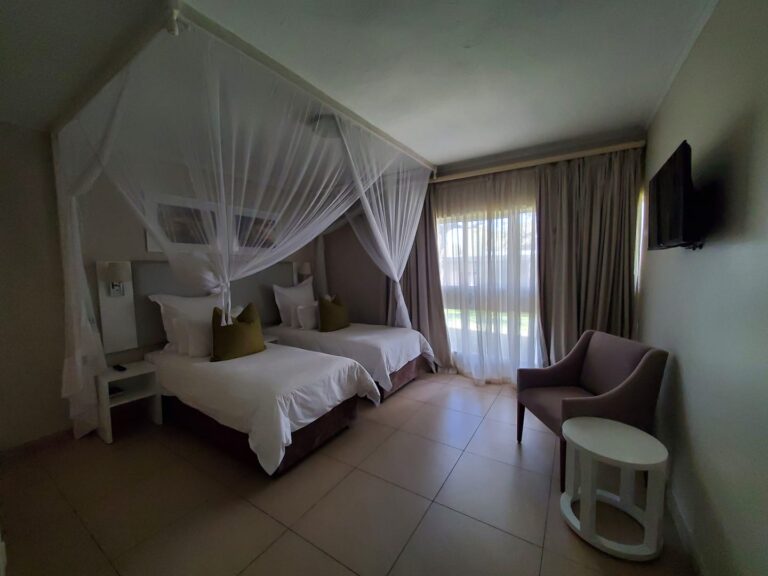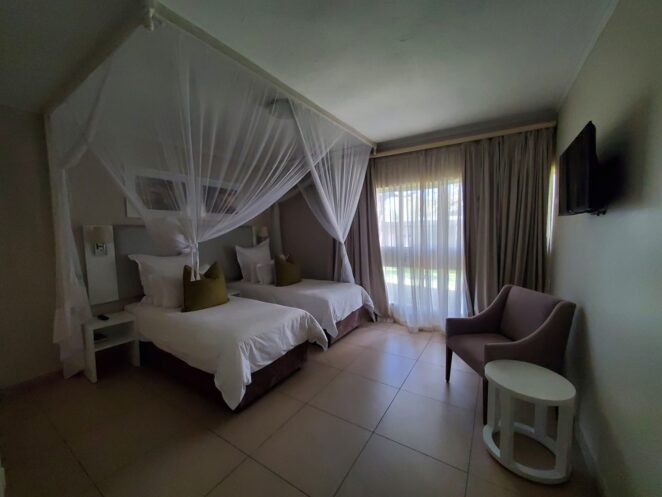 Food
This tour had quite a lot of food included.  Partially because it's an upgraded tour, and also because of lack of options when you're out in the bush!  We had a variety from picnic lunches we made with supplies we got from a grocery store all the way to 5-star meals.  Here are a few I want to highlight though!
Bomas are a protective circle made with thorns that people used to make when traveling through the bush.  It's now refers to any enclosure where there's fire, food, and fun.  We ate some braai (like a barbecue) in many bomas!  My favorite was the goodbye dinner at Beck's in the boma.  The staff came out and sang and danced for us, and it was a lot of fun.  We even joined in!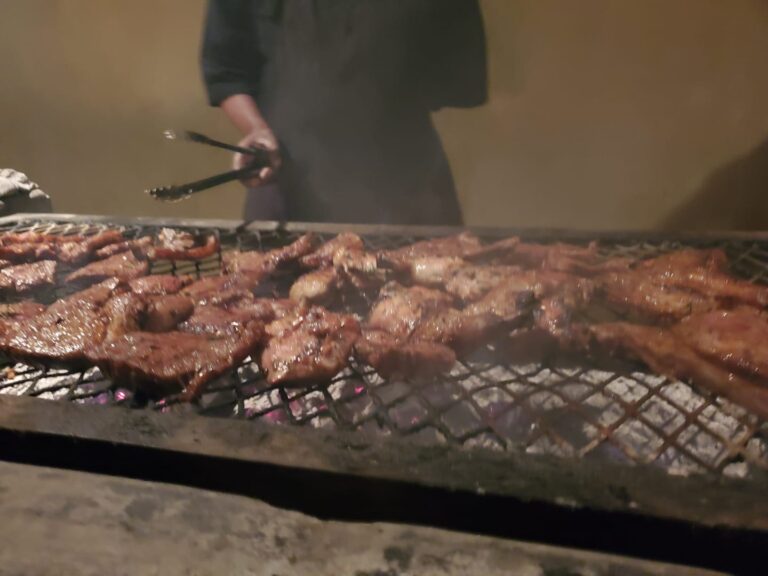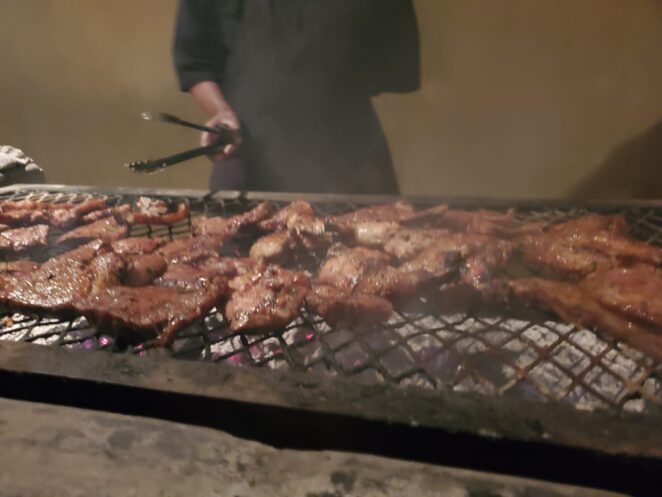 Another memorable dining experience was in Victoria Falls where we ate dinner with Flatter, a local woman!  She showed us around her house, showed us how they cook things, and we ate outside together.  Everyone had to try the Mopane worms!  
Activities
We weren't really in places to go off and wander by ourselves, but there were still plenty of times to have some activities!
Game Drives
These are the best activities to have!  We did one full day one in Kruger National Park and several more in Karongwe.  In Kruger, you have to stay on the roads, but in Karongwe, if there is a confirmed sighting, you are able to offroad a bit.  The game drives in Karongwe were the highlight of the trip for sure.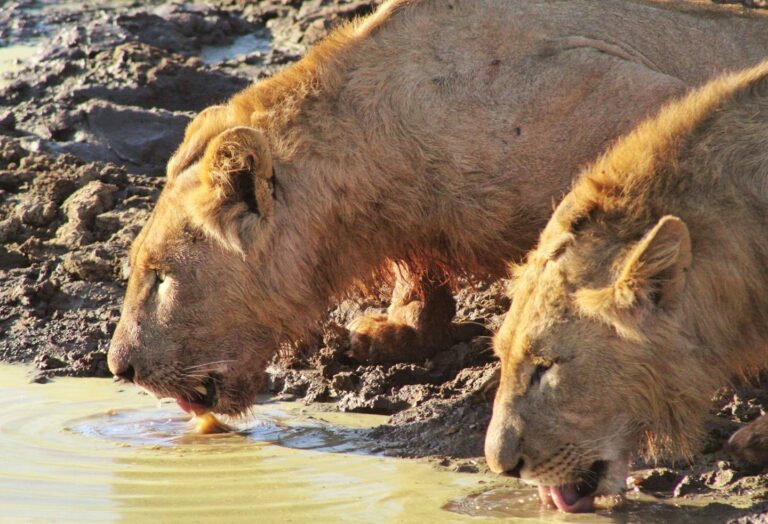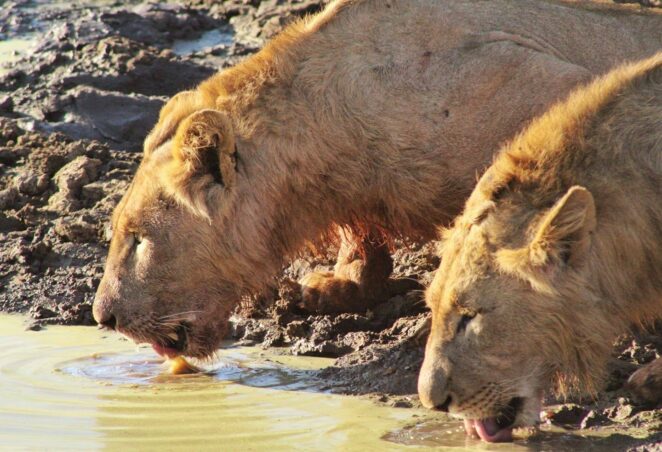 Bush Walk
For an extra fee, you can go with a guide to walk around in the bush!  They'll make sure there are no big creatures around for your safety.  I actually really enjoyed it because the game drives are so fast driving around, it was nice to stop and appreciate the beauty of the smaller things as well.  We learned about plants, the Small Five, some birds, and more about tracking! I felt it was well worth it.
Victoria Falls "Hike"
There is a route that takes you along 16 viewing points across the breadth of the falls, and each spot is more amazing than the one before!  There are two main seasons–wet and dry!  During the dry season, the falls aren't quite so voluminous, so you can actually see more because there isn't as much spray.  However, during the wet season, there will be more power to the falls, but the spray will cover the view entirely sometimes!  And… you'll definitely get wet!
Helicopter Ride
This one was on the Victoria Falls side in Zimbabwe.  I had really wanted to do the Microlights, but they were on the Zambian side (we weren't allowed to cross back over into Zambia, and the fleet was under maintenance). However, the helicopter was amazing.  Pros and Cons for both.  In the Heli, you can take your own pictures, but there is a reflection from the glass… and on the Microlights, you can't take your own pics, but it's open-air (but there are some go pros taking pics).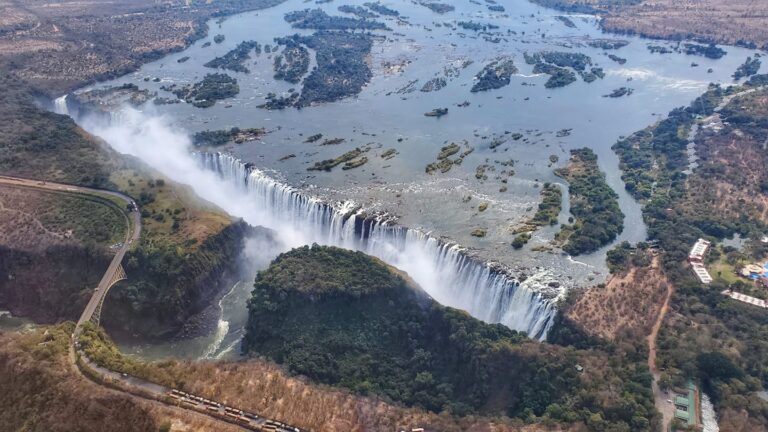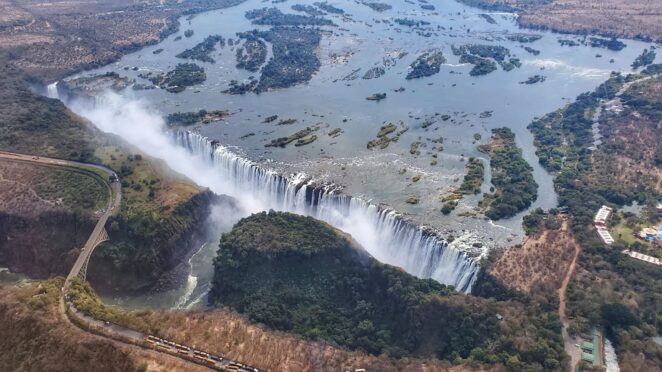 Zambezi Sunset Cruise
This feels like a must.  The price is reasonable, it comes with all alcoholic drinks and snacks, and a beautiful view of the river.  You should be able to see some wildlife as well! We saw some crocodiles, hippos, and several birds! Some lucky souls even see Elephants coming down to the water!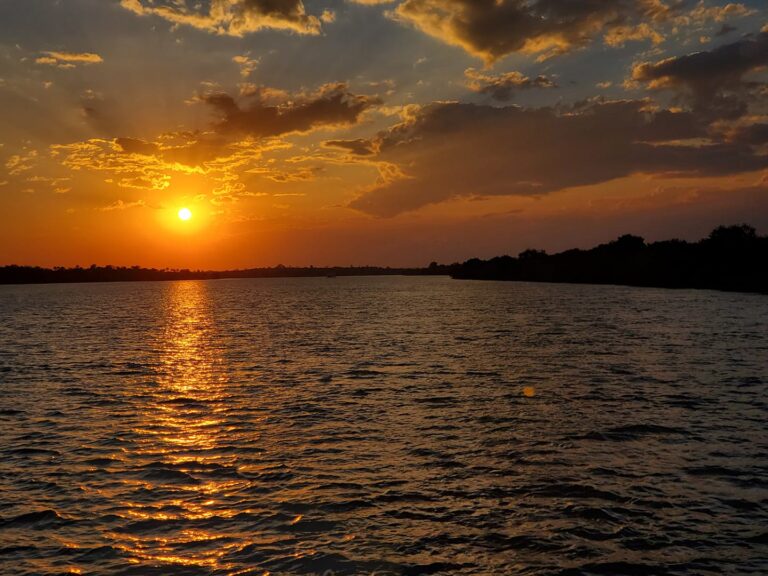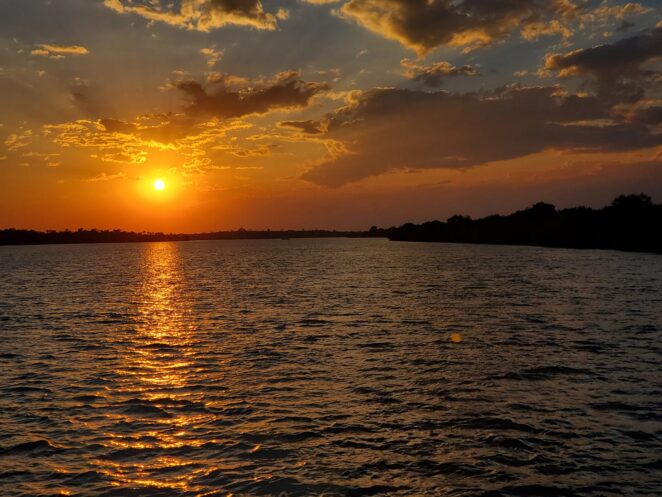 Wildlife
Awww, the wildlife! The whole reason you come on an African Safari!  The term Big Five is for the 5 most dangerous animals to hunt on foot (Lion, Leopard, Elephant, Rhino, and Buffalo).  There there is also the Magnificent Seven which are those 5 plus Giraffe and Cheetah.
Big Cats
Lions
We got up close and personal to some lions seconds after they made a kill.  We watched them eat and fight over a warthog :0  That was pretty crazy, and the guides say that's really rare to witness.  We saw lions in both Kruger and Karongwe, but better views by far in Karongwe.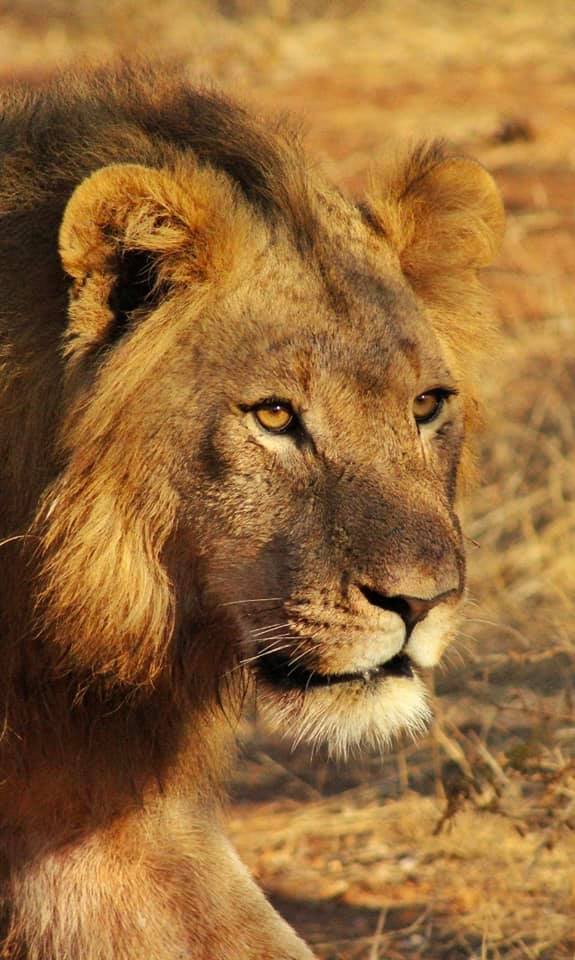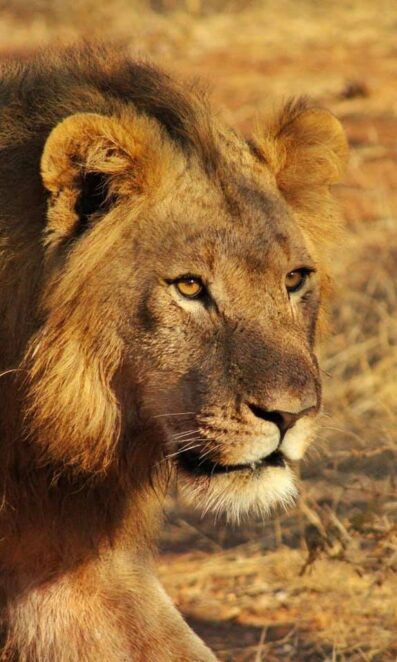 Cheetahs
In Kruger, we were crazy lucky to stumble across some Cheetahs with 10 minutes of entering the park! Not one, but two!  It was a rare thing, they said!  Little did I know we'd see 3 more in Karongwe very close as well! I love them <3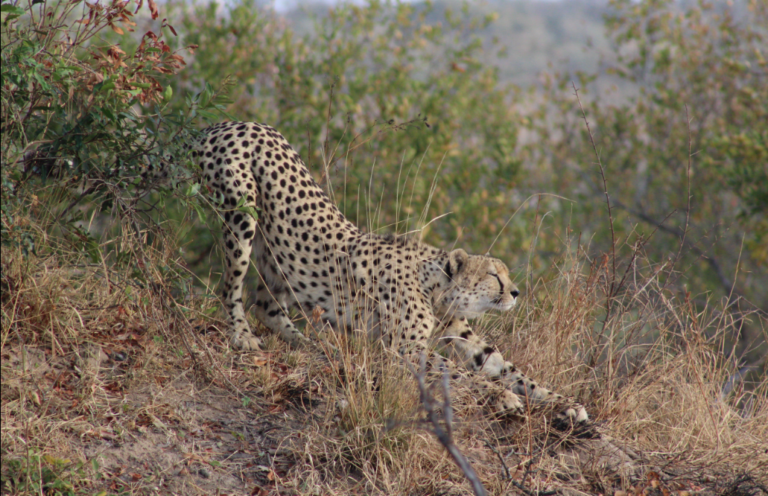 Leopards
We saw two in Kruger and heard them in Karongwe.  Sadly in Karongwe, we were on our way back and were on a time crunch, so we weren't able to stop and look for her 🙁  Leopards are very hard to find because they're the most secretive and skittish. I feel happy to have seen 2 even if they were far!
Genet 
Genets seem to be the raccoons of Africa. We only saw one slinking around camp at night. I got a fuzzy "Big Foot"esque picture of it, but hey, a sighting is a sighting haha.  
Mammals
Elephants
Oh, the Ellies!  We got very close to them in both Kruger and Karongwe!  The last one we saw came right up to the car and sniffed us with his trunk!  
Rhino
Poor Rhinos.  To combat poaching, they cut the horns off preemptively.  That's because poachers will kill the animal to get it, so better to cut it off so they can't.  They have to dehorn them all so it's equal.  For their safety, we don't tell you where we see them, but soooomewhere we saw a few.  One big fellow ambled around marking his territory was really cute, and we saw a few others as well <3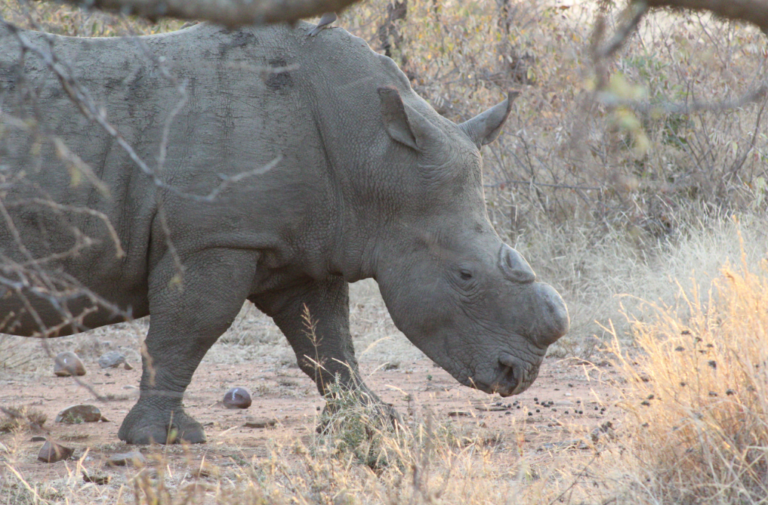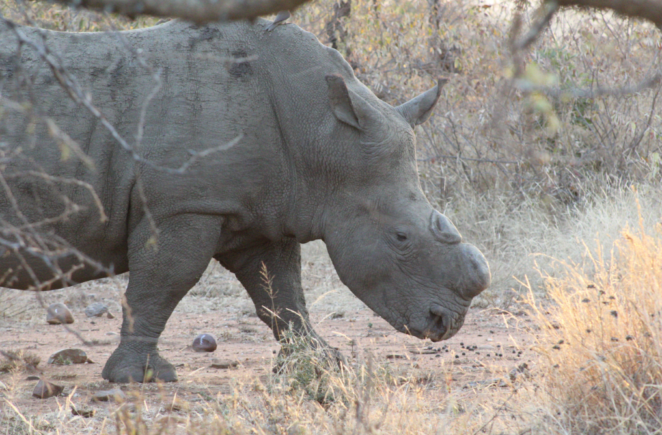 Buffalo
Some big poppas! We saw one make a pack of lions change their mind about eating them! They're basically the Grumpy Old Men of the park, hehe.
Giraffes
I just love Giraffes! We saw a ton in Kruger, but only saw two on the way out of Karongwe!  We saw lots of babies <3  Did you know a standing group of giraffes is called a Tower, and a moving group is called a Journey?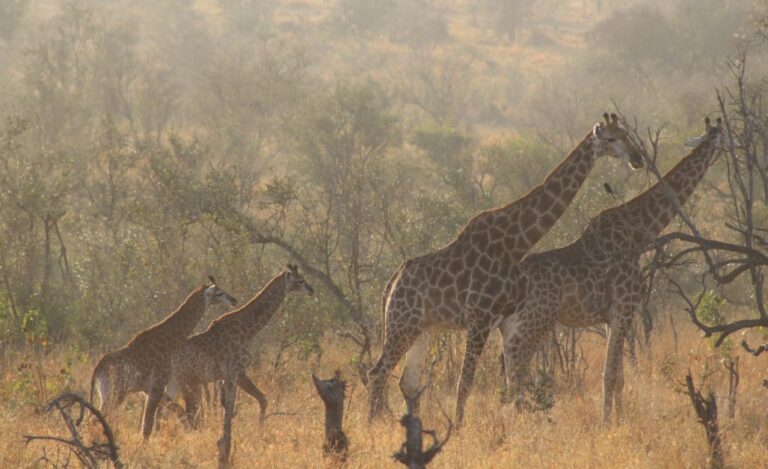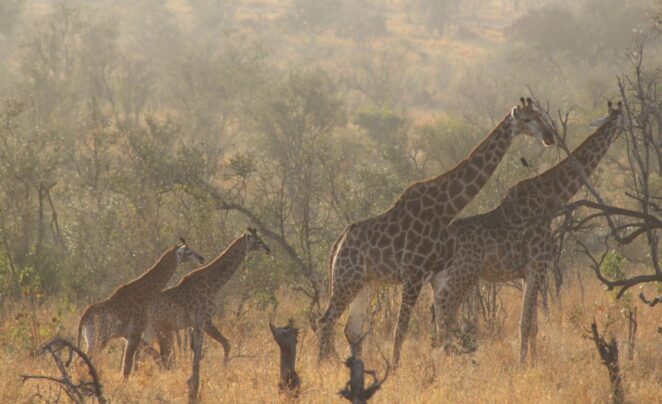 Zebra
Did you know a group of Zebras is called a Dazzle?  How fun!  We saw quite a few.  From nursing babies to healthy adults and all the way up to an injured one that looked like he got away from some lions. 
We saw so many more animals that I can't put them all here! I'll have to put them in a separate post, so stay tuned!
Photography Recommendations
Most of my favorite pictures above were taken with my Canon with a 75-300 mm zoom lens. I wouldn't say I'm the most knowledgeable photographer, but I do ok!  What I did is went to the zoo to practice wildlife photography before I came.  But I will tell you wild animals are very different from Zoo animals!  Luckily my amazing guide is good with cameras, and he helped adjust my settings. I mostly stayed on Aperture priority to get that lovely bokeh, but I had trouble taking photos in low light.   A few years ago, I got this packet of different settings for different situations.  I printed it out and made a little booklet.  You can find one specific to your camera near the bottom.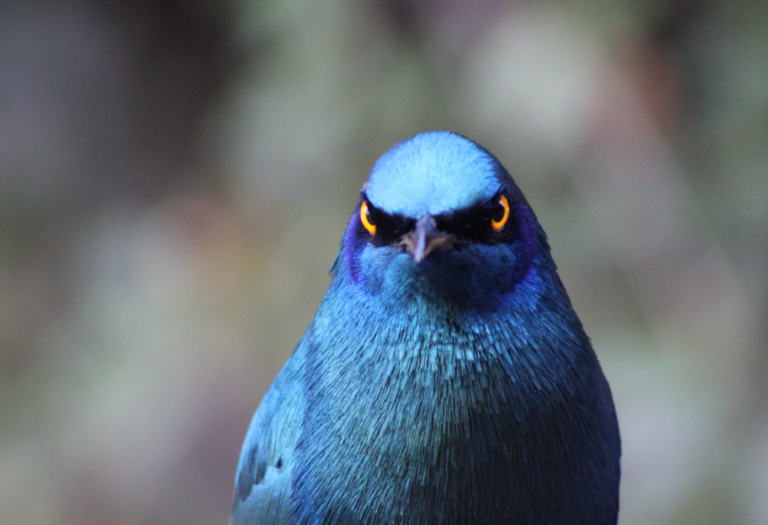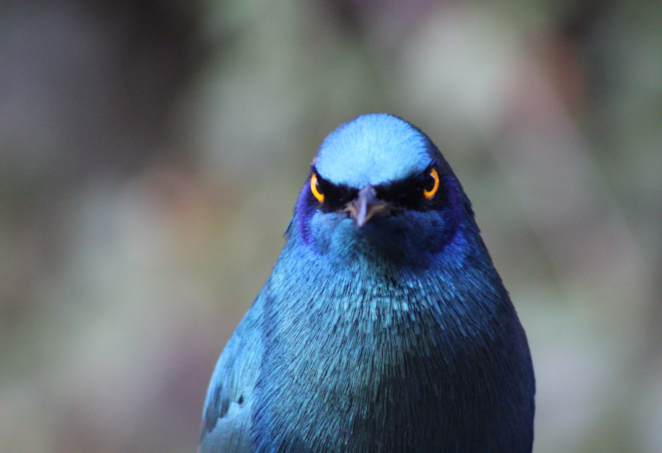 Here are my general and

not

professional photography tips:
Unless you're a pro, don't bring diff lenses.  It's a pain to have to swap.  I had my zoom lens on my DSLR, and if they were close, I'd use my phone which takes good pics.
If you're traveling with someone or make friends in the group, just have someone be in charge with pics on one side, and you on the other.  You can always combine later! I traveled with my friend, and we always sat on opposite sides for this reason.  Don't stress yourself when you're on the wrong side of the car.  Most of the time, it goes back and forth. Except for me. I was almost always on the wrong side haha.
If you have a person or three on the tour who don't mind sharing pics, just sit back.  I became very jealous of a husband of a pro photog, because he just got to sit and see everything and not stress about photography.
Get some good pics, but also remember to put the camera down! It's amazing to experience it.  These animals can get so close!
If you have a Go Pro, you can set it up on the front! I was able to control mine with my phone several seats away, so I was able to just set it up to film videos, pics, or time-lapses (I could swap between them at will from my phone).  Practice this at home pre-departure.
Probably better to shoot with them from a wider area, because you can always crop later.
Also good to split who's doing what.  Sometimes it's nice to have video too, so I would take video and others would get pics 😀
Take a camera you're comfortable with.  A safari is not the time to figure out things!
Try putting your camera on burst which will increase the likelihood of getting a good shot!
Make sure you have a large enough SD Card and/or make sure it's empty!
Guides
The guides were top-notch!  The tour I was on spanned South Africa and Zimbabwe, and we had local guides in each place! That's one thing I love about G is that they use local guides.  Here is Gail putting her head in the river to bring us good luck on the game drive (we all did it and had AMAZING luck!), and Patience dancing along to the music!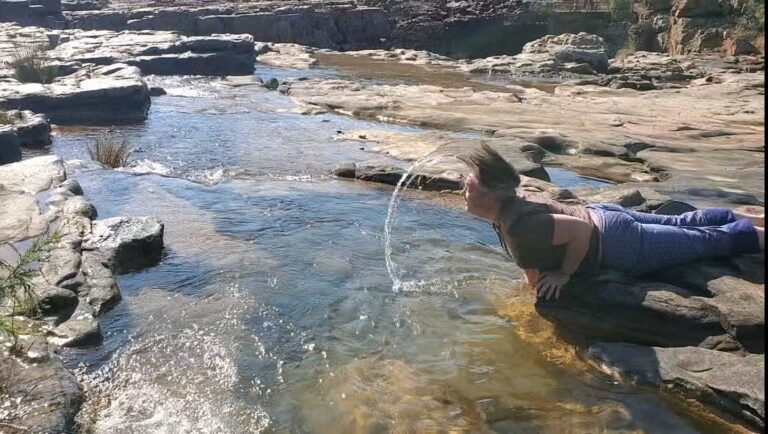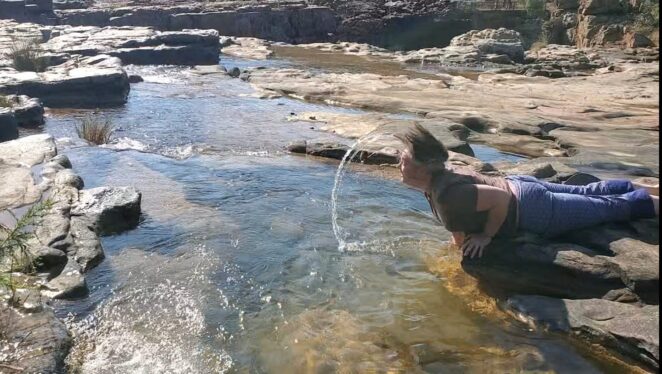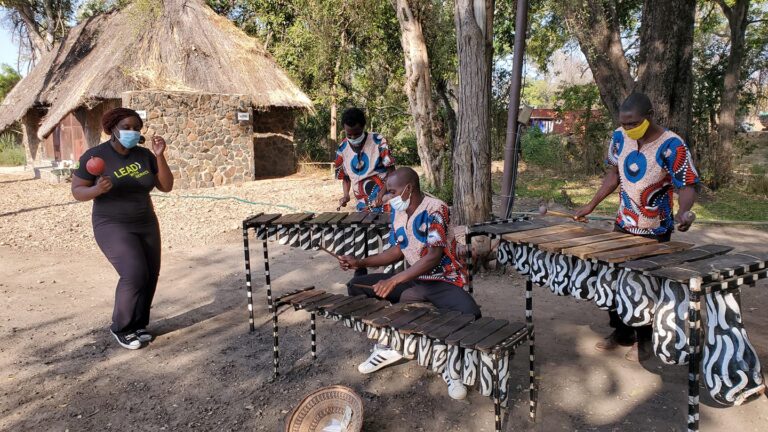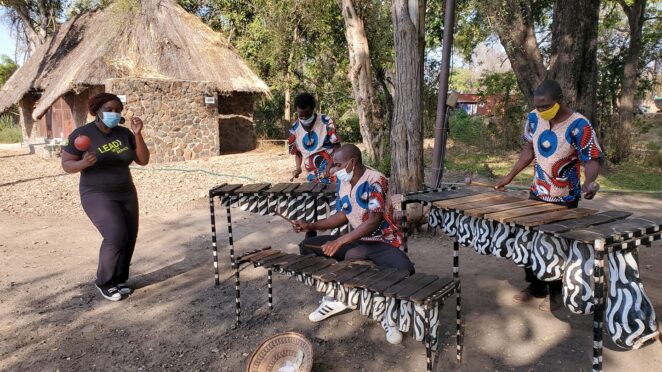 The other guide is the one we had in Karongwe who was AMAZING.  We actually had split into two groups, so one group had a diff guide (who I also heard good things about), but mine was Juan.  He may look young, but he knows his stuff! He and the tracker (Freddi) would read the signs of the bush through smell, sound, sight (including tracks) to find us animals!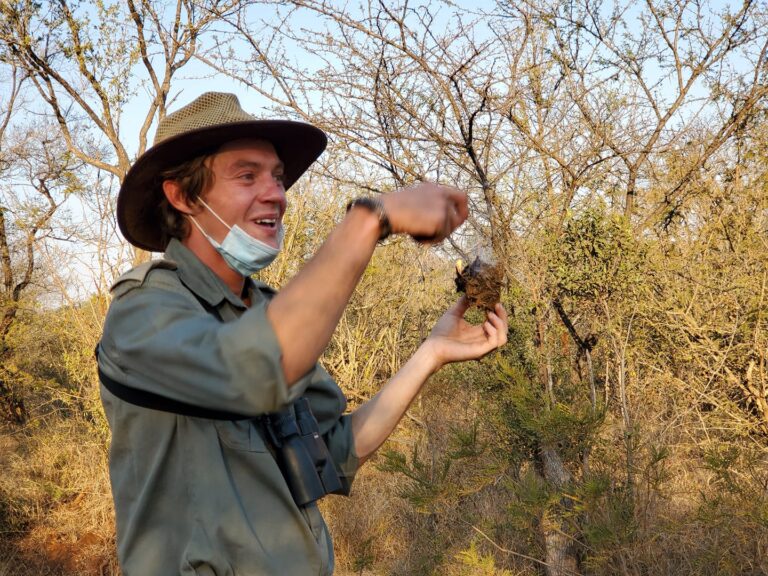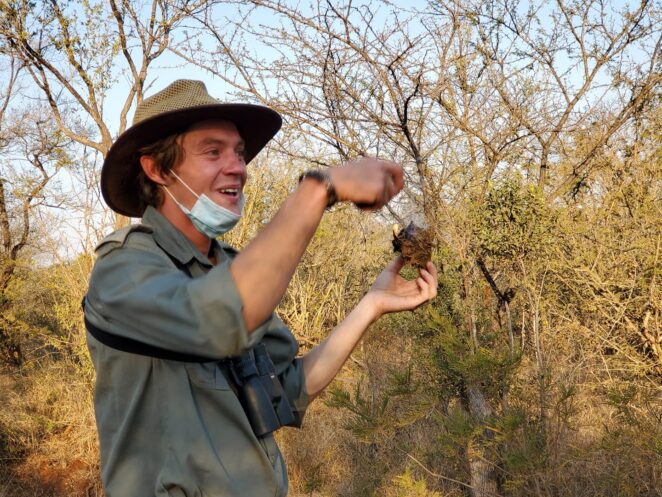 Juan had so much knowledge of the bush, and also photography.  He helped me out with some camera settings and twice took video with one camera while I took pics with another. A proper treasure <3  Here's his Instagram if you want to see the amazing pics he takes!  And here's mine while you're there!
Transportation
When in South Africa, we had the Purple Lando!  Since it was a small group, we all had plenty of room.  Normally it's used more for camping trips, but since they weren't running, we got it.  It had USB ports for charging, and was very comfy!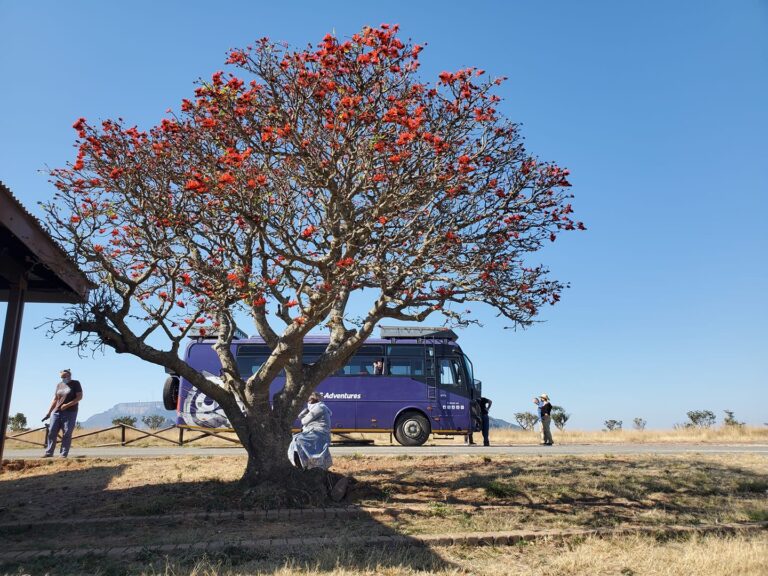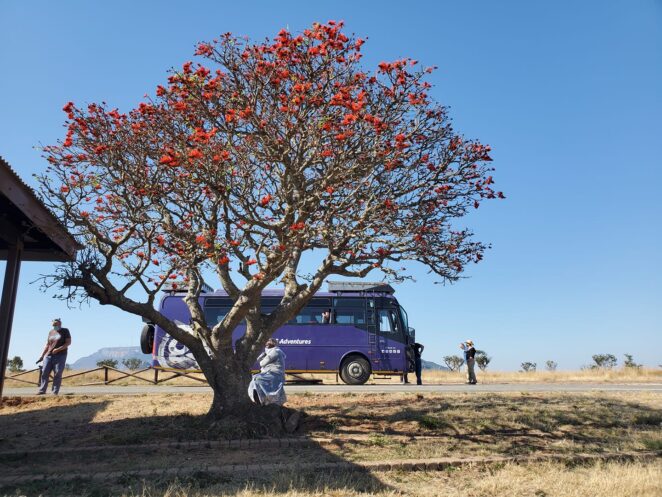 When we were in Kruger, we had this vehicle which was a bit more enclosed. Nice to keep away from the sun, but it def blocked some shots.
When we were in Karongewe, we had an open-top, which was super fun and adventurous.  We needed to make sure we had sunscreen, but other than that, it felt more wild and let us get closer to the animals!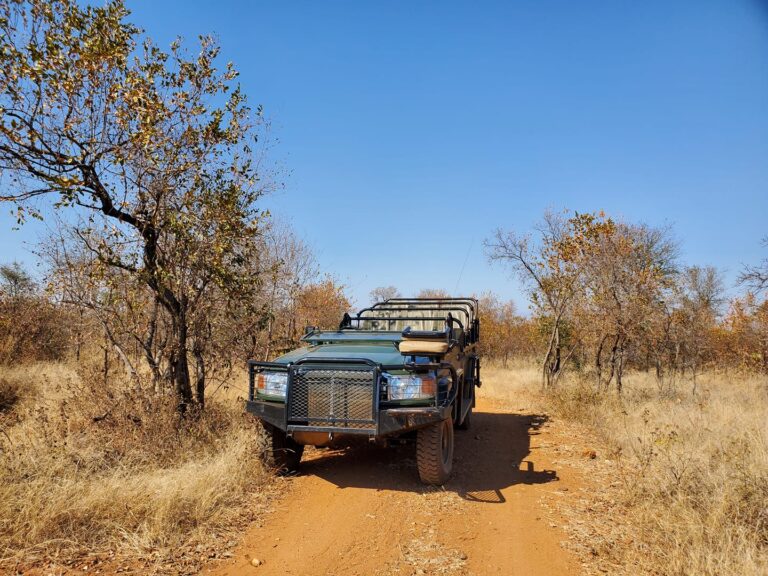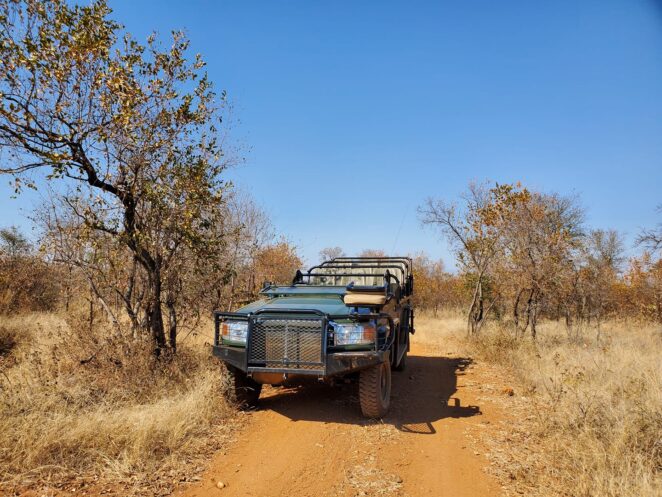 Best Part
By far are the animal encounters. I legit teared up and cried a little when we were close to the Cheetahs, especially considering how rare it is to spot them.  This was an upgraded tour as well, so the lodgings were amazing. But… the animals blew it away. 
Worst Part
Leaving? Can I say leaving?  I guess Covid though.  Having to factor in the fees and time to get the tests done in time.  But honestly, this whole trip was so amazing that it was worth it.
How to Book
You should definitely consider using me as your travel agent!  It's no extra cost, I can sometimes hunt down some freebies for you, and I put together a folder to make sure you have everything you need to have a smooth trip! 

You can book directly with G Adventures yourself for the same price, but no VIP treatment with me, whomp whomp.
FAQ
Is it safe?


From animals? I felt safe.  We were in the cars with very knowledgeable guides who know how to read the animals' behavior.
From Covid? Yes, we were socially distanced, wore masks, and it was a small group. Constant sanitizing too 😀
From people?  I trust animals more than people, but I also felt safe.  Even in the market where vendors often get aggressive, they were very direct but not pushy.  Lots of, "You can look; it's free! Come on in, no pressure!"  That made me actually buy a few things because I had time to browse and didn't feel accosted.
Were there any language barriers?


Nope! Our guides all spoke English, and almost everyone everywhere we went did as well because they are taught in schools.  Remember, these used to be British colonies!

What should I pack?


Oh boy, that's a big one and will get its own post TBD!

How much money should I bring? Tipping?


Also, a big one and will be getting a budget post for sure! But this is a tipping culture, so I do recommend bringing smaller bills to tip with or breaking up larger bills into local currency.

How does it compare with your other trips?
This is hard since South Africa was my 70th country… I previously stated that Antarctica was my best trip ever… and this was on par with it.  In some ways it was almost better, but maybe that's because this was my first real trip in 17 months because of Covid? So hard to tell. But IT WAS AMAZING, and I'm definitely going back.

Visas? Vaccines?


For South Africa, US citizens don't need a visa.  For Zimbabwe, it was very easy to get on arrival.  Didn't need a vaccine for either, but did need covid tests because of the pandemic.
What about the bathroom?
That was a big worry for me as well. I wanted to be hydrated but also didn't want to be stranded in a car unable to go to the bathroom around wild animals haha. In Kruger, we had two stops at proper bathrooms and facillities.  At Karongwe, we just morning and afternoon drives, so no real bathrooms out there.  But, we do stop for some snacky-snacks and also the "Bushy bushy" if you felt the need.  The guides made sure nothing was around.
Have any more questions?  Feel free to comment below or email me at carly@flightoftheeducator.com